Volume 4 Number 3
July 23 - July 29, 2010




It's Summertime!
Here in virtual Wiggins, everyone is talking about who the illegal trappers in Wilhelmina Wiggins' woods might be. ClubPonyPal members from around the world have been riding their virtual ponies along the Wiggins Estate trails and snapping photos of suspicious activities with their
new cameras from Klines.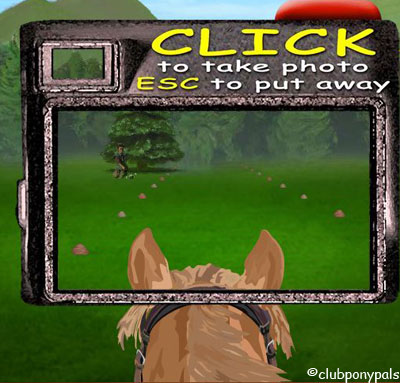 Take a photo of trappers while on the new Forest Adventure Trail!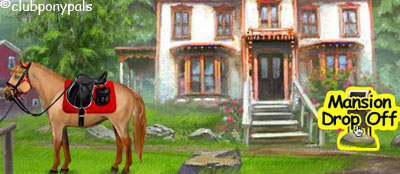 Drop off your new photo at Ms. Wiggin's Estate.
Receive 10 Wiggins Bucks a day for your photo!

Ms. Wiggins is sorting through all the photos and trying to see who the trappers might be. On top of that, Ms. Wiggins is going through her mansion from top to bottom, getting ready to have visits from members. She hopes to be done before summer's end.


NEXT SLEEPOVER -- JULY 30th -- 6:00 pm - 10:00 pm Eastern Time, USA
Remember to ask Lulu for our new Sleepover Award thanks to Nat2!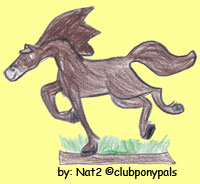 We are thrilled to announce that ClubPonyPals'
first ever e-book is now available!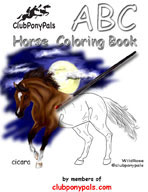 click to order:
http://www.dedicatedteacher.com/estore/product/PON001

To celebrate the launch of our new e publishing venture, for this weekend only, anyone who buys a copy of "The ClubPonyPals ABC Horse Coloring Book" andforwards us their e receipt to webmaster@clubponypals.com
will earn 1000 Wiggins Bucks!

Members Who Are Now Published Artists!

The ABC Coloring Book for CPP is finally available and
the following members are now published artists.

AliceInWonderland
Alyssa
Amanda ellen
Anna Harley
AnnieW
Aura2233
Bertalina
Britnie
Cartoongirl
Chedder
Chiggergirl
Cicara/WildRose
Cory101
DZ Weedorocks!
Fancylover2
Hayashi Okami


Horselover2010
Horseshoe
Iambella
JHorselover
JHorsey
Jillian
KeBlang
Keely
Microphone
Kell27
Koko235
Maid Mairain
MagsJonas
Mistyhorse11
Nat2



Niliwolf
PicassoGirl
ReinerForEver
Rennoir49
Ridepony
RustyGirl
Sagwa1
Skipper234
Smidge13
Snowy2351
Starlight31198
Stini
SwimmerJuli
Theangelormogirl
WildRose



text by: Chelsea2, Whinnie21, and Lisa11
Help us choose --
18 members at the Pal Corral!!
Wow!! What a huge crowd during Tuesday's Riding Lesson with Jane Crandal!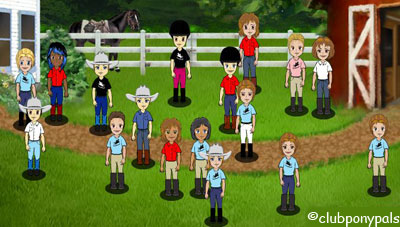 Our virtual riding lessons are each Tuesday, from 6:30 to 7:30 Eastern Time. Lessons are held in the live moderated chat. It is a great way to work on mentally visualizing your riding -- and they are lots of fun. Each lesson ends with a short competition, prizes are awarded.
Look for show ribbons in winner's cabins!

WINNERS SECTION!!!
Story contest entries for July are due by midnight July 31st. Send your stories and poems to contests@clubponypals.com for a chance to with 3000 wBucks.
Winners from June Story Contest

3000 WB to winner, 500 WB to runner up

Age 10 and Under


Winner: Nat2
Club Pony Pal Adventures


Runner Up: glambrat32
Horseland Competition


Age 11

Winner: Horsegirllove
Sun Shinny Day

Runner Up: chelsea2
Horse Crazy


Age 12 and Up

Winner: Spacehorse88
Robin Ridge Stables


Runner Up: skyberry
From the Eyes of a Horse


Poem

Winner: Misspippy
Frosty and Chelsea

Runner Up: chelsea2
Gallop Through the Day


Winners for Coloring Contest # 14

3000 WB to winner, 500 WB to runner up

Age 10 and Under
Hand Colored

Winner: Nat2
Runner Up: laurabianca
Age 12 and Under
Computer Colored
Winner: Leopard54321
Runner Up: microphone
Age 11 and Over
Hand Colored
Winner: RustyGirl
Runner Up: zip128
Age 13 and Over
Computer Colored
Winner: cicara
Runner Up: kell27

Winner for Coloring Contest # 15 Art

500 Wiggins Bucks and Art for Contest


Skyward
Other News
As we gear up to offer more and more e books, we will post a survey soon. It will list all of the Pony Pals books. We want members to check off which of the 40+ books they most want to see available as e-books.

Our members keep setting new records for online miles ridden. Watch for our newest trophy that will be gracing some long-riding members' cabin mantels: 1,000 miles ridden.
Check our new Clubs page, there's lots to browse there. If you don't see a club that you think would be a good one, write to Jane Crandal on our forum and ask about how to start a club. You can hang Club Plaques in your cabin and all new clubs must submit a club plaque drawing to be listed.
Our daily live moderated chat is a great place for club members to meet and our fully moderated w-mail system lets club members stay in touch.
Feeling lost? Look at a

map of Wiggins here.

New members sign up every day and ask for Pal requests. Take a moment and see who's just signed on recently with our "

Pals, Please Page

." Our world has some great ways to meet other pals.

Click here to learn more.

Please help new members feel welcome - send a card to someone who is new!
Seeing something weird when you log on? Our game changes all the time, if you log in and weird things seem to happen, please clear your computer's cache.

See the instructions here

to learn how.
We are always working on lots of new features. Check here often to learn about them first.
Summertime is a great time to have spaghetti. Click here for Mrs. Crandals recipe.
Our next virtual sleepover is scheduled for Friday, July 30 and will run for 4 hours.
See you there!

Pony Pal Contest Chart
Need Wiggins bucks? Anybody who wants more Wiggins bucks is missing out if they don't enter one of our contests! Details are below. We need funny cartoons, they should be in black and white. And if a member creates a Youtube video about our site, let us know! We will award a thousand Wiggins Bucks for a good video about us.
contest name

deadline for entries

voting starts

winners announced

prize amount (in Wiggins bucks)

Drawing of the week contest

every Friday

in Wiggins Weekly

500 to each winner

Cartoon contest

every Friday

every issue

in Wiggins Weekly

500 to artist, 500 to caption winner, 100 to caption runner-up

Postcard of the week contest

every Friday

in Wiggins Weekly

200 to winner

Cabin of the Week

enter your cabin today

every issue

in Wiggins Weekly

1000 bucks to cabin with most votes

July 30

August 6

3000 1st place, 500 to runners up

3000 1st place, 500 to runners up

Coloring Contest #16

choose art

500 to artist, picture must be black and white
| | |
| --- | --- |
| If you need bucks, buy an Ultimate Game Card. You can click here to see where game cards are sold. Next time you go to the store, buy a card with cash, come back and enter the secret code from the back of their card to get Wiggins bucks instantly. | |
Cabin of the Week Contest
Enter to win 1000 bucks for your decorating skills!



Ponyluv1999



Misspippy


Chillycat12

Last Week's Cabin Winner




Moonlight Sonata

Send contests@clubponypals.com an email telling us the username's cabin you want to enter. Rules are: Each week three cabins will be chosen from the entries for member voting. Members can enter enter as often as they like, but winners cannot enter this contest again for six months.

Look for more new fun furniture items soon. Have a request
for something you want to add? Let us know!
Drawing of the Week Contest
by RavenGirl

by Jonah12

Winner gets 500 Wiggins bucks, and their art is made into a painting for members' cabins. If you want to enter, send your art to the Contests@ClubPonyPals.com or mail it to:
Club Pony Pals
16654 Soledad Canyon Road #382
Canyon Country, CA 91387 USA
If you want a sticker and bookmark make sure and include a mailing address where we can send it!
Cartoon Caption Contest -- This week's caption winner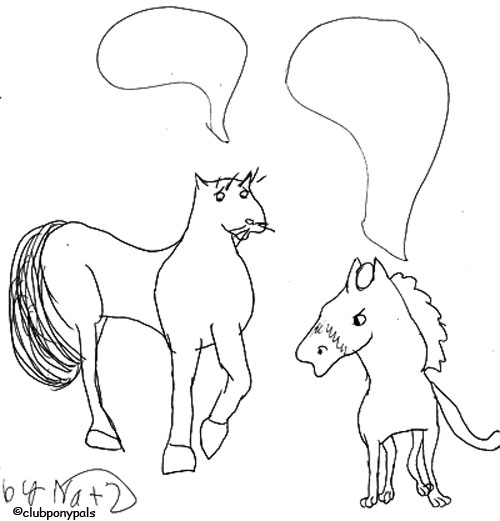 WINNER:
Horse/dog: Something seems wrong, but I can't put my paw on it... Horse/cat: Paw? Don't you mean hoove? Horse/dog: Oh dear. I think I found out what's wrong.
By: ajaxsluver101


RUNNER UP:
horse with cat head: "Yuck! Carrots! I HATE carrots!"
cat with horse head: "Tuna??! Eeeewwwww!"
By: EagleGirl


This winning caption's writer got 500 Wiggins bucks.
The runner-up caption gets 100 bucks.
Vote for your favorite caption for this cartoon--
Write a caption for this --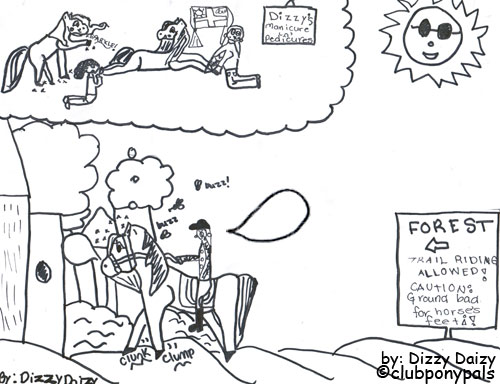 by Dizzy Daizy
Can you write the winning funny caption for this cartoon? Deadline is Thursday of this week. Email it to Contests@clubponypals.com
Look for the entries in the next week's e-newsletter and vote for your favorite.
Winning caption gets 500 bucks, runners-up get 100 W bucks each. Captions should be short.

or draw a cartoon --

We are looking for cartoon artists, too. Draw one and email it to us by Thursday.

If it is selected, you can earn 500 Wiggins bucks! Hint -- for this contest, please draw your cartoon in black and white. If you want to enter, send your art to Contests@ClubPonyPals.com or mail it to:

Club Pony Pals
16654 Soledad Canyon Road #382
Canyon Country, CA 91387 USA
Member Photo Gallery
from Nat2, CoolGuy, and EagleGirl
CoolGuy took the photos. He is my official "animal photographer"!
Hi! Here are some photos of my Welsh mule, Little Man, and his recent vet visit. Little Man was abused before I got him, and is terrified of men. He was so scared of the vet that I finally asked if I could give his shots. The vet let me, and talked me through it. I faint at the sight of needles, and have never, ever stuck a needle into anything alive before! Little Man stood like a rock and let me do it! I only gave the neck shots; the vet did the rump shot.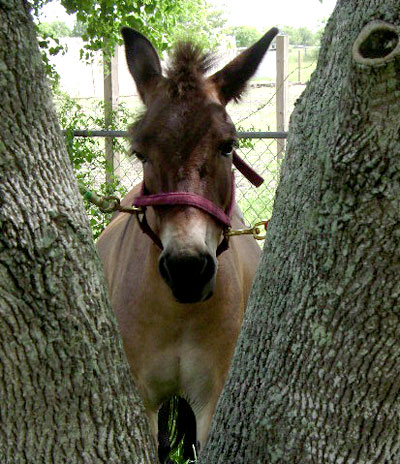 Little Man cross tied and waiting for the vet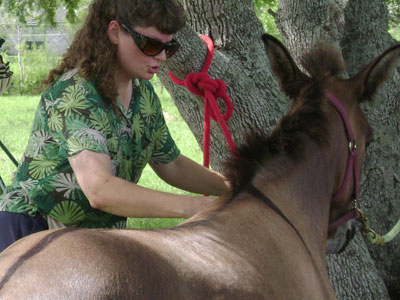 Little Man STANDING STILL while I depress the plunger after sticking the needle in his neck. He is on loose leads. I took a few minutes with the clicker to get him ready for the shot.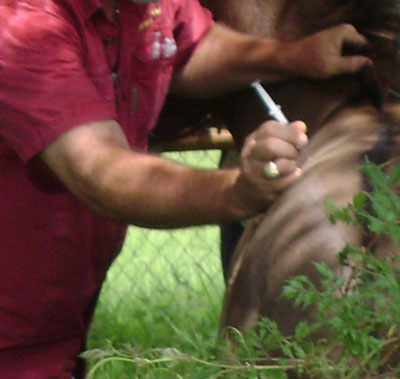 I let the vet do the rump shot, but I stood by Little Man's head, using the clicker. The assistant had to put a twitch on his lip for the vet to get near him.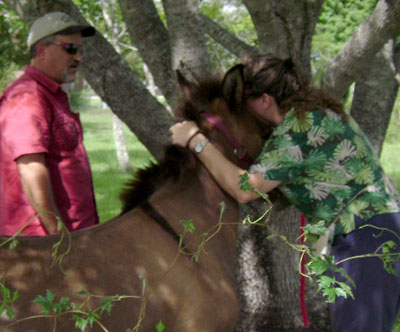 It's finally over, and Little Man can relax now.
Letter from EagleGirl: Clicker Club Training Column
Hello everyone! Our new Clicker Training Club is under way! We already have several members, and some of them have previous experience with clicker training. This week in the Club we have been thinking about which animals we are going to train. We have also been talking about clickers, how to carry our treats, and what to use for treats. There are a couple of different kinds of clickers. The most common kind is in a little plastic box, and costs a dollar or two at most large pet stores. One of our members, BostonGal, told us about another kind of clicker with a raised button; she can even click with her foot! It is very handy to put your clicker on a stretchy wristband, so if you accidentally drop it you don't have to stop what you are doing and retrieve it. With a dog or cat it might not matter so much, but with an equine it is better and safer if you don't have to bend down.
There are many ways to carry treats. You can use a fanny pack, a fishing/hunting vest, a canvas nail apron, a kitchen apron with pockets. . . Just about anything you can wear that has a couple of pockets will work great. You probably don't want to put treats in your jeans pockets though. It's hard to get all the pieces out when you are done and we don't even want to think about what will happen when those jeans go in the washing machine!
Every animal is different, and we need to know our animals so we can choose the treats they will like the best. For equines, it's pretty easy to just use a portion of their regular feed. And carrots and apples (tiny pieces) are great special treats. Regular feed will probably work pretty well for dogs too, but for cats you might have to be a little creative. They can be a bit finicky. If you use any wet food, like tuna, you need to put it in a plastic bag before you put it in your treat holder. Always keep in mind the health of your pet; you don't want him to eat so much that he becomes fat!
So, the first things that we need to do are: decide which animal we are going to train; get a clicker; find a way to carry the treats so our hands are free; and decide what treats we are going to use, including special, or "jackpot" treats. Once we do that, we are ready for the next step! We go into all this more in-depth in the Clicker Club. We would love to have more Pony Pals join us in our clicker training adventures!
A CPP Decalogue
How To Get The Most Out Of Club Pony Pals
by: Nat2

1. Click on "Help" at the top of the screen to learn more about Club Pony Pals
2 . Make pals and send W-mails
3 . Enter contests to earn W-bucks
4 . Play games to earn W-bucks
5 . Buy a pony
6 . Go to the daily chat
7 . Get free apples on the trails
8 . Explore the trails
9 . Join a club
10. Participate in the sleepovers
Letter from New Zealand
Hello Pals!!!
How are you ? I¹m good I have been on winter holidays here I went down to H**** in nz where my cousin lives she took me to see the horse she rides Polly I rode Polly for a while and my cousin rode her too. I¹m having a wonderful holiday. Hope to hear from you soon!
From nz Hugh
from Misspippy
Hi! These two pictures, are from one of my recent shows. We got a champion, 4 first places, and a 4th place:).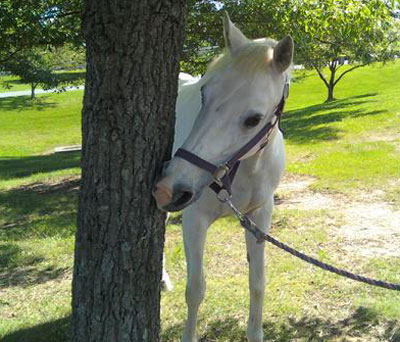 In one of these pictures pippy decided that instead of my idea of checking the place out, that tree bark tastes very yummy. She kept biting it and trying to eat it!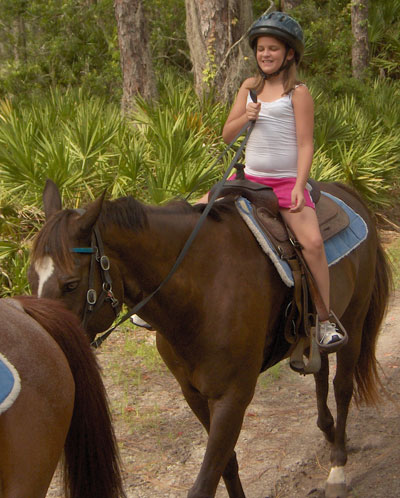 In the other one, I was trail riding a horse named Sparrow, in Florida on Vacation :) -Misspippy
from Jonah12
This is the horse I used to own till he got adopted…. I miss him but I am happy for him and proud that I got a chance to be his mommy..his name is tango..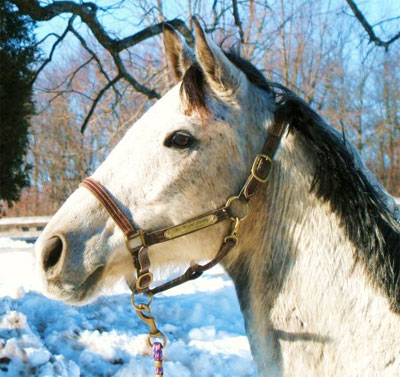 This is the Shetland pony that I might fully adopt ….. her name is Tullie….. but I am going to change her name to Baby Moon……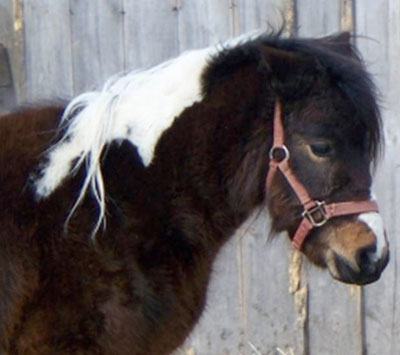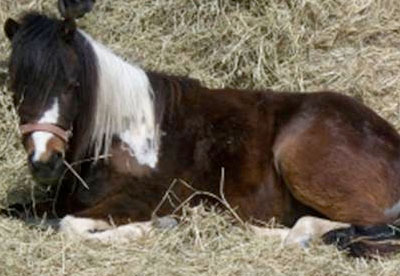 Member Art Gallery
by Cartoongirl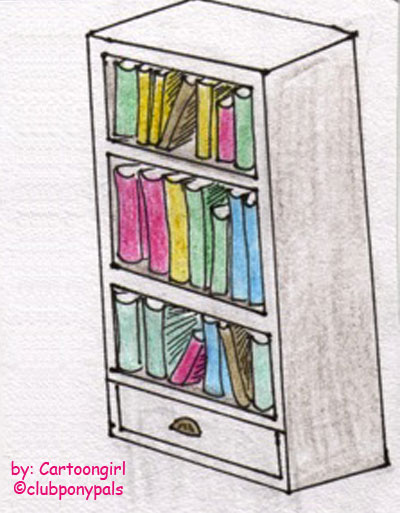 by horse grl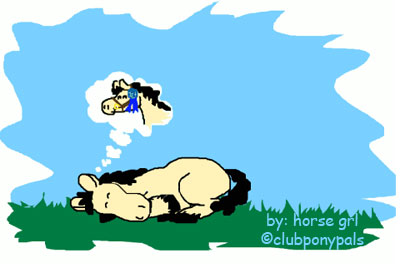 This Week's Winning Postcard
by Cartoongirl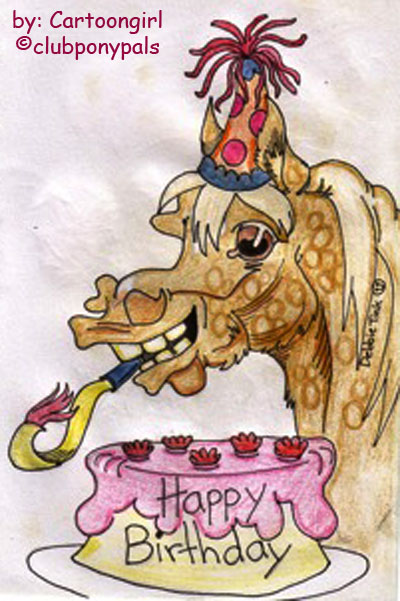 by Kaitlin2010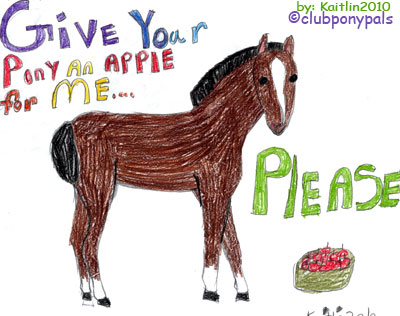 Other Postcard Entries
by EagleGirl
by Kaitlin2010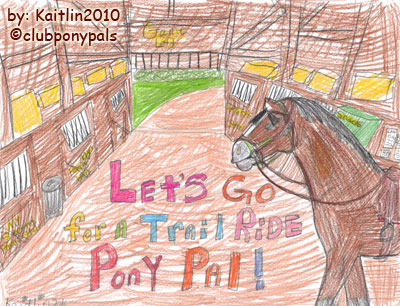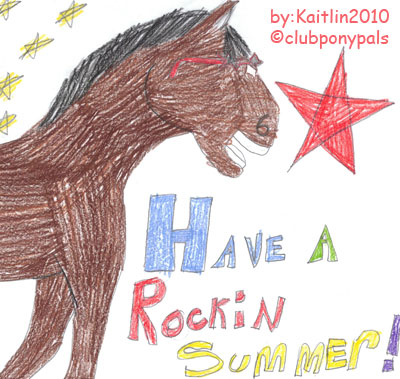 Winning postcard entries each week get 200 Wiggins bucks. All art must be original, it cannot include clip art or copyrighted images.
If you want to enter, send your original art to Contests@ClubPonyPals.com or mail it to:
Club Pony Pals
16654 Soledad Canyon Road #382
Canyon

Country, CA 91387 USA
Dear Pony Pals

Send in your photos, stories and drawings for our contests.

e-mail them to Contests@ClubPonyPals.com or mail it to:

Club Pony Pals
16654 Soledad Canyon Road #382
Canyon Country, CA 91387 USA

The first printing of collectable stickers is almost gone. For the next week or two, if you want a sticker and bookmark make sure and include a mailing address where we can send it.

Please include your user name and the email address you used to register in your letter, too.

Webmaster
Play These Games to Earn Wiggins Bucks

Play these to earn bucks! Each week, that week's highest scoring

Scavenger Hunt
Winner gets 3000 Wiggins bucks,
next nine members scores below that get 500 bucks each.

"Scavenger Hunt "

rene

hannahnanna1

horses1523

mgmpasofinos212

jenny2julie

Appaloosa1798

CrystalShine

chica4

Vionna

Pony Pal Derby
Race your pony to earn Wiggins bucks!
Each week the derby game's highest scoring player earns 2000 Wbucks.
500 Wbucks goes to each of the next nine highest scores.

"Pony Pal Derby"

valz1231

DizzyDaizy

Skyward

123 lulu

RustyGirl

CrystalShine

lilyjo

eatsleepjump

Holidaygirl

Mistyhorse11

<![if !supportEmptyParas]> <![endif]>

Math Games
High scoring players in addition,
subtraction or multiplication earn 500 Wiggins bucks,
next nine players who have high scores earn 100 bucks each.

"Add Like Mad"

EagleGirl

horseegirl122

indijade

balletgirl95

charlize2010

may218

Missie

keely

emollie713

zennie98

<![if !supportEmptyParas]> <![endif]>

"Subtraction Action"

EagleGirl

Calanthie

balletgirl95

horselover1029

Jessba Baker

starpony

hannaliina

keira199921

zennie98

GreenLightPiebald

<![endif]>

"Multiplication Station"

HayashiOkami

lilmini216

horselover1029

Natalie21

horseyfikes7

zingzester

sorrelg

s3r4

SimpsonForever

fogliano
Pony Pal Thoughts for the Day:

Horse thou art truly a creature without equal, for thou fliest without wings and conquerest without sword. ~ The Koran

A horse gallops with his lungs, Perseveres with his heart, And wins with his character. ~ Tesio

The essential joy of being with horses is that it brings us in contact with the rare elements of grace, beauty, spirit, and fire. ~ Sharon Ralls Lemon

Spring and summer are riding on a piebald mare. ~ Russian Proverb