Volume 3 Number 51
June 26 - July 2, 2010




It's Summer!!!
Vacation has started and Pam, Anna, Lulu, Jack 'n Jill, Tommy, Mike, Rosalie -- all the kids around Wiggins are ready to savor summer.
To celebrate, the Pals will hold their next sleepover at Pam's on Friday, July 2 starting at 6 pm Eastern time. Virtual sleepovers are a ton of fun, I give virtual pony and horse lessons and shows in one room, Pam, Anna and Lulu usually host a "20 Questions" pony-themed guessing game in another room.
Just like our Live Moderated Chat, all entries are read by a live human adult before they can display.
Mr. Kline is proud to announce that he now sells fancy western boots for members to wear on their avatars. Just click on "shoes" in the Kline's store in downtown Wiggins. Our first pair has red uppers and black vamps. And there are two new colors of English high field boots, light and dark brown.

There are new quests to try in Wiggins,too. We are up to almost 50 of them. They change all the time and we keep adding new ones. For the first time, one quest even goes to the clearing on the Wiggins Estate trail.

Members can now buy Wiggins Bucks for their pals. We have even made a whole new mini video that explains how to use our online WB buying steps. Click on our new "Buy Bucks" button to have a look.

All of our pages now have a new button layout along their top edge.

With the Fourth of July weekend just around the corner, our artists are working full speed to have ready special holiday cabin decorations.

JC models her new boots
Other news --
May Story Contest Winners are
June 30th is our deadline for this month's story contest entries. Keep writing, we give out sizeable WB prizes for stories and poems that earn the most member votes.
Check our new Clubs page, there's lots to browse there. If you don't see a club that you think would be a good one, write to Jane Crandal on our forum and ask about how to start a club. You can hang Club Plaques in your cabin and all new clubs must submit a club plaque drawing to be listed. If you cannot make a plaque write to Contests@ClubPonyPals.com and we can have Mrs. Crandal or Admin3 our new staff artist help you out.
Our daily live moderated chat is a great place for club members to meet and our fully moderated w-mail system lets club members stay in touch.
Our virtual riding lessons are each Tuesday, from 6:30 to 7:30 Eastern Time. Lessons are held in the live moderated chat. It is a great way to work on mentally visualizing your riding -- and they are lots of fun. Each lesson ends with a short competition, prizes are awarded. Look for show ribbons in winner's cabins!
Feeling lost? Look at a

map of Wiggins here.

New members sign up every day and ask for Pal requests. Take a moment and see who's just signed on recently with our "

Pals, Please Page

." Our world has some great ways to meet other pals.

Click here to learn more.

Please help new members feel welcome - send a card to someone who is new!
Seeing something weird when you log on? Our game changes all the time, if you log in and weird things seem to happen, please clear your computer's cache.

See the instructions here

to learn how.
We are always working on lots of new features. Check here often to learn about them first.

Pony Pal Contest Chart
Need Wiggins bucks? Anybody who wants more Wiggins bucks is missing out if they don't enter one of our contests! Details are below. We need funny cartoons, they should be in black and white. And if a member creates a Youtube video about our site, let us know! We will award a thousand Wiggins Bucks for a good video about us.
| | | | | |
| --- | --- | --- | --- | --- |
| contest name | deadline for entries | voting starts | winners announced | prize amount (in Wiggins bucks) |
| Drawing of the week contest | every Friday | | in Wiggins Weekly | 500 to each winner |
| Cartoon contest | every Friday | every issue | in Wiggins Weekly | 500 to artist, 500 to caption winner, 100 to caption runner-up |
| Postcard of the week contest | every Friday | | in Wiggins Weekly | 200 to winner |
| Cabin of the Week | enter your cabin today | every issue | in Wiggins Weekly | 1000 bucks to cabin with most votes |
| | June 18 | June 21 | July 15 | 3000 1st place, 500 to runners up |
| June Story and Poem Contest | June 30 | July 5 | July 24 | 3000 1st place, 500 to runners up |
| Coloring Contest #15 Art entries | July 8 | July 10 | | 500 to winning artist, entry must be black & white |
| | |
| --- | --- |
| If you need bucks, buy an Ultimate Game Card. You can click here to see where game cards are sold. Next time you go to the store, buy a card with cash, come back and enter the secret code from the back of their card to get Wiggins bucks instantly. | |
Cabin of the Week Contest
Enter to win 1000 bucks for your decorating skills!



spellcheck



Hope


Raven305

Last Week's Cabin Winner




AllyAlli0

Send contests@clubponypals.com an email telling us the username's cabin you want to enter. Rules are: Each week three cabins will be chosen from the entries for member voting. Members can enter enter as often as they like, but winners cannot enter this contest again for six months.

Last week we added new couches, chairs, curtains and flowers. Look for more new fun furniture items soon. Have a request for something you want to add? Let us know!
Drawing of the Week Contest
by MaidMairain

Winner gets 500 Wiggins bucks, and their art is made into a painting for members' cabins. If you want to enter, send your art to the Contests@ClubPonyPals.com or mail it to:
Club Pony Pals
16654 Soledad Canyon Road #382
Canyon Country, CA 91387 USA
If you want a sticker and bookmark make sure and include a mailing address where we can send it!
Cartoon Caption Contest -- This week's caption winner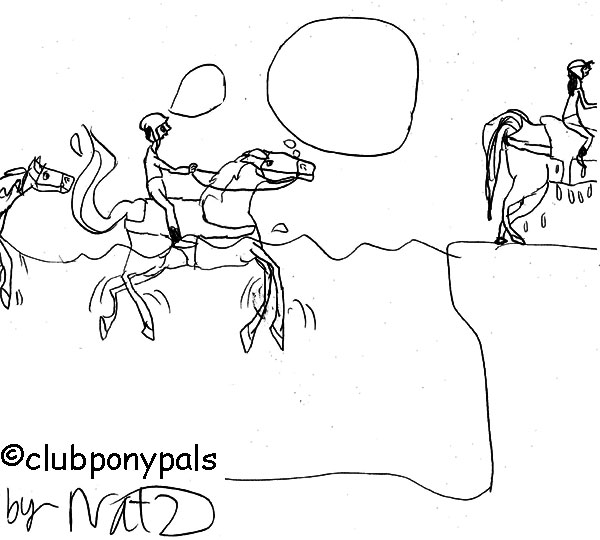 WINNER:
Human: CMON! Theres already a horse out of the water!! Horse:*Gasping* But-but that horse has a better figure then me! Human: Ya, bet he doesnt eat 10 bales of hay in the trailer! by: Misspippy

RUNNERS UP:
Rider: Come on, pony! Just keep swimming, just keep swimming..lalala..ooh a fish! Horse: Yeah, yeah Im going. Nobody could feed me enough carrots to swim wearing THIS guy on my back by: allyalli0



This winning caption's writer got 500 Wiggins bucks.
The runner-up caption gets 100 bucks.
Vote for your favorite caption for this cartoon--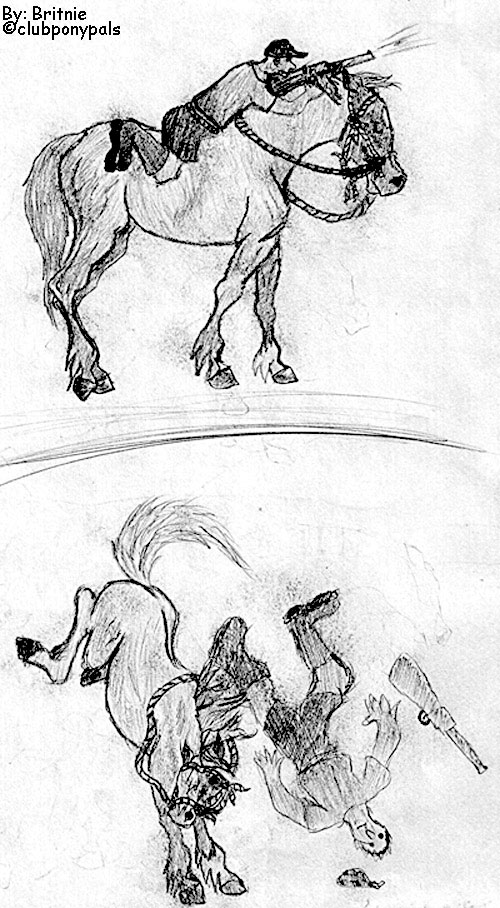 Write a caption for this --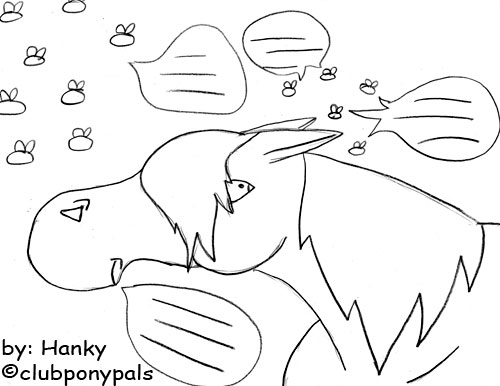 by Hanky
Can you write the winning funny caption for this cartoon? Deadline is Friday of this week. Email it to Contests@clubponypals.com
Look for the entries in the next week's e-newsletter and vote for your favorite.
Winning caption gets 500 bucks, runners-up get 100 W bucks each. Captions should be short.

or draw a cartoon --

We are looking for cartoon artists, too. Draw one and email it to us by Friday.

If it is selected, you can earn 500 Wiggins bucks! Hint -- for this contest, please draw your cartoon in black and white. If you want to enter, send your art to Contests@ClubPonyPals.com or mail it to:

Club Pony Pals
16654 Soledad Canyon Road #382
Canyon Country, CA 91387 USA
Member Photo Gallery
from Spellcheck
Here is a picture of my pony

The cat is a cat I rescued from the side of the road and he has a broken paw :( But he is doing good :) His name is Fluffy McMeow Meow.
Letter from New Zealand
Hello pals,

Hello pals I'm here again from nz its winter here and were enjoying a snuggly treat and a hot chocolate in our lounge hope you guys back in USA my little dog Lily is rather happy today I went and took her for a walk it started raining I popped up my mini umbrella it was raining and windy my umbrella rocking about in the wind then it turned inside out my dog was rather soggy now poor thing my umbrella suddenly broke it was heavy rain by now I was soking with out my umbrella I ran a little way when my shoe lase came undone and I could not run any more so I picked up the dog huddled up with her it was soking but I didn't mid so I accept on walking I got to the old farm house down the road a bunch of people sitting on their balcony were staring at me they muttered to themselves that boy has picked up his dog I think his dog is saying "I'm riding my horse Hugh" wich was me but I wasn't a horse I hurried down till I was home I put lily down near the heater and she went to sleep.thats all from me

from Hugh & Rosie all away from nz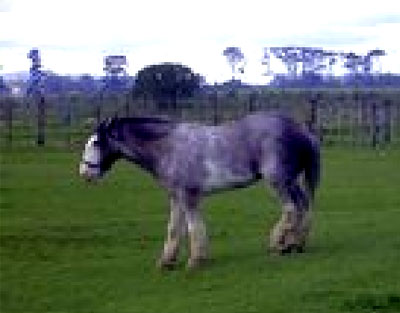 Carmon at ambery Regional Park he has passed away now but still well remembered he retired from pulling carts in the old days.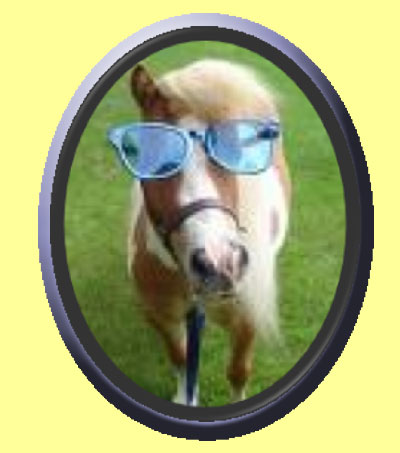 Member Art Gallery
by littlehooves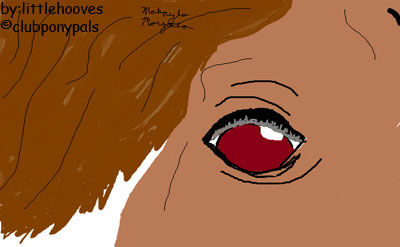 by Nat2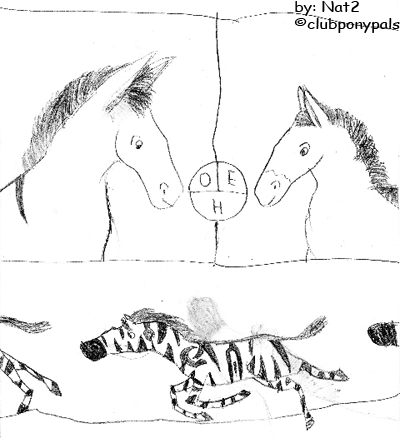 Here is a sketch for the OEH - Other Equines Herd plaque
by Spellcheck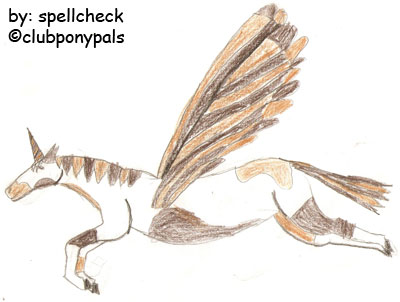 by WhiteHorse21
A soon-to-be gift created by WhiteHorse21 EXCLUSIVE to our pals at sleepovers!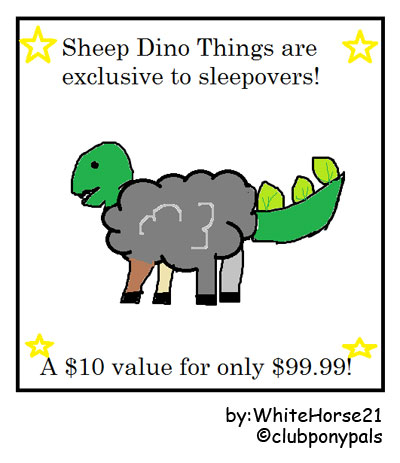 Coming to a sleepover near you!
This Week's Winning Postcard
by Ajaxsluver101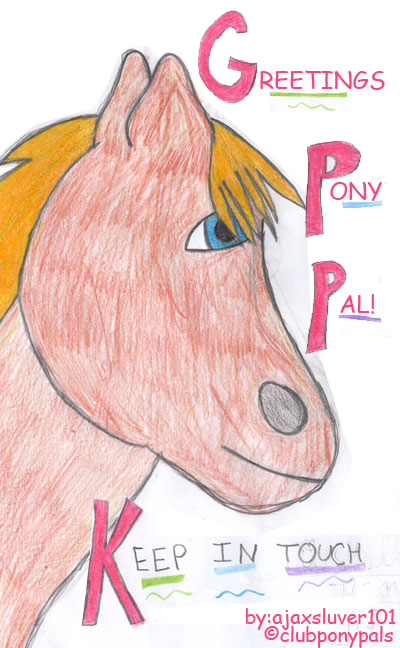 Other Postcard Entries

by MaidMairain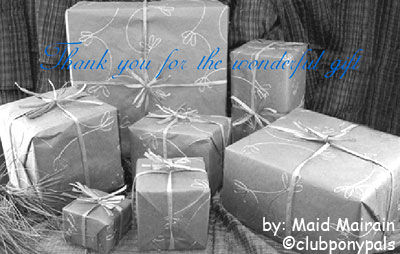 by Mybuety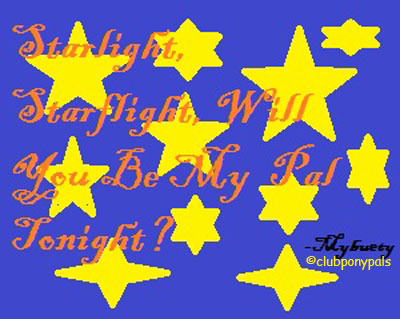 Winning postcard entries each week get 200 Wiggins bucks. All art must be original, it cannot include clip art or copyrighted images.
If you want to enter, send your original art to Contests@ClubPonyPals.com or mail it to:
Club Pony Pals
16654 Soledad Canyon Road #382
Canyon

Country, CA 91387 USA
Dear Pony Pals

Send in your photos, stories and drawings for our contests.

e-mail them to Contests@ClubPonyPals.com or mail it to:

Club Pony Pals
16654 Soledad Canyon Road #382
Canyon Country, CA 91387 USA

The first printing of collectable stickers is almost gone. For the next week or two, if you want a sticker and bookmark make sure and include a mailing address where we can send it.

Please include your user name and the email address you used to register in your letter, too.

Webmaster
Play These Games to Earn Wiggins Bucks

Play these to earn bucks! Each week, that week's highest scoring

Scavenger Hunt
Winner gets 3000 Wiggins bucks,
next nine members scores below that get 500 bucks each.

"Scavenger Hunt "

santana

klynneh:)

jjking55

Yuna

eclipsefarmstd

Fruit Freak

comanchie

Rowena

blake jennifer

strong_thor

Pony Pal Derby
Race your pony to earn Wiggins bucks!
Each week the derby game's highest scoring player earns 2000 Wbucks.
500 Wbucks goes to each of the next nine highest scores.

"Pony Pal Derby"

swimchick312345

misspippy

cicara

horsegirl1301

MistyGrey

EagleGirl

swimmer juli

Mari_Shade

Jane 8

victoriacampbell

<![if !supportEmptyParas]> <![endif]>

Math Games
High scoring players in addition,
subtraction or multiplication earn 500 Wiggins bucks,
next nine players who have high scores earn 100 bucks each.

"Add Like Mad"

EagleGirl

Majona

horseegirl122

wombat165

Skyward

hillhill12

Jessalee

katezy18

Dayana08

GeorgiaB2000

<![if !supportEmptyParas]> <![endif]>

"Subtraction Action"

CoolGuy

EagleGirl

wombat165

iluvmist

Humunculus

hillhill12

GeorgiaB2000

Jazabel

Jessalee

allyalli0

<![endif]>

"Multiplication Station"

EagleGirl

Natalie21

Arabienne

HorseGirlCourt2

wombat165

magik45

HorseLvr88

ashley702

Jumper207

13annar
Pony Pal Thoughts for the Day
The essential joy of being with horses is that it brings us in contact with the rare elements of grace, beauty, spirit, and fire. Sharon Ralls Lemon

No philosophers so thoroughly comprehend us as horses. Hermann Melville

Spring and summer are riding on a piebald mare. Russian Proverb