New Trail Launches!

Our online trail construction crew has worked hard in the last few weeks to create a fabulous new Cross Country experience for CPP members.

With new jumps, new obstacles and new challenges, our new, longer trail presents a chance to gallop your pony to try and beat your best time ever.

Mrs. Crandal had the meadow cleared as well. Small shrubs and trees that used to line the trail are now gone. That means it is now safer to ride really fast.

Special Cross Country Trail
Launch Competition

Competing on our Cross-Country trails has always been a challenge. Now, with our new trail, it will be more fun than ever. For the next two weeks only, the top five scores northbound and southbound on our new Cross Country trail will get both our Cross Country trophy for their mantel plus a 1000 Wiggins Bucks award too. Cutoff date for fastest times is February 14, 2011.

| | |
| --- | --- |
| Need something special? Artists are waiting! | |

Club Pony Pals on the Radio!
On February 8th, 2011

Club Pony Pals' admins are usually behind the scenes, but in a rare radio interview one admin reveals how her faith plays a vital part in the game -- and the values behind it.

Held over for a few more days...
New pink English saddle
Every member who buys Wiggins bucks will get a gift -- one pink English saddle. Check out our new subscription prices, like
1000 Wiggins bucks each month for three months (3000 Wiggins bucks total) for one prepaid price: $4.99!
Click here to learn more.

NEW QUESTS LAUNCH
February 1st Quests
Help a filly foal at Crandals barn, discover what is going on at Quinn's and rescue a missing pony. To start a quest cycle, click on the Crandals barn bulletin board quest note.

Entry Deadline February 10th for the
QWERTY Keyboard Creativity Contest
Dear Pony Pals

By popular demand, we are bringing back our annual QWERTY keyboard creativity contest. Open to any Club Pony Pals member, it gives you a chance to show off what you can do with a computer keyboard. Sometimes CPP members put little drawings into their w-mails, emails or stories. Here are a few samples from members.

Chelsea2 & Frosty


misspippy & pippy

keely & Bicentenial

Reiner For Ever

Pam Crandal & Lightning
Deadline for entries is February 10th, so fingers need to start flying. Send entries to contests@clubponypals.com as text of an email or an attached MSWord document or other type of text file. No graphic programs (i.e. paint or photoshop) can be used. Winners will be chosen by popluar vote, So get typing!
February's Live Moderated Chat Schedule

Our Live Moderated Chat will only be open on Tuesdays.

Every Tuesday
Jane Crandal's online riding lessons and mini show in the virtual riding arena. Stop by and say hi from

11 pm - 1 am London time
Midnight - 2am Continental time
6 - 8 pm Eastern USA time
3 - 5 pm Pacific USA Time
7 - 9 am Saturday in Malaysia
8 - 10 am Wednesday in Perth, Australia
9:30 - 11:30 am Wednesday in Adelade Australia
10 - noon Wednesday in Sydney Australia
Noon - 2pm Wednesday in New Zealand
Need virtual riding tips for the lesson?
Join the Virtual Riding Lessons Club!

Yes, we get members from these places all the time. Stop by and chat!
Winners for Coloring Contest # 20

3000 WB to winner, 500 WB to runner up

Age 10 and Under
Hand Colored

Winner: Onaneagle
Runner Up: Nat2
Age 11 and Over
Hand Colored
Winner: i_luv_addy
Runner Up: Scoutgirl
Age 10 and Under
Computer Colored
Winner: Canterhowrse
Runner Up: AnimalHugHearts
Age 11 and Over
Computer Colored
Winner: Oattawa
Runner Up: Constellation
| | |
| --- | --- |
| Ottawa's drawing won her 500 Wiggins Bucks and her art has been chosen for our next coloring contest! Click the picture to download. | |
The Long Riders
Special Recognition
to our Trail Riders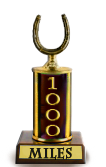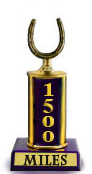 new Long Rider
| | | |
| --- | --- | --- |
| ole miss | --- | 500.5 |
| PonchoRules | | |
| clp642 | --- | 632.5 |
| | | |
current miles leader
Want something Special for Your Cabin?
Email your art to contests@clubponypals.com Prices are below.
Note -- Designs submitted without having enough Wiggins Bucks will be saved until paid.
For 100 Wiggins Bucks
Custom nameplates and plaques

design your own or use a member designer

For 3000 Wiggins Bucks
personal saddle pad





Bay Pony Western Pad
designed by Livanne




Kings of the Wind
designed by Ingreenpastures

Download the template to make your own saddle pad

For 200 Wiggins Bucks
Custom Painting

You can send in a picture to be turned into a cabin painting for yourself! You can also create a cabin painting for a pal!


Drawing of the Issue Contest
by Canterhowrse

by K1i5T0

by Tamikia

Winner gets 500 Wiggins bucks, and their art is made into a painting for members' cabins. If you want to enter, send your art to the Contests@ClubPonyPals.com or mail it to:
Club Pony Pals
16654 Soledad Canyon Road #382
Canyon Country, CA 91387 USA
If you want a sticker and bookmark make sure and include a mailing address where we can send it!
Cartoon Caption Contest -- This issue's caption winner



WINNER:

Rider1: Hey, Hey BOB! *Giggles Rider2: Yeah Yeah Hey JOE! *Laughs Horse: You Making fun of me? ARE YOU MAKING FUN OF MEEEE? *Freaks out* Rider1: Hey, Hey BOB did you hearthat?Rider2:NOPE! by: Shinabella


RUNNER UP:

Jockey 1:"That horse is so gonna loose!" Horse:"Your so gonna get a black eye" Jockey 2:*Giggles* Jockey 1:*Glares* Jockey 2:"Dont look at me - I said nothing" by Minty1612

This winning caption's writer got 500 Wiggins bucks.
The runner-up caption gets 100 Wiggins bucks.
Vote for your favorite caption for this cartoon--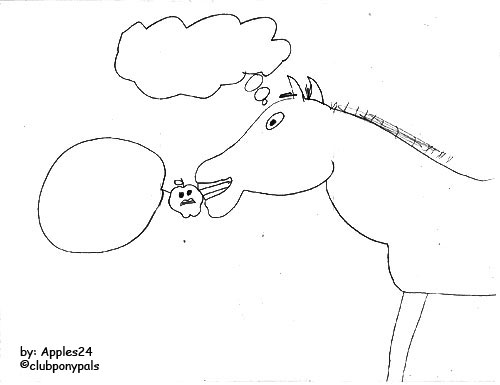 Write a caption for this --
Can you write the winning funny caption for this cartoon? Deadline is Thursday before the next newsletter issue. Email it to Contests@clubponypals.com
Look for the entries in the next issue's e-newsletter and vote for your favorite.
Winning caption gets 500 bucks, runners-up get 100 W bucks each. Captions should be short.

or draw a cartoon --

We are looking for cartoon artists, too. Draw one and email it to us by Thursday.

If it is selected, you can earn 500 Wiggins bucks! Hint -- for this contest, please draw your cartoon in black and white. If you want to enter, send your art to Contests@ClubPonyPals.com or mail it to:

Club Pony Pals
16654 Soledad Canyon Road #382
Canyon Country, CA 91387 USA
Envelope Art Contest! Win 100 Wiggins Bucks!
by Nat2
by Emily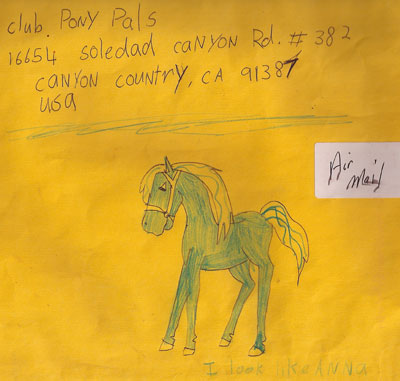 Kiger Mustangs by Whiskywoo

Kiger Cougar photo and infomation courtesy of Bob Ingersoll http://www.bobbyingersoll.com/photo_gallery/Pages/kiger-cougar.htm

Color:
Dun


Height Range:
13.2hh - 15hh


Distinguishing features:
they are short-coupled, rounded shoulder and hindquarter, the tail set is low, the ears are "hooked shaped". They are well proportioned which allows them to keep their footing in all types of terrains. The Kigers do not require shoes because the hoof walls are so heavy.


Country of origin:
USA


Famous Horses: Kiger Cougar
Years ago, while visiting the Burns District, Bureau of Land Management corrals, Bobby noticed a colt who displayed a sense of herding, in the manner of "working" another colt in the pen. With the aid of BLM employees Ron Harding and Josh Warburton, Bobby arranged to adopt the young colt. He named him "Kiger Cougar". Cougar was given sixty days saddle training and then put on cattle. Over the next two years, he performed in several exhibitions in California, Oregon and Nevada. In August of 1992 Cougar was shown at the Paso Robles County Fair, where he won first place over all the other breeds in the Snaffle Bit Class. The following month, Cougar was shown at the World's Championship Snaffle Bit Futurity (Reined Cow Horse) in Reno, Nevada. He placed twenty-first overall, in a field of one hundred-forty-six horses, most of which were bred for the task. Bobby Ingersoll and Kiger Cougar showed the horse world what a Kiger Mustang can do, given the chance. Today, Kiger Cougar resides at Kentucky Horse Park in Lexington, KY.
Infomation courtesy of Bob Ingersoll http://www.bobbyingersoll.com/photo_gallery/Pages/kiger-cougar.htm
Donner

Donner was born May 8, 1995 and was purchsed by dreamworks to be used for the sketches for spirit from the the film Spirit: Stallion of the Cimmaron
EagleGirl's Clicker Club Training Column
For those of us in the Northern Hemisphere, winter is hard upon us. This means shorter days, colder temperatures, and in many places, more precipitation such as rain, sleet, and snow. All of this adds up to not a lot of time or good weather in which to enjoy clicker training our outdoor pets. But we can certainly continue our training during this time. For your indoor pets, you can pretty much just do what you have been doing. But with your outdoor pets, such as ponies, you will need to be creative. If you have a barn, you can train in the barn. If not, you may find yourself wading through mud or snow.

This is a good time to play games (remember The Rope Bump Game?), or to work on some basics that will help you later. If you have a game or activity you are doing with your pony, please write in to the Clicker Club and tell us about it! If you are still trying to think of something to do, a really good thing to teach your pony is "head down". This pose helps him to relax, and is very useful when he is nervous or excited. There are several ways to cue this. You can touch his poll, touch the crest of his neck, put a little pressure on the lead or rein, give a voice command. The more ways your pony can be cued, the better! With my Welsh mule, his cue is for me to lay my hand on his poll and gently massage. When I do this, his head starts going down, down, down. You begin teaching "head down" the same way you teach anything else. You start at the very beginning. If your pony is ear shy, you work on that first. We'll cover that in a separate column. But, if you can touch your pony close to his ears, you are ready to begin teaching "head down". Just gently lay your hand on your pony's poll. Either massage or give a very gentle pressure. Click at the very first sign of downward movement, even if it is barely noticeable. Continue until he is moving his head down a little more, clicking for each new "step".

Once he has his head down, you can continue massaging, waiting a second before clicking. Gradually increase the time his head is down before you click. Later, you can move to lifting your hand just enough so that you are touching his mane, but not applying pressure, then click. Eventually you will be able to move your hand, and he will not lift his head until he hears the click. Just take it step by step. At first you will click for just a second of "head down" without your hand on him. You will gradually increase the length of time you wait before clicking. This will teach him to not only put his head down, but to keep it down. Once he responds to the hand cue, you can start teaching the voice cue, "Head down". Use the two cues together. You can then begin to give the voice cue just before the hand cue, gradually increasing the length of time between them. When you do this, click at the slightest downward movement after the voice cue. My mule does not yet put his head down solely on voice cue, but we continue to work on it.

I have also begun to work on having him put his head down with my hand on the crest of his neck, about halfway down. I am teaching this the same way I taught the poll cue, step by step. At this time, I am beginning with my hand on his poll, them moving it to the middle of his crest. Once he has this down, I will practice with both of these cues, then move to the next one. This will be having him follow my hand downward. We will discuss this in the next column.

Remember, if there is already something that causes your pony to lower his head, use that as the first cue you teach. For instance, if your pony lowers his head when you stroke his muzzle, then use touching his muzzle as the cue to begin to teach him to lower his head. Any time you can take something that your pony is already doing, and put it on cue, you are ahead of the game.

Until then, happy clicking!
EagleGirl
Member Photo Gallery
from Keely
The palomino is Studson the other is Snickers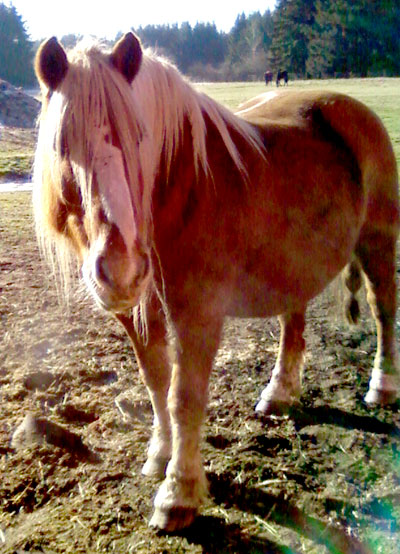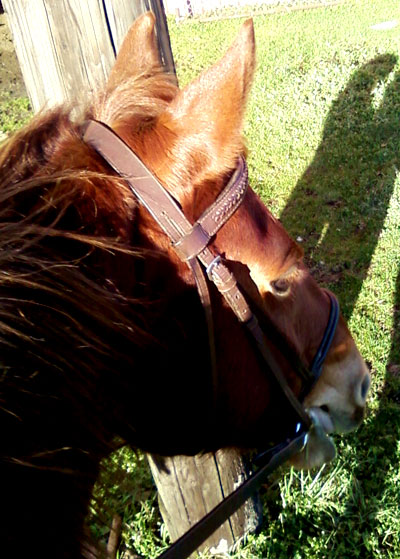 from Ajaxsluver101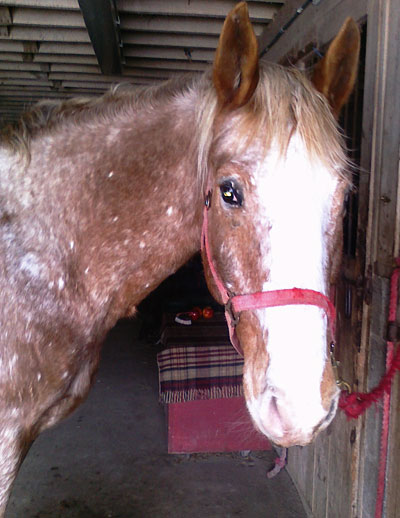 from AriatAngelic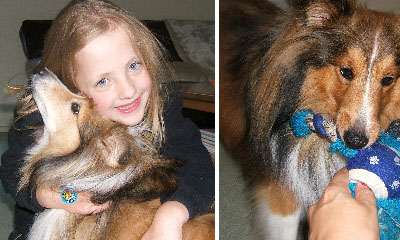 Here are some photos that I would like to share of my 2 Shetland Sheepdogs. This is me when I was little and Monty he is now 14 And the next photo is my dog Brodie playing with his fav toy. Thanks for putting the pics in the Wiggins Weekly
from Hope
Dear Admin, These are pictures for the Wiggins weekly The first picture my baby bunnies Holly and one of my bunnies Carol I got them for Christmas. The second My dream horse Star But I would name her Gold dust. The 3d Picture A Blind POA named Smooch he is so cute!! The last and saddest "In loving memory of my Cat Surprise" He died at the age of 1 and a half the vet did not know what was wrong so he probably was poisoned. I loved him.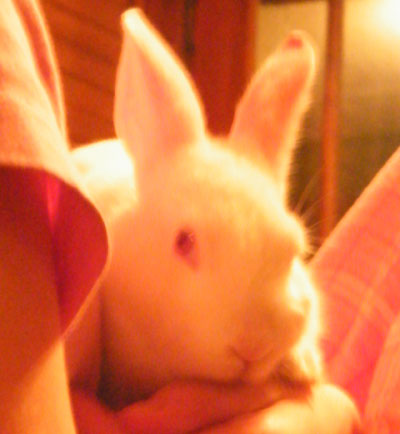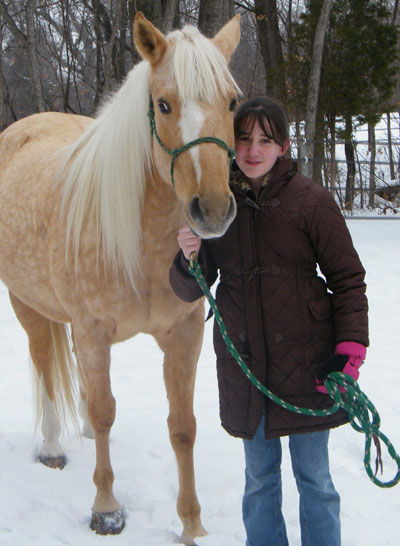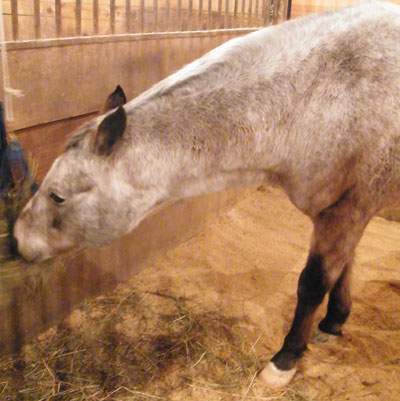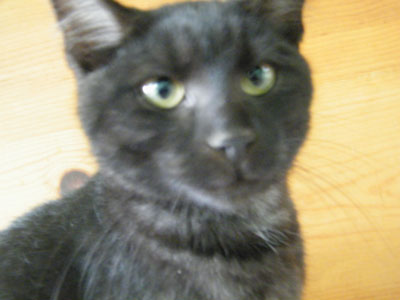 from Chesapeak
my dog Gizmoe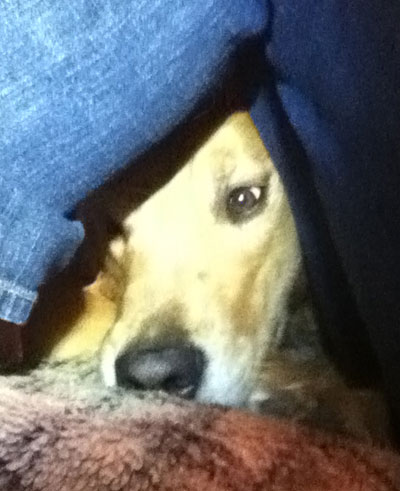 from DesertStrong
Hey there, club pony pals! I'm DesertStrong, and I'd like to show you some pictures of my horse, Sweet Revenge. I bought her about two months ago. She's a 4 year old 17.1hh Warmblood mare, pretty much done growing. We compete in everything, but here are some pictures of our first dressage show together. Thanks!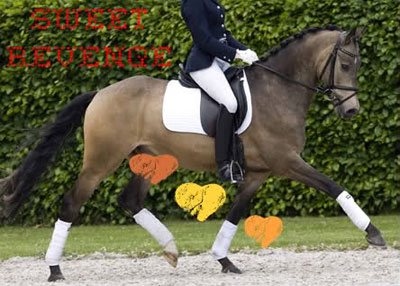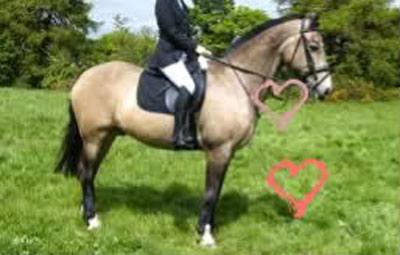 Member Art Gallery

by Nat2
Here is a cartoon I made! I hope you like this and my Harley sleepover award!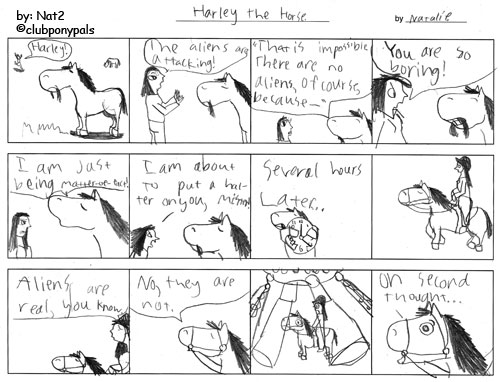 Bookmarks by me!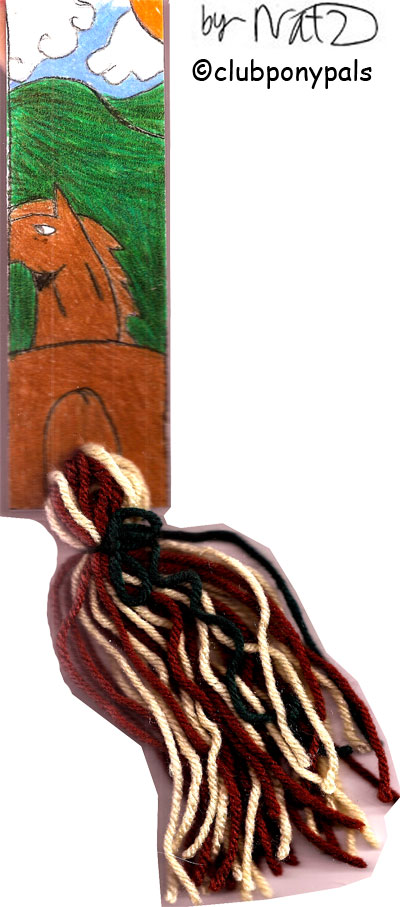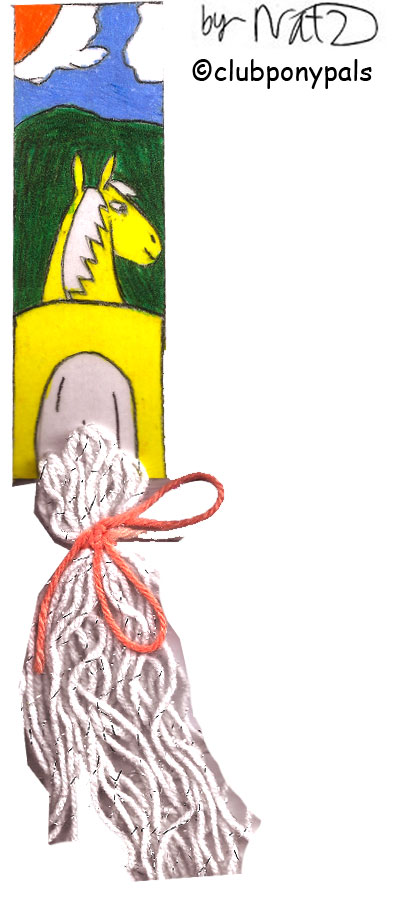 by K1i5T0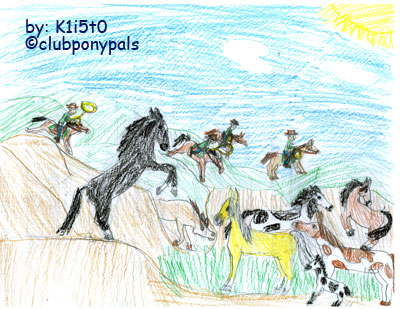 by Ajaxsluver101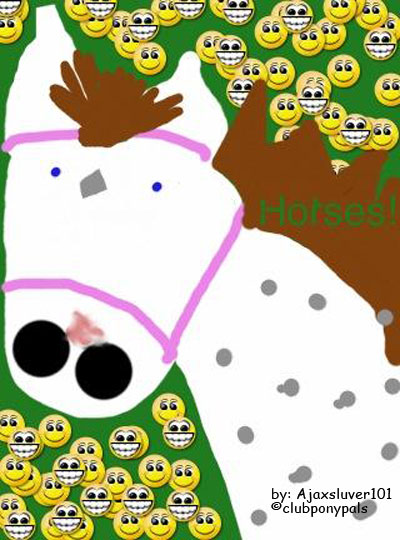 Dedicated to Whiskywoo for Flopsy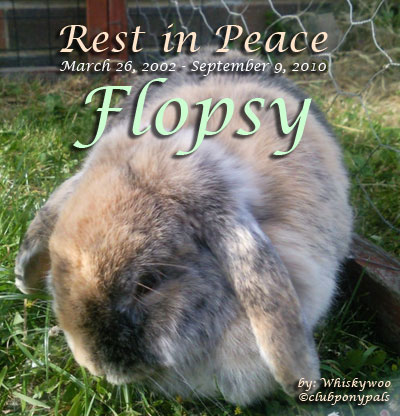 by Kell27 (look for my card in the Postcard winning section!)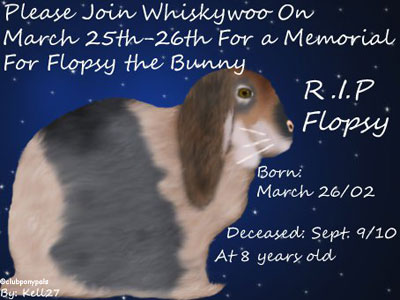 by Tamikia
This is a lipizzan that I drew. The L on his cheek shows that he is a purebred Lipizzan, the marks on his side are his breeding marks.(the M is the sign for his mother and the other symbol is his fathers sign.) The L with the crown below it on his flank shows that he was bred in Lippizza. ( the place where the breed originated.)in this picture he is doing a ballotade, where the horse jumpes with his legs tucked underneath him, only the strongest horses can do it. CPP ROCKS!~Tamikia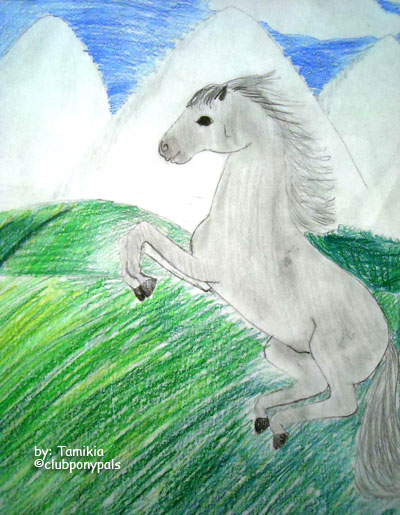 by Jesnay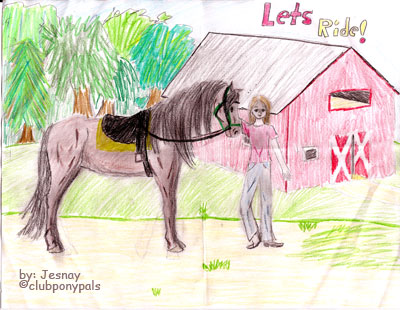 by Cory101
Walker horse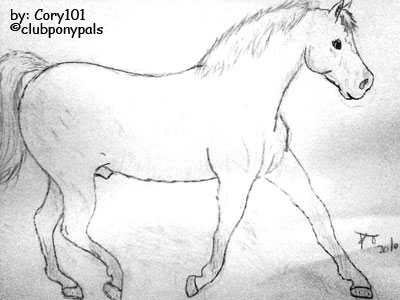 Arab Stallion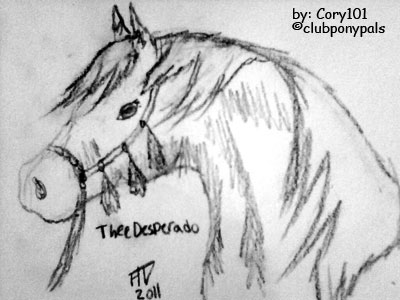 from Maid Mairain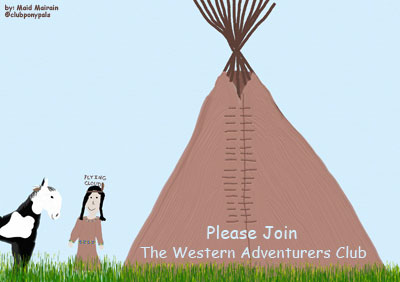 by fjordlover3000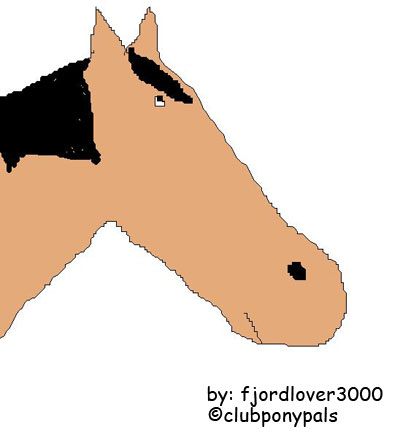 This Issue's Winning Postcard
by Chelsea2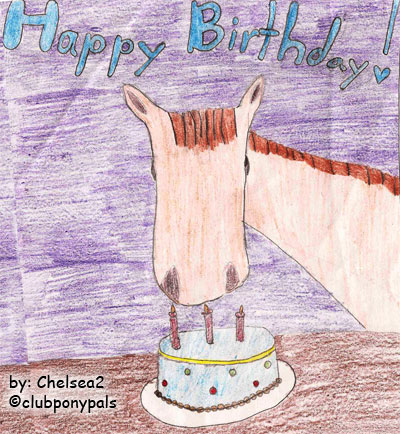 by ecbventing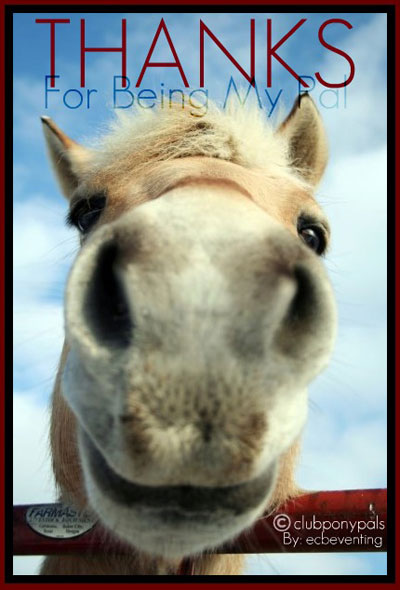 by K1i5T0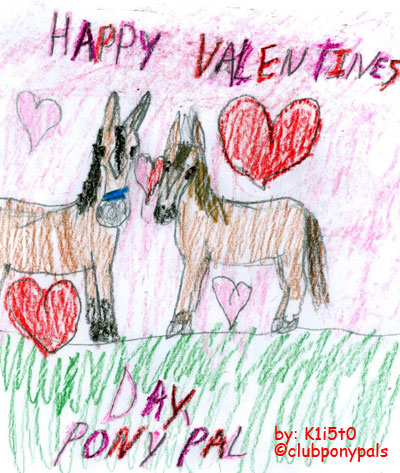 For Whiskywoo by Kell27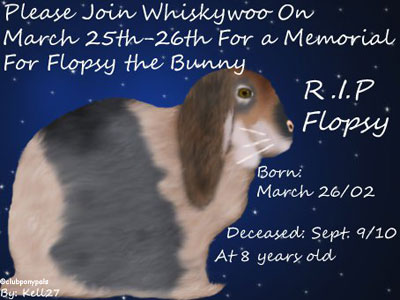 Other Postcard Entries
by Chelsea2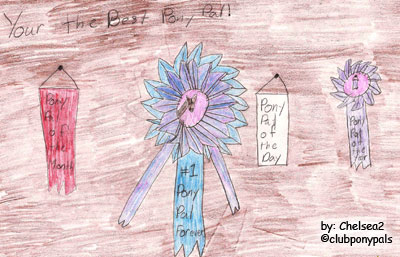 by K1i5T0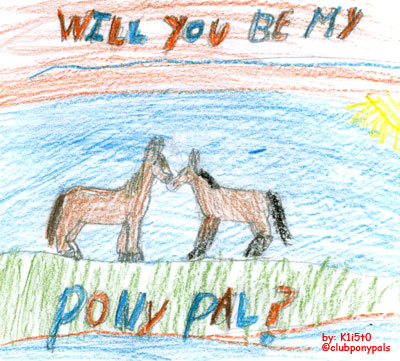 by Ajaxsluver101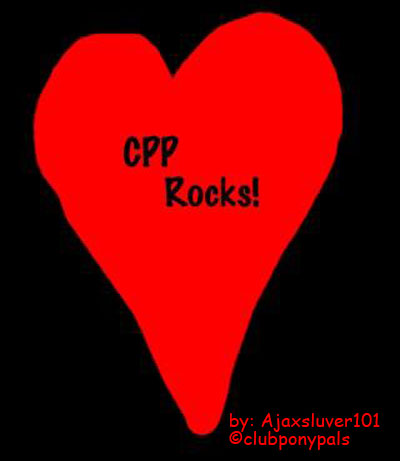 by Sunstandstill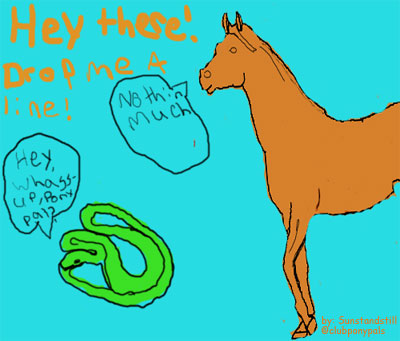 Winning postcard entries each issue get 200 Wiggins bucks. All art must be original, it cannot include clip art or copyrighted images.
If you want to enter, send your original art to Contests@ClubPonyPals.com or mail it to:
Club Pony Pals
16654 Soledad Canyon Road #382
Canyon Country, CA 91387 USA
Dear Pony Pals

Send in your photos, stories and drawings for our contests.

e-mail them to Contests@ClubPonyPals.com or mail it to:

Club Pony Pals
16654 Soledad Canyon Road #382
Canyon Country, CA 91387 USA

The first printing of collectable stickers is almost gone. Get yours now, if you want a sticker and bookmark make sure and include a mailing address where we can send it.

Please include your user name and the email address you used to register in your letter, too.

Webmaster
Play These Games to Earn Wiggins Bucks

Play these to earn bucks! Each issue of the newsletter, the highest scoring

Scavenger Hunt
Winner gets 3000 Wiggins bucks,
next nine members scores below that get 500 bucks each.

glitterific

Jaimee

nippenose

clp642

kiley1234

maryland1

takotalover42412

horsefan787

Fheequeen

abbypaigem13

themusicinme

Pony Pal Derby
Race your pony to earn Wiggins bucks!
Each issue of the newsletter, the derby game's highest scoring player
earns 3000 Wbucks.
500 Wbucks goes to each of the next nine highest scores.

RogueMustangMare

tangobaby

KateriAnne

lor344

Vampgirl91

Grizabella345

jazobott

AvantGarde

WesternOnlyGal

RidingRox3

Rockerrr

<![if !supportEmptyParas]> <![endif]>

Math Games
High scoring players in addition,
subtraction or multiplication earn 500 Wiggins bucks,
next nine players who have high scores earn 100 bucks each.

Add Like Mad

EagleGirl

indijade

talktothehoof

Tenley Swope

Hikaru

biebs

jazobott

iloveponie

huntereqprincess18

XxKTxX

<![if !supportEmptyParas]> <![endif]>

Subtraction Action

XxKTxX

RidingRox3

Hikaru

Danielle Rose

allyalli0

Huzar

bailey pilgrim

Countrygirl25

DutchessLover

Rockerrr

<![endif]>

Multiplication Station

Gypsy_Horse

starla073

Vampgirl91

iloveponie

ginger_girl

prattkid3

Diaphena713

elliebear8

RidingRox3

Amber the Orange Fairy

This Issue's Cross Country Course Winners:

Cross Country North

biancamint54

Alygator

emuski

hspony12

glitterific

Cross Country South

Jainac24

glitterific

Lan

Mygirl10

PicassoGirl
Pony Pal Thoughts for the Day:
"You dont have to be perfect at everything. Just know when to ask for help. "
#1horseluver14759

_____________________
"A simple thing in life does not include a horse. A horse is a responsibility which soon turns into hard Work. If a horse owner is not prepared, That horse won't be either."
Shinabella
_______________________
"We all love horses; we ride them, care for them and love them. But yet so many of us punish our horses for behaviour we think is bad, when really, the horse is trying to tell us that something is wrong. Why not take the time, today, to go out there and find out what your horse is trying to tell you. After all, wasn't life with a horse meant to be free of misunderstandings? If you take the time to listen to your horse, your horse will listen to you, obey you, and respect you even more. "
i_luv_addy