Record Breaking Live Moderated Chat!

A new record for attendance in the Live Moderated Chat was set on Tuesday, March 22 with 26 members taking a lesson at once. To commemorate the event, click on the photo at right to look at a photo album from the event.
THINK SPRING!!!!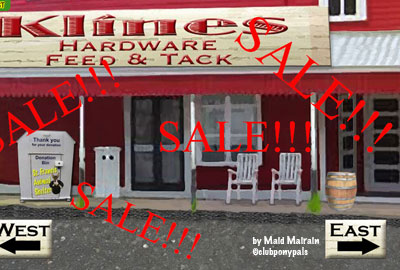 KLINES HARDWARE'S FIRST
MARCH MADNESS SALE
MARCH 11-31
WESTERN TACK 25% OFF!
ANYTHING GREEN 50% OFF!
BUY NOW AND SAVE
| | |
| --- | --- |
| Need something special? Artists are waiting! | |
March's Live Moderated Chat Schedule

Group Riding Lessons and Live Moderated Chat Every Tuesday
Jane Crandal's online riding lessons and mini show in the virtual riding arena. Stop by and say hi from

11 pm - 1 am London time
Midnight - 2am Continental time
6 - 8 pm Eastern USA time
3 - 5 pm Pacific USA Time
7 - 9 am Wednesday in Malaysia
8 - 10 am Wednesday in Perth, Australia
9:30 - 11:30 am Wednesday in Adelade Australia
10 - noon Wednesday in Sydney Australia
Noon - 2pm Wednesday in New Zealand
Need virtual riding tips for the lesson?
Join the Virtual Riding Lessons Club!
Friday, March 25th Live Moderated Chat
commemorating Flopsy, a much loved bunny.Stop by and say hi from

11pm - 1 am London time
Midnight - 2am Continental time
6 - 8 pm Eastern USA time
3 - 5 pm Pacific USA Time
7 am - 9 am Saturday in Malaysia
8 am- 10am Saturday in Perth, Australia
9:30 - 11:30 am Saturday in Adelade Australia
10 - noon Saturday in Sydney Australia
Noon- 2 pm Saturday in New Zealand


special award for your mantel
Yes, we get members from these places all the time. Stop by and chat!
About Flopsy

Flopsy was a Funny bunny
Flopsy was a loving bunny
Flopsy was a obdient bunny
Flopsy was a pretty bunny
Flopsy was a super bunny


A little bit about flopsy: she was nervous when we first got her but she soon calmed down. She loved to watch spongebob squarepants she escaped out of the garden a few times. As she got older she got lazier and lazier. She died on 9th september 2010.
Rest In Peace Flopsy
~whiskywoo~
The Long Riders
Special Recognition
to our Trail Riders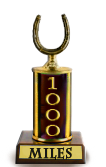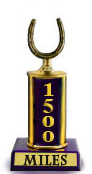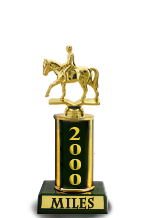 Newest Long Riders
| | | |
| --- | --- | --- |
| | | |
| 3242 | --- | 514.5 |
| chrissy0215 | --- | 519.5 |
| Katy Rose | --- | 549 |
| myhorseluv | --- | 599 |
| chelsea2 | --- | 1086.5 |
Current Leader
Drawing of the Issue Contest
by Maid Mairain

by Tjacko3

by AlexandraAlways

Winner gets 500 Wiggins bucks, and their art is made into a painting for members' cabins. If you want to enter, send your art to the Contests@ClubPonyPals.com or mail it to:
Club Pony Pals
16654 Soledad Canyon Road #382
Canyon Country, CA 91387 USA
If you want a sticker and bookmark make sure and include a mailing address where we can send it!
Cartoon Caption Contest -- This issue's caption winner



WINNER:


Ridingteacher: Oh god, the ridingschool-members are getting that many that they have to ride the same pony at the same time! Pony: Look! Im a Dachshound!
by AlexandraAlways

RUNNER UP:

Girl: "Is it just me or is my dog half horse and half dog?" Horse: "I went on the new 'Lose weight, come as skinny as a gate!' program" Girl: "Weird...." by Jamison

This winning caption's writer got 500 Wiggins bucks.
The runner-up caption gets 100 Wiggins bucks.
Vote for your favorite caption for this cartoon--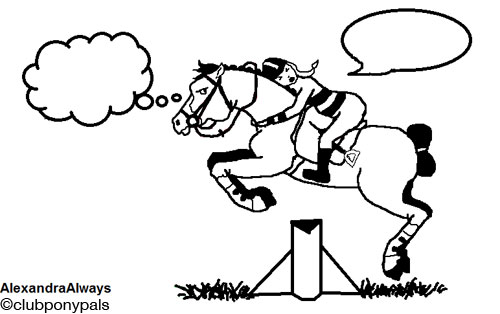 Write a caption for this --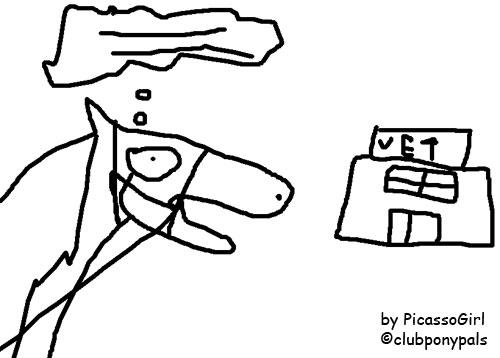 Can you write the winning funny caption for this cartoon? Deadline is Thursday before the next newsletter issue. Email it to Contests@clubponypals.com
Look for the entries in the next issue's e-newsletter and vote for your favorite.
Winning caption gets 500 bucks, runners-up get 100 W bucks each. Captions should be short.

or draw a cartoon --

We are looking for cartoon artists, too. Draw one and email it to us by Thursday.

If it is selected, you can earn 500 Wiggins bucks! Hint -- for this contest, please draw your cartoon in black and white. If you want to enter, send your art to Contests@ClubPonyPals.com or mail it to:

Club Pony Pals
16654 Soledad Canyon Road #382
Canyon Country, CA 91387 USA
Envelope Art Contest! Win 100 Wiggins Bucks!
by Adela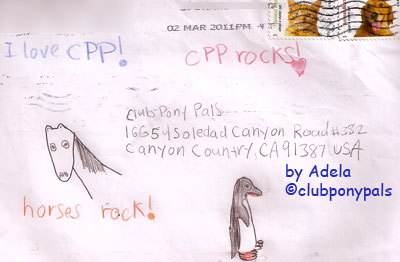 by Lily5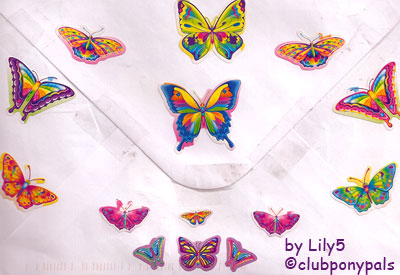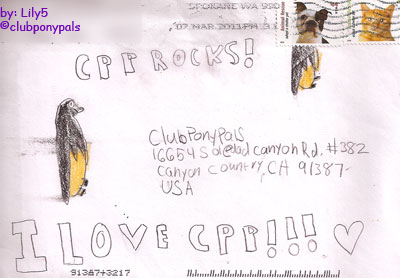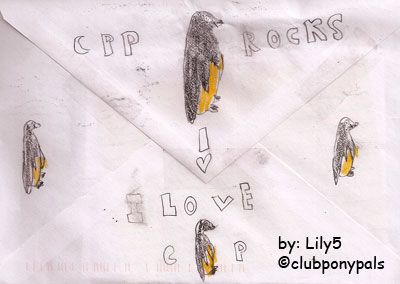 by JesusGirl4Him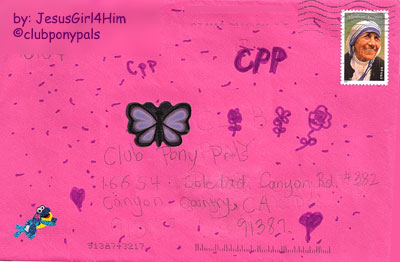 by Livanne33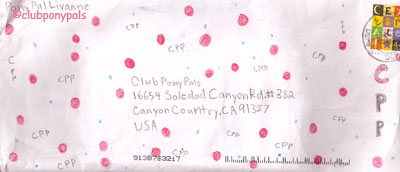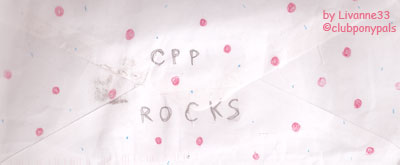 EagleGirl's Clicker Club Training Column
In this column we are going to look at the basic tool of clicker training, the clicker. The clicker is a tool, albeit a very valuable one. It enables the smooth implementation of the "clicker training" philosophy. The sound is clean, audible, and precise. Once you learn how to use it, you will be able to deliver a uniform "click" at precisely the moment that your animal offers the desired behavior. The ability to exactly mark each tiny step in the process is what makes clicker training, in my opinion, so practicable and unique. In other words, it can be done successfully by just about anyone and is without compare in the training world.

There are people who use the same sort of training philosophy, with a different sound marker. Some of the markers that may be used include a tongue click, a finger snap, a word (such as "good"), etc. However, the clicker really cannot be beat for precision. By the time your mouth forms a word or your tongue clicks, the moment may have passed. And once you condition yourself to "click" at "the moment", you will find yourself doing it without thinking about it. The sound is clear and exact, and loud enough so that the animal can hear it. Sometimes you might have an animal that is spooked a bit by the clicker, but with familiarity will come comfort. My mule spooked at it off and on for several months. He was a special case, and had been abused, so he was afraid of pretty much everything. But he finally got used to it, and the "click" became his lifeline. No matter what we were doing, he knew that he just had to hold on until he heard the click, and once he heard that it was his assurance that whatever was happening would stop.

When using a word, it is virtually impossible to say it exactly the same way every time you use it. Your voice might be pitched higher or lower, have a different inflection, be at a different volume. The way you feel will influence the way your voice sounds as well. A clicker sounds the same every time you click it. It also provides the advantage of uniformity when an animal goes from one trainer to another. The animal knows exactly what the click means. This can help keep continuity in an animal's training, and also can help calm a nervous animal. Also, sometimes you need to be talking to your animal, and if you are, then you will not be able to get your "word" in at exactly the right time. With a clicker, you can continue talking soothingly or giving instructions, and you can "click" at the right time. You can certainly use a word, such as "good" after you click, especially if your animal associates that word with doing something right. But the clicker is your best bet for delivering a marker that very definitely identifies the exact behavior you want to reinforce.

My little mule is still very scared of men. When the farrier came out I used the clicker. The farrier was fortunately very patient, and was willing to allow my mule all the time he needed. It took about an hour and a half, but the farrier was eventually able to lift my mule's front feet and give them a trim. It wasn't a full trim, but at least he was able to handle the feet and do a little work on them. Without the clicker I am certain that would never have happened.

That being said, you will find times when it is really inconvenient to use the clicker, such as when you have to have both hands occupied. This might occur when you are riding, if you are holding the reins with both hands. It depends on what kind of riding you do and how your mount reins. Once your animal is used to the clicker, you can substitute a tongue click if you need to. I sometimes use an "alternate" when I am working with my mule's feet. If I feel that he needs to hear a click before I can get the clicker situated, I just pop my lips. I do not tongue click very well, so I use a lip pop so that he can hear it.

If you drop your clicker, it can be tricky, or sometimes even dangerous, to retrieve it. I have found that putting my clicker on a stretchy wristband (the "curly" kind, like a phone cord) keeps it safe. If I let go of it, either intentionally or accidentally, it is right there on my wrist. If I need to click, I can always use a lip pop, but then I can get the clicker back easily and safely.

So, can you use a different sound marker than a genuine clicker? Yes. But will the other marker possess ALL of the benefits of the clicker. No. It just depends on what you are doing, what you have already done, and what you are physically able to do at the time.

Until then, happy clicking!
EagleGirl
Member Photo Gallery
from AlexandraAlways

My own hamster-breeding called "Criceta"
(Criceta is meant "Hamster" in Latin)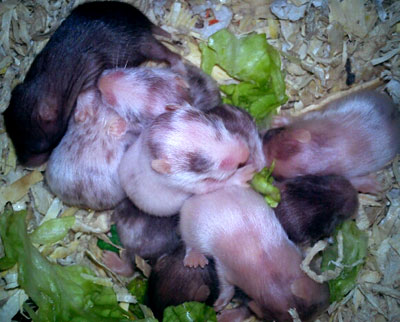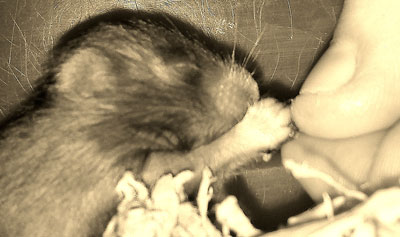 from Emma12990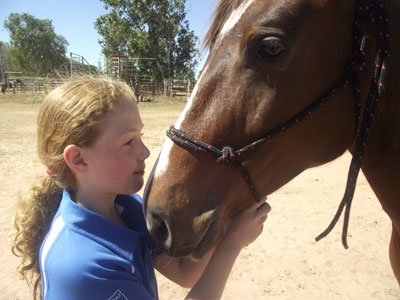 from Poalover
Sear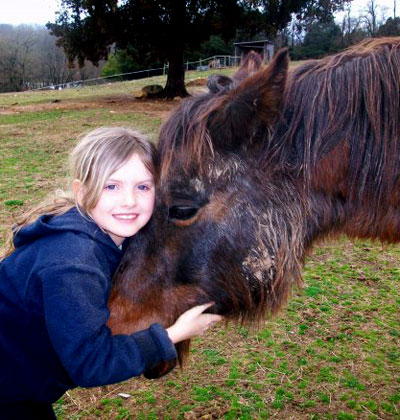 Moe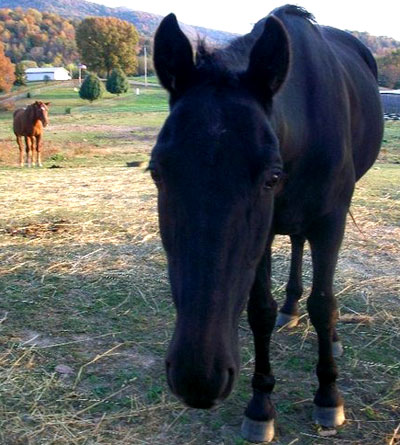 Magic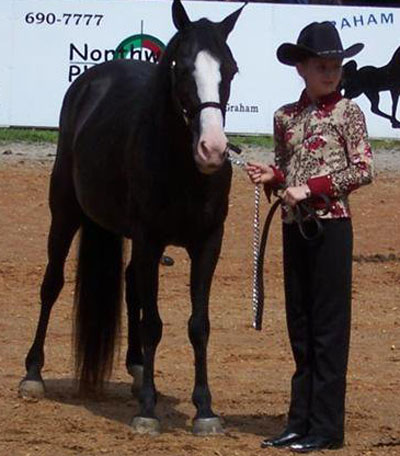 Duke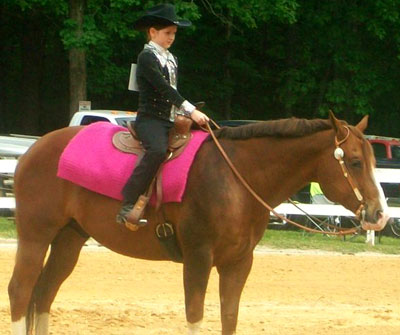 Bucket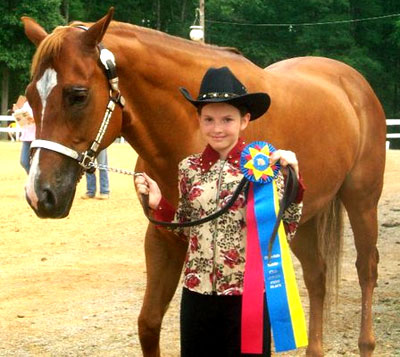 from Britnie
Hi! Here are some pictures of my new horse, Yuniya. The one where she is trotting in a field is an older one that I found, The other one is recently took - by me.
~ Britnie and Shadow + Yuniya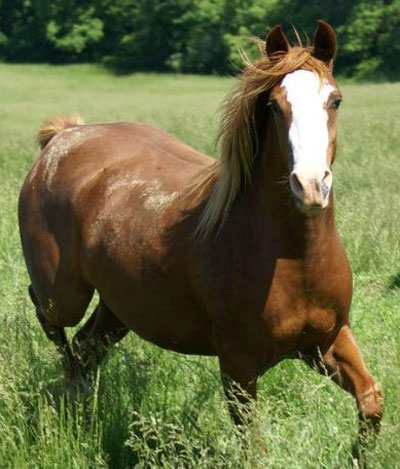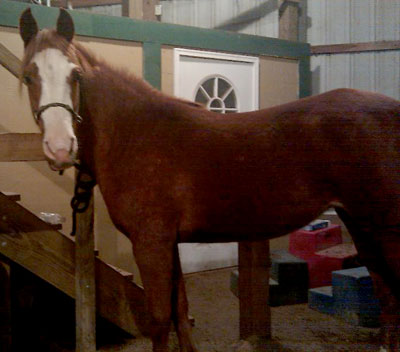 Member Art Gallery
by Tjacko3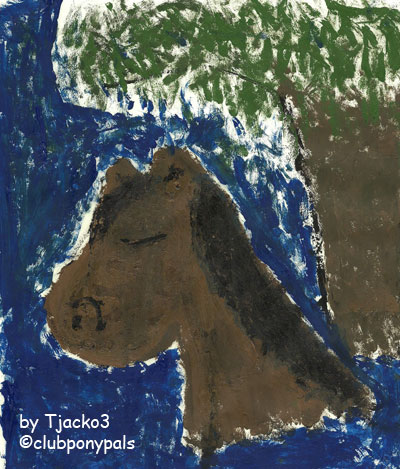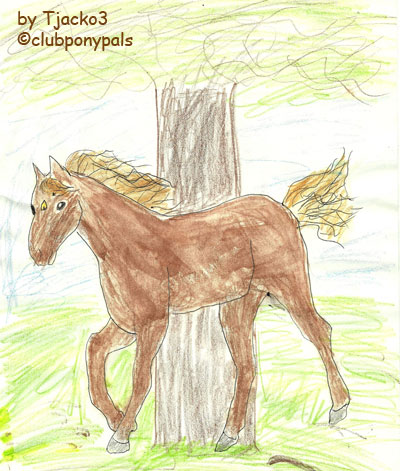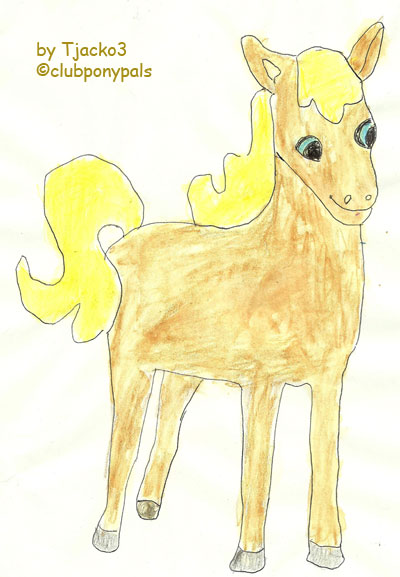 by Crusinpaint123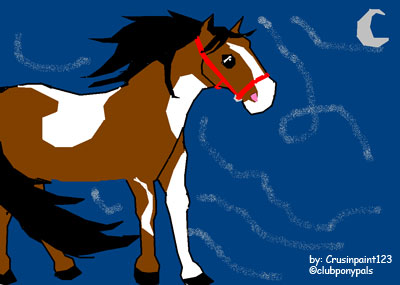 by AlexandraAlways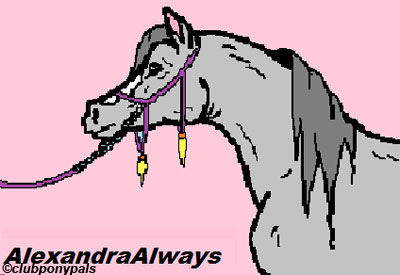 by Nat2
Here is another Harley cartoon!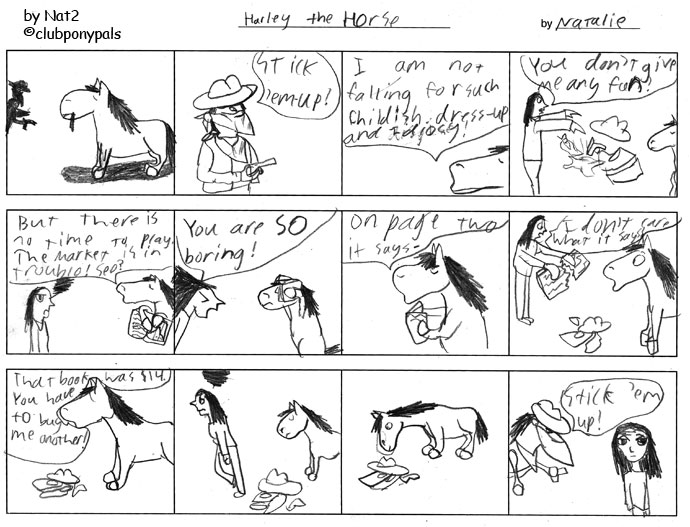 Horse Pasture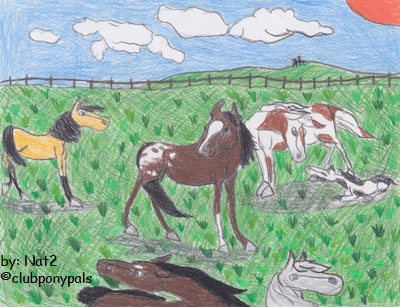 Warriors - Tigerstar's Last Battle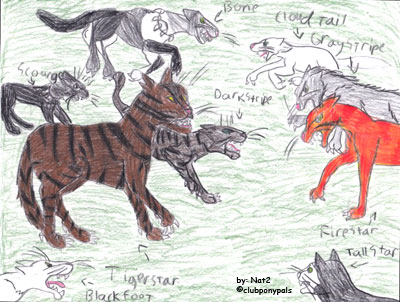 by Maid Mairain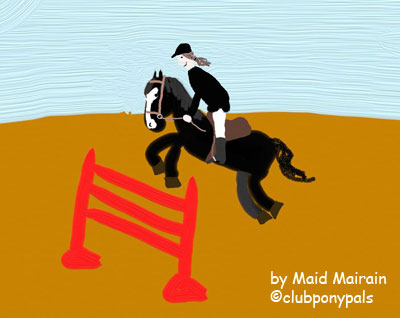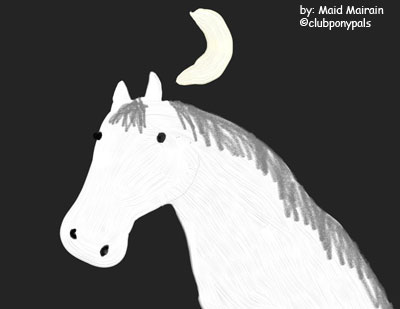 by Haily Horse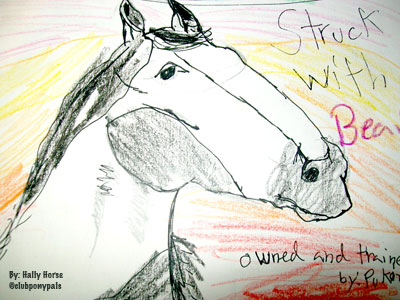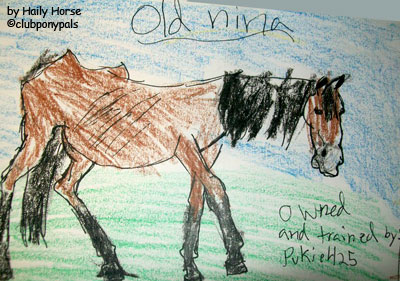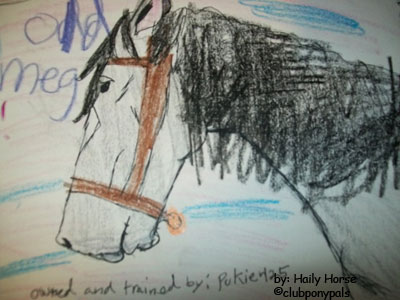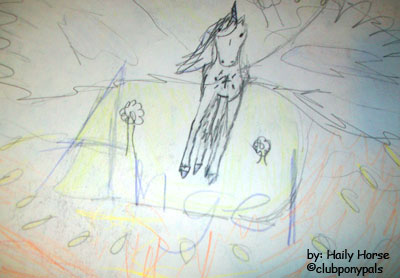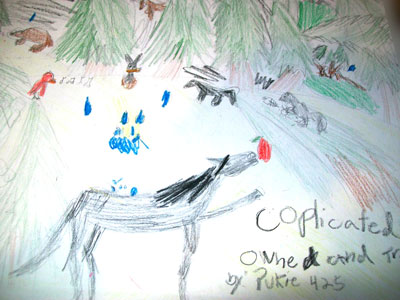 by Tamikia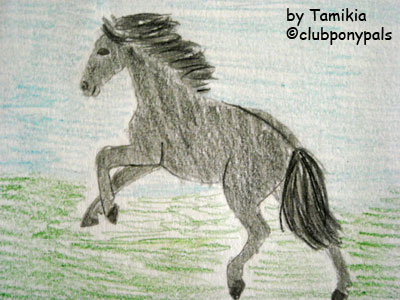 by Keely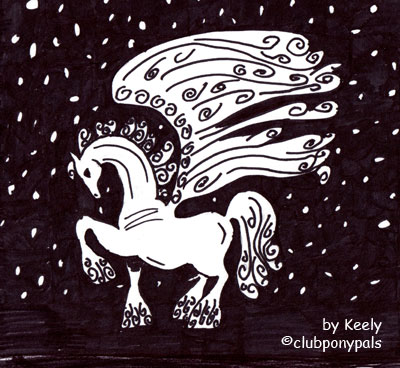 by Moonlight Sonata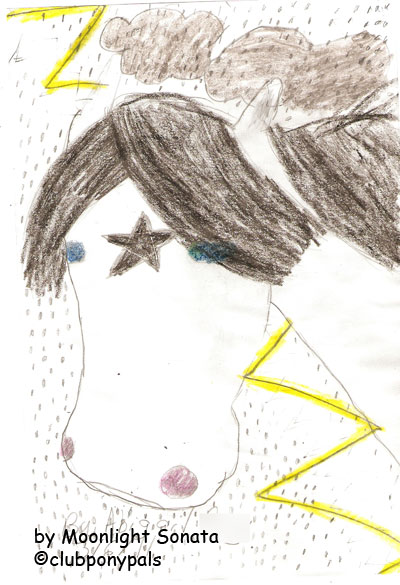 by JesusGirl4Him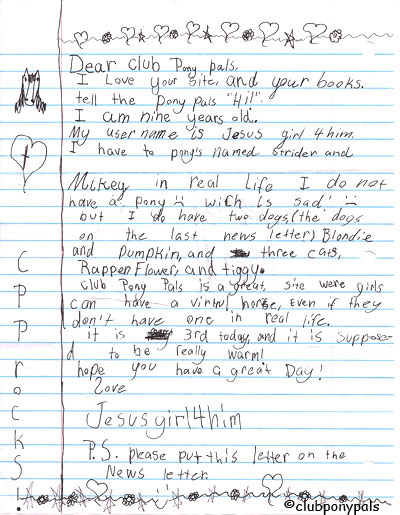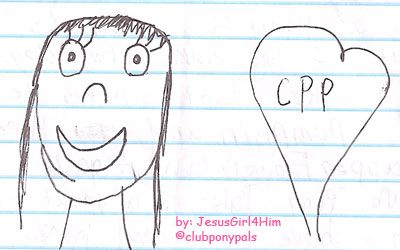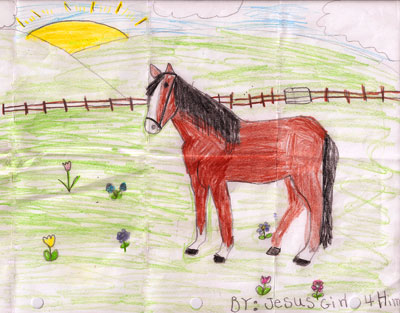 by Hannahxx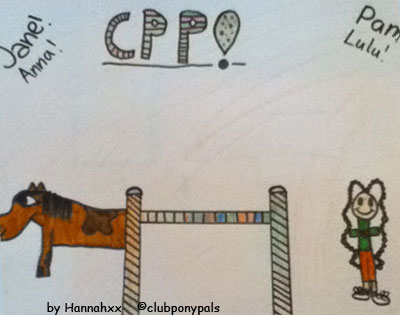 by Livanne33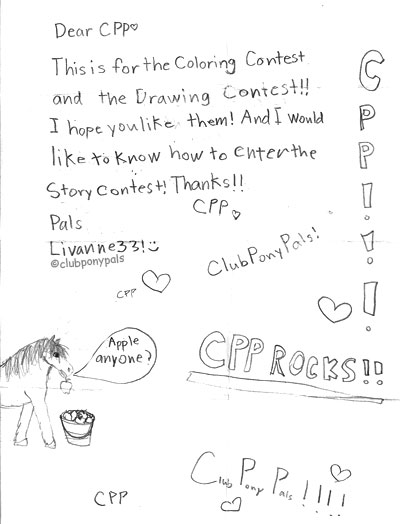 Response to Livane33 from Jane Crandal:
Dear Pony Pal Livanne33,
Your art is in the Choose Art # 23 Contest and the Coloring Contest #22 now! Thanks for sending in your art! If you would like to send in a story or poem for the Story Contest, please send them in an email to contests@clubponypals.com

Thanks and good luck!
~ JC
by Adela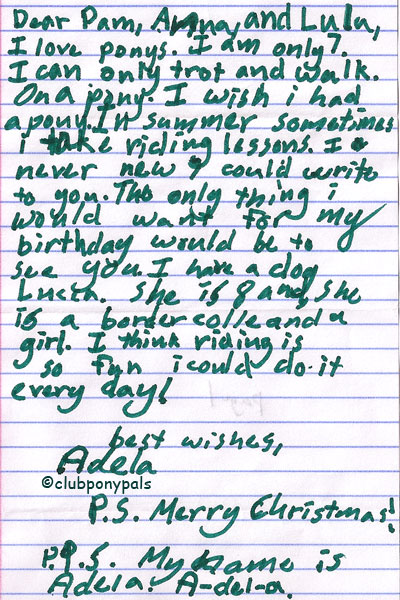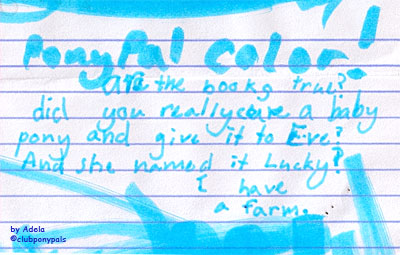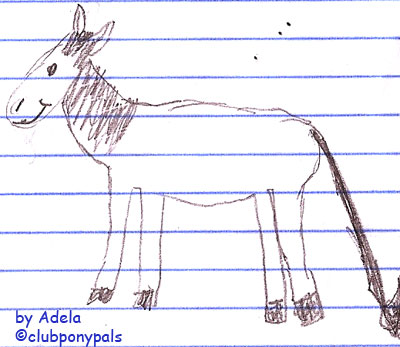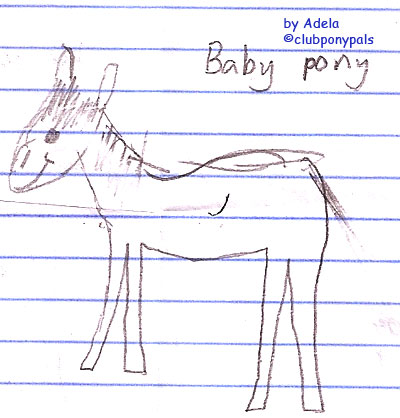 by Lily5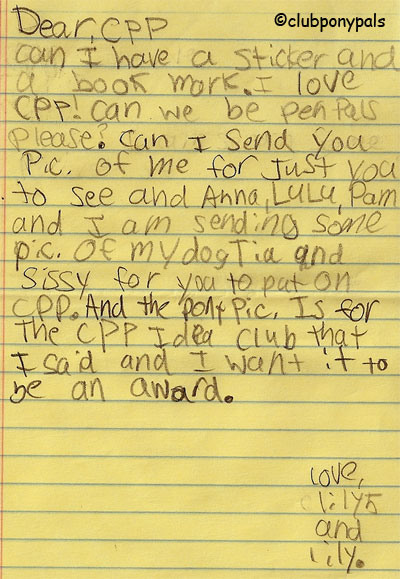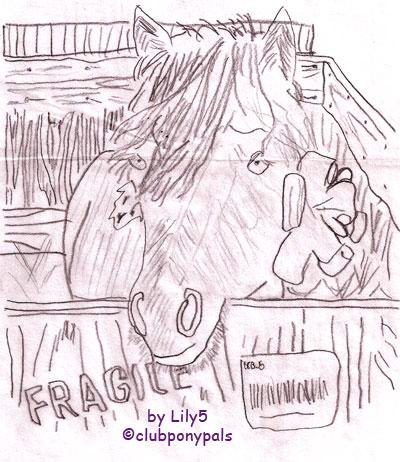 This Issue's Winning Postcard
by Fred45667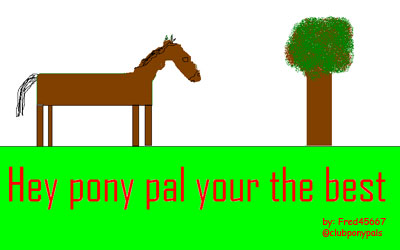 by Mistymyhorse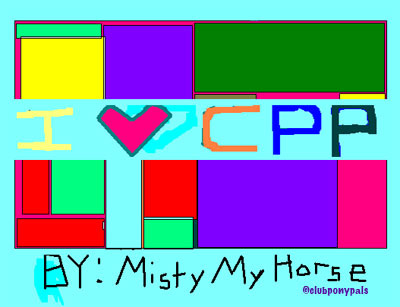 by Captainpony274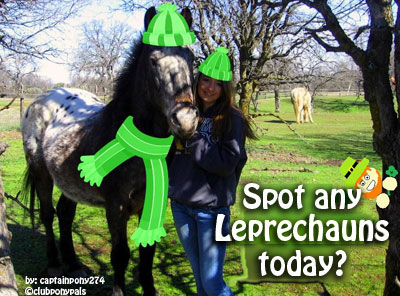 Other Postcards
by Moonlight Sonata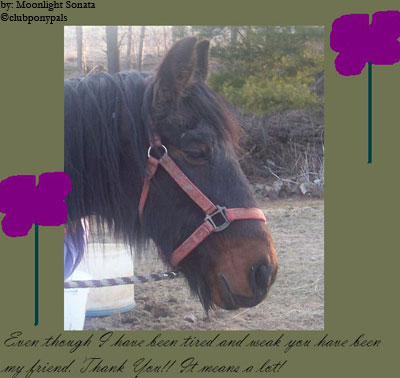 by KittenKaboodle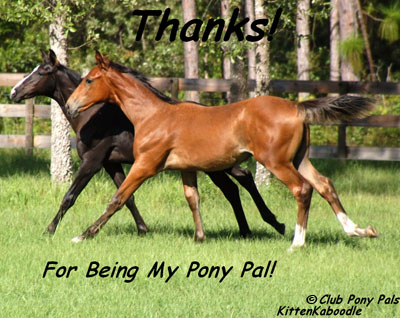 by Misty808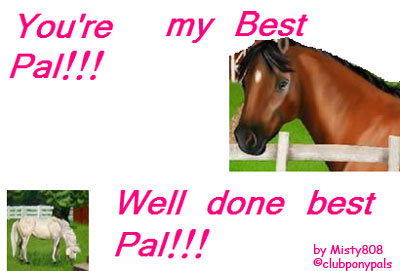 Winning postcard entries each issue get 200 Wiggins bucks. All art must be original, it cannot include clip art or copyrighted images.
If you want to enter, send your original art to Contests@ClubPonyPals.com or mail it to:
Club Pony Pals
16654 Soledad Canyon Road #382
Canyon Country, CA 91387 USA
Dear Pony Pals

Send in your photos, stories and drawings for our contests.

e-mail them to Contests@ClubPonyPals.com or mail it to:

Club Pony Pals
16654 Soledad Canyon Road #382
Canyon Country, CA 91387 USA

If you want a bookmark make sure and include a mailing address where we can send it.

Please include your user name and the email address you used to register in your letter, too.

Webmaster
Play These Games to Earn Wiggins Bucks

Play these to earn bucks! Each issue of the newsletter, the highest scoring

Scavenger Hunt
Winner gets 3000 Wiggins bucks,
next nine members scores below that get 500 bucks each.

glitterific

Farmboy543

BuzzKiller

Pippa

Minque

huntereqprincess18

AlexandraAlways

tangobaby

HumbleHorses

HoneyDewMelon

microphone

Pony Pal Derby
Race your pony to earn Wiggins bucks!
Each issue of the newsletter, the derby game's highest scoring player
earns 3000 Wbucks.
500 Wbucks goes to each of the next nine highest scores.

RogueMustangMare

KateriAnne

tangobaby

butterflyrider97

huntereqprincess18

taylorjoy3

Farmboy543

solmalfoy

Romanheart

swanheart

Misspippy

<![if !supportEmptyParas]> <![endif]>

Math Games
High scoring players in addition,
subtraction or multiplication earn 500 Wiggins bucks,
next nine players who have high scores earn 100 bucks each.

Add Like Mad

LunaLight

STKKTS

pantherpaw101

iloveponie

Pippa

221439

kathy12

Hikaru

lilly2530

Asya Diego

<![if !supportEmptyParas]> <![endif]>

Subtraction Action

LunaLight

lilysgirl

iloveponie

ziola

Lovely girl in luv

caledonian

wolf2106

Rowan333

OotAndAboot

Ayame4321

<![endif]>

Multiplication Station

lilysgirl

LunaLight

Mystic Forest

jogjed

crazy about converse

Imawesome

AnnaPanna123

iloveponie

ilovejustin

elliebear8

This Issue's Cross Country Course Winners:

Cross Country North

kunaibloodwake666

myhorseluv

zip128

BellaHascall

lilygirl_16

Cross Country South

Black Stalllion

qlowe1980

cheaster123

allison78613

Constellation
Pony Pal Thoughts for the Day:
"Been there, jumped that."
~ Whiskywoo

____________________
"Life is like a wild horse - Ride or Get Ridden"
~ AlexandraAlways
_______________________
"I loved to get all dusty and ride horses and plant potatoes and cotton."
~ Dorothy Malone