HAVE A BEST PAL?
WIN SOME BUCKS !!!

Tell your BF's that they are. Send them our new "Best Pal" Trophy from our gift catalog. The Pal who sends the most "Best Pal" Trophies by March 1st gets a 500 Wiggins Buck prize.

The trophy is available in the Gifts catalog.

Cross Country Trail
Launch Winners

each got a trophy
and 1000 Wiggins bucks

Northbound Winners

Southbound Winners

Roczyrocz

cowgirl9400

9371

mdo17

Holly777

Healer

mdo17

Emma12990

horseponylover2000

Mistywind9988

| | |
| --- | --- |
| Need something special? Artists are waiting! | |
NEW QUESTS LAUNCH
February 15th Quests - The Wild Pony
A mystery horse appears at Crandals.
The Pony Pals need to help the pony and find out who owns it. Can you help?
February's Live Moderated Chat Schedule

Our Live Moderated Chat will be open on Tuesdays.

Every Tuesday
Jane Crandal's online riding lessons and mini show in the virtual riding arena. Stop by and say hi from

11 pm - 1 am London time
Midnight - 2am Continental time
6 - 8 pm Eastern USA time
3 - 5 pm Pacific USA Time
7 - 9 am Saturday in Malaysia
8 - 10 am Wednesday in Perth, Australia
9:30 - 11:30 am Wednesday in Adelade Australia
10 - noon Wednesday in Sydney Australia
Noon - 2pm Wednesday in New Zealand
Need virtual riding tips for the lesson?
Join the Virtual Riding Lessons Club!

Friday, February 25th
is a live moderated chat to celebrate the Pony Pal Pals Club. Chat with the Jane Crandal, take lessons and enter show classes in the virtual riding arena. Stop by and say hi from

11pm - 1 am London time
Midnight - 2am Continental time
6 - 8 pm Eastern USA time
3 - 5 pm Pacific USA Time
7 am - 9 am Saturday in Malaysia
8 am- 10am Saturday in Perth, Australia
9:30 - 11:30 am Saturday in Adelade Australia
10 - noon Saturday in Sydney Australia
Noon- 2 pm Saturday in New Zealand

Yes, we get members from these places all the time. Stop by and chat!
The Long Riders
Special Recognition
to our Trail Riders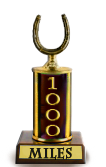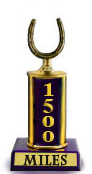 new Long Rider
| | | |
| --- | --- | --- |
| j7m7c7 | --- | 500 |
| Integra25 | | |
current miles leader
Drawing of the Issue Contest
by JesusGirl4him

by Vada Gandee 8021

by Hannahxx

Winner gets 500 Wiggins bucks, and their art is made into a painting for members' cabins. If you want to enter, send your art to the Contests@ClubPonyPals.com or mail it to:
Club Pony Pals
16654 Soledad Canyon Road #382
Canyon Country, CA 91387 USA
If you want a sticker and bookmark make sure and include a mailing address where we can send it!
Cartoon Caption Contest -- This issue's caption winner



WINNER:


Apple: Listen horsey, We are so not meant for each other. Horse: I LOVE APPLES! *Starts munching* Apple: OW OW OW OW! *jumps away* YOU'LL NEVER CATCH- *Horse eats him* by Shinabella

RUNNER UP:

Horse: There was a really creative worm in here! He made this apple a face! Apple: What! Don't eat me! the worm is still in here. *wink* *Horse gallops away* - by Maid Mairain

This winning caption's writer got 500 Wiggins bucks.
The runner-up caption gets 100 Wiggins bucks.
Vote for your favorite caption for this cartoon--

Write a caption for this --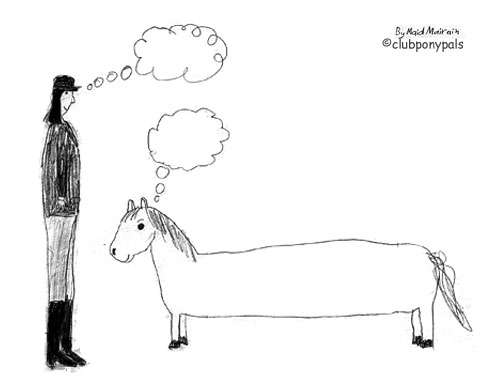 Can you write the winning funny caption for this cartoon? Deadline is Thursday before the next newsletter issue. Email it to Contests@clubponypals.com
Look for the entries in the next issue's e-newsletter and vote for your favorite.
Winning caption gets 500 bucks, runners-up get 100 W bucks each. Captions should be short.

or draw a cartoon --

We are looking for cartoon artists, too. Draw one and email it to us by Thursday.

If it is selected, you can earn 500 Wiggins bucks! Hint -- for this contest, please draw your cartoon in black and white. If you want to enter, send your art to Contests@ClubPonyPals.com or mail it to:

Club Pony Pals
16654 Soledad Canyon Road #382
Canyon Country, CA 91387 USA
Envelope Art Contest! Win 100 Wiggins Bucks!
by Tamikia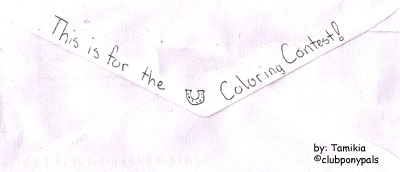 by Lily5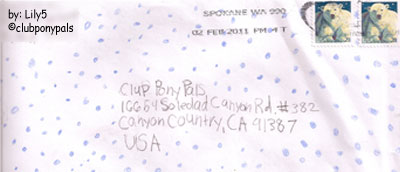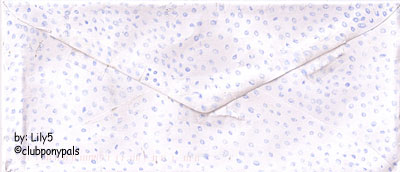 by Gracielou0422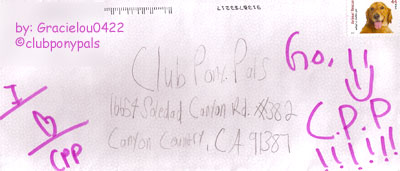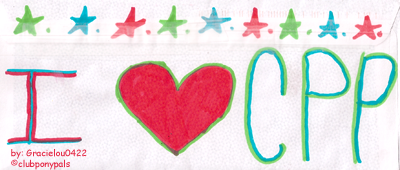 Connemara Ponies by Whiskywoo

Famous Horses


Bobby Sparrow Blue
a 147cm grey Connemara pony who became a
grade A show jumper.
Image courtesy of www.connemaraponyworld.com

Color:
Grey, black, brown, dun and occasionally roan, chestnut, palomino.


Height Range:
13hh – 14.2hh


Distinguishing features:
Large pony, sport horse type, refined features, good bone, hardy, intelligent, good temperament.

Country of origin:
Ireland


By Nyx



About my cat, died Nov 16 2009
You're small, oh so small
So beautiful and weak
But in a month you're oh so strong
You run around and leap
I touched your soft fur
But then you ran away
Where there was too much noise
You were gone for 4 whole days
Then I could always pet you
Your eyes are changing
From blue to green
And they dazzle in the light
You look at me with those sweet eyes
Full of love, kindness, need
You helped me recover from a bad experience
And I wasn't afraid of cats anymore
You loved me, needed me, and always listened to me.
But then I got new games
And I saw you less and less each day
I will always regret the dreadful day
When you passed away.
I walk around and see you lying on the ground
I walk over and pet
Your soft fur
"Wake up Sunny" I say
But you don't move.
I cry and cry and cry
"Its all my fault!" I scream
If I had known I would've
Been with you more
And every day
I still remember
When you were small, oh so small
This really happened to me. I had a phobia of cats before I saw Sunny.
The moral of this life story is
"You never know what you got until it's gone."
EagleGirl's Clicker Club Training Column
In the last column we talked about some things we can do during the wintertime, when the weather is cold! We specifically talked about teaching our ponies "head down". This a relaxing position, and can help calm an anxious pony. It should definitely be something every pony learns. Before you get started, bear in mind that teaching "head down" is not something you will teach all in one session. You will teach it very gradually, perhaps only working a few minutes a day. You can do it while grooming your pony, or while just standing and "visiting" with him. Or you can incorporate it into your regular clicker training session.

There are several ways you can work on this, and ideally you should eventually use all of them. My Welsh mule will put his head down when I apply gentle pressure to his poll. I am working to help him lower his head when I touch the crest of his neck. Another way to cue this is to have your pony follow your hand downward. If you have already worked on targeting with your pony, then you are ready to begin this. If not, you will need to teach your pony to target first.

When using a target, you will gradually move the target lower and lower until your pony will follow it all the way down to the ground, clicking and treating each time he touches it. Once his head is down, you will gradually increase the length of time before you click and treat. It's probably best to have a long target, so you don't have to bend over in order to get it all the way down. You can, however, use whatever target your pony is accustomed to, and you can bend or squat slightly if you can safely do that around your pony. (But do be sure to eventually teach your pony to work with multiple targets.) You can use your imagination when looking for a target. A few things that come to mind are: a plumber's friend (a. k. a. "plunger" - use a new, clean one!); a stick or yardstick with a paper stuffed sock slipped down over the end and secured with rubber bands; a flexible cat toy; etc. Think about some of the things you could use as a long target, and write in to the Clicker Club and share your ideas!

Before you begin, think about what your end goal is, to have your pony lower his head in response to a target. Then break it down into tiny steps. What needs to happen first? Obviously he needs to be trained to touch or follow a target. But once you have done that, think about the very first step in having him lower his head. You will probably decide that you need to place the target below his muzzle a bit, and click as soon as his head lowers even a little. If you continue to click for this, he will begin to offer the behavior more and more readily. You will gradually move the target lower and lower.

I find that when I am working, my mule does not always have the same picture in his head as I do. In other words, I may think that I know the next step, but he will tell me in no uncertain terms that I have missed something. How does he do this? Simple. He doesn't respond the way I thought he was going to. So I have to observe him to determine what the next step might be. I back up to the last point in which he was successful, i. e. when he did what I was looking for, then I work to repeat that success and reinforce the behavior. When we are ready to move on, I take an even smaller step than I had previously attempted.

You can also teach a pony to lower his head in response to gentle pressure on the lead or reins. Again, you will move in very tiny steps, reinforcing each one until your pony has "got it", then taking the next little step. You may find as you work that, just like my mule, your pony has a different idea of what he is supposed to do than you do. When this happens, you will need to adjust your thinking and your actions. You could be either moving too quickly, or giving unclear signals. You might be missing some "baby steps" in the process. Or he could just not be ready for what you are asking, for various reasons. My mule was very fearful, so his training progressed much differently than a normal animal's would have. You will need to let your pony guide you so that you can take the steps that he needs in order to reach your goal.

To repeat, I want you to remember that the key to your being successful is OBSERVATION. OBSERVE your pony. Pay attention to what he does, and does not do. Pay attention to his ears, his eyes, his nostrils, his tail, his muscles, his skin. He will let you know if he is ready for what you are asking. If he is not, back up to the last point at which he was successful, and work from there. The most powerful tool you have in clicker training is not your clicker. It is your powers of observation. Use these well, and there is nothing you and your pony cannot accomplish together.

Until then, happy clicking!
EagleGirl
Member Photo Gallery
from BuzzKiller
My cat is called Sylvester and he loves his photo being taken. The green bird is called BB (you say it Bib-Bee) and the blue on is Bobby they love watching me play CPP! And riding breyers!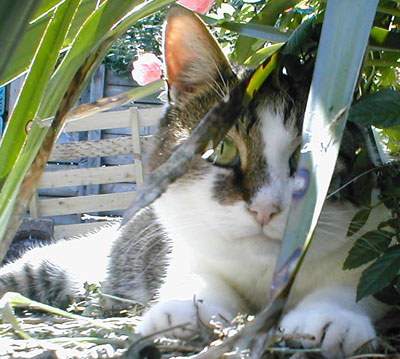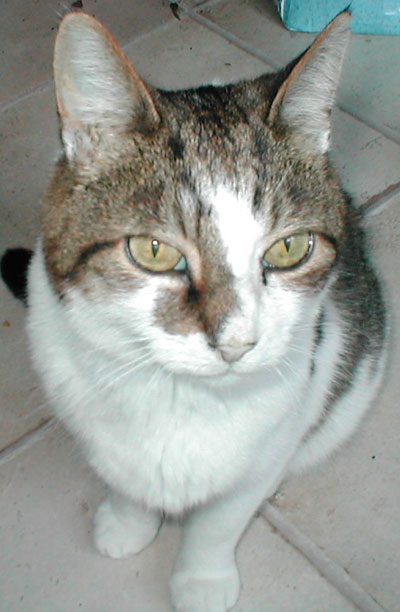 from Keely
Abby, a new horse at my stable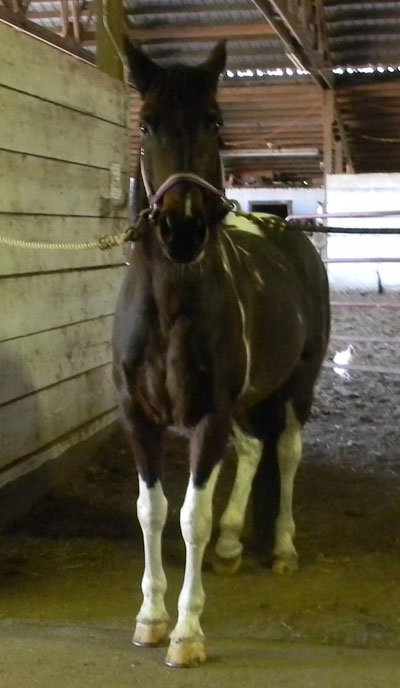 Peanut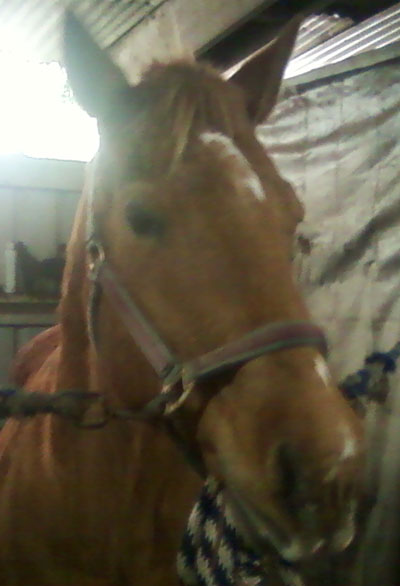 from Misspippy
Slew laying down in his stall in the morning :)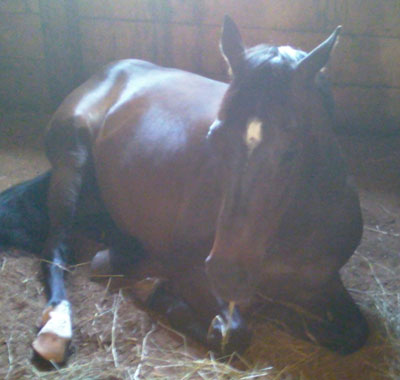 As I promised, the triple crown winners (Seattle Slew)'s grandson, Slew:)
I love him, and he loves the camera!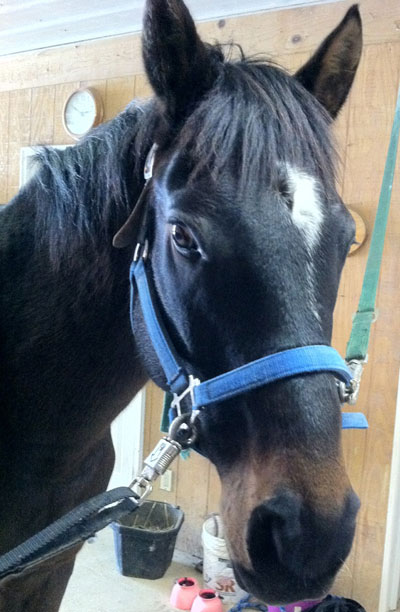 This is Barney, the FATTEST cat on earth. He suffered brain trauma after having an incident with a horse, in which he was kicked in the head:(. So know hes a bit loopy, and eats like there is no tomorrow. There are 2 other barn cats, but they were in the loft, and there was no way I could get up the ladder with a camera :)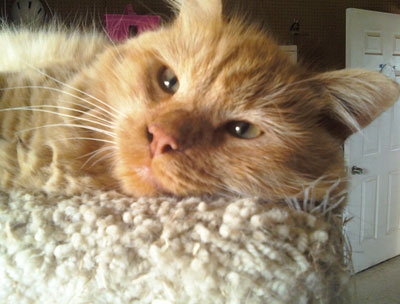 Member Art Gallery


Harley the Horse
A Cartoon series by Nat2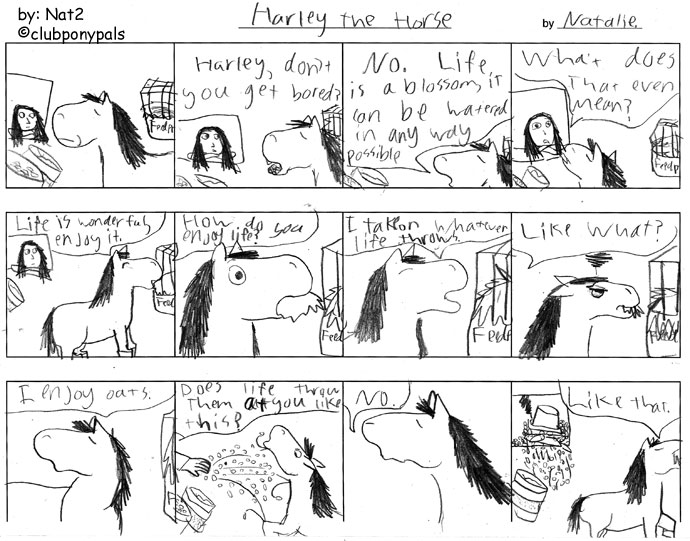 by YellowFang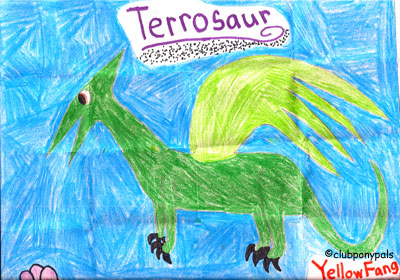 by ginger_girl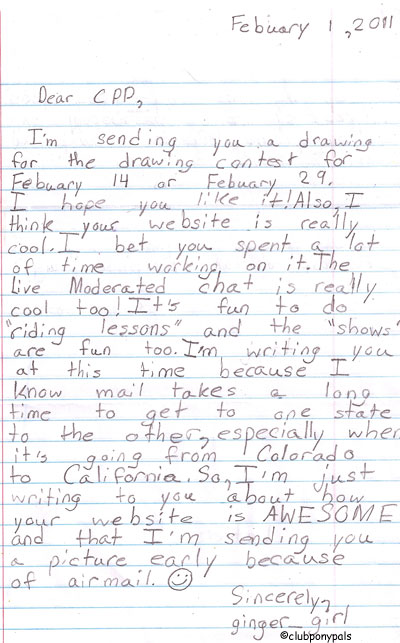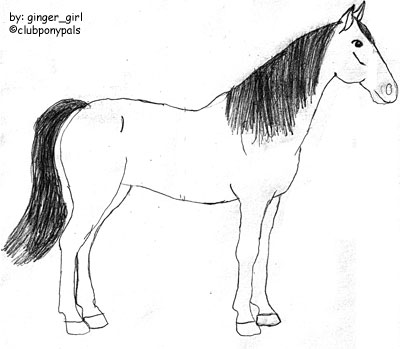 by Socksie2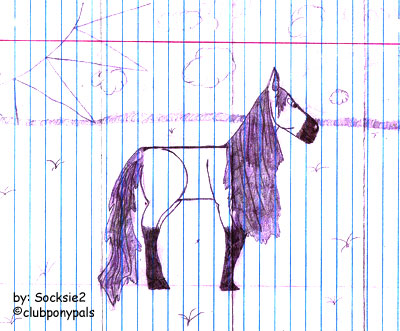 by Vada Gandee 8021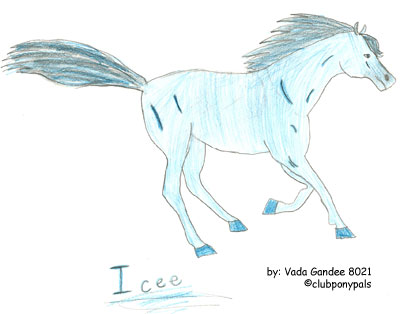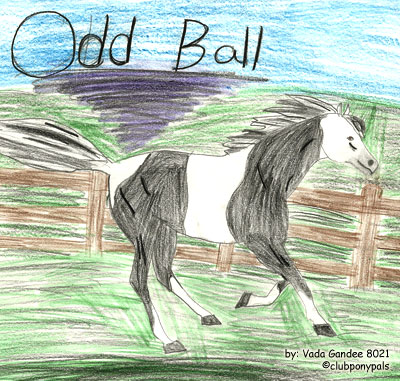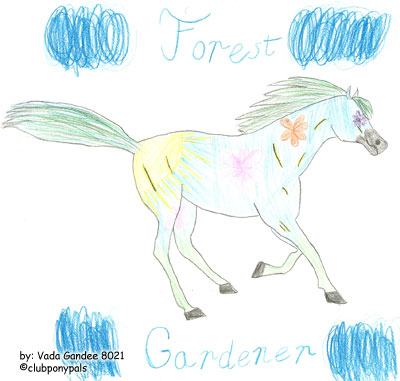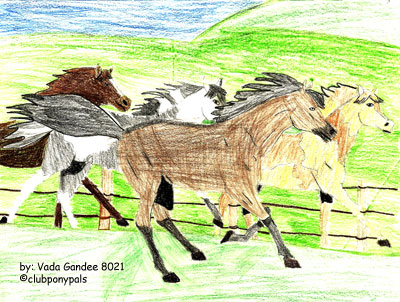 The Western Adventurers Club
Western Adventurer's Club

by Maid Mairain




Click to Join the club on CPP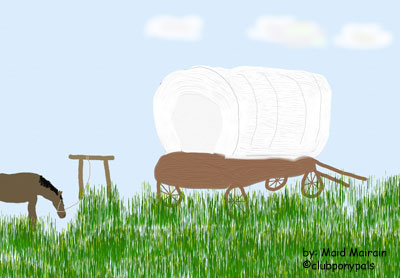 Our club has a new winning postcard in the gift catalog!
Send one to a pal today!
This Issue's Winning Postcard
by ecbeventing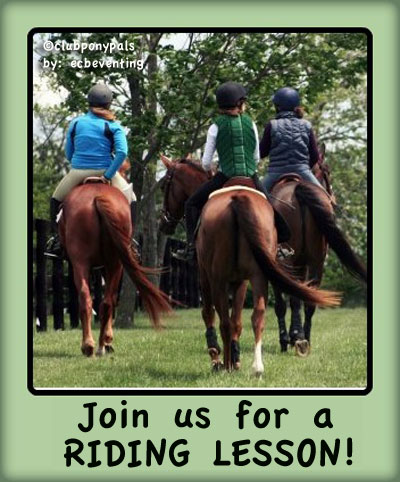 by vegan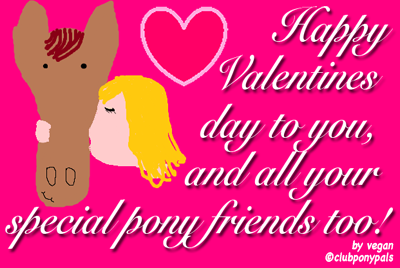 by Maid Mairain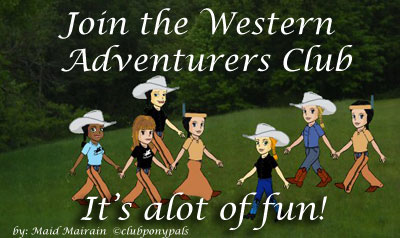 Other Postcard Entries
by ecbeventing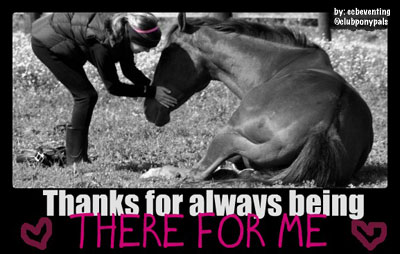 by Onaneagle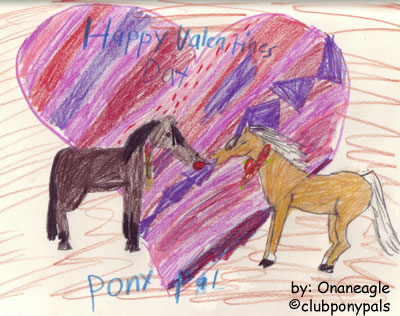 by Lover of Chestnut Ponies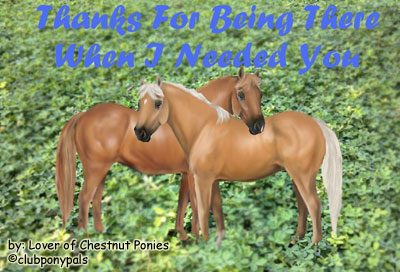 by Lover of Chestnut Ponies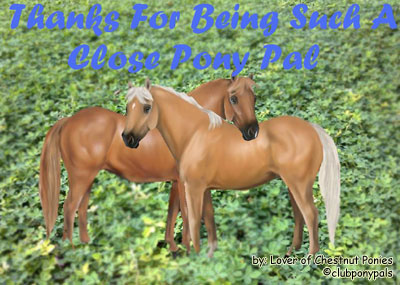 by Justin804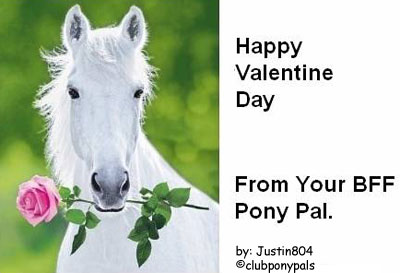 by Jesnay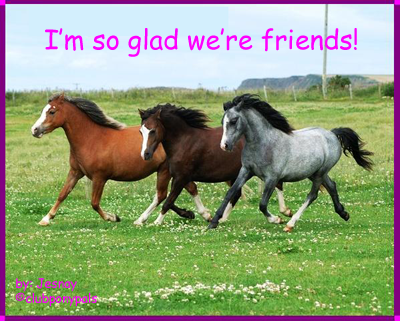 Winning postcard entries each issue get 200 Wiggins bucks. All art must be original, it cannot include clip art or copyrighted images.
If you want to enter, send your original art to Contests@ClubPonyPals.com or mail it to:
Club Pony Pals
16654 Soledad Canyon Road #382
Canyon Country, CA 91387 USA
Dear Pony Pals

Send in your photos, stories and drawings for our contests.

e-mail them to Contests@ClubPonyPals.com or mail it to:

Club Pony Pals
16654 Soledad Canyon Road #382
Canyon Country, CA 91387 USA

The first printing of collectable stickers is almost gone. Get yours now, if you want a sticker and bookmark make sure and include a mailing address where we can send it.

Please include your user name and the email address you used to register in your letter, too.

Webmaster
Play These Games to Earn Wiggins Bucks

Play these to earn bucks! Each issue of the newsletter, the highest scoring

Scavenger Hunt
Winner gets 3000 Wiggins bucks,
next nine members scores below that get 500 bucks each.

Katy Rose

glitterific

AvantGarde

MaKK

shinabella

nippenose

baileyandscout

myhorseluv

Danielle Rose

OgleFarmGirl

PegasusRider

Pony Pal Derby
Race your pony to earn Wiggins bucks!
Each issue of the newsletter, the derby game's highest scoring player
earns 3000 Wbucks.
500 Wbucks goes to each of the next nine highest scores.

KateriAnne

RogueMustangMare

famoushorse101

polonut

huntereqprincess18

jazobott

Nat2

LillyLee

Artemis7

chelsea2

HannahAnna123

<![if !supportEmptyParas]> <![endif]>

Math Games
High scoring players in addition,
subtraction or multiplication earn 500 Wiggins bucks,
next nine players who have high scores earn 100 bucks each.

Add Like Mad

wombat165

Nat2

Gypsy_Horse

KerBlang

Blily1234

Oxy

iloveponie

lolits99

biebs

jazobott

<![if !supportEmptyParas]> <![endif]>

Subtraction Action

wombat165

ilovebantam

ziola

momomomomo

GoodSavannah

Danielle Rose

MaKK

horseponylover2000

Felina

taragrace

<![endif]>

Multiplication Station

Paint The Wind

Gypsy_Horse

Vampgirl91

Allison365

gwenrenton

Chronixx

elliebear8

iloveponie

momomomomo

ilovebantam

This Issue's Cross Country Course Winners:

Cross Country North

Roczyrocz

9371

Holly777

mdo17

horseponylover2000

Cross Country South

cowgirl9400

mdo17

Healer

Emma12990

Mistywind9988
Pony Pal Thoughts for the Day:
"Home is where the horse is"
~ Britnie

_____________________
"Sometimes we have to remind ourselves that we don't just love horses for riding, we love them for who they are and that when we ride them we dont just ride them we borrow their freedom and their spirit. "
~ Whiskywoo and Lizzy1
_______________________
"A simple thing in life does not include a horse. A horse is a responsibility which soon turns into hard Work. If a horse owner is not prepared, That horse won't be either"
~ Shinabella