Volume 3 Number 35
March 8 - 14, 2010

Club Pony Pals News
Personal Cabins Closer to Ready
Dear Pony Pals
Olson's Pony Barn is taking shape every day. Thanks for your patience as we make sure our programmers get it right. New personal cabins are farther along as well.
When a member buys their second or third ponies for a single account, they will be awarded their own personal cabin near Wiggins. Other members will be able to enter your cabin and look at your awards and trophies there. Here's how their outsides will look.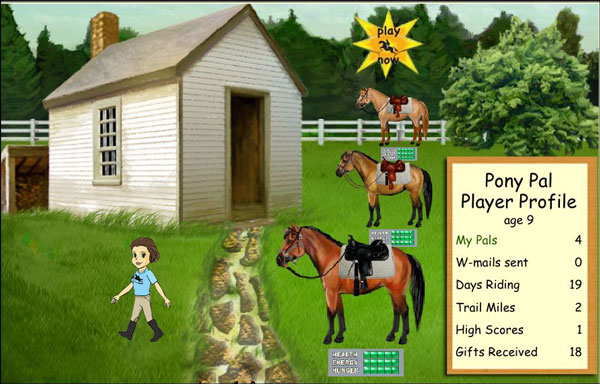 In our contests, voting has started, please help choose the art for Coloring Contest 12
We are down to the last few days to enter, make sure and download your Coloring Contest #11 entry form, entry deadline is March 12th.
Voting for our members' story & poem contest is open now, vote for your favorites here.
Our members have been sending in wonderful line drawings for our CPP horse and pony alphabet coloring book. So we have extended our deadline to March 19. We will add entries as we get them. When it is ready as CPP's first e-book, the ABC's of Horses will be a great way to help kids worldwide learn their English ABC's and discover about horse and pony breeds at the same time.
Feeling lost? Look at a map of Wiggins here.
Our new virtual riding lessons are each Tuesday, from 6:30 to 7:30 Eastern Time. Lessons are held in the live moderated chat. This is a great way to work on mentally visualizing your riding -- and they are lots of fun.
Every day hundreds of new members sign up and ask for Pal requests. Take a moment and see who's just signed on recently with our "Pals, Please Page." Our world has some great ways to meet other pals. Click here to learn more. Please help new members feel welcome - send a card to someone who is new!
Our game changes all the time, if you log in and weird things seem to happen, please clear your computer's cache. See the instructions here to learn how.
Members ask me all the time "how do I earn more bucks?" Anybody who wants more Wiggins bucks is missing out if they don't enter one of our contests! Details are below. We need funny cartoons, they should be in black and white.
Pals,

Pony Pal Contest Calendar
| | | | | |
| --- | --- | --- | --- | --- |
| contest name | deadline for entries | voting starts | winners announced | prize amount (in Wiggins bucks) |
| Drawing of the week contest | every Friday | | in Wiggins Weekly | 500 to each winner |
| | every Friday | Monday | in Wiggins Weekly | 500 to artist, 500 to caption winner, 100 to caption runner-up |
| | March 12 | | | 1000 1st place, 500 runners up |
| | February 28 | March 8 | March 22 | 3000 1st place, 500 runners up |
| | March 19 | | | 500 for every drawing used |
| | | | March 15 | 500 to winning choice |
| March Story and Poem Contest | March 31 | April 5 | April23 | 3000 1st place, 500 to runners up |
Drawing of the Week Contest

Winners each get 500 Wiggins bucks. If you want to enter, send your art to the Contests@ClubPonyPals.com or mail it to:
Club Pony Pals
16654 Soledad Canyon Road #382
Canyon Country, CA 91387 USA
If you want a sticker and bookmark make sure and include a mailing address where we can send it!
Cartoon Caption Contest -- This week's caption winner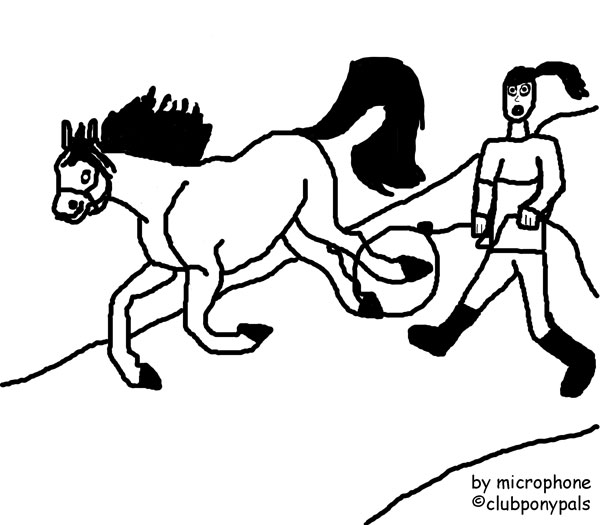 Girl: Come Back! Pony: So Long! I'm off to go graze away from YOU! -- PeteyMeBlack & Petey
This winning caption's writer got 500 Wiggins bucks.
The runner-up captions tied, they each get 100 bucks.
horse: ha ha ha! you cant catch me! girl: come on! i have a carrot! horse: if you don't take me to the barn I will come. PSYCH!!!!!!!!
by coltinpatnaude and snow white
Vote for your favorite caption for this cartoon --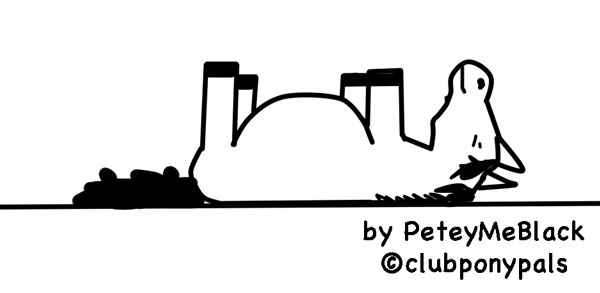 Write a caption for this --

Can you write the winning funny caption for this photo? Deadline is Friday of this week. Email it to Contests@clubponypals.com
Look for the entries in the next week's e-newsletter and vote for your favorite.

Winning caption gets 500 bucks, runners-up get 100 W bucks each. Captions should be short.

or draw a cartoon --

We are looking for cartoon artists, too. Draw one and email it to us by Friday.

If it is selected, you can earn 500 Wiggins bucks! Hint -- for this contest, draw your cartoon in black and white. If you want to enter, send your art to the Contests@ClubPonyPals.com or mail it to:

Club Pony Pals
16654 Soledad Canyon Road #382
Canyon Country, CA 91387 USA
Member Photo Gallery
from Spellcheck & Midnight

I would be really glad if you could put these pictures in the Wiggins Weekly!!!

A picture of two of our baby goats, Gidget, and Chocolate Chip Cookie.

A picture of our neighbor's mule, Rosie, rolling on the ground.

My dog, Pepper and her puppies.

A picture of our goats out in the pen.

My pony, Belle.

from Spellcheck & Midnight
Dear Webmaster i have some pics for the newsletter.Its a puppy we had. Thanks RodeoSue&Reece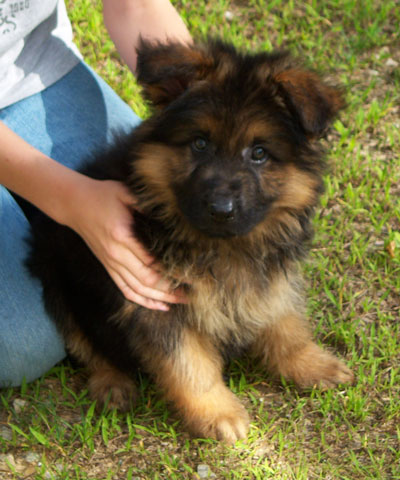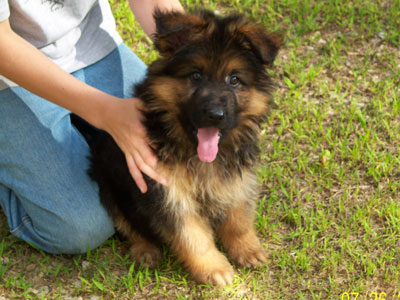 Letter and photos from RustyGirl & Sunshine Sally

Hi! RustyGirl here! I've sent this letter by Fastpost from New Zealand, so hopefully I've got my competition entries to you on time J. I've sent a Kaimana and Fell Pony to you for the ABC horse book – hopefully they're okay.
I'm finding it a little hard to concentrate right now as my cocateil, Clara, just started talking and whistling. Which reminds me, that's my next subject – my pets.
Clara, my cockatiel, is not the kind of bird you put your fingers near! She'll usually be quite happy to talk to you, or even herself thought! She knows not only her more creative self-taught sounds, but over eleven sounds and phrases that we have taught here.
I have a German Shepard called Jak. He's a reall wuss- he's always afraid of being told off. Plus he'll bark at dogs passing across the street (because he want to say hello) but doesn't bother when a car comes up the drive (unless it's one of ours – then he runs away.)
Lastly, my cat, Zorro. He's about eleven, but he's not called Zorrof for nothing. He won't even put up with being stroked gently. It's impossible to pick him up without getting scratched and he'll happily take on the dog!
Now for the most important part…horses! Unfortunately I don't have my own real horse (yet…*laughing out loud*.) but I'm still able to be around horses quite a lot J. I work when I can at a horse trekking business. Instead of getting paid I get free riding lessons and treks.
I sometimes ride a four year old American paint X Quarter Horse called Grace. She's trained for calf roping, and she has an awesome temperament.
Gotta Gallop!
Georgia a.k.a. RustyGirl & Sunshine Sally

Jack and Clara say hi! There is a glass door between them. Despite her size, Clara tried to attack us when we got close, running at us hissing – it was hilarious! Clara loves Jak.

Clara check out her reflection in the glass while keeping an eye on the camera.

I am just getting on Grace- slipping my feet into the stirrups and trying on Grace's owner's hat! Grace belongs to a man that works with my dad.

Jak peeks around the door – "That's kind of scary – is it save to come out?"

Jak lounges in Mum's chair. No he's not supposed to be up there!

Zorro sleeps in the banana box next to the front door - a favourite spot if he can't be inside!
from RustyGirl & Sunshine Sally
from myhorseforev & Destiny
This is my quarter horse coco Aka southern hot chocolate :)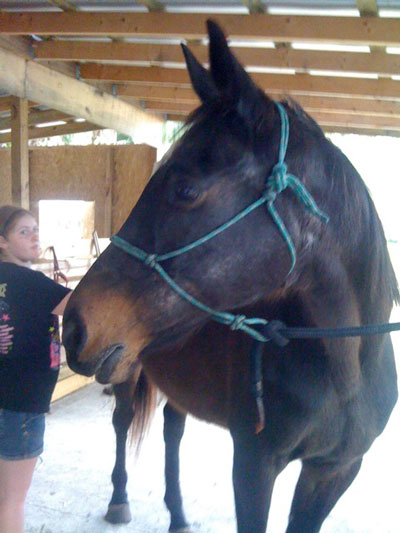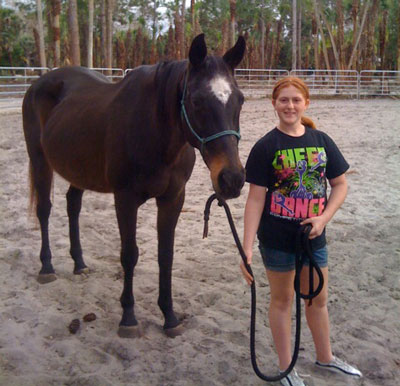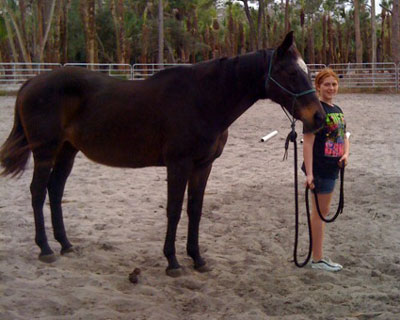 New Postcards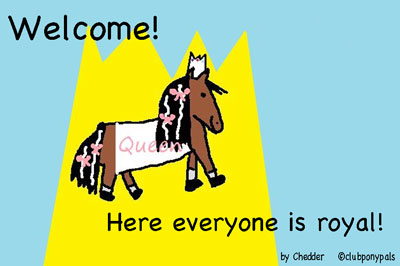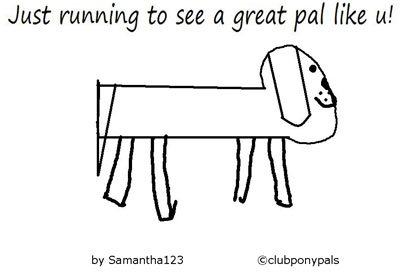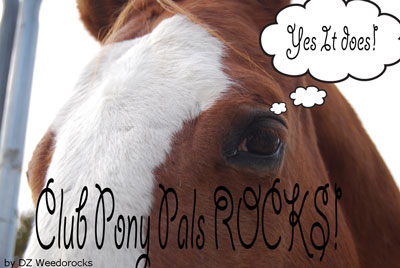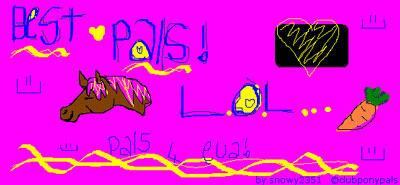 Each postcard entry wins 200 Wiggins bucks. All art must be original, it cannot include clip art or copyrighted images.
If you want to enter, send your original art to Contests@ClubPonyPals.com or mail it to:
Club Pony Pals
16654 Soledad Canyon Road #382
Canyon Country, CA 91387 USA
Member clubs!
Hang Club Plaques in your cabin show that you belong. Check Member clubs on our new Club Plaque page. You can hang Club Plaques in your cabin and all new clubs must submit a club plaque drawing to be listed. If you cannot make a plaque write to Contests@ClubPonyPals.com and we can have Mrs. Crandal or Admin3 our new staff artist help you out.
Dear Pony Pals

Send in your photos, stories and drawings for our contests.

e-mail them to Contests@ClubPonyPals.com or mail it to:

Club Pony Pals
16654 Soledad Canyon Road #382
Canyon Country, CA 91387 USA

If you want a sticker and bookmark make sure and include a mailing address where we can send it!

Please include your user name and pony name in your letter, too.

Webmaster
Play These Games to Earn Wiggins Bucks

Scavenger Hunt
Winner gets 3000 Wiggins bucks,
next nine members scores below that get 500 bucks each.

"Scavenger Hunt "

1horseponylover

Hope

Dasher

Gooseberry

Skipper234

JHorselover

PonchoRules

Arabiangirl1

Midnight Baby

Aliy


Math Games
High scoring players in addition,
subtraction or multiplication earn 500 Wiggins bucks,
next nine players who have high scores earn 100 bucks each.

"Add Like Mad"

RustyGirl

minisammy

Aliy

Rocket101

Flying Mustang

lubbilitli

rebeccad332

Rocket101

Yelana the Fair

Taramorris

<![if !supportEmptyParas]> <![endif]>

"Subtraction Action"

RustyGirl

horseygirl00012

SpottedPath

-Alex-

swim skate=sisters

Timm889

marisaw99

horse lover for life

Cowgirlcrush

<![endif]>

"Multiplication Station"

RustyGirl

Allison Nicole Ast

SpottedPath

Awsomejumper123456

nurse12

LALA2099

horsegirl367

bl

alex321

cottoncandy
Pony Pal Thoughts for the Day
The wagon rests in winter, the sleigh in summer, the horse never. ~ Yiddish Proverb


_____________

Many people have sighed for the 'good old days' and regretted the 'passing of the horse,' but today, when only those who like horses own them, it is a far better time for horses. ~ C.W. Anderson


_____________

People on horses look better than they are. People in cars look worse than they are. ~ Marya Mannes


_______________

Horses and children, I often think, have a lot of the good sense there is in the world. ~ Josephine Demott Robinson