Volume 3 Number 18 -- November 9-15, 2009
Club Pony Pals News
Dear Pony Pals:

Wiggins needs our members' help! Everyone can pitch in by taking on quests that aid the daily chores around town. Pony Pals can go to Crandal's barn aisle and click on the bulletin board quest card. Maybe the horse shoer needs help. Or maybe Anna's mom needs some materials for the Off Main Diner. There are over a dozen such quests, just to start. Every day more are being added.

Our very first multiplayer area is now open. It is a great place to meet other members. There are two ways to go there. One is to simply click on your avatar of a person that is on your home page. You will go directly to the multiplayer space. The other way is to click on "play now" and when you land outside Crandal's barn, click on the white fence between Crandal's barn and Dr. Crandal's clinic.

The first time you go there, you can choose how you will look. Once you like how you look, you will enter the multiplayer area.

Once there, just click on any avatar. Their public profile page will pop up. Then it's easy to send them a card and if they accept, they are a new pal. If you want to change how you look, click on the green "edit" button in the multiplayer space's lower right corner. There are other great ways to meet other pals. Click here to learn more.

In downtown Wiggins at Kline's tack and feed, there are two new Western saddles in their catalogue.

One Pony Pal reports that she won enough from doing quests to buy herself one of these new western saddles. So quests are not only fun, they can be rewarding!

Scavenger hunts are next. They are being programmed and coded right now.

As always, our testers will be the first to hear when they are ready to launch.

The October Story Contest is open for voting. Deadline for coloring contest #6 is Friday, download the art to color for that contest here.

Also, voting for our October Poem Contest #4 has ended. Winners are

winner Born Free as the Wind by famoushorse101 and Seabiscut
runnerup A Day at the Show (In the Pony's view) by obsessedgal & chocolate


Members ask me all the time "how do I earn more bucks?" Anybody who wants more Wiggins bucks is missing out if they don't enter one of our contests! Details are below. We always need good cartoons, they should be in black and white.

Our Club changes all the time. If you log in to our game and weird things seem to happen, PC users should clear their computer's cache. See the instructions here to learn how.

Testers, keep an eye out for your special emails that ask you to try a feature first.

Pals,

PS Don't forget to check out these member clubs!



Pony Pal Contest Calendar
| | | | | |
| --- | --- | --- | --- | --- |
| contest name | deadline for entries | voting starts | winners announced | prize amount (in Wiggins bucks) |
| Jigsaw puzzle contest | every Friday | | in Wiggins Weekly | 500 to each winner |
| | every Friday | Monday | in Wiggins Weekly | 500 to artist, 500 to caption winner, 100 to caption runner-up |
| | October 31 | November2 | November 13 | 3000 1st place, 500 runners up |
| | November 13 | November 16 | November 27 | 1000 1st place, 500 runners up |
| November Story Contest | November 30 | December 5 | December 7 | 3000 1st place, 500 runners up |
Jigsaw Puzzle Contest Winner

by rienne & Belle

Winner each get 500 Wiggins bucks. If you want to enter, send your art to the Webmaster@ClubPonyPals.com or mail it to:
Club Pony Pals
16654 Soledad Canyon Road #382
Canyon Country, CA 91387 USA
If you want a sticker and bookmark make sure and include a mailing address where we can send it!
Cartoon Caption Contest -- This week's caption winner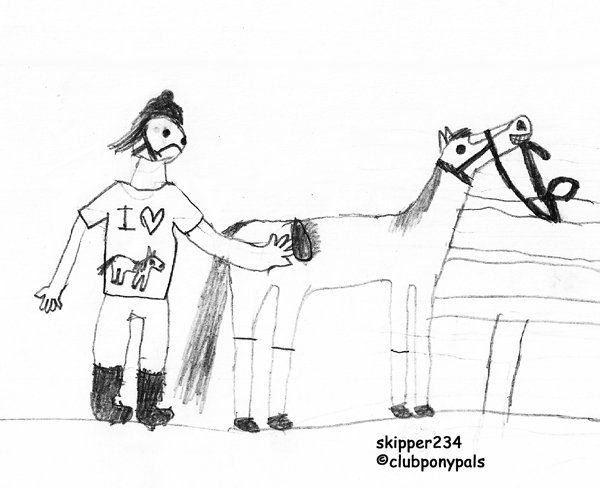 by skipper234 & Acorn

(pony): heee heee! the wild.............just undo this darn knot, and I'll be FREE!!!
by Britnie & Shadow
This winning caption's writer got 500 Wiggins bucks.
This week the runner-up caption was tied three ways. Each caption below wins 100 bucks.
Kid: Please don't chew on your halter! Pony: Mmm..leather.
by PicassoGirl & Picasso
Girl: I DO NOT LIKE THIS BRUSH! What are you smiling about?
Horse: The joy of a mad owner!
by lululauren2000 & Snowdrop
Girl: Can I borrow your brush? Horse: I'm almost free!
Girl: NO! DON'T UNTIE THE ROPE!
by lululauren2000 & Snowdrop
Vote for your favorite caption for this cartoon --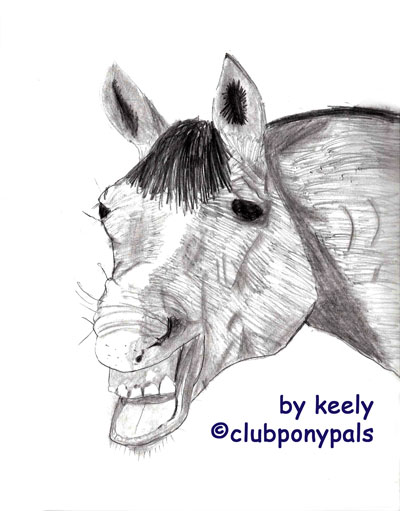 by keely & bicentenial
Write a caption for this cartoon --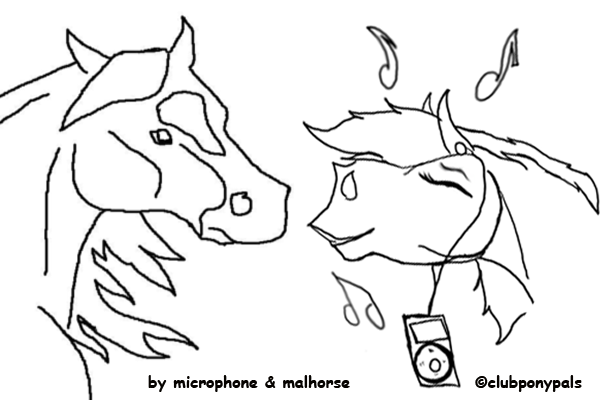 What's your suggestion for a funny caption for this cartoon? Deadline is Friday. Email it to the Webmaster

Look for the entries in the next week's e-newsletter and vote for your favorite.

Winning caption gets 500 bucks, runners-up get 100 W bucks each. Captions should be short.

or draw a cartoon --

We are looking for cartoon artists, too. Draw one and email it to us by Friday.

If it is selected, you can earn 500 Wiggins bucks! Hint -- for this contest, draw your cartoon in black and white. If you want to enter, send your art to the Webmaster@ClubPonyPals.com or mail it to:

Club Pony Pals
16654 Soledad Canyon Road #382
Canyon Country, CA 91387 USA
Member art gallery
Here are some drawings of horses and ponies that I did. I worked very hard on each of them and hope they will get on the newsletter.
Skipper234 & Acorn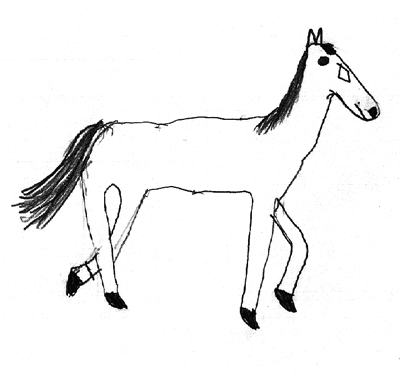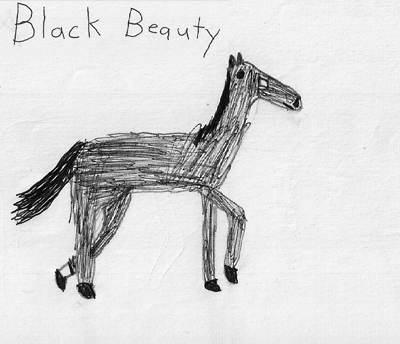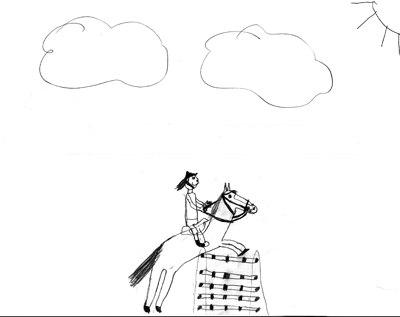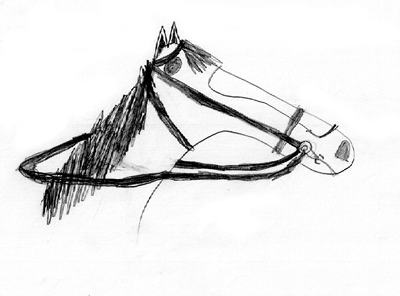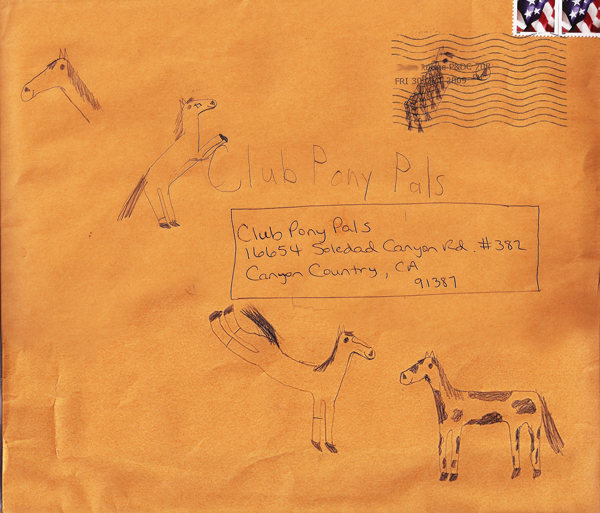 P.S. My brother SirLunchalot & Slasher did drawings for the art gallery.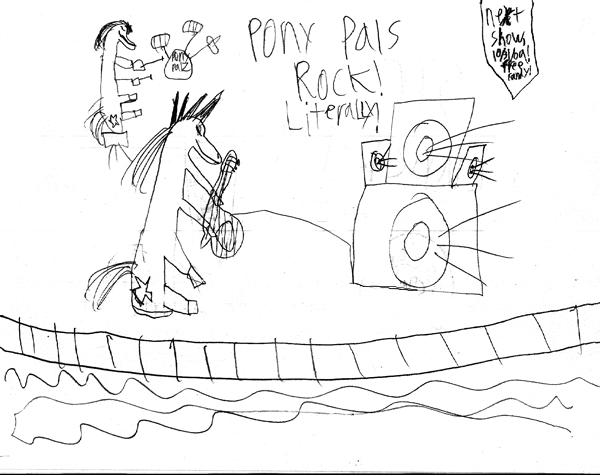 by SirLunchalot & Slasher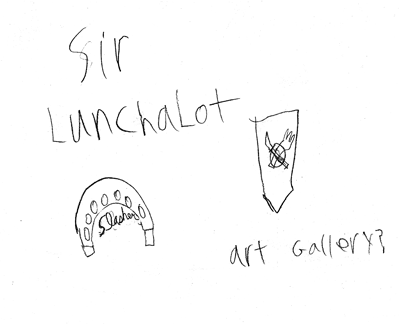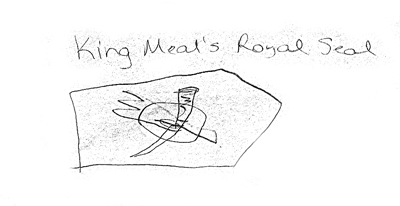 Dear CPP
I hope you like my drawings. I hope everyone is doing good. Thank you for making CPP what it is! Thank you for your time and effort. If in any way I can assist you I would be glad to --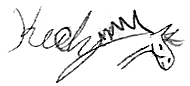 keely & Bicentenial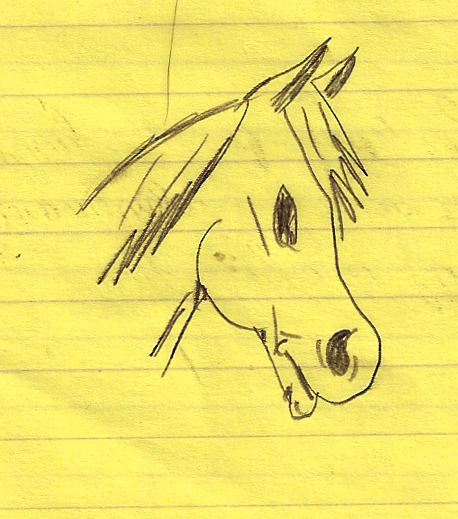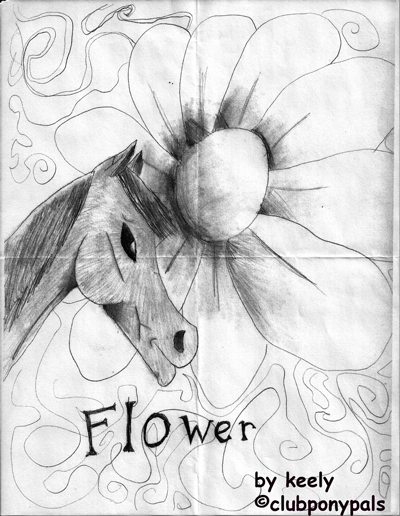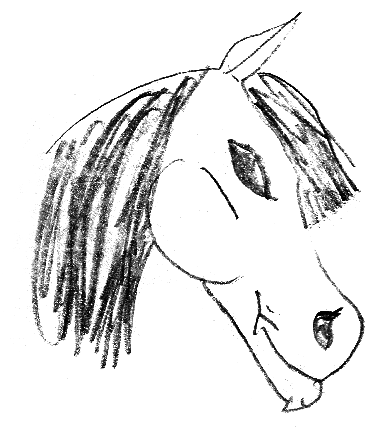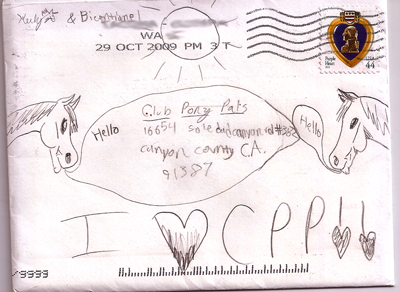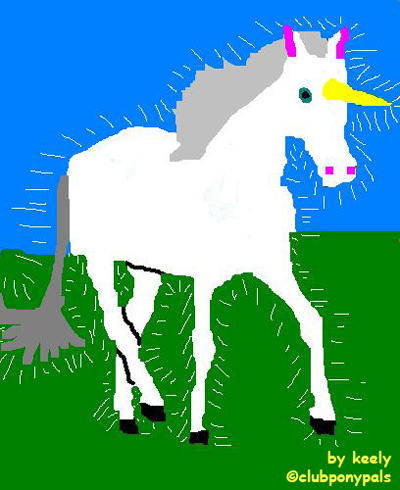 by microphone & Black Mist
Please enter this as a jigsaw, to honor Parker! I loved him very much! mic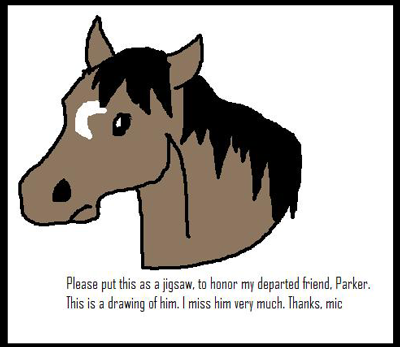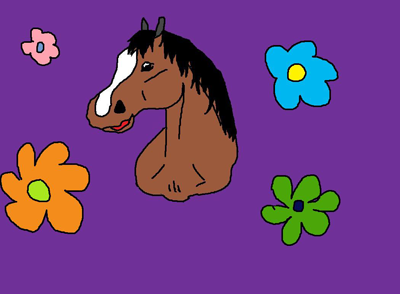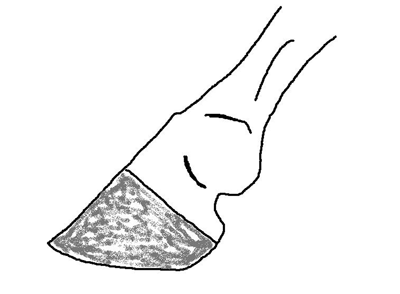 New Club Pony Pals Postcards
Send in your card design today!
by SirLunchalot & Slasher
by PicassoGirl & Picasso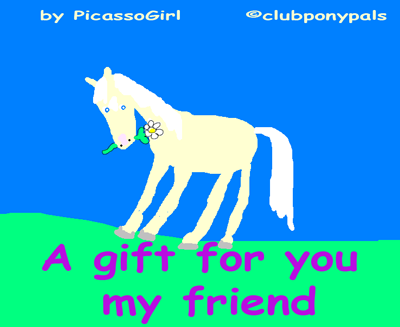 by Britnie & Shadow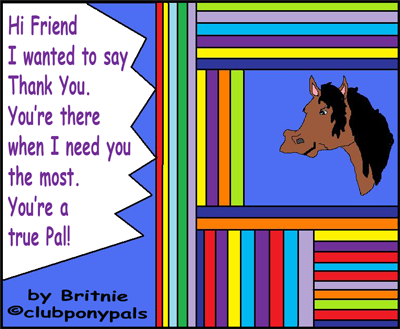 Postcard artists now get 200 Wiggins bucks for sending in a postcard. If you want to enter, send your art to the Webmaster@ClubPonyPals.com or mail it to:
Club Pony Pals
16654 Soledad Canyon Road #382
Canyon

Country, CA 91387 USA
Club Pony Pals Member Photos
from PicassoGirl & Picasso

Pie Boy From DD Ranch
Me and Jumper, a DD Mule
Here are some pics! by Keely & Bicentenial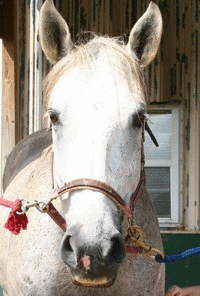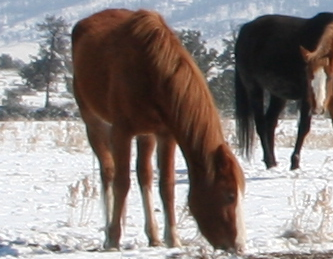 Dear Pony Pals

Send in your photos, stories and drawings for our contests.

e-mail them to Webmaster@ClubPonyPals.comor mail it to:

Club Pony Pals
16654 Soledad Canyon Road #382
Canyon Country, CA 91387 USA

If you want a sticker and bookmark make sure and include a mailing address where we can send it!

Please include your user name and pony name in your letter, too.

Webmaster
Top High Scores from last week
"Crandal's Cross Country Course going North"

zac99

Tracy

whinnie21

Katty

ShArPEDGES971

RascalHuggins

maggiegirl

olivia3648

PonyPals

thehorsegirl

<![if !supportEmptyParas]> <![endif]>

"Crandal's Cross Country Course going South"

lisa11

klaktoo

PintabianDreamer

RedRevenge

ponypony1212

whinnie21

zac99

chub chub

sheyshey10

LexiZoland

"Main Street Matchup"

AnnaVC

GRE0002

Ast

overo2

PintabianDreamer

thehorsegirl

Sebras

smokeyrider

Ast

Play these math games to earn bucks!
Each week, that week's highest scoring players in addition,
subtraction or multiplication earn 500 Wiggins bucks,
next nine players who have high scores earn 100 bucks each.

"Add Like Mad"

RustyGirl

suger foot

horselover18502

princessLC

equinehorselover

judgement

cocomania101

Andy Wolf

warhorse

diamond5

<![if !supportEmptyParas]> <![endif]>

"Subtraction Action"

RustyGirl

ponypony1212

Horsegirl96

Britnie

coltinpatnaude

ashley539

horseloverbw10

meghancat

AbbyB

olivia3648

"Multiplication Station"

june_tears

RustyGirl

flowergirl4u53

Gita

equestrianracer101

Caitlin812

meganlansdale

devon morrison

1willow1

equestrianracer101
Pony Pal Thoughts for the Day
Heart is in every pony, and watch how you use it, heart is what makes a pony die trying.
PicassoGirl


____________

Be not angry that you cannot make others as you wish them to be, since you cannot make yourself as you wish to be.
Thomas à Kempis, Imitation of Christ, c.1420

____________

What saves a person is to take a step. Then another step. It is always the same step, but you have to take it.
Antoine de Saint-Exupéry, Wind, Sand and Stars, 1939