Coolgirl04 Art Service

I draw horses for anyone who wants one.

Horse: 10 WB

Horses: 20 WB

Saddle and Reins: 20 WB

Flowers: 5 WB


Backgrounds: 10 WB






Anniepk's Saddle Pad and Drawing Service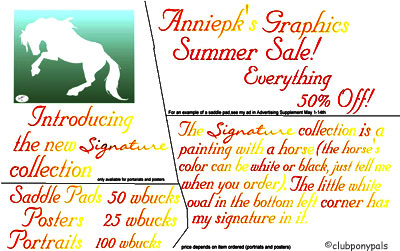 w-Mail Anniepk for more information
Maid Mairain's Painting Service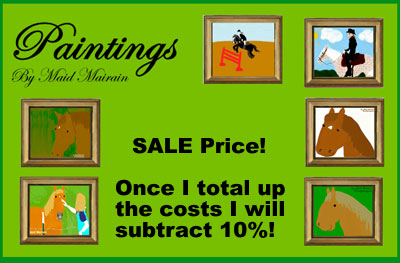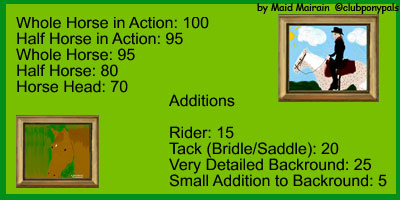 Myhorseluv Art Service

If you want something different,
Something interesting, something special
W-mail for myhorseluv art services

example of my art

Prices:

Horse 50 Wiggin's bucks


Other animals 50 Wiggin's bucks


Other 100 Wiggin's bucks

If you want me to make you a picture then wmail me. Tell me what category it is under. Explain the picture you want me to do. And I will do my best interpretation of that picture. Than tell me if you want it to be colored or not, if so than tell me what colors you want and where you want each color.
Moonlight Sonata Art Service

example of my art
Kell27 Drawing Service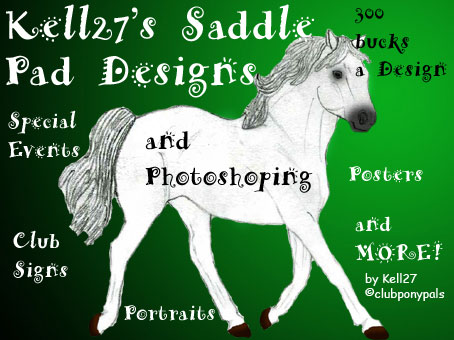 w-mail
Kell27
for more information
Hannahxx Art Service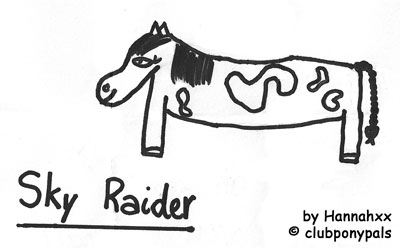 To Order Your Own Ad:

Pay CPP 200 Wiggins Bucks for your Ad space each Wiggins Bi-Weekly issue. You will decide if you would like to run your ad for each issue.

Make a price chart and description for your art business. If you make drawings, saddle pads, plaques, you should price them in Wiggins Bucks.

Make an art example to show pals your business! Check out our existing ads for size, shape, text size, layout, etc. for guidelines.

Thank you! We look forward to making your ad!
Club Pony Pals Professional Design Services
Email your art to contests@clubponypals.com Prices are below.
Note -- Designs submitted without having enough Wiggins Bucks will be saved until paid.
For 100 Wiggins Bucks
Custom nameplates and plaques

design your own or use a member designer

For 3000 Wiggins Bucks
personal saddle pad



Stripes Roma Pad
designed by Abbyangel





Purple H Roma Pad
designed by Abbyangel

To download the template and make your own saddle pad, click on the pad above. Then email your design to contests@clubponypals.com (Designs submitted without 3000 WB will be saved and put on hold.)

For 200 Wiggins Bucks
Custom Painting

You can send in a picture to be turned into a cabin painting for yourself! You can also create a cabin painting for a pal!



Free to Create!
Sleepover Award Ideas!
send your small pictures to contests@clubponypals.com

previous sleepover awards designed by members like you!