Volume 4 Number 4
July 30 - August 5, 2010




New Quests and More!
Temperatures have stayed hot in Wiggins. Gardens everywhere are chock full of ripening vegetables. To honor all of Wiggins' green thumb gardeners, our quests are not only all brand new but also involve, what else, produce! We now offer 60 quests that are ready to be explored.
| | | |
| --- | --- | --- |
| | A big shout-out to member Nat2: she is the first to earn our 1000 trail miles ridden trophy. Stop by Nat2's cabin and to see if she has put it up on her mantelpiece. | |
We are happy to report that our next ClubPonyPals e book is starting: The ClubPonyPals Cookbook. Go to our Baking and Cooking club. That's where recipes are posted. Got a favorite recipe that your family has enjoyed? Post it in our Baking and Cooking Club. Dishes should be ones that our members have, well, eaten and loved!
Midnight July 31st marks the deadline for our July story contest. Authors, beat our midnight deadline for a chance at fame and Wiggins bucks.
Our coloring contest deadline is August 12, just two weeks away. Send in your entries so members can vote and declare some winners. Fame and Wiggins bucks await our winning artists.


NEXT SLEEPOVER -- JULY 30th -- 6:00 pm - 10:00 pm Eastern Time, USA
Remember to ask Lulu for our new Sleepover Award thanks to Nat2!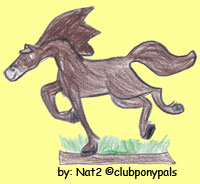 Help us choose --

Story contest entries for July are due by midnight July 31st. Send your stories and poems to contests@clubponypals.com for a chance to with 3000 Wiggins Bucks.
Other News
As we gear up to offer more and more e books, we will post a survey soon. It will list all of the Pony Pals books. We want members to check off which of the 40+ books they most want to see available as e-books.

Our members keep setting new records for online miles ridden. Watch for our newest trophy that will be gracing some long-riding members' cabin mantels: 1,000 miles ridden.
Check our new Clubs page, there's lots to browse there. If you don't see a club that you think would be a good one, write to Jane Crandal on our forum and ask about how to start a club. You can hang Club Plaques in your cabin and all new clubs must submit a club plaque drawing to be listed.
Our daily live moderated chat is a great place for club members to meet and our fully moderated w-mail system lets club members stay in touch.
Feeling lost? Look at a

map of Wiggins here.

New members sign up every day and ask for Pal requests. Take a moment and see who's just signed on recently with our "

Pals, Please Page

." Our world has some great ways to meet other pals.

Click here to learn more.

Please help new members feel welcome - send a card to someone who is new!
Seeing something weird when you log on? Our game changes all the time, if you log in and weird things seem to happen, please clear your computer's cache.

See the instructions here

to learn how.
We are always working on lots of new features. Check here often to learn about them first.
Summertime is a great time to make peach jam. Click here for Grandma Sanders recipe.

Pony Pal Contest Chart
Need Wiggins bucks? Anybody who wants more Wiggins bucks is missing out if they don't enter one of our contests! Details are below. We need funny cartoons, they should be in black and white. And if a member creates a Youtube video about our site, let us know! We will award a thousand Wiggins Bucks for a good video about us.
contest name

deadline for entries

voting starts

winners announced

prize amount (in Wiggins bucks)

Drawing of the week contest

every Friday

in Wiggins Weekly

500 to each winner

Cartoon contest

every Friday

every issue

in Wiggins Weekly

500 to artist, 500 to caption winner, 100 to caption runner-up

Postcard of the week contest

every Friday

in Wiggins Weekly

200 to winner

Cabin of the Week

enter your cabin today

every issue

in Wiggins Weekly

1000 bucks to cabin with most votes

July 30

August 6

3000 1st place, 500 to runners up

3000 1st place, 500 to runners up

Coloring Contest #16

choose art

500 to artist, picture must be black and white
| | |
| --- | --- |
| If you need bucks, buy an Ultimate Game Card. You can click here to see where game cards are sold. Next time you go to the store, buy a card with cash, come back and enter the secret code from the back of their card to get Wiggins bucks instantly. | |
Cabin of the Week Contest
Enter to win 1000 bucks for your decorating skills!



Ingreenpastures



zennie98


RustyGirl

Last Week's Cabin Winner




Misspippy

Send contests@clubponypals.com an email telling us the username's cabin you want to enter. Rules are: Each week three cabins will be chosen from the entries for member voting. Members can enter enter as often as they like, but winners cannot enter this contest again for six months.

Look for more new fun furniture items soon. Have a request
for something you want to add? Let us know!
Drawing of the Week Contest
by Ajaxsluver101




by ErinInki


Winner gets 500 Wiggins bucks, and their art is made into a painting for members' cabins. If you want to enter, send your art to the Contests@ClubPonyPals.com or mail it to:
Club Pony Pals
16654 Soledad Canyon Road #382
Canyon Country, CA 91387 USA
If you want a sticker and bookmark make sure and include a mailing address where we can send it!
Cartoon Caption Contest -- This week's caption winner

WINNER:
Regular man:Hi this is my mom, Horsey. This is my dad named Horsey and this... Woman:Let me guess shes named horsey. Guy: Actually shes just named Giddy up! Horses:Giddyup! (gallop away) By: chillycat12


RUNNER UP:
Mom? Dad? Oh I sure hope this is a dream. Girl: You wish! That's what you get when you say, 'Horses are ugly.' NEXT! By: DizzyDaizy


This winning caption's writer got 500 Wiggins bucks.
The runner-up caption gets 100 bucks.
Vote for your favorite caption for this cartoon--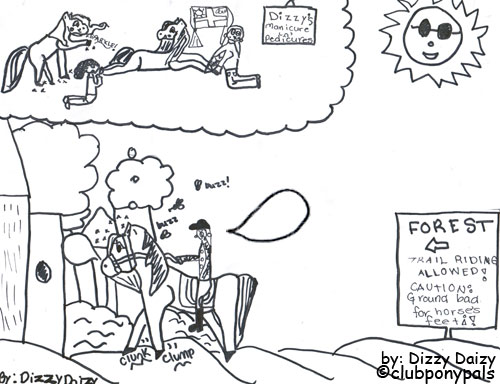 Write a caption for this --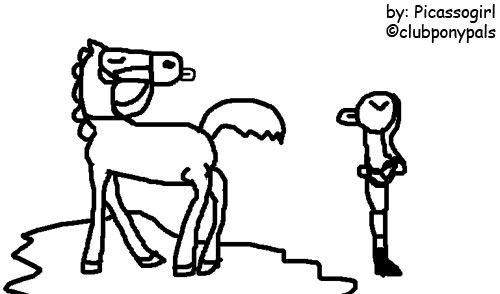 by Picassogirl
Can you write the winning funny caption for this cartoon? Deadline is Thursday of this week. Email it to Contests@clubponypals.com
Look for the entries in the next week's e-newsletter and vote for your favorite.
Winning caption gets 500 bucks, runners-up get 100 W bucks each. Captions should be short.

or draw a cartoon --

We are looking for cartoon artists, too. Draw one and email it to us by Thursday.

If it is selected, you can earn 500 Wiggins bucks! Hint -- for this contest, please draw your cartoon in black and white. If you want to enter, send your art to Contests@ClubPonyPals.com or mail it to:

Club Pony Pals
16654 Soledad Canyon Road #382
Canyon Country, CA 91387 USA
Member Photo Gallery
from Nat2, CoolGuy, and EagleGirl

Nat2 and Little Man, my Welsh rescue mule.
He is pretty wary around other people, but he loves Nat2!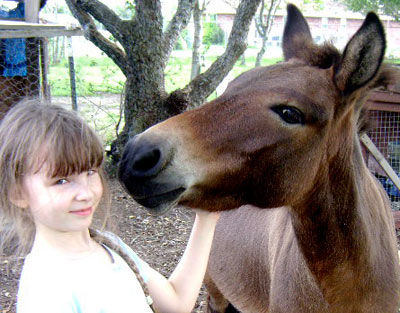 Little Man looking in the sunroom door, wanting Nat2 to come outside and love him!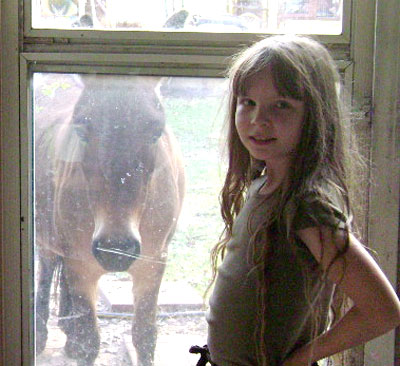 CoolGuy and Nat2 at the county fair in 2009.
Yes, they are holding a REAL, LIVE alligator! Wow!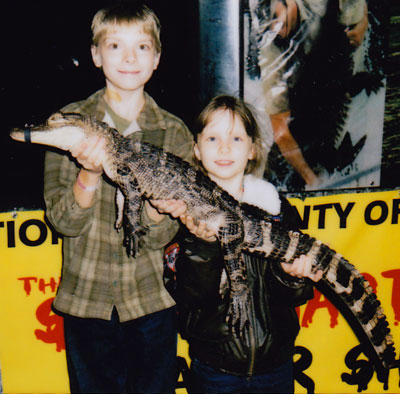 Letter from EagleGirl: Clicker Club Training Column
We are seeing some new members join the Clicker Club, and we are tickled pink! Right now we are introducing ourselves and our animals, and telling what kind of treats we are going to be using and how we are going to carry them. Once we have introduced ourselves we are going to start talking about what we want to train our animals to do. We would love to have others join us, so please feel free to pop in and introduce yourself!
If you would like to investigate clicker training, I highly recommend the following authors: Alexandra Kurland (Clicker Training and Your Horse; The Click That Teaches), Sharon Foley (Getting to Yes); Karen Pryor. All of these ladies are excellent clicker trainers, and their books are very informative and helpful. They also have websites that you can investigate along with
your parents.
We look forward to seeing others join us in the Clicker Club, and to getting started with our training!

~EagleGirl~
from Keely
Hey! Keely here, and well on Tuesday I rode an Arabian gelding named Magnum, he was fun to ride! When I rode him he kept poking his nose up in the air and so my instructor showed me how to vibrate the bit to which he responded by tucking his head in and relaxing his mouth on the bit.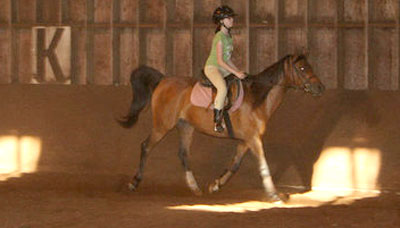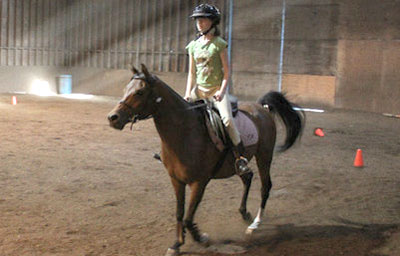 from Ajaxsluver101

The dapple gray is Ares, the other one is Mai.
I'm collecting Breyers for the time being, but only have two right now.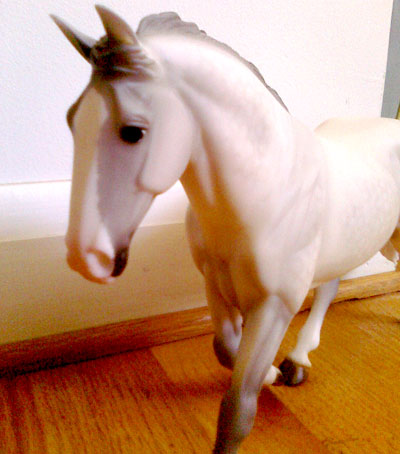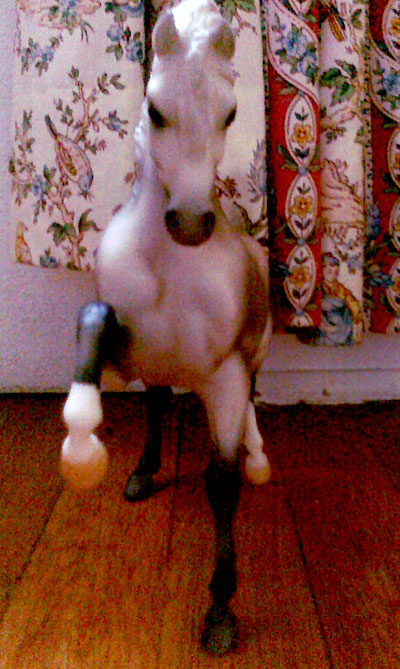 from Microphone
Hi Pony Pals! This is my dog Fern. She is a Dutch Shepard who is turning 3 on September 6th. Wish her a happy birthday!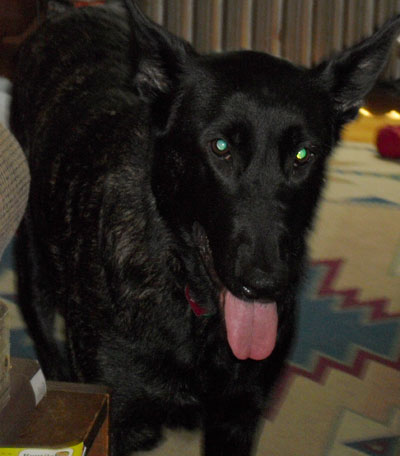 from Ponyluv1999
Hi here are some pics for the next ww! First pic- Dream, a horse we are fostering for now until he can find a new home! Hes a AMAZING dressage horse, and we are working on jumping =)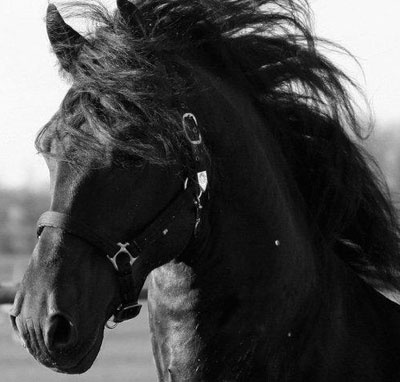 Second and third pic-Hopes Chance! He has grown sooo much! and, his first "show!"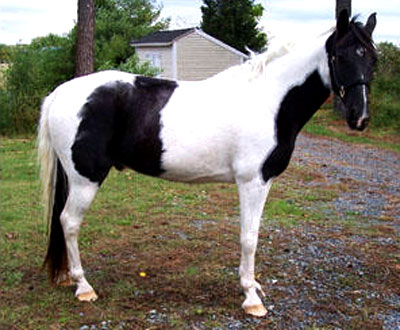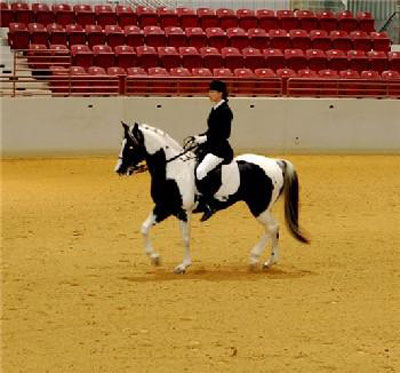 From Britnie
New pictures of Shadow!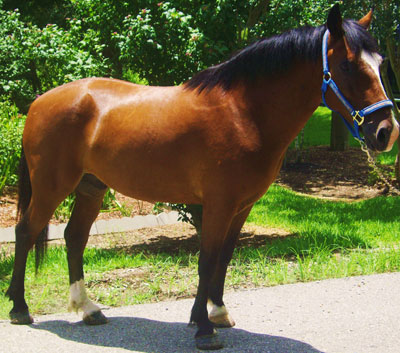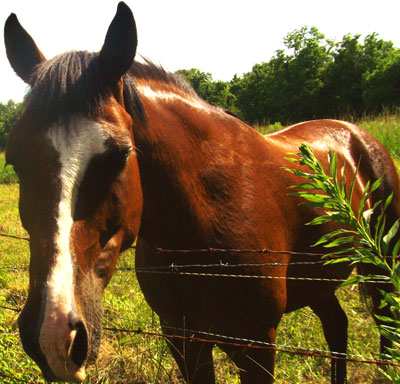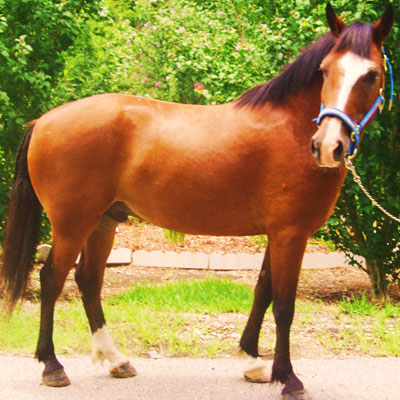 Member Art Gallery:

Remembering Tropical

for Emphasis

By Picassogirl, for Emphasis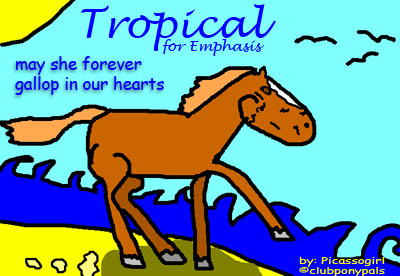 by PicassoGirl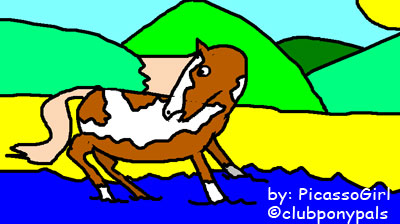 by Kli5t0
Black Rose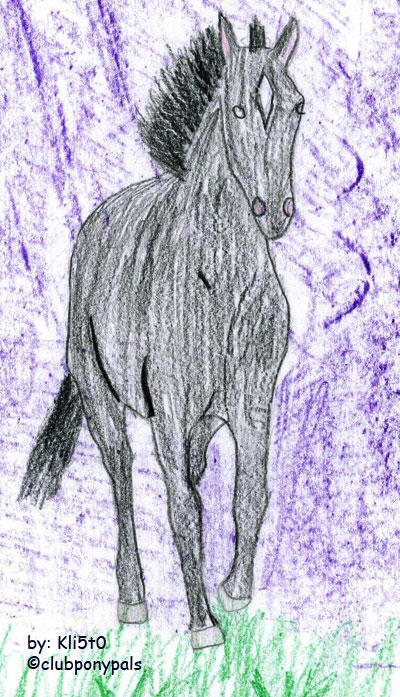 by Amanda Ellen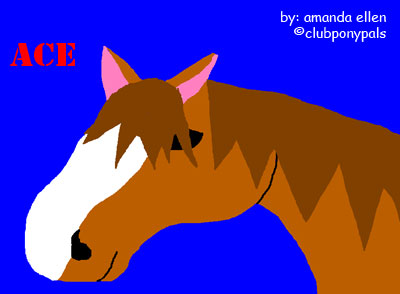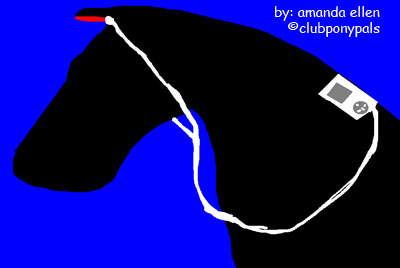 This Week's Winning Postcard
by Misspippy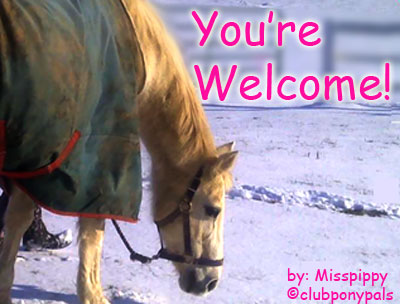 Other Postcard Entries
by Kaitlin2010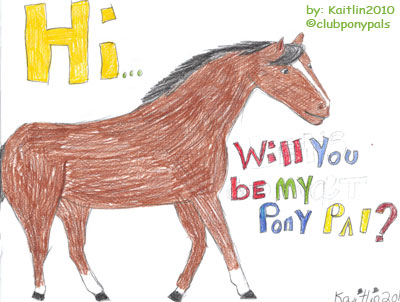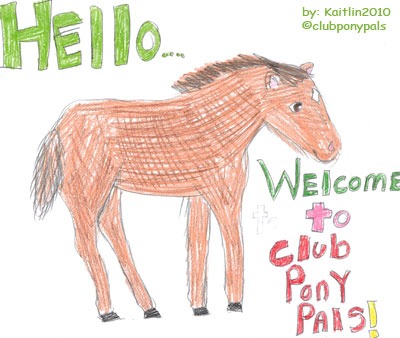 Winning postcard entries each week get 200 Wiggins bucks. All art must be original, it cannot include clip art or copyrighted images.
If you want to enter, send your original art to Contests@ClubPonyPals.com or mail it to:
Club Pony Pals
16654 Soledad Canyon Road #382
Canyon

Country, CA 91387 USA
Dear Pony Pals

Send in your photos, stories and drawings for our contests.

e-mail them to Contests@ClubPonyPals.com or mail it to:

Club Pony Pals
16654 Soledad Canyon Road #382
Canyon Country, CA 91387 USA

The first printing of collectable stickers is almost gone. For the next week or two, if you want a sticker and bookmark make sure and include a mailing address where we can send it.

Please include your user name and the email address you used to register in your letter, too.

Webmaster
Play These Games to Earn Wiggins Bucks

Play these to earn bucks! Each week, that week's highest scoring

Scavenger Hunt
Winner gets 3000 Wiggins bucks,
next nine members scores below that get 500 bucks each.

"Scavenger Hunt "

gabby1231998

catlove40

magwhit1

Stardazzle

Got2LuvHorses

AngelPhantom

RIP_Sailor

Carolol10

Kell27

Pony Pal Derby
Race your pony to earn Wiggins bucks!
Each week the derby game's highest scoring player earns 2000 Wbucks.
500 Wbucks goes to each of the next nine highest scores.

"Pony Pal Derby"

valz1231

LV

DizzyDaizy

georgette

DTKLOVER

Bramblelover

AliciaD

indijade

soda

paintthewind

<![if !supportEmptyParas]> <![endif]>

Math Games
High scoring players in addition,
subtraction or multiplication earn 500 Wiggins bucks,
next nine players who have high scores earn 100 bucks each.

"Add Like Mad"

EagleGirl

horseegirl122

summerhouse 1

wombat165

indijade

talktothehoof

Justin is the best horse ever

balletgirl95

sweetiebelle

Jessba Baker

<![if !supportEmptyParas]> <![endif]>

"Subtraction Action"

wombat165

horseegirl122

indijade

summerhouse 1

Pernile

allyalli0

balletgirl95

horseygirl00012

Constellation

shootingstar88

<![endif]>

"Multiplication Station"

LV

indijade

lilmini216

Jumper207

Pernile

Nanas Horse

ahandmc17

allyalli0

christmas berry

Crysta
Pony Pal Thoughts for the Day:

Care, and not fine stables, makes a good horse. - Danish Proverb

Arabians: A little bit of everything perfect. - Amanda Ferber

Love means attention, which means looking after the things we love. We call this stable management. - George H. Morris

A horse doesn't care how much you know until he knows how much you care. - Pat Parelli