Kell27 Drawing Service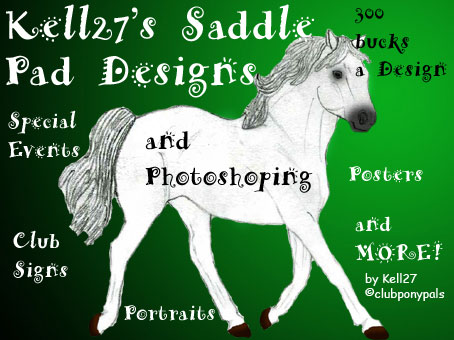 w-mail Kell27 for more information
Kaitlin2010's Drawing Service

Do you want a drawing of a horse, dog or bird and don't have the talent to draw one? Well I can! I can draw your fav. breed of horse or dog, or your own animal. And I can also draw your fav. species of bird or your pet bird, from Blue Jay's to Macow's. I have pretty low prices, and you get 20% off, if after you order your drawing it is not sent in 3 weeks!

My Prices:

Pencil Horse Head: 50 w-bucks
Color Horse Head: 65 w-bucks
Pencil Horse Body: 100 w-bucks
Color Horse Body: 150 w-bucks clothes, hats, etc.: 10 w-bucks patch of grass, flowers, tree, etc.: 20 w-bucks
Horse Name: 8 w-bucks
Full Background: 95 w-bucks

Example of my Art

w-Mail Kaitlin2010 for more information
Maid Mairain's Painting Service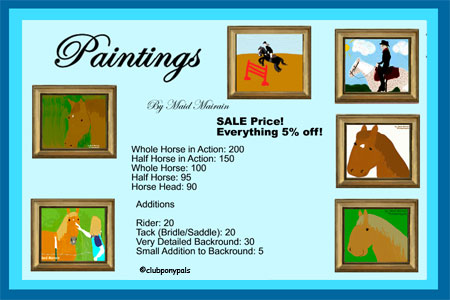 w-mail Maid Mairain for more information
Shinabella's Plaque Service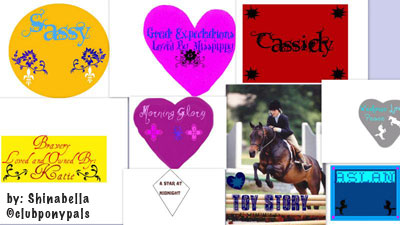 My Prices:
No color Nameplate: 50 Wbucks
Color Nameplate: 100 wbucks
Celebration/Holiday nameplate(no color): 125 Wbucks
Celebration/Holiday Nameplate w/ color: 150 wbucks
w-mail Shinabella for more information
Moonlight Sonata Art Service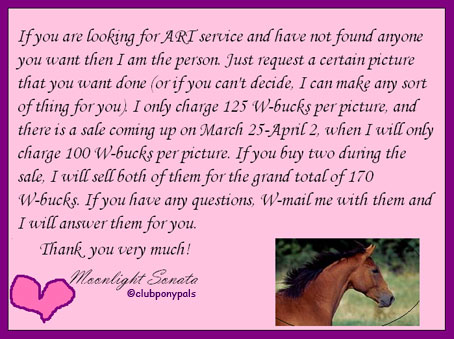 w-mail Moonlight Sonata for more information
To Order Your Own Ad:

Pay CPP 200 Wiggins Bucks for your Ad space each Wiggins Bi-Weekly issue. You will decide if you would like to run your ad for each issue.

Make a price chart and description for your art business. If you make drawings, saddle pads, plaques, you should price them in Wiggins Bucks.

Make an art example to show pals your business! Check out our existing ads for size, shape, text size, layout, etc. for guidelines.

Thank you! We look forward to making your ad!
Club Pony Pals Professional Design Services
Email your art to contests@clubponypals.com Prices are below.
Note -- Designs submitted without having enough Wiggins Bucks will be saved until paid.
For 100 Wiggins Bucks
Custom nameplates and plaques

design your own or use a member designer

For 3000 Wiggins Bucks
personal saddle pad



Western Penguin Pad
designed by Lily5






Penguin Roma Pad
designed by Lily5

To download the template and make your own saddle pad, click on the pad above. Then email your design to contests@clubponypals.com (Designs submitted without 3000 WB will be saved and put on hold.)

For 200 Wiggins Bucks
Custom Painting

You can send in a picture to be turned into a cabin painting for yourself! You can also create a cabin painting for a pal!



Free to Create!
Sleepover Award Ideas!
send your small pictures to contests@clubponypals.com

previous sleepover awards designed by members like you!