Live Moderated Chat Schedule

Our Live Moderated Chat is open on Tuesdays and on Fridays.

Every Tuesday is Jane Crandal's online riding lessons and mini show in the virtual riding arena. Stop by and say
hi from

11 pm - 1 am London time
Midnight - 2am Continental time
6 - 8 pm Eastern USA time
3 - 5 pm Pacific USA Time
8-10 am Wednesday in Perth, Australia
9:30 - 11:30 am Wednesday in Adelade Australia
10 - noon Wednesday in Sydney Australia
Noon- 2pm Wednesday in New Zealand
Need virtual riding tips for the lesson?
Join the Virtual Riding Lessons Club!

Friday, December 17th is Lulu's Birthday virtual barn sleepover. Chat with the Pony Pals, take lessons and enter show classes in the virtual riding arena. Stop by and say hi from

11pm - 3 am London time
Midnight - 4am Continental time
6 - 10 pm Eastern USA time
3 - 7 pm Pacific USA Time
8 am- noon Saturday in Perth, Australia
9:30 - 1:30 pm Saturday in Adelade Australia
10 - 2 pm Saturday in Sydney Australia
Noon- 4 pm Saturday in New Zealand


Stop by for a special Sleepover Award!


Friday, December 24th is our next cross-Atlantic virtual Live Moderated Chat. Please log on to our live moderated chat to talk with our members from across the ocean. Stop by and say hi from

5 - 7 pm London time
6 - 8 pm Continental time
Noon - 2 pm Eastern USA time
9 - 11 am Pacific USA Time
1 am- 3 am Saturday in Perth, Australia
2:30 am - 4:30 am Saturday in Adelade Australia
4 am - 6 am Saturday in Sydney Australia
6 am- 8 am Saturday in New Zealand

Friday, December 31st is New Years Eve virtual costume party and barn sleepover. Chat with the Pony Pals, join in roleplay riding, take lessons and enter classes in the virtual riding arena. Stop by and say hi from

11pm - 3 am London time
Midnight - 4am Continental time
6 - 10 pm Eastern USA time
3 - 7 pm Pacific USA Time
8 am- noon New Years Day in Perth, Australia
9:30 - 1:30 pm New Years Day in Adelade Australia
10 - 2 pm New Years Day in Sydney Australia
Noon- 4 pm New Years Day in New Zealand

Yes, we get members from these places all the time. Stop by and chat!




It is now possible to visit Club Pony Pals on Facebook!

Any member who has a Facebook account (or who has a parent who is a member of Facebook) can get a new blue saddle! There are blue saddles created to celebrate our Facebook pages and game launch. To get one, just add Pony Pals as a friend.

Remember, Facebook members have to be age 13 or over. If you are under 13 or not allowed on Facebook but your parent is a member of Facebook, then ask them to "friend" Pony Pals.

For a limited time, every Facebook member who sends a friend request to Pony Pals on Facebook will get as a gift a special edition "Facebook blue" saddle. When a Facebook member clicks on that gift saddle, then they can connect their Facebook account to a Club Pony Pals account. When they do that, any Facebook gifts -- like that blue saddle-- will be moved to an existing account on ClubPonyPals.com.

ClubPonyPals.com will remain COPPA compliant and not accessible to other Facebook members who have not created an account on our site. All messages between members on Club Pony Pals are 100% human moderated.

New Game page on

500 WB to winner, black and white art
The Long Riders
Special Recognition
to our Trail Riders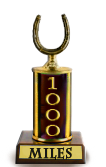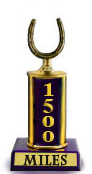 new Long Rider
| | | |
| --- | --- | --- |
| | | |
| | --- | |
current miles leader
| | | |
| --- | --- | --- |
| | | |
| | --- | 1289.75 |
Want something Special for the Holidays?
Email your art to contests@clubponypals.com Prices are below.
Note -- Designs submitted without having enough Wiggins Bucks will be saved until paid.
For 100 Wiggins Bucks
Custom nameplates and plaques

design your own or use a member designer

For 3000 Wiggins Bucks
personal saddle pad


Rose Roma Pad
designed by Teddygirl99





Star Western Pad
designed by Teddygirl99

Download the template to make your own saddle pad

For 200 Wiggins Bucks
Custom Painting

You can send in a picture to be turned into a cabin painting for yourself! You can also create a cabin painting for a pal!



Free to Create!
We Need Sleepover Award Ideas for 2011!
send your small pictures to contests@clubponypals.com

previous sleepover awards designed by members like you!
Vote Now
Click here to see who's entered and vote for your favorite. Too see entries you must be logged in to Club Pony Pals

Holiday Cabin Decorating Contest
One lucky member will win 10,000 Wiggins Bucks

Top runner-up wins 500 Wiggins bucks.

Voting Deadline December 30th

Any member can enter

Winners decided by member vote

Last Issue's Cabin Winner




Warhorse

Send contests@clubponypals.com an email telling us the username's cabin you want to enter. Rules are: Each issue six cabins will be chosen from the entries for member voting. Members can enter enter as often as they like, but winners cannot enter this contest again for six months.

Look for more new fun furniture items soon. Have a request
for something you want to add? Let us know!

Drawing of the Issue Contest
by Maddieisu

Mountain and Flowers

by Anniepk

by K1I5t0

Winner gets 500 Wiggins bucks, and their art is made into a painting for members' cabins. If you want to enter, send your art to the Contests@ClubPonyPals.com or mail it to:
Club Pony Pals
16654 Soledad Canyon Road #382
Canyon Country, CA 91387 USA
If you want a sticker and bookmark make sure and include a mailing address where we can send it!
Cartoon Caption Contest -- This issue's caption winner



WINNER:

Girl: Oh MAN! *Trips and carrots fly out* Horse: GUYS IT A RAINBOW OF CARROTS! *Stares at carrots* Girl: Are you serious?! Your on a diet. Horse: *Sticks tongue out at girl* by shinabella


RUNNER UP:

Girl: "Oops! I dropped the carrots! Oh, never mind, he'll never know!" Horse: "Mmmmmm, carrots! Ill eat 'em, she'll never know!" by Ellie Renneberg2

This winning caption's writer got 500 Wiggins bucks.
The runner-up caption gets 100 Wiggins bucks.
Vote for your favorite caption for this cartoon--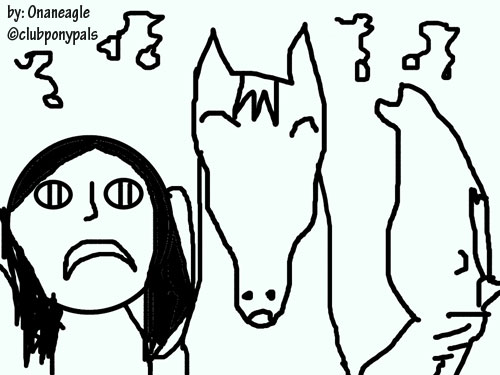 Write a caption for this --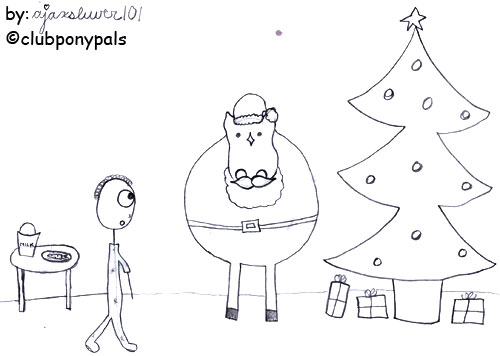 Can you write the winning funny caption for this cartoon? Deadline is Thursday before the next newsletter issue. Email it to Contests@clubponypals.com
Look for the entries in the next issue's e-newsletter and vote for your favorite.
Winning caption gets 500 bucks, runners-up get 100 W bucks each. Captions should be short.

or draw a cartoon --

We are looking for cartoon artists, too. Draw one and email it to us by Thursday.

If it is selected, you can earn 500 Wiggins bucks! Hint -- for this contest, please draw your cartoon in black and white. If you want to enter, send your art to Contests@ClubPonyPals.com or mail it to:

Club Pony Pals
16654 Soledad Canyon Road #382
Canyon Country, CA 91387 USA
Envelope Art Contest! Win 100 Wiggins Bucks!
by Maxymoon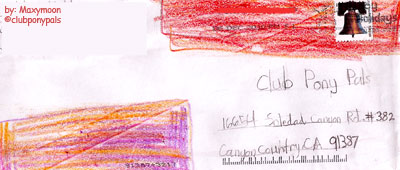 by Hannah24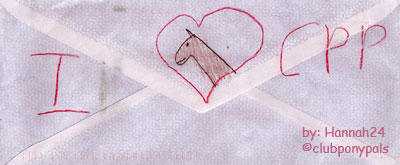 by Nyx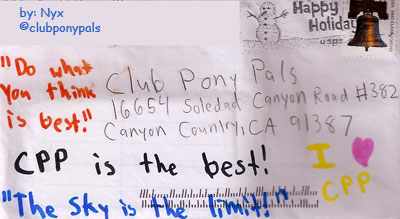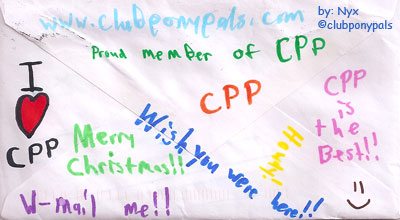 by Nyx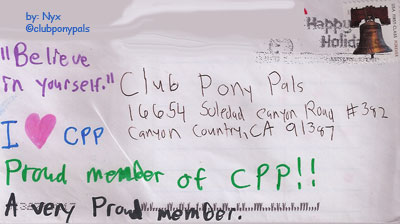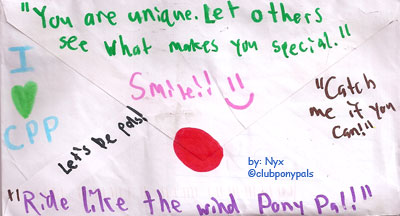 Arabians aka Arabs by Whiskywoo
This isn't an arab but it is an arab cross. The pony is called Nevada (Nev), he is palomino with a blaze and four white socks, he is 14.2 hh. he is an arab cross because arabs cannot be palomino but Nev has a high set tail and carries it high.

The breed is Arabians

Colors: Bay, gray and chestnut are the most common, black is less common



Height Range:
14hh - 15.2hh


Distinguishing features:
finely chiseled bone structure, concave profile, arched neck, comparatively level croup, high-carried tail


Country of origin:
Developed in the Middle East, most notably Arabian peninsula


What are they used for:
endurance, showing, jumping, dressage, racing

Problems they can occur:
Seveer combined immunodeficiendcy (SCID), lavender fola syndrome (LFS) or coat color dilution lethal (CCD), cerebellar abiotrophy (CA or CCA), Occipital Atlanto-Axial Malformation (OAAM), equine juvenile epilepsy or juvenile idiopathic eplilepsy, Guttural Pouch Tympany (GPT)
Are they right for the job they do:
Yes because they have lots of stamina and can cover lots of ground without getting really tired.


EagleGirl's Clicker Club Training Column
I hope everyone is enjoying working with the clicker! Clicker training is a great way to build a solid, lasting relationship with your pet. It helps you understand each other better, which leads to more rewarding experiences. It is also a wonderful way for you to learn to work more safely with your pet.

Always remember that animals are just that - animals. They do not see things the way we do. If a 1200 pound horse hears a loud "crack!", he is not going to think, "Oh, that is just a car backfiring." He is going to think it is something that could hurt him, and he is going to do what comes naturally; he is going to get as far away from the perceived danger as quickly as he possibly can. Now, if you have a mule, he is going to get away, but he is usually not going to go as far. He will probably run about 15 feet or so, then turn to assess the situation. A donkey will very possibly jump, but usually will stay in the general vicinity, ready to take on whatever it was. Donkeys are not flight animals, as horses and mules are, so their reactions are different. He might even kick in the direction of the sound.

If a dog perceives danger, he will either turn tail and run, or ready himself to fight. It depends on the breed, the individual dog, and the circumstances. A cat will almost always run; however, if trapped, a cat will certainly fight and can inflict a great deal of damage with those sharp claws and teeth. Small animals, such as rabbits, mice, etc. will also run.

Depending on what animal you are working with, you could find yourself in a scary situation. If something scares your pet rabbit, you may have to try to catch him, but he is not going to hurt you trying to get away from the danger (unless you are holding him and he scratches you with his claws). Your dog might accidentally bite you if you get in between him and something he is prepared to fight. If you are holding your cat when something scares him enough to make him want to run, you will probably be cleaning up some bloody scratches on your hands and arms, and maybe elsewhere as well. But if you are dealing with a large animal, such as a horse or mule, you could very well find yourself in a dangerous situation if something spooks him.

Have you ever been really engrossed in something? Perhaps you were watching a television show, playing a computer game, reading an exciting book, or listening to your favorite song. When your attention is so focused on an activity, you may not sense other things that are going on. How many of you have ever been doing one of the above activities, or another one, and didn't hear your mom call you? Mmm hmm, I thought so. You probably didn't do it on purpose, but nonetheless your mind blocked out your mom's voice because it was attuned to what you were doing. (Just so you know, this happens to moms too.)

When an animal is suddenly caught up in fear, his whole attention is going to be on one thing - survival. Your dog is not going to realize it is you reaching out to him, your cat is not going to understand that you are holding him to keep him safe, and your horse is not going to be aware of the fact that he is moving too quickly for you to stay on his back, or that you are the "thing" he just ran over.

One of the very best tools you can possibly have when working with animals is a well developed ability to OBSERVE. Clicker training is a wonderful way for you to build your observation skills. Clicker training is all about observing your animal to see what he needs and what he is ready for. As you work with your pet, you will learn what he does when he is happy, tired, cranky, afraid, or mad, among other things. You will recognize the obvious signals he gives, as well as the subtle ones.

Does your horse put one ear back when he is annoyed? If you see this, you will know to look carefully at and around him so you can determine what it is that is annoying him. Does he prick both ears forward when he is eager to do something? If so, you can be pretty confident that he is ready for whatever it is that you are working on. If you can see the signs that unpleasant behavior is on the way, you can work to focus his attention on something else so he moves away from the unpleasantness.

Does your cat twitch his tail when he is becoming irritated? If his tail is twitching, it may not be the right time to try to teach him to get along with the dog. But if he is calm, and his eyes are bright and alert, and he is watching you, then it is probably a good time to work with him. On the other hand, if his eyes are slits, and he is half asleep, it's probably better to let him just keep on cat-napping for the time being. He's not going to be interested in learning anything right then.

As you work with your pets, stay alert to all the signals they are giving. Watch their ears, their tails, their eyes, their bodies, their heads. If you are picking out your horse's feet, and you miss the laid back ears and swishing tail, you could find yourself on the receiving end of a very painful kick. If you know the signs that a pony is getting ready to bite, you can move away to avoid it.

Listen to yourself, as well. If you see that your pony is in a foul mood or extra nervous, and you feel that he could possibly exhibit some dangerous behavior, leave him alone if you can. Wait to work with him until he is in a better mood. Sometimes you find yourself in a situation with an angry or fearful animal, and you just have to deal with it, but if you see signs that indicate a potentially dangerous session, you may find you are both better off waiting to work until another time.

With clicker training, you can learn to observe your pet, and see these signs at the very beginning, before things escalate to the danger point. If you are teaching your horse to lift his feet, keep an eye on those ears. At the first sign of the ears going back, back off and wait. Watch carefully for any movement of the ears forward. As soon as the ears begin to move forward, click and treat. Keep working, and when the ears are up, you can begin to work on lifting the foot again. If the ears start to go back, stop working with the foot and work on "ears up" again.

When you are leading your pony, observe all of him as you walk. What is he doing with his head? His ears? How is he breathing? What are his feet doing? What pace is he taking? Where is he walking in relation to you? Once you are very familiar with that, perhaps you can have someone walk towards you as you are leading him. Again, observe him. Do his ears move? Do they go forward? Back? Does his head come up? Does his breathing become heavier? Does he quicken his pace or slow it? Does he jerk his head? Are there any other signs of nervousness that he displays?

When you learn to recognize the signs of stress in your pet, you are better equipped to work with him to alleviate the stress. Sometimes you can simply ask your pet to do something, then click and treat for it. If your pony begins to exhibit signs of nervousness when someone walks towards you, ask him to do something with which he is familiar, such as "whoa". As soon as he stops, click and treat. Talk softly to him, act normal, and continue to work with him on very familiar things. Have him step off, then "whoa" again. Click and treat. When your pony is in a stressful situation, it can be very comforting to perform familiar activities and click-and-treat for them.

Learn to assess your pony or pet, and take steps to alleviate stress long before things reach the point of no return. This summer, I was leading my mule from the neighbor's pasture down the street, back up to our place. He is always a little nervous when he is out of his familiar pasture, and I know to watch him carefully for signs of stress. He was fine, until my other mule, which was being led by my son (CoolGuy), spooked over a swarm of mosquitoes that rose up out of the grass. He still was controlling himself, and I was clicking and treating like crazy, and we would have made it to our back yard if the other mule hadn't freaked out and lunged in his direction. It was more than he could take, and even though I saw him surge past me, I couldn't move fast enough to get out of the way, and he kicked me in the upper leg. His fear took over, and he was kicking out to protect himself. In his frenzy, he forgot that I am his friend.

I know that when he begins to move past me when I am leading him, it is time to reposition myself. I back off and ask him to turn. When he does, I click and treat. I NEVER take him out of the pasture without the clicker and treat bag. NEVER. The other mule doesn't have to have the clicker, though she does enjoy it. But he has to have it when he is stressed, because it helps him to calm down and keeps him focused.

Just so you know, I did not hit him. I did, however, yell at him and let him know how unhappy I was. He knew the instant he kicked me that he shouldn't have done it. I could tell by the way he looked at me and moved. Then I tied him up very short to the nearest tree. My daughter (Nat2) ran and got the insect spray, and I got the other mule from my son and got her out into the street. I sprayed her, clicking and treating, and got the mosquitoes off her, then took her in the back yard. When I went back to get my mule he was pretty upset. I sprayed and clicked and treated, and once I had all the mosquitoes off him I loved on him a bit before taking him in the back yard.

This brings me to the next part of staying safe: PLAN AHEAD! Think about what you are going to do, how your pony responds to stress and surprises, and what steps you can take to alleviate any stress he might feel. Plan ways to teach him that surprises don't have to be bad. I taught my mule that it was okay when I jumped or lurched while walking with him. Our pasture is really rough, and it is easy for me to lurch or trip. So I did it on purpose, and clicked as I was doing it. He quickly learned that even though my behavior was strange, a click and treat followed it, so he didn't need to run off.

Start off slowly, and don't ever subject your pony to too much, too quickly. Work with your pony when your parents are around and can help you if you get in over your head. Remember, break everything down into steps. Find the very first step in the process, and begin there. Move slowly, and make sure your pony "gets it" before you move on. Take as much time as you need. Sometimes you may only work on one little step in an entire session. Other times you may zip through the entire process. Observe your pony. Move only as quickly as he is comfortable moving.

Could I have avoided getting kicked? Well, yes, I think I could have. I know that my mule is nervous, and I could have led the mules home one at a time, instead of letting my son lead the other mule. He normally does very well with her, but she was so focused on the mosquitoes that she couldn't hear him, and he didn't have a clicker or treat bag. I could have thought about the mosquitoes, though there weren't any in the air; they were all down in the grass. I didn't know they were there until my son led the mule through them. If I had thought about it, I could have taken the insect spray down and sprayed the mules before walking home. But I didn't, and that caught me in the street with my mule, and I had no place to tie him. I could have gone back down the street with him, but I didn't want to leave my son with a panicky mule. I attempted to swing wide and go around them, counting on the fact that my mule would stay with me and move quickly through the yard. I was actually right on that count. Even though the mosquitoes were on him too, he was staying with me up to the point when the other mule freaked out and lunged in his direction. It was just too much for him.

Once I made the very first mistake, the chances of my avoiding a disaster dwindled rapidly, and they became less with each mistake. I might have had problems anyway taking him through the mosquitoes, but I think we would have made it if not for the other mule. I set myself up for a bad situation, and there was no getting out of it by the time I realized it. The clicker did help me to recover, though, and with it I was able to spray the mules and finish getting them in the back yard. If I had not had it, and had the mules not been trained to it, things would have undoubtedly been much worse before they got better.

Most accidents are not actually accidents. Most of the time they are quite avoidable. But when we fail to plan, and we fail to take the necessary steps to ensure our safety, we greatly increase the chances of having an "accident". If you are riding your horse, and you bump your head on a tree branch, wearing a helmet can make the difference between a trip to the hospital in an ambulance or a trip to the feed store to buy a new helmet because the old one now has a dent in it.

When working with animals, being able to observe and then act on those observations can make all the difference. Knowing your pet's tendencies, and working with those tendencies is extremely important. You know your cat has claws, so you don't put your face down to the cat. Even if your cat is not trying to hurt you, he could stretch out his paw and you could end up with a claw in the eye. (I know this for a fact, because when I was around 10 years old, I put my face down to the cat and she reached up and hooked a claw in the corner of my eye. Yes, my mother told me not to, but I didn't pay attention to her that time. I hope you pay attention to her, and to your mother too!)

My father told me, always ask yourself, "What is the worst thing that could happen? If you can live with it, go ahead. If you can't, you might want to do something different." This is excellent advice, and it has helped me many a time.

Don't worry, don't fret, don't dwell on the bad things that could happen. My mother always says, "You can't live your life in fear." Learn to observe your pet, learn to plan ahead for the best chance of success, take all the steps you know to keep safe, keep your treat bag full and handy, and enjoy working with your pet.


Until then, happy clicking!
EagleGirl
Member Photo Gallery
from poor Pretty Boy
Here are is a pic of my family farm's old horse named Sally. I LOVED Sally. She had to go to another farm and I really miss her.The new pony is a dapple grey,named Favor.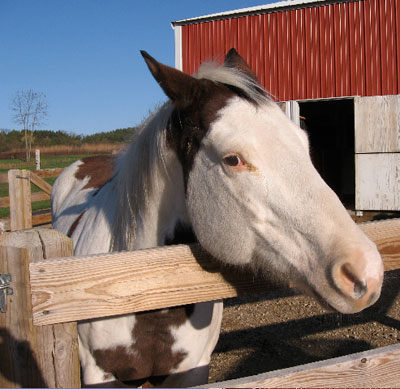 from Rain Storm
Dear Club Pony Pals,
Here are some awesome pics! That is my kitty and those are my breyer horses though!
The sheep was at Disneyland. Pretty awesome right! Enjoy!
Your Pal, Rain Storm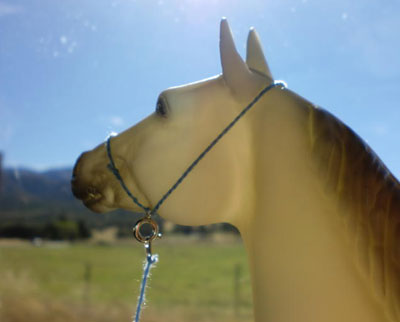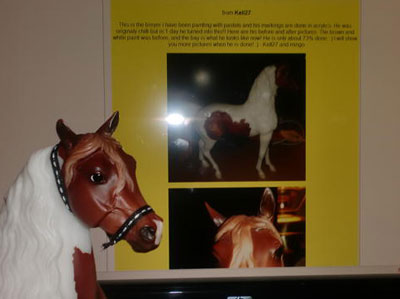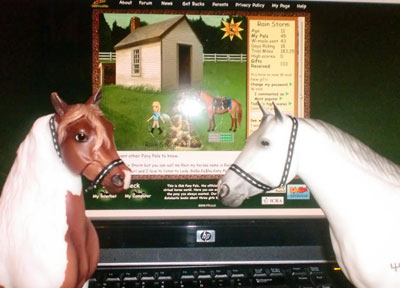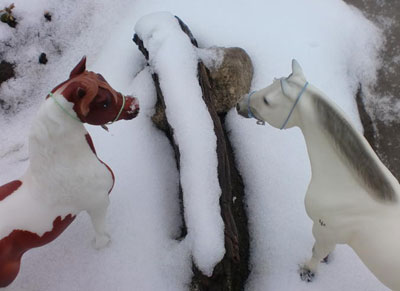 My kitty Feather!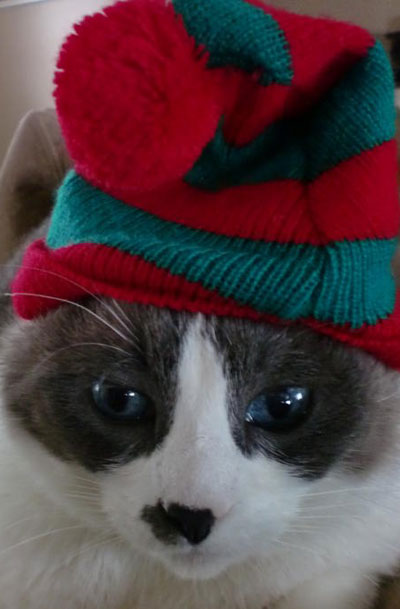 George, a sheep at Disneyland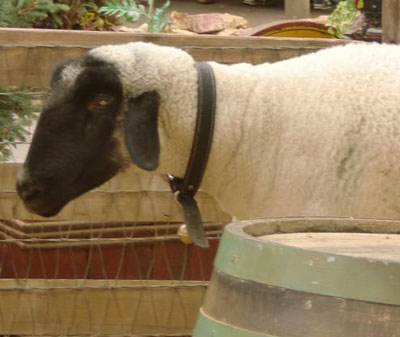 Heimlich the catapillar

from FluffyandFurry123
Here is a picture of a morning dove taking shelter on our bench during a winter storm. It was a huge blizzard and he waited until it was over and then flew away. Enjoy the picture!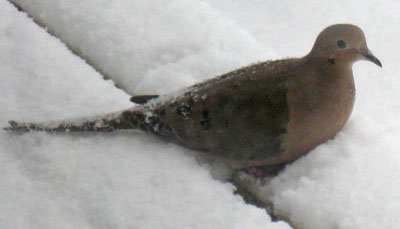 from Whiskywoo
Me and Minstrel my lesson horse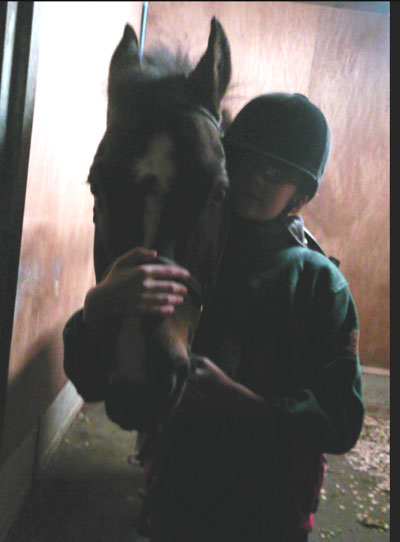 from Amanda Ellen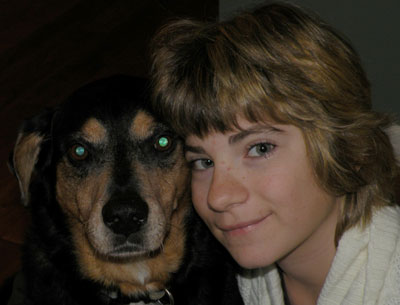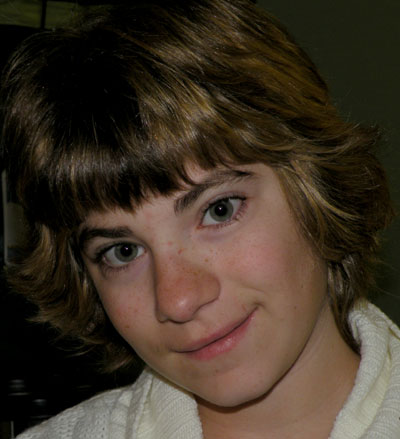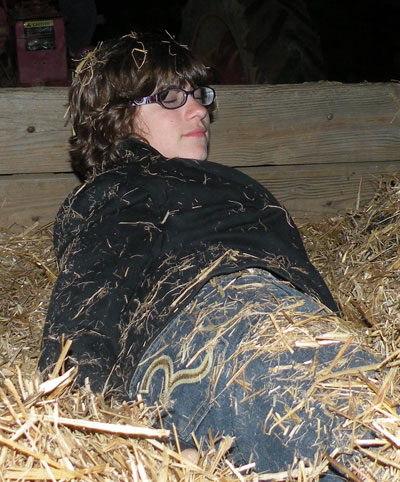 from Wyattwn
This is a horse I used to take care of he just died so I wanted to have a tribute to him.
Rest In Peace Sunny : (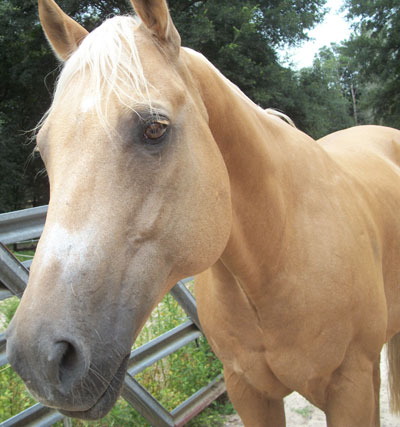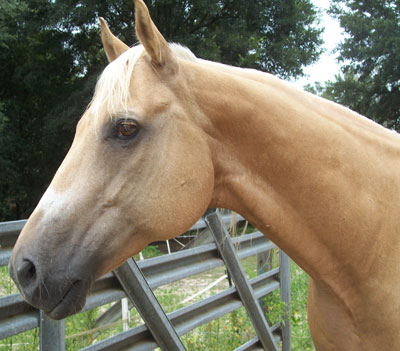 from Ging
My mini Shetland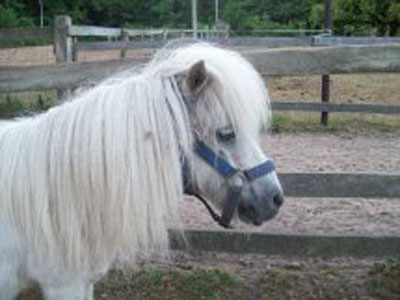 My Norwegian Fjord and My other Mini Shetland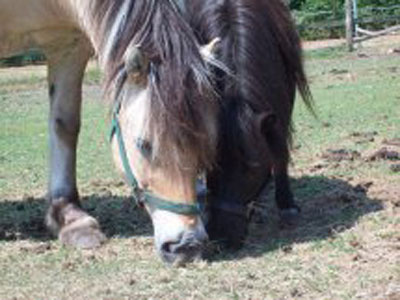 My Anglo-Arab and other Mini-Shetland
The stable aisle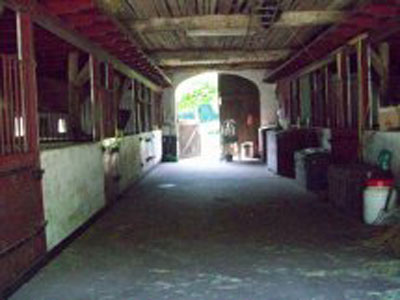 My Fjord and I doing leg-yielding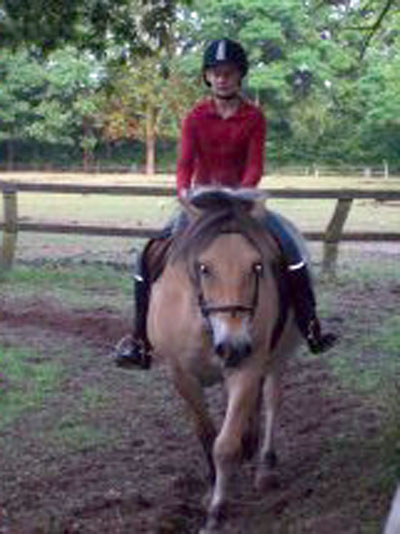 from Eaglegirl and Nat2
This is the butterfly dress that EagleGirl made for Nat2. It was a lot of fun to design and make! We decided on the design together. The sleeves have lettuce edging, the pocket has a butter fly applique and a fabric rose pinned on it. The skirt is trimmed with a black eyelet ruffle and purple Venice lace. The belt is a simple stitched and turned tube, threaded through a purple buckle. We took the pictures in our front yard; our neighbor's barn is in the background.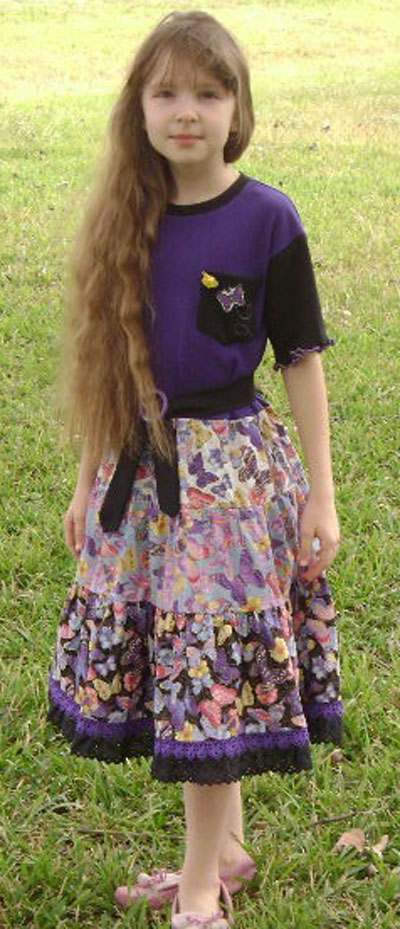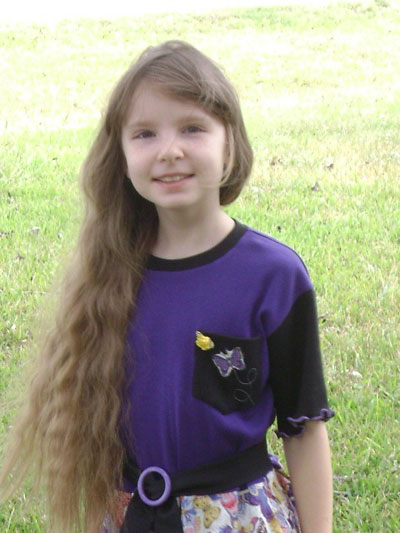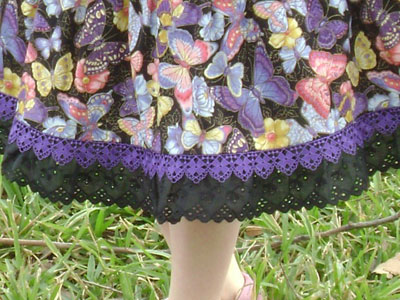 from Kaitlin2010
Hi, it's Kaitlin2010! Sadly, I am not riding at the same stable anymore and will not see Blue ever again(cries). But, on the plus side I did start riding at a different stable, and am riding the best horse ever, Toad! This is a pic of him. Isn't he beautiful? He is the most obedient horse EVER!!!!! And he is my fav. color of horse, chestnut sorrel. He has a bend-or spot on his rump, but you can't see it :( in the pic.
Actually, these pics are partly for Britnie, so she can draw Toad for me. Bye all readers!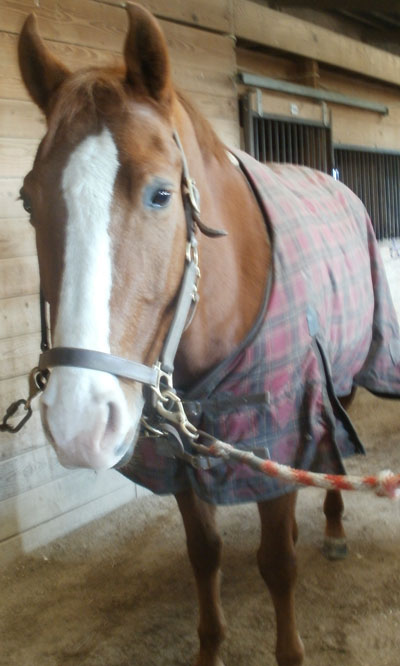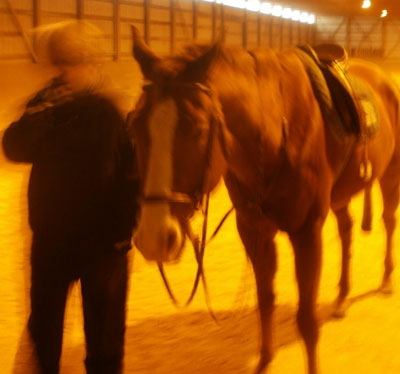 Kaitlin2010, Spots, Spirit and Zoe :D
from Feephee
Ophelia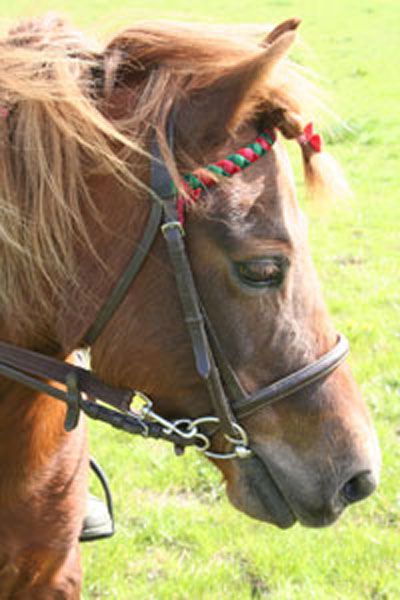 Member Art Gallery

by MidnightWolf98
by Paint the Wind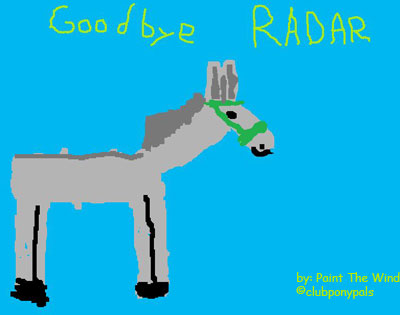 by Nyx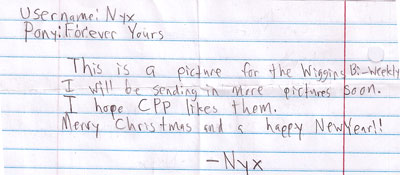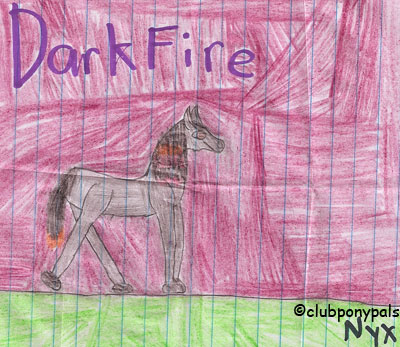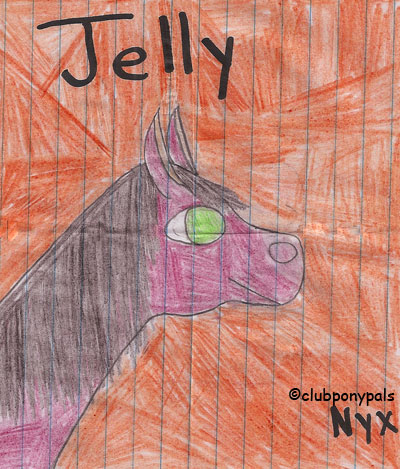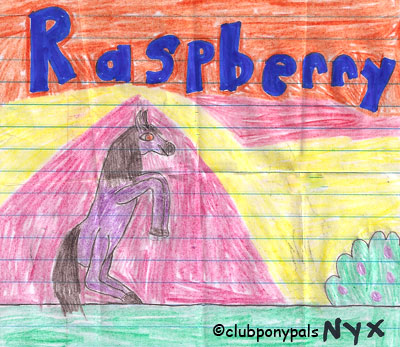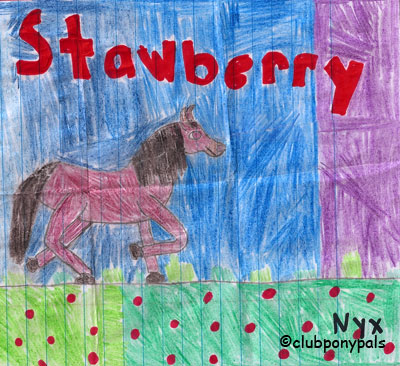 by Kaitlin2010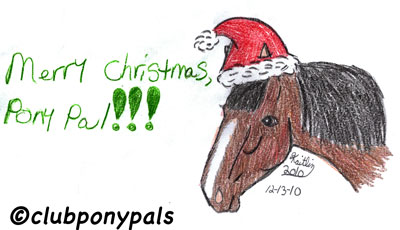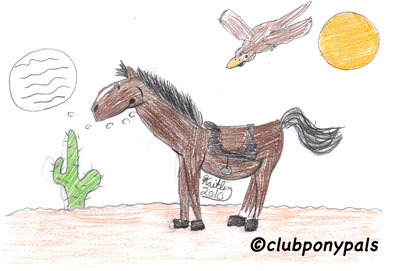 This Issue's Winning Postcard
by Onaneagle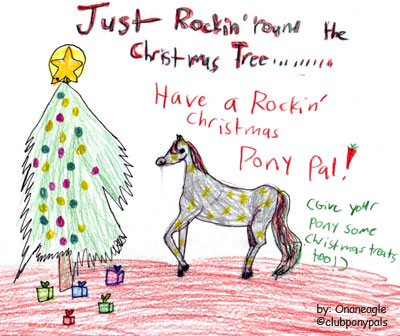 by Whiskywoo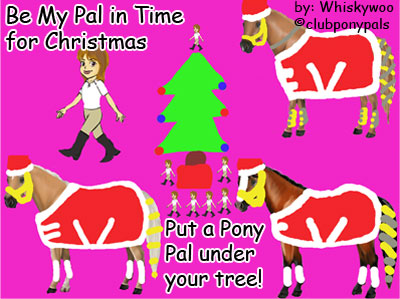 by Crusinpaint123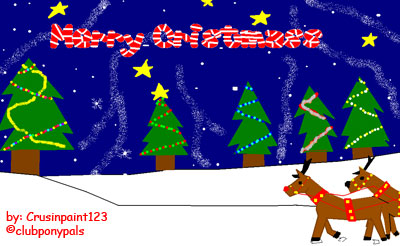 Winning postcard entries each issue get 200 Wiggins bucks. All art must be original, it cannot include clip art or copyrighted images.
If you want to enter, send your original art to Contests@ClubPonyPals.com or mail it to:
Club Pony Pals
16654 Soledad Canyon Road #382
Canyon Country, CA 91387 USA
Dear Pony Pals

Send in your photos, stories and drawings for our contests.

e-mail them to Contests@ClubPonyPals.com or mail it to:

Club Pony Pals
16654 Soledad Canyon Road #382
Canyon Country, CA 91387 USA

The first printing of collectable stickers is almost gone. Get yours now, if you want a sticker and bookmark make sure and include a mailing address where we can send it.

Please include your user name and the email address you used to register in your letter, too.

Webmaster
Play These Games to Earn Wiggins Bucks

Play these to earn bucks! Each issue of the newsletter, the highest scoring

Scavenger Hunt
Winner gets 3000 Wiggins bucks,
next nine members scores below that get 500 bucks each.

fallenangel153

uniseus

happytummy2

AnonymousHeart

ponypal22

NevaWhisper

HottKesha

sparklesnblood

bexbabyx

Wolfgirl101

PatcheyLover01

Pony Pal Derby
Race your pony to earn Wiggins bucks!
Each issue of the newsletter, the derby game's highest scoring player
earns 3000 Wbucks.
500 Wbucks goes to each of the next nine highest scores.

LongTail

microphone

swanheart

vikinglove

YellowFang

Cloeeeee

shinabella

Raven305

Midnight Spirit

CrazyHorse45

RhinestoneCowgirl

<![if !supportEmptyParas]> <![endif]>

Math Games
High scoring players in addition,
subtraction or multiplication earn 500 Wiggins bucks,
next nine players who have high scores earn 100 bucks each.

Add Like Mad

Elizabeth114

Skyward

KerBlang

wombat165

sarah_beguerra

Elizabeth27

ChristinaReese

Parakeet15

Horse Admirer

rose2001

<![if !supportEmptyParas]> <![endif]>

Subtraction Action

ChristinaReese

Elizabeth27

Horse Admirer

HorseCrazy3

AnisaL

Alice813

chelsea2

RhinestoneCowgirl

starlight1012

Oliviaa090

<![endif]>

Multiplication Station

Paint The Wind

kelseaw

HorseyHeart

ChristinaReese

Misspippy

Truffle111

emmabridgette

luna7

Wizz Fizz

tergindi

This Issue's Cross Country Course Winners:

Cross Country North

LoveHorses863

havanchiraz

LetsFlyOnceMore

star3tt45

Moonlight Sonata

Cross Country South

Lily5

shinabella

ebony

katikalove

jgriker35
Pony Pal Thoughts for the Day:
" Bread feeds my body, but a horse feeds my soul"
Ellie Renneberg2

_____________________
"Horses: They know when you're happy. They know when you're afraid. They know when you're confident. And one more thing: They always know when you have carrots."
Foalgirl8021
_______________________
"If you have that bond-The inseperable. The one that holds you to the ground instead of gravity. Always remember-Though that special one isnt still here, your heart holds some of their spirit,wherever you may go."
Dedicated to Pippy, but truly serves to anyone who shares the bond I did. Misspippy