OCTOBER 2nd BIRTHDAY PARTY FOR
ANNA HARLEY
Anna Harley's birthday is October 2nd! Come join our special birthday live moderated chat that day to help Anna Harley and her pals celebrate.
Virtual Sleepover Next Friday

Mark your calendars, our next virtual sleepover will be Friday, October 8, from 6 - 10 pm Eastern USA time.

Chat with the Pony Pals, take lessons and enter show classes in the virtual riding arena.


New Anna Acorn Award
ask Lulu for yours & display on your cabin mantel. At the sleepover October 8!
Vote for Sept Story Contest
Vote for your favorite stories today!

Winner receives 3000 WB and Gold Quill Trophy,
runners up receive 500 WB and the Silver Quill Trophy!

Ways to Get Wiggins Bucks
Watch Videos




Members now have a new way to earn Wbucks by watching videos. Next time you log in, click on "Get Bucks" and see if the link is there so you can choose to watch videos.



New Halloween Cabin Decor




Bat Clock
(keeps real time!)




Spooky
Candlelabra




Witchy Candle
for your mantel


Look for new Halloween items every week of October!

For a limited time -- new hamster for your cabin!

Pick up your new companion today!
Download your Coloring Contest Entry here
Kaitlin2010's drawing won her 500 Wiggins bucks and will inspire coloring creativity -- and win some members lots of bucks for their coloring skill! Download your entry here or click the picture on the right. CC17
The Long Riders
Special Recognition
to our Trail Riders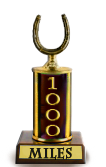 advertisement
w-mail Kell27 for more information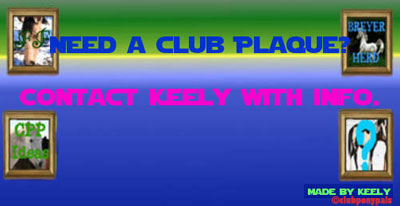 w-mail Keely for more information
New Saddle Pad Designs
Created by Our Members
Design Yours Today!

Download the template, then email your design to contests@clubponypals.com (Designs submitted without 3000 WB will be saved and put on hold.)

Cabin of the Week Contest
Enter to win 1000 bucks for your decorating skills!



SadieT




Bettina




Oreopony6


Last Week's Cabin Winner




Scoutgirl

Send contests@clubponypals.com an email telling us the username's cabin you want to enter. Rules are: Each week three cabins will be chosen from the entries for member voting. Members can enter enter as often as they like, but winners cannot enter this contest again for six months.

Look for more new fun furniture items soon. Have a request
for something you want to add? Let us know!
Drawing of the Week Contest
by PicassoGirl

by Ajaxsluver101

Winner gets 500 Wiggins bucks, and their art is made into a painting for members' cabins. If you want to enter, send your art to the Contests@ClubPonyPals.com or mail it to:
Club Pony Pals
16654 Soledad Canyon Road #382
Canyon Country, CA 91387 USA
If you want a sticker and bookmark make sure and include a mailing address where we can send it!
Cartoon Caption Contest -- This week's caption winner



WINNER:

Small horse: Please don't hurt me, I'm just a REALLY REALLY REALLY miniature horse! Big horse: So that makes me...just a regular horse. Small horse: Hey! Don't rub it in! by: ajaxsluver101


RUNNER UP: a tie!

Small horse: Hey buddy, your looking down today. Large horse: Hard not to, shorty. by ellie renneberg2

Small horse: Dude, you have a massive knot in your mane. Big horse: How would you know, your only 2 feet tall! Small horse: 1 foot and a half, actually. by ellie renneberg2

This winning caption's writer got 500 Wiggins bucks.
The runner-up caption gets 100 bucks.
Vote for your favorite caption for this cartoon--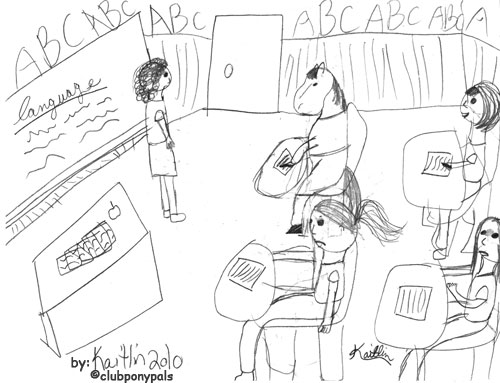 Write a caption for this --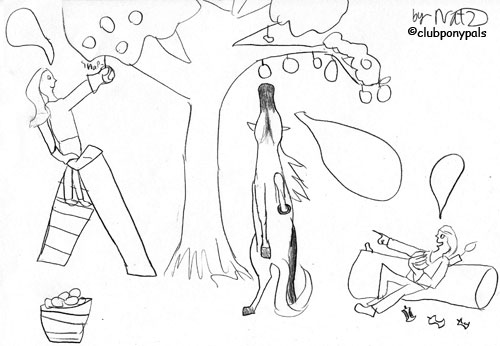 Can you write the winning funny caption for this cartoon? Deadline is Thursday of this week. Email it to Contests@clubponypals.com
Look for the entries in the next week's e-newsletter and vote for your favorite.
Winning caption gets 500 bucks, runners-up get 100 W bucks each. Captions should be short.

or draw a cartoon --

We are looking for cartoon artists, too. Draw one and email it to us by Thursday.

If it is selected, you can earn 500 Wiggins bucks! Hint -- for this contest, please draw your cartoon in black and white. If you want to enter, send your art to Contests@ClubPonyPals.com or mail it to:

Club Pony Pals
16654 Soledad Canyon Road #382
Canyon Country, CA 91387 USA
Envelope Art Contest! Win 100 Wiggins Bucks!
-- No Entries this Week--
You could have won 100 Wiggins Bucks!
Special Contest - One week only!
Which member
has the most original name for their virtual pony?
EagleGirl's Clicker Club Training Column:
Rope Bump Game Teaches Pony to Walk on a Lead
Last week we learned how to play a fun game with your pony - The Rope Bump Game. This week, we are going to talk about how to use that game to teach your pony to walk on a lead.

When you are ready to begin, start off with The Rope Bump Game. After playing for a minute or two, stand beside your pony's head and bump the rope against his neck several times. Click and treat. Now, instead of bumping the rope against the near side of his neck, lift it and drape it over the crest of his neck. Click, gently pull the rope off his neck, letting it slide over his crest, then treat. Repeat. Continue this process, gradually increasing the length of time you leave the rope draped over his neck. The end of the rope will be hanging down free on the off side of his neck. Once he is comfortable with this, you can click, then leave the rope over his neck while you treat. Reach up and gently move the rope a bit, click and treat. If he doesn't like the rope to stay, you can just remove it after you click, then work a bit more and try again. Eventually, you will be able to drape the rope over his neck and move it around. Once you can do this, wiggle the rope for longer and longer periods of time before clicking and treating.

Remember, in clicker training, observation is key. Observe your pony. He will let you know if you need to remove the rope or not. Once he is comfortable with the rope staying on his neck, you can slowly back away from him, letting out the rope so it stays draped over his neck. Click and treat. Continue working until you are in the right position to ask him to follow the rope. With the rope draped over his neck and the end hanging free, loop the other end of the rope and hold it out to him. Ask him to "Touch it", then begin to walk. He should follow. After a step or two, click, lower the loop, and treat, with a jackpot. Repeat the process, using a normal treat. Continue in this fashion, observing your pony carefully, and eventually the two of you will be walking all over the pasture with the rope draped loosely around his neck.

Be sure to practice rotating your hand and turning to the right ("gee") and left ("haw"). Your pony should be walking behind your hand, which is out to your side. This is a good position, because you will be able to turn right easily by rotating your wrist up and moving your hand slightly to the right in front of his muzzle, and beginning to turn and walk to the right. You will also be able to turn left easily by rotating your wrist down and moving your hand slightly to the left, and beginning to turn and walk to the left. Also, if something spooks your pony, he will not be directly behind you, so he will not run over you if he surges forward. And if he is not so far forward that his shoulder is even with you, you will have a little more control should he spook and suddenly move forward. It is very possible for a pony to rush past you and kick you on the way; I know this from personal experience!

Most ponies are not going to be afraid of the rope, so fear will not be an issue. However, if you do happen to be working with a pony that is fearful, this method helps him to feel safe, and it enables him to simply leave should he not be able to handle the pressure. When I was working with my mule, I always gave him permission to leave if he became overwhelmed. He would sometimes bolt, and sometimes simply walk off. But I let the rope just slide off his neck and I stopped walking, and waited for him to come back when he was ready. You have probably been told that you must not let your pony pull away. And usually this is true. But for my mule, it was not. He was so afraid that he could only work if he felt safe. And he only felt safe if he was able to leave when it became too much for him. Any tension on the rope at first caused him to panic and bolt. Also, in this case you are not actually holding your pony. You simply have the rope draped over his neck, and he is walking with you because he wants to.

This method also teaches your pony to walk with you on a loose lead, and to be in tune to you and what you want. It is a real pleasure to walk with an equine on a loose lead, and to have him move with you because he is attentive to you and watching you. You will find that clicker training builds a very strong bond between you and your pony, horse, dog, or other pet. You will learn to focus on one another and will work in tandem, and this is a very wonderful thing indeed.

Once you are walking all over the pasture with the lead draped around your pony's neck, you can move to the next step. Working as slowly as you need to, you will drape the lead over his neck, then reach under and grasp (not grab) the end of the rope. Hold it a second or two, click, release it, and treat. Continue, gradually extending the length of time you hold the end of the rope. Once he is comfortable with feeling the rope all the way around his neck, you can begin to move it around a bit, clicking and treating, and gradually extending the length of time you wiggle the rope. Then the next step will be for you to hold the near portion of the rope and the end, and ask your pony to walk with you. He should be so used to walking with you by this time that he steps forward with you. Click and treat. You will probably need to let go of the rope with your right hand so that you can treat him.

This brings up the situation of holding the clicker in your left hand while also holding the lead rope. I keep my clicker on a stretchy wrist band, which I slip over my left wrist, and I hold the clicker between my left thumb and forefinger. I let the rope rest in my hand, running over my other three fingers, and between my index and middle fingers. Usually I am using a fairly long lead, so I fold it back over and let the end run over my ring and pinky fingers, and between my middle and ring fingers. Give this a try, and you should get used to it fairly quickly. This allows me to work the clicker at any time, and also allows me to hold the rope comfortably. The stretchy wrist band ensures that if something happens to cause me to drop the clicker, it stays on my wrist and I can easily retrieve it.

Remember to always FOLD your rope. NEVER loop or wrap a rope around your hand, arm, or any other part of your body. And never, ever tie it to yourself, either. If your pony should spook and bolt, you could be very severely injured. But if you fold your rope and he spooks, you will be protected from having it wrap around your hand and leading to an injury. There is always the chance you could get a slight rope burn, but if your pony becomes out of control you will be able to let go and will not get hung up in the rope.

Now, if you follow these steps and closely observe your pony to see what he needs and is ready for, you will eventually find yourself with a pony that will allow you to approach him and put the lead over his neck, and that will walk with you on a loose lead. Once he is doing this, you can begin to teach him how to wear a halter. If he already wears a halter, he will now be ready to have the lead put on it. We will talk about that next week.

Until then, happy clicking!
EagleGirl

Member Photo Gallery
from Onaneagle
Here are some pictures from my week at a Ranch in New York. I won the week in an art contest!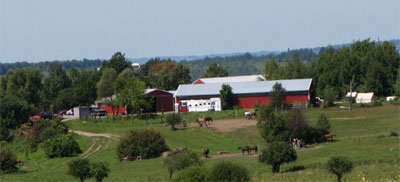 I rode a dun quarter horse named Cody. We went on over 100 miles of trails!
My sister Viviana rode a pretty paint named Sadie. Our wrangler Mark was really nice. He helped me control Cody (who you can see has a problem with eating):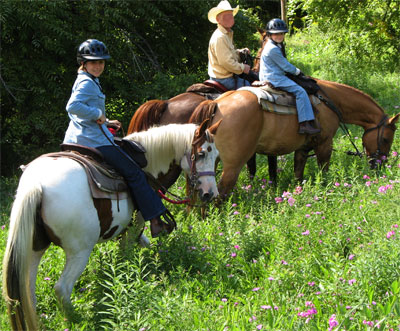 I fell in love with Cody. . .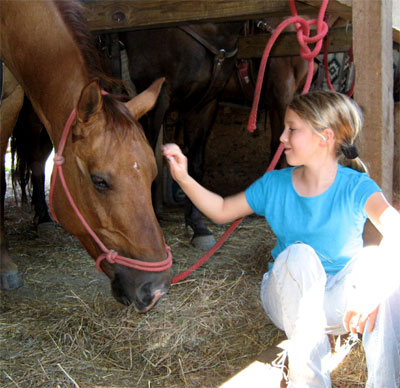 . . . and an adorable filly named Princess who liked to nibble my fingers!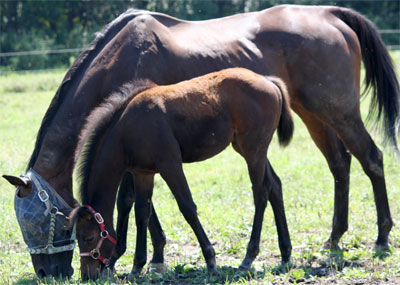 I also got to ride Wrangler Mark's mustang bareback: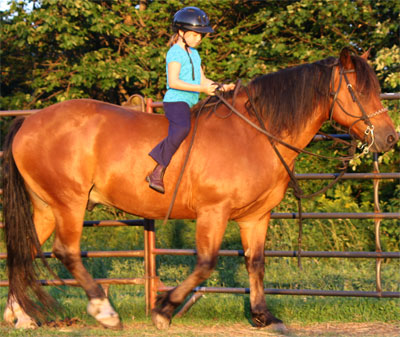 I had a great time on the Ranch. I hope I can visit again and own a ranch of my own someday!
from Whiskywoo
Dear Club Pony Pals, this is a pic of my rabbit oscar in his awesome pink harness.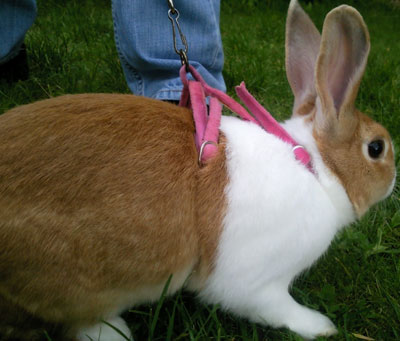 from Ellie Renneberg2
Hey Club Pony Pals, it's Ellie Renneberg2 and i thought i would send some pictures of my holiday. The first one is a lookout view of a bay, near Queensland. The waves were massive!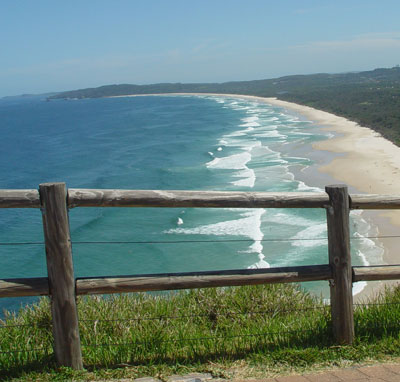 The second is another of me and Cassie. She is a seven Year old andalusian, standing around 15\16 hh. She was an amazing ride, and really talented! She even let me stand on her back!!!!!
Thanks for putting these in the Wiggins Weekly!!!!
from Hrsluvr101
I hope you enjoy the pics of my horses and me!! Their names are Sky and Boo. Sky is a 15hh bay QH mare, 16 yrs old. (We were born on the same day same month same year) Boo is a 30 yr old thoroughbred gelding 16hh. He is still in great shape and loves to be ridden. Well enjoy!!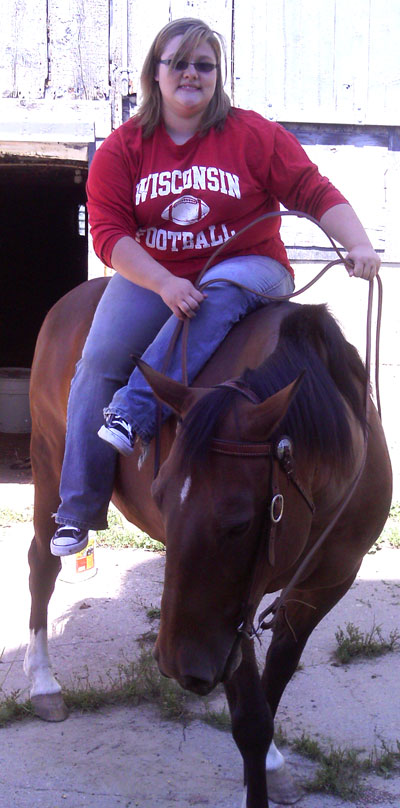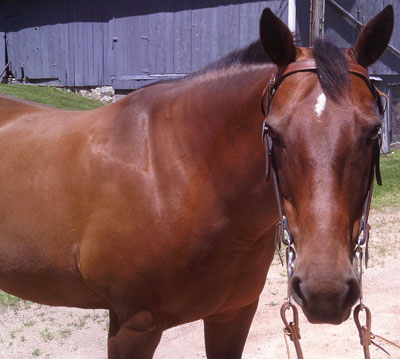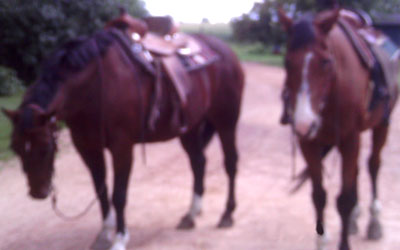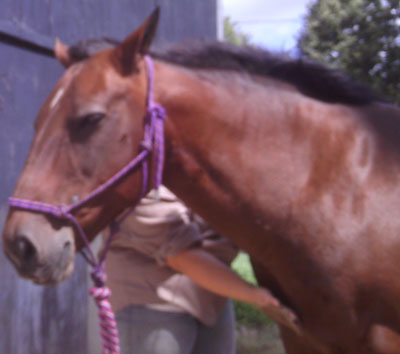 from Ponypals100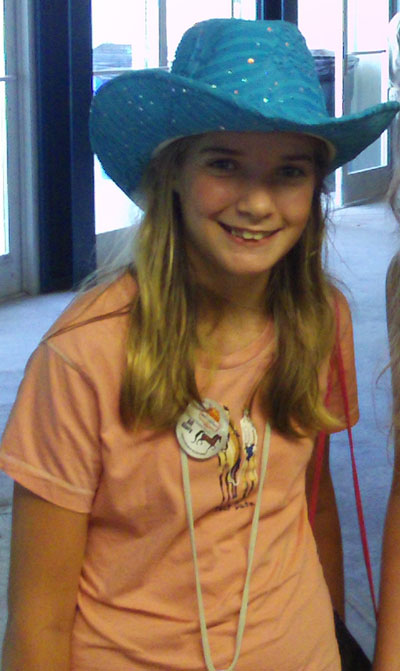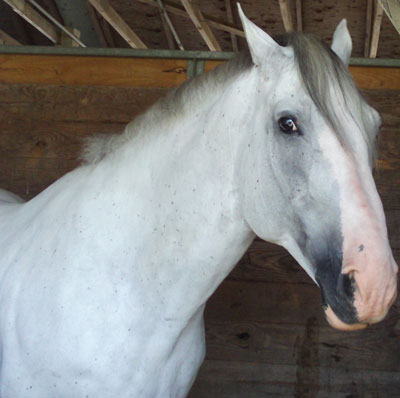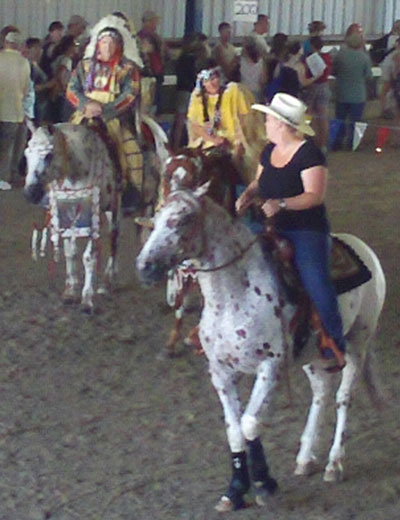 from user name withheld
The first two pictures are me and Kimosabi, the horse that I have rode, practically since December, at my lessons.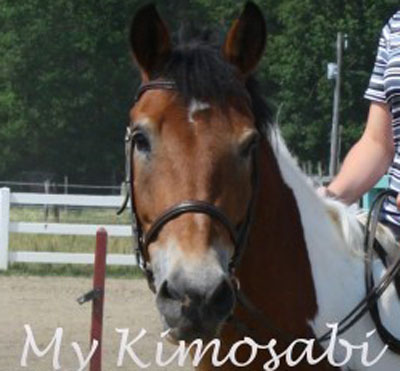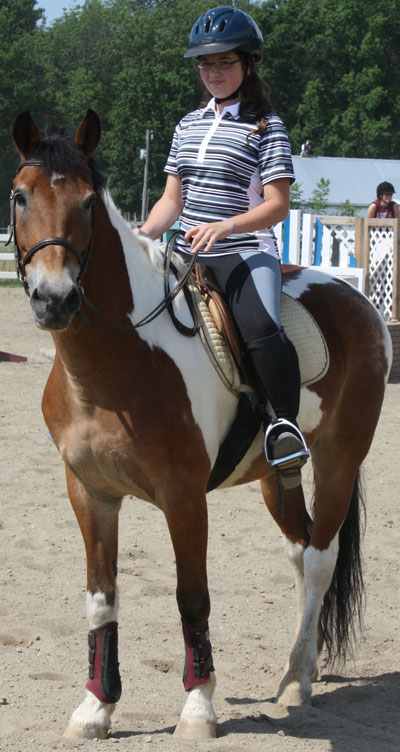 The other pictures are of Penny and I. I used to own Penny:)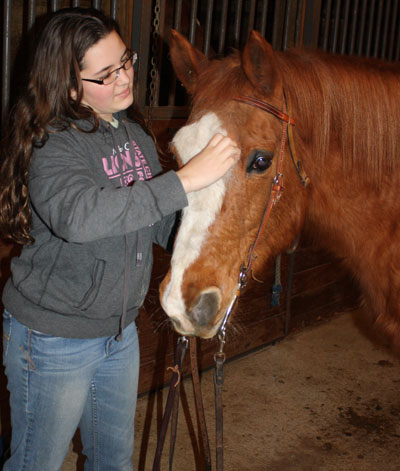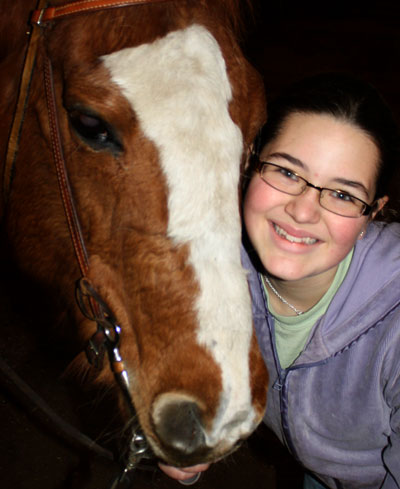 p.s. Thanks for letting members put pictures in the Wiggins Weekly!
from Shinabella
"Flowers"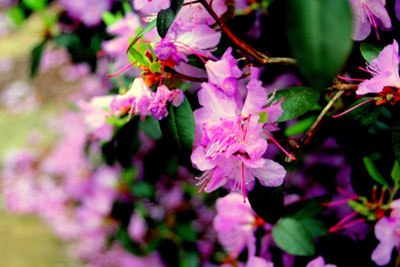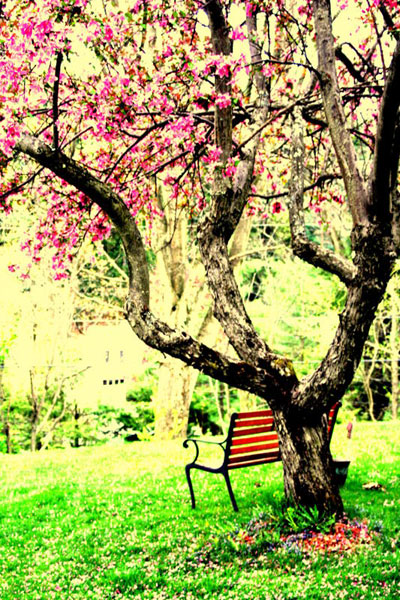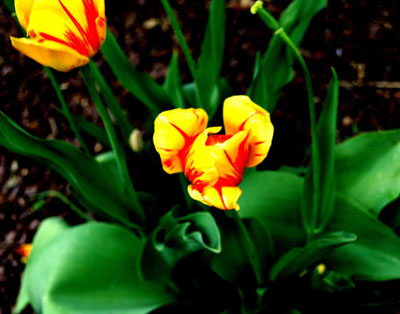 from Taylor***
My pets! Lee is my cat, and here is Luke, my dog! Read about him in my story called Sky, Luke, Roger and Me! part 2 in the Sept Story Contest!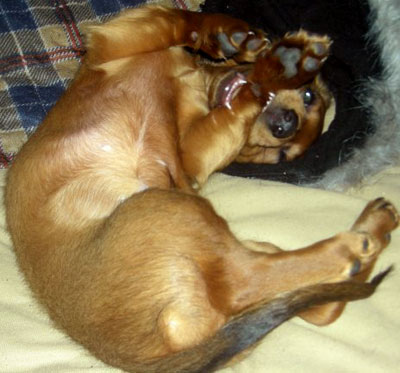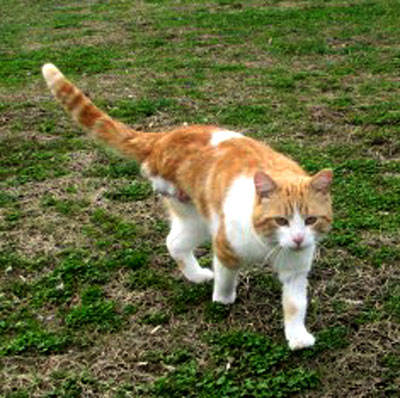 Member Art Gallery
by Onaneagle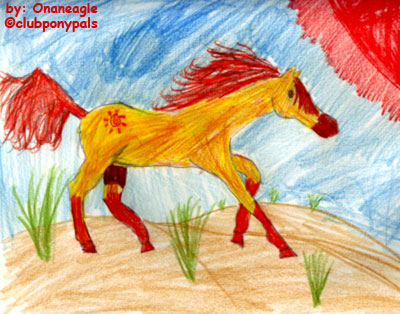 by Raven305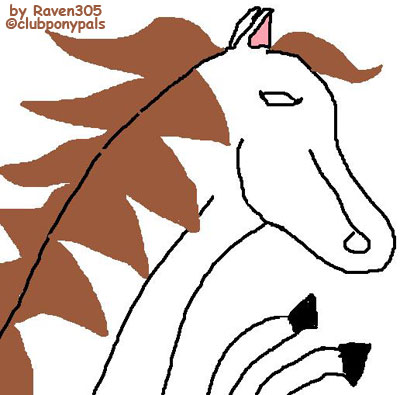 This Week's Winning Postcard
by Kazzandra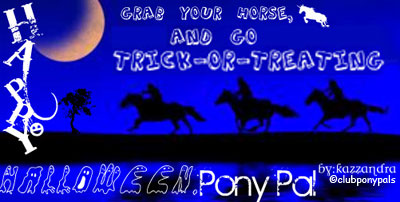 by Jonah12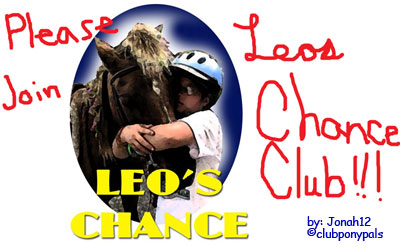 Winning postcard entries each week get 200 Wiggins bucks. All art must be original, it cannot include clip art or copyrighted images.
If you want to enter, send your original art to Contests@ClubPonyPals.com or mail it to:
Club Pony Pals
16654 Soledad Canyon Road #382
Canyon

Country, CA 91387 USA
Dear Pony Pals

Send in your photos, stories and drawings for our contests.

e-mail them to Contests@ClubPonyPals.com or mail it to:

Club Pony Pals
16654 Soledad Canyon Road #382
Canyon Country, CA 91387 USA

The first printing of collectable stickers is almost gone. For the next week or two, if you want a sticker and bookmark make sure and include a mailing address where we can send it.

Please include your user name and the email address you used to register in your letter, too.

Webmaster
Play These Games to Earn Wiggins Bucks

Play these to earn bucks! Each week, that week's highest scoring

Scavenger Hunt
Winner gets 3000 Wiggins bucks,
next nine members scores below that get 500 bucks each.

"Scavenger Hunt "

jogjed

Viviana A.

wizkid2102

Micey

ponylover8499

tohlover

LILYIAN

laurelle

debijayn

hope10

Pony Pal Derby
Race your pony to earn Wiggins bucks!
Each week the derby game's highest scoring player earns 3000 Wbucks.
500 Wbucks goes to each of the next nine highest scores.

"Pony Pal Derby"

iheartmusic98

missy30

<![if !supportEmptyParas]> <![endif]>

Math Games
High scoring players in addition,
subtraction or multiplication earn 500 Wiggins bucks,
next nine players who have high scores earn 100 bucks each.

"Add Like Mad"

EagleGirl

wombat165

jumper94

Nyx

Jessba Baker

charlizerocks

Micey

ee561

eclipse23

starlight1012

<![if !supportEmptyParas]> <![endif]>

"Subtraction Action"

wombat165

EagleGirl

Jessba Baker

eclipse23

Agnetha

spirit00

Micey

minty1612

KristaKirby92

nejosa

<![endif]>

"Multiplication Station"

HayashiOkami

Natalie21

HorsesAreMyLifeNZ

I love Rose

jumper94

LunaLight

poprincess1121

Luckypet5

lala123nilly

amandafunderburg97

This Week's Cross-Country Trophy Winners

Cross-country course north

gk99

minty1612

Onaneagle

MusicalTheatre10

I love Rose

Cross-country course south

Shirleyzeng

lady57

barnbum22

Deelucas98

hrsluvr101
Pony Pal Thoughts for the Day:
"A statesman, we are told, should follow public opinion. Doubtless, as a coachman follows his horses; having firm hold on the reins and guiding them. "
Augustus Hare

_____________________
"The secret to happiness is: eat when you are hungry, sleep when you are tired, and do not think about anything else when riding horses."
Jane Crandal
_______________________
"As a young girl I think I wanted to be a horse woman.
I loved horses. "
Karen Hughes