Virtual Sleepover This Friday

Mark your calendars, our next virtual sleepover will be Friday, September 24 from 6 - 10 pm Eastern USA time.

Chat with the Pony Pals, take lessons and enter show classes in the virtual riding arena.


New Sleepover Award designed by Kell27
ask Lulu for yours & display on your cabin mantel. At the sleepover September 24!
Your Pony's Health

Special advertising section

Klines is offering a special case price on Pony Health Supplement -- 50 Wiggins Bucks for six tubs. Their sale could not come at a better time. Here is why:

Our ponies get lonely when members do not at least visit them every day. For each day that a pony does not get a visit from its human, its health will go down. For members who can't visit their pony every day, they can now buy a supply of Pony Health Supplements for their inventory. Crandals barn will feed one supplement a day to a pony at no extra charge.

Pony Health Supplement keeps a pony's immune system strong and protects against stresses from weather changes and loneliness. When members visit, if they groom their pony, all tools, both sides, then their pony's health will rise.

Club Pony Pals will never take away a member's pony if a member visits that pony often. It is true that if a member does not pay board, their cabin may go away -- though the furnishings stay in their inventory -- but not any pony for a member who stops by to visit their pony regularly.

Case price
50 wbucks
now at Klines
Age 10 and Under
Hand Colored

Winner: It's a Tie!
Onaneagle and Alyssa
Runner Up: Nat2
Age 12 and Under
Computer Colored
Winner: Viviana A.
Runner Up: Grahamsluvr
Age 11 and Over
Hand Colored
Winner: Rainbowgirl
Runner Up: born to be wild
Age 13 and Over
Computer Colored
Winner: Skyward
Runner Up: Kell27
Riding Lesson Real Life Vet Visit
During this past Tuesday's Live Moderated Chat virtual riding session, we were thrilled to have Dr. Bettin, a member's real life veterinarian father drop in to answer our members' questions. A copy of what was asked and the answers for our members is below.

Jane Crandal Hello Dr. Bettin and welcome!!! Do you work with mainly horses Dr. Bettin?

Dr. Bettin My specialty is equine surgery and lameness. I also specialize in small animal orthopedics

Jane Crandal We had one mailed in question -- how do you stop a horse from cribbing or wind sucking?

Lianna Tiki Cruise jc,what is cribbing? *i whisper*

Jane Crandal it is when a horse grabs a pipe and pulls air into its stomach -- bad habit

horsesval Lianna, cribbing is the act of a horse gripping an edge s with his front teeth, arching his neck and swallowing air, cribbing can also impair a horse's long-term health im interested in hearing about how to stop cribbing i have a strap on one of my horses and she still does it

Dr. Bettin Cribbing is something that horses do by hooking their top teeth over something, usually a post or a board. They then inhale air and it releases endorphins in their brain. It becomes an actual addiction

Dr. Bettin There are a couple ways to stop cribbing. One is a special "cribbing" collar the other is a surgical procedure. Neither are 100% effective, but both will help in many cases.

horsesval how does the surgery work?

horsesval how does the cribbing surgery work? does the horse have to go completely under, or can it be done laproscopically?

Dr. Bettin The surgery for cribbing is a procedure that actually removes the muscles in the neck that allow the animal to crib. The cribbing surgery is a VERY involved procedure. 2 large muscles in the neck are removed. They are large, like the size of a T-bone steak.

KymMarie wont that effect the use of the horses neck, dr bettin?

horsesval can the horse still work/breathe properly with the removal of the muscles?

Dr. Bettin Yes the surgery affects their neck, but not significantly. they look a little thinner in the neck, but other wise it doesn't bother them much. They can "train" them selves to crib again though.

Lianna Tiki Cruise
if a horse gets a slight scratch, should it seek medical help?

Dr. Bettin (Dr Bettin) It depends on how severe. Horses can heal a lot of injuries on their own, or with a little help. If there is any question about how severe its always the safest to have it looked at.

ponypals100
How come a Horse knows u're happy or sad or Mad or lazy why do they know that?

Dr. Bettin Horses, all animals for that matter, read our body language and instinctively know our mood.

KymMarie Dr Bettin, is there anything that can help stop a horse from spooking so much?

Dr. Bettin Horse spooking- this is a training issue, they have to get used to noise etc and learn to trust the rider. It just takes time and experience

Lianna Tiki Cruise my horse is acting really aggressive, he used to have an old injury in his leg, does that affect my horse?

Dr. Bettin Its doubtful that an old injury to your horse's leg will cause aggressiveness, unless it is still causing pain to the animal

frontrunner what is lasix anyway I've always wondered that

Dr. Bettin Lasix is a drug that causes the kidneys work harder and remove fluid from the body.

Jane Crandal they give it to humans who have heart trouble too.

frontrunner I thought they use it to stop horses from bleeding in races

Dr. Bettin Lasix does help stop bleeding in the respiratory tract of race horses, and is commonly used for that purpose

yuily101 Dr.Bettin, My horse Sweet Songs drops a lot of food when she eats. Should I be worried? I get her teeth checked

horsesval get her teeth checked yully, a lot of times it helps with eating issues

Lianna Tiki Cruise it may be a bad habit? or she doesn't like the food
yuily101 She loves her grain and oats!

Dr. Bettin Your horse dropping food is generally causes by problems with their teeth. They get sharp edges and uneven teeth and need to have their teeth "floated" or basically ground down smooth again

shinabella This might be weird, but my horse has these little bumps that look like ticks, but the are not, I'm kinda concerned....

shinabella
I have a question, My horse has these tiny bumps on her rear. I have checked if they are ticks, but they are not. They don't come off when i brush over them. Any ideas?

Jane Crandal are there scabs or bare spots shinabella?

shinabella nope, the look like dirt, but when i try to get them off with tthe brushes, they don't. They are sticking out like ticks, but they aren't...

Dr. Bettin tiny bumps could be a lot of things, most likely though, is a hypersensitivity to insect bites.

Jane Crandal one of my ponies has that too

Dr. Bettin: Sorry everyone, I just received an emergency call for a colic horse. Maybe I can chat with you again another time. Very good questions!!

Jane Crandal: Thank you for coming to our riding lesson Dr. Bettin. Your answers were great.

yuily101 Yay thank you!

KymMarie thanks Dr Bettin! hope to talk again soon! it was great having you here with us!

Jane Crandal You are welcome back anytime.

Lianna Tiki Cruise i learned a lot of new things
SAVE THE DATE!
BIRTHDAY PARTY FOR ANNA HARLEY
Anna Harley's birthday is October 2nd! Come join our special birthday live moderated chat that day to help Anna Harley and her pals celebrate.
The Long Riders
Special Recognition
to our Trail Riders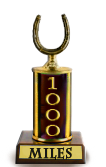 with the most miles ridden
advertisement
w-mail Kell27 for more information
New Saddle Pad Designs
Created by Our Members
For 3000 WB, you can design one too!
Kaitlin2010 Green designed by Kell27
Cabin of the Week Contest
Enter to win 1000 bucks for your decorating skills!



DTKLOVER




ee561




DizzyDaizy


Last Week's Cabin Winner




Ellie Renneberg2

Send contests@clubponypals.com an email telling us the username's cabin you want to enter. Rules are: Each week three cabins will be chosen from the entries for member voting. Members can enter enter as often as they like, but winners cannot enter this contest again for six months.

Look for more new fun furniture items soon. Have a request
for something you want to add? Let us know!
Drawing of the Week Contest
by B-tty123

by Maid Mairain

"Tongo"

Winner gets 500 Wiggins bucks, and their art is made into a painting for members' cabins. If you want to enter, send your art to the Contests@ClubPonyPals.com or mail it to:
Club Pony Pals
16654 Soledad Canyon Road #382
Canyon Country, CA 91387 USA
If you want a sticker and bookmark make sure and include a mailing address where we can send it!
Cartoon Caption Contest -- This week's caption winner



WINNER:

Girl: I thought you were on a diet?! Horse: I wasbut these oats just looked so...oatsy! Girl: Thats what you said last time! Horse: *munch* by: ajaxsluver101

RUNNER UP:

*Girl* "hey ma! I found'er!" *horse*-continues to eat- by Keely

This winning caption's writer got 500 Wiggins bucks.
The runner-up caption gets 100 bucks.
Vote for your favorite caption for this cartoon--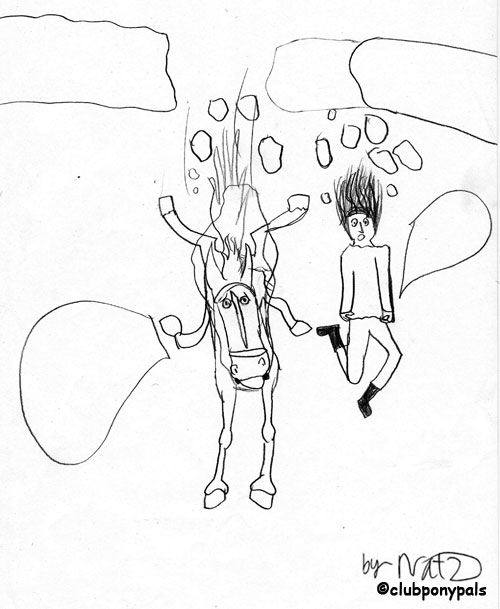 Write a caption for this --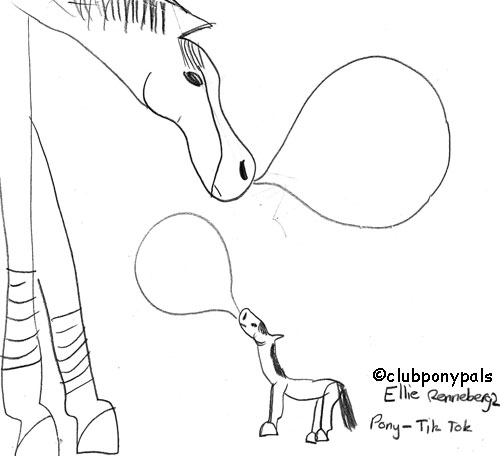 by Ellie Renneberg2
Can you write the winning funny caption for this cartoon? Deadline is Thursday of this week. Email it to Contests@clubponypals.com
Look for the entries in the next week's e-newsletter and vote for your favorite.
Winning caption gets 500 bucks, runners-up get 100 W bucks each. Captions should be short.

or draw a cartoon --

We are looking for cartoon artists, too. Draw one and email it to us by Thursday.

If it is selected, you can earn 500 Wiggins bucks! Hint -- for this contest, please draw your cartoon in black and white. If you want to enter, send your art to Contests@ClubPonyPals.com or mail it to:

Club Pony Pals
16654 Soledad Canyon Road #382
Canyon Country, CA 91387 USA
Envelope Art Contest! Win 100 Wiggins Bucks!
by Ajaxsluver101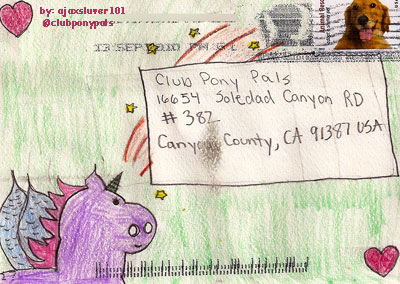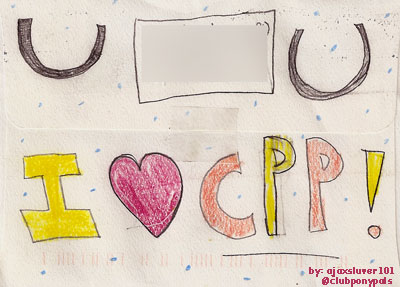 EagleGirl's Clicker Club Training Column: Walk on a Lead

Last week we went through the steps involved in teaching your pony to let you approach him and touch him. Then we listed the general steps necessary to teach your pony to put on a halter. If there is anyone who is actively involved in halter training, and you need more help with this step, please write me at the Clicker Club and I will analyze each of those steps with you. If your pony already walks on a halter, but is difficult to get the halter on, you will find that it is worth your time to go back and go through this process with him. Once you have, you will have a pony that looks at the halter as a positive thing, rather than a negative thing, and you will no longer spend much of your time trying to catch your pony and halter him.

Remember that each pony is different, and will have his own timetable. Some ponies will have that halter on in a lesson or two. Others may take weeks, or longer. But if you will be patient, and work calmly and quietly, you and your pony will be successful. Just build on each small success, and if at any time your pony is not successful, remember to back up to the last place that he was successful, go over it a few times, then proceed. If he is very nervous, you might just stop at that success, and pick up there next time. If he just didn't understand, or you moved too fast, then once you have given him success, you can proceed to the next tiny step. Be sure to end EVERY clicker session with success!

This week we are going to talk about how to teach your pony to walk on a lead. The process I am going to take you through is probably a little different than many clicker trainers will do it. I am going to show you how I taught my Welsh mule to walk on a lead. You might remember he had been abused, and was afraid to let anyone near him, much less touch him. So haltering him was not an option for a very long time. I did, however, eventually teach him that he could indeed wear a halter, and I did it following the steps I outlined for you at the end of last week's column. Because of his fear, and because I was not willing to push him, it took us a very long time indeed. We took excruciatingly tiny steps, because that is what he needed. Clicker training is all about finding what your animal needs, and going from there. And that is what I did with my mule. And it is what you can do with your pony, dog, hamster, or other animal friend.

Now, in order to follow the procedure that I used with my mule, your pony needs to be able to target. So if he does not target, you need to go back a couple of columns and read about targeting, then teach your pony to target. Once he is working well with the target, ask him to target something else. At some point, you will want to teach him to target a rope. A short rope is just fine; you can use a lead rope if you like, though it is a little awkward because of the metal clip on one end. I went to the hardware store and asked them to cut a seven foot length of thick, soft rope. They sealed both ends for me so it would not unravel. This is the rope I used with my mule.

Now, show your pony the rope and ask him to "Touch it." The instant he makes any movement towards the rope, click and treat. Repeat a few times, then wait until he moves a little closer. Click and treat. Continue until he actually touches the rope. The first time he touches the rope, immediately click, pull the rope back, and give a jackpot treat. Now your pony knows that what he did was really good. Immediately ask him to target the rope again, and as soon as he touches it, click and treat, with a normal treat (though if you think he might need another jackpot, you can use that as well). If he does not target the rope, just stand and wait. Don't jiggle or wiggle the rope, don't chatter at him, just stand quietly and wait. If after a significant wait, he has not touched the rope, you need to back up to the last place he was successful. Since he did touch it once, you can ask him to "Touch it" again. He may have forgotten what you wanted, or not be sure. If he still doesn't touch it, you can turn around, walk off, wait a minute, then come back and ask him to touch it again. Then you will click for any movement towards the rope, thus starting at the beginning of this process again. Continue working your way back up to the point where he is touching the rope.

Once he is touching the rope consistently, it is time to move the rope to a different spot. Let him have the opportunity to touch it in front of him, up a bit, down a bit, to the left, to the right, up to the left, down to the right . . . you get the idea! Just move the rope all over the place, and ask him to touch it in each spot. Once he is consistently touching the rope no matter where you hold it, you are ready to move on. But remember, if he does not touch the rope when you move it, go back to where he was successful, then move the rope a shorter distance away for the next targeting.

Once he is touching the rope wherever you hold it, it is time to start asking him to follow it. You will do this by holding out the rope, stepping back a step, and asking him to touch it. Because you have stepped back, he can no longer reach the rope by stretching out his neck, and he will have to take a step towards it. Let him take the step, and the instant he touches the rope click and give a jackpot treat. Repeat this several times, switching back to normal treats. If you find that he does not touch the rope, ask again, then click for the first step he takes. Treat. Continue this, waiting a little longer each time, until he does touch the rope. Click and give a jackpot, then proceed. Then, step back two steps and ask him to touch it again. He will now need to take two steps to reach the rope and target it. Click as soon as his muzzle touches the rope, then treat. Once he has mastered this, step back even farther so that now he has to take three steps to touch the rope.

Now you see the procedure we are following. Once he is doing this, you can ask him to touch the rope, then as he steps forward, you can step away. Ask him to touch the rope, let him take a step or two, then you walk a step or two so that he has to keep walking. Just add one step at a time at first. Once he has walked the extra step, let him touch the rope then click and treat. Don't forget to give him a jackpot treat the first time he walks with you. You will gradually be able to walk farther and farther. It will not be long until he is used to walking with you. Remember not to click until he has touched the rope. You are not asking him to walk with you right now, you are asking him to touch the rope, so that is what you are going to click for.

If you don't want to count steps when you are walking, you can count seconds. The first time just have him move forward with you for one second, then two, then gradually longer and longer. Or, you can simply go by how far you move. The first time just walk a few inches, then gradually add a little distance at a time. Again, each animal has his own timetable. Some ponies will get this in one lesson, others will take several lessons. Some ponies will zip through the process, others will need to back up and repeat until they get it. Remember, the key is OBSERVATION. Observe your pony, study him, learn how he thinks, and he will tell you what he needs. And always be aware of when your pony is getting discouraged, or thinking about stopping. You want to stop and let him touch the rope BEFORE he stops following it. If you misjudge and he stops before you do, then just back up and try again, walking just a little less than you did the last time he was successful. Remember to always end with success!

When you are walking, you will face forward, and hold your right arm out to your side. This will result in your walking ahead of your pony's head, not near his shoulder. His muzzle will be right behind your hand, which is even with or slightly behind your body. I find this to be an excellent position for walking with my mules, and I think you will find it to be true with your pony as well. We will talk more about the benefits of this position in another column.

Is this the only way to train your pony to walk nicely on a lead? No. But this is the way I trained my mule, and I have been very pleased with the lovely results. He walks to my right, with his muzzle and head about even with my body, or slightly behind. If I want to turn right, I simply rotate my wrist and move my hand slightly to the right, and he turns. If I want to turn left, I rotate my wrist that way, and move my hand slightly to the left, and he turns. He does this both while on a lead and off. I like this position because we don't bump each other when we turn. If you prefer to have your pony walk more forward than this, then that is the position you should take when you are training.

Next week, we will continue talking about the leading process, and you will learn a fun game to play with your pony.

Until next time, happy clicking!
EagleGirl

Member Photo Gallery
from OreoIsMine
Hi CPP! I'm OreoIsMine. This is me and my pony Oreo. We are at a show jumping 2'6"! Oreo is the best!!!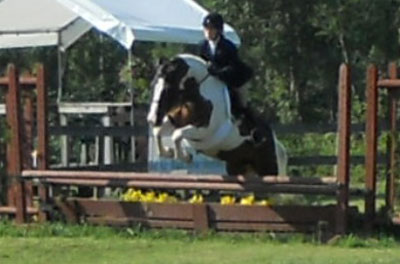 The other is of Oreo wanting to eat my camera so he stuck his nose through the fence. Hope you like them!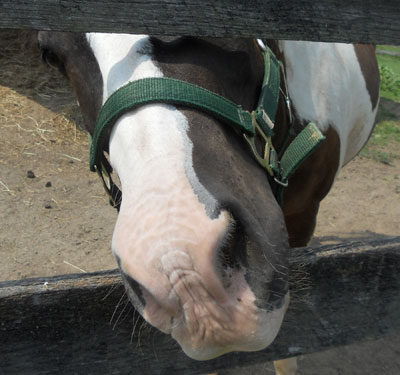 from Ajaxsluver101
. The two girls our Ajaxsluver101 and Molly12345678910 at Pony Camp! Ajax is on the left, and Molly is on the right.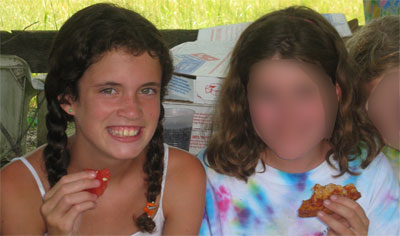 Here are some pictures of my farm house. We grow crops and have 84 acres, and 8 fields.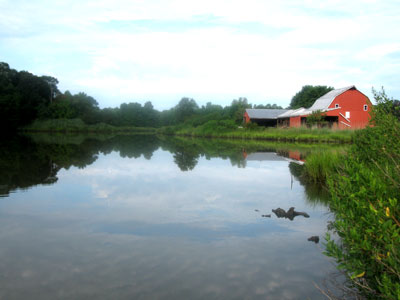 The bald eagle that you see lives in the woods and enjoys the dead trees. Every time we see him, we stare in amazement!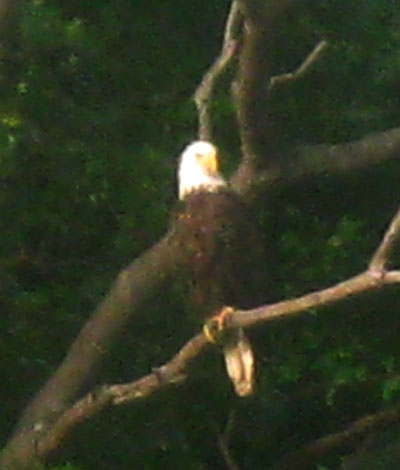 This is my dog, Lily, enjoying the wind blowing threw her ears :D!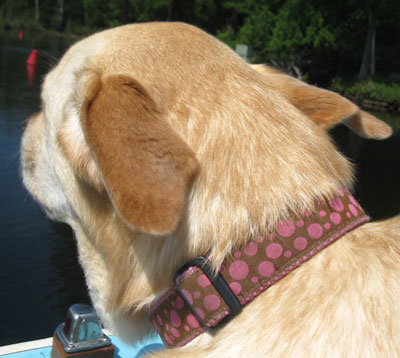 from Wispa
Me riding on holiday in Wales riding Mave.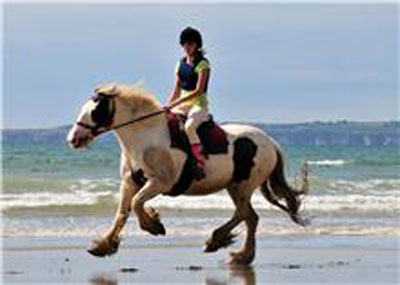 Its my cat Sylvester!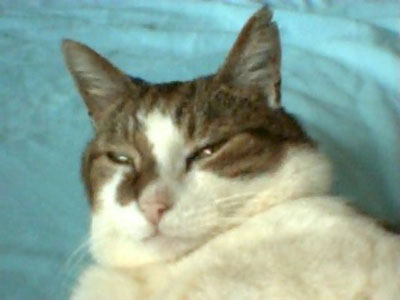 from Keely
Me riding and jumping on Shaleera, AKA Leera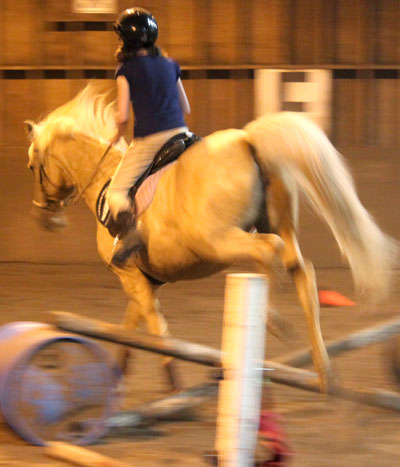 Member Art Gallery
by Onaneagle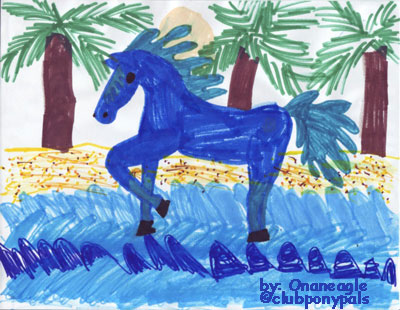 by Ajaxsluver101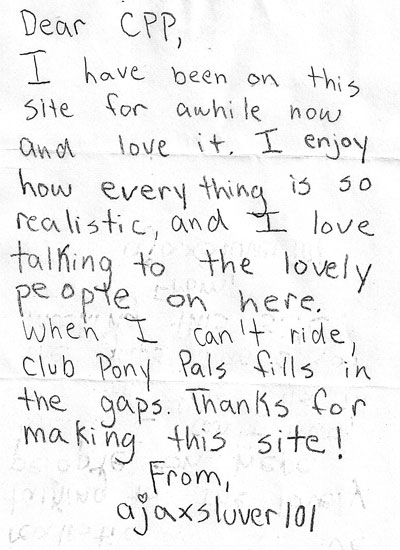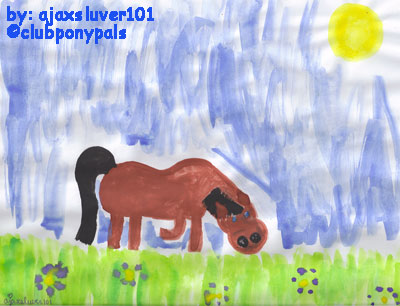 by 123dogesrule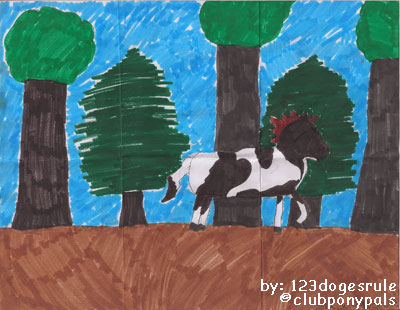 by Wispa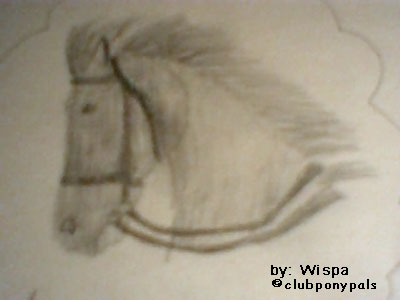 by Kaitlin2010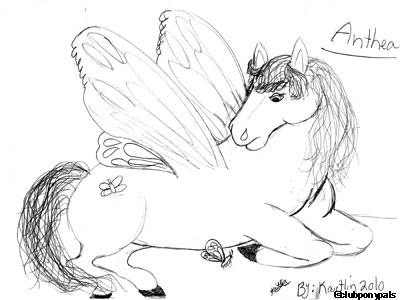 This Week's Winning Postcard
by Ajaxsluver101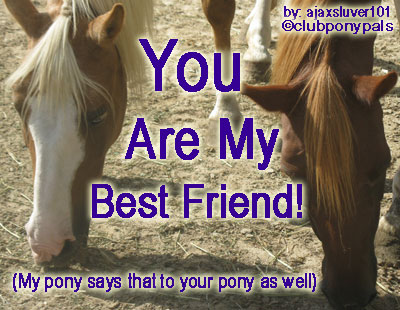 by Crusinpaint123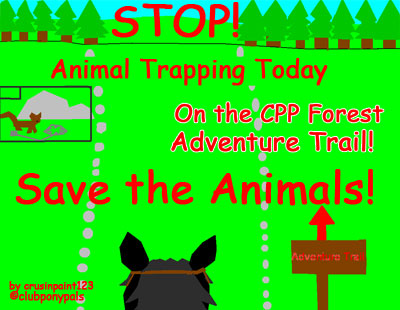 Other Postcard Entries
by Picassogirl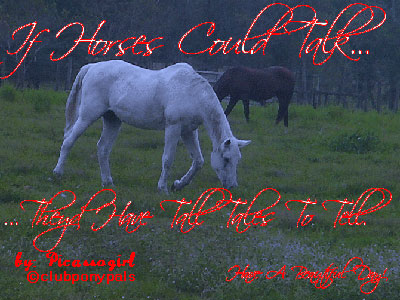 Winning postcard entries each week get 200 Wiggins bucks. All art must be original, it cannot include clip art or copyrighted images.
If you want to enter, send your original art to Contests@ClubPonyPals.com or mail it to:
Club Pony Pals
16654 Soledad Canyon Road #382
Canyon

Country, CA 91387 USA
Dear Pony Pals

Send in your photos, stories and drawings for our contests.

e-mail them to Contests@ClubPonyPals.com or mail it to:

Club Pony Pals
16654 Soledad Canyon Road #382
Canyon Country, CA 91387 USA

The first printing of collectable stickers is almost gone. For the next week or two, if you want a sticker and bookmark make sure and include a mailing address where we can send it.

Please include your user name and the email address you used to register in your letter, too.

Webmaster
Play These Games to Earn Wiggins Bucks

Play these to earn bucks! Each week, that week's highest scoring

Scavenger Hunt
Winner gets 3000 Wiggins bucks,
next nine members scores below that get 500 bucks each.

"Scavenger Hunt "

jogjed

ilove wolves

xochristalynn

TigeressCC

GothJess

no:1!

aquabreeze

Carolol10

Tempeh

316746mtm

Pony Pal Derby
Race your pony to earn Wiggins bucks!
Each week the derby game's highest scoring player earns 3000 Wbucks.
500 Wbucks goes to each of the next nine highest scores.

"Pony Pal Derby"

DizzyDaizy

chelsea2

BostonGal

cicara

horselover2010

Wheeler101

Raven305

indijade

Princess777

Ellie Renneberg2

<![if !supportEmptyParas]> <![endif]>

Math Games
High scoring players in addition,
subtraction or multiplication earn 500 Wiggins bucks,
next nine players who have high scores earn 100 bucks each.

"Add Like Mad"

EagleGirl

wombat165

LunaLight

indijade

rudytootoot

ericahippo5

balletgirl95

lexibff

charlizerocks

Raven305

<![if !supportEmptyParas]> <![endif]>

"Subtraction Action"

wombat165

LunaLight

indijade

Nat2

lexibff

rudytootoot

squirtb

Onaneagle

SarahJYork

ericahippo5

<![endif]>

"Multiplication Station"

HorsesAreMyLifeNZ

LunaLight

EagleGirl

indijade

Natalie21

rudytootoot

lexibff

Elzie10

ashwells

This Week's Cross-Country Trophy Winners

Cross-country course north

ashley7

iloovemyhorses

HaleyBell

lacer94

SunSetStablesGirl1

Cross-country course south

scoutgirl

celebi_00

rachmintcpphp

Danna

Jaimee1325
Pony Pal Thoughts for the Day:
" Emily,I've a little confession to make. I really am a horse doctor. But marry me, and I'll never look at any other horse!"
Groucho Marx

_____________________
" Do we really have to cross the creek when there is a great bridge over there?"
Vendavalda the Peruvian Paso
______________________
" When I can't ride anymore, I shall keep horses as long as I can hobble along with a bucket and wheelbarrow. When I can't hobble, I shall roll my wheelchair out by the fence of the field where my horses graze, and watch them."
Monica Dickens

_______________________
"Look back on our struggle for freedom,
Trace our present day's strength to it's source;
And you'll find that man's pathway to glory
Is strewn with the bones of a horse "
Anonymous