Volume 4 Number 1
July 10 - July 16, 2010




SUMMERTIME!!
It's been a hot July in Wiggins and the Pony Pals have been staying cool in Mrs. Crandal's barn office by helping her make up new quests. Every so often, it's bath time for Lightning, Acorn and Snow White, sometimes even Daisy, Splash and JB too. Everybody dries off fast in the hot afternoons.
There are now 60 new quests that take members in and around all the parts of virtual Wiggins that are open so far. Quest purchases have been rebalanced so members will not end up with fewer Wiggins Bucks than when they start them.
Two voting deadlines are coming right up: click here before July 15 to help pick Coloring Contest #14's winner and click here before July 22 to help choose our next black 'n white drawing that will be used in Coloring Contest #15.
Wilhelmina Wiggins drove her cart down to Crandal's one morning to bring great news: the trail right up to her family's big old house on the Wiggins Estate is almost ready. She is concerned that someone has been setting traps in her forest, along her pony trail. She asks that when members start to visit her, they bring their cameras to see if they can snap photos of anyone illegally setting
animal traps.
Before Ms. Wiggins left to go home, she did say that she thought her trail might open as soon as next week some time. And with a twinkle in her eye, Wilhelmina said that her new special "horseshoes" mini game will be set up right next to her old mansion. Watch the Wiggins Weekly for updates.

As a special event to help get members ready for the new Wiggins Mansion trail, Mr. Kline would like to remind everyone that cameras are on special promotion at Kline's. They are priced at 150WB, a 50% off sale. There will be Wiggins Bucks rewards for members who can photograph someone setting a trap. Photos can be dropped off at the Wiggins Mansion, after the Mansion trail opens.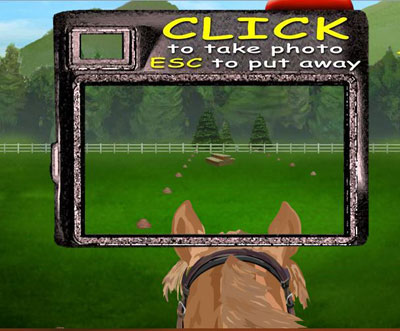 Mrs. Crandal also has some news about the dozens and dozens of new special interest clubs. Due to overwhelming demand, from now on, there will be a 150 WB charge to create a club and post it on the club page. If members want a ClubPonyPals staffer to create a plaque for display, that will be another 150 WB charge. So if a member sends in a w mail and wants CPP staff to both create the club "thread" and make a plaque for it, that will cost a total of 300 WB.
And if a club has had no activity in its "thread" postings for 30 days or more, then that club will be removed from the page of clubs.
Thanks for helping Wiggins be a very special place on the web, where everyone can ride the pony they always wanted. By the way, today's copy of the Wiggins Weekly marks the fourth year of its continuous publication. It has never missed a publication date.
Our first e-book, "CPP's ABC Coloring Book of Horses and Ponies" is being edited now. Look for

Finally, on Saturday July 3, voting starts for our latest story contest entries. There is some really great writing in there from around the world. One entry is in English written by an Estonian pal!

Check our new Clubs page, there's lots to browse there. If you don't see a club that you think would be a good one, write to Jane Crandal on our forum and ask about how to start a club. You can hang Club Plaques in your cabin and all new clubs must submit a club plaque drawing to be listed.
Our daily live moderated chat is a great place for club members to meet and our fully moderated w-mail system lets club members stay in touch.
Our virtual riding lessons are each Tuesday, from 6:30 to 7:30 Eastern Time. Lessons are held in the live moderated chat. It is a great way to work on mentally visualizing your riding -- and they are lots of fun. Each lesson ends with a short competition, prizes are awarded. Look for show ribbons in winner's cabins!
Feeling lost? Look at a

map of Wiggins here.

New members sign up every day and ask for Pal requests. Take a moment and see who's just signed on recently with our "

Pals, Please Page

." Our world has some great ways to meet other pals.

Click here to learn more.

Please help new members feel welcome - send a card to someone who is new!
Seeing something weird when you log on? Our game changes all the time, if you log in and weird things seem to happen, please clear your computer's cache.

See the instructions here

to learn how.
We are always working on lots of new features. Check here often to learn about them first.

P.S. Our next sleepover is July 16th from 6 to 10 p.m. Eastern Time. Everyone is invited to stop by and chat, enter shows, ride and generally hang out with Pam, Anna, Lulu and Mrs. Crandal. Look for more information in next week's newsletter.
Pony Pal Contest Chart
Need Wiggins bucks? Anybody who wants more Wiggins bucks is missing out if they don't enter one of our contests! Details are below. We need funny cartoons, they should be in black and white. And if a member creates a Youtube video about our site, let us know! We will award a thousand Wiggins Bucks for a good video about us.
| | | | | |
| --- | --- | --- | --- | --- |
| contest name | deadline for entries | voting starts | winners announced | prize amount (in Wiggins bucks) |
| Drawing of the week contest | every Friday | | in Wiggins Weekly | 500 to each winner |
| Cartoon contest | every Friday | every issue | in Wiggins Weekly | 500 to artist, 500 to caption winner, 100 to caption runner-up |
| Postcard of the week contest | every Friday | | in Wiggins Weekly | 200 to winner |
| Cabin of the Week | enter your cabin today | every issue | in Wiggins Weekly | 1000 bucks to cabin with most votes |
| | June 30 | July 5 | July 24 | 3000 1st place, 500 to runners up |
| | July 8 | July 10 | | 500 to winning artist, entry must be black & white |
| | |
| --- | --- |
| If you need bucks, buy an Ultimate Game Card. You can click here to see where game cards are sold. Next time you go to the store, buy a card with cash, come back and enter the secret code from the back of their card to get Wiggins bucks instantly. | |
Cabin of the Week Contest
Enter to win 1000 bucks for your decorating skills!



w2



p2


Nat2

Last Week's Cabin Winner




Kdoepker

Send contests@clubponypals.com an email telling us the username's cabin you want to enter. Rules are: Each week three cabins will be chosen from the entries for member voting. Members can enter enter as often as they like, but winners cannot enter this contest again for six months.

Last week we added new couches, chairs, curtains and flowers. Look for more new fun furniture items soon. Have a request for something you want to add? Let us know!
Drawing of the Week Contest
by Spellcheck

by Horselover2010

Winner gets 500 Wiggins bucks, and their art is made into a painting for members' cabins. If you want to enter, send your art to the Contests@ClubPonyPals.com or mail it to:
Club Pony Pals
16654 Soledad Canyon Road #382
Canyon Country, CA 91387 USA
If you want a sticker and bookmark make sure and include a mailing address where we can send it!
Cartoon Caption Contest -- This week's caption winner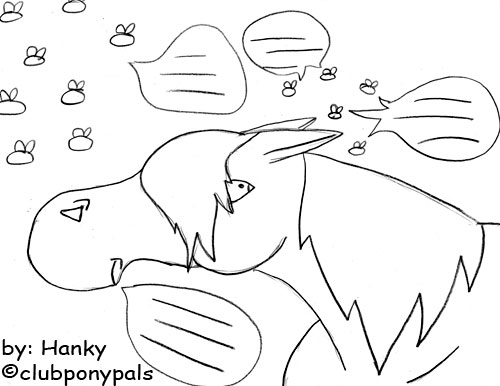 WINNER:

Flys- Buzzzz....Buzzzzz... Horse- Quit Buzzing! Flys- Buzzz....We.....Buzz.....Can't......Buzz......Help.......Buzz......It!....Buzz
By: SmokeythePony



RUNNER UP:

8 flies- get him boys horse: You know you guys would have 13 flies if those guys realized they only live 24 hours. now they're enjoying life. 8 Flies: True, but CHARGE!
By: victoriacampbell



This winning caption's writer got 500 Wiggins bucks.
The runner-up caption gets 100 bucks.
Vote for your favorite caption for this cartoon--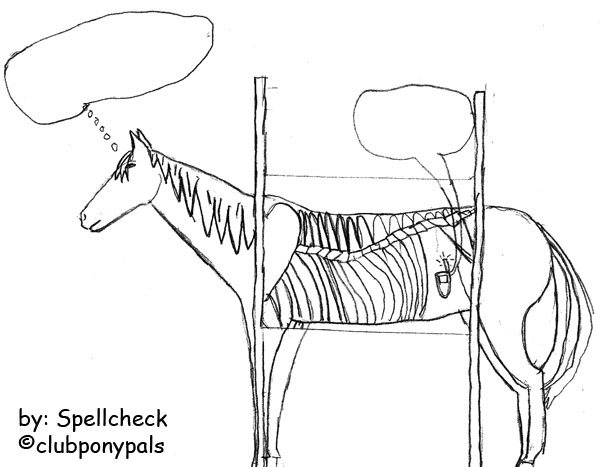 Write a caption for this --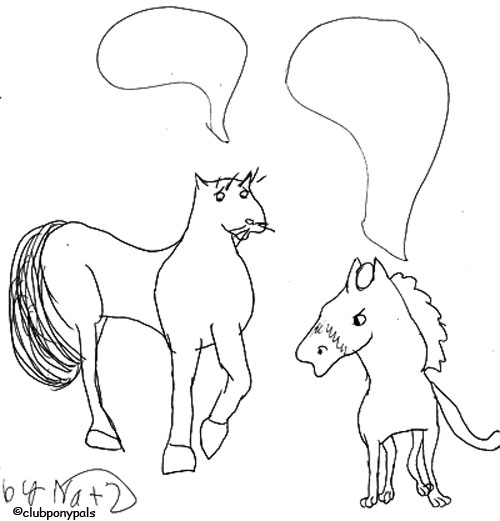 by Nat2
Can you write the winning funny caption for this cartoon? Deadline is Friday of this week. Email it to Contests@clubponypals.com
Look for the entries in the next week's e-newsletter and vote for your favorite.
Winning caption gets 500 bucks, runners-up get 100 W bucks each. Captions should be short.

or draw a cartoon --

We are looking for cartoon artists, too. Draw one and email it to us by Friday.

If it is selected, you can earn 500 Wiggins bucks! Hint -- for this contest, please draw your cartoon in black and white. If you want to enter, send your art to Contests@ClubPonyPals.com or mail it to:

Club Pony Pals
16654 Soledad Canyon Road #382
Canyon Country, CA 91387 USA
Member Photo Gallery
from StormyA
Here are two pictures of my model horses.
This model horse is named Las Vegas.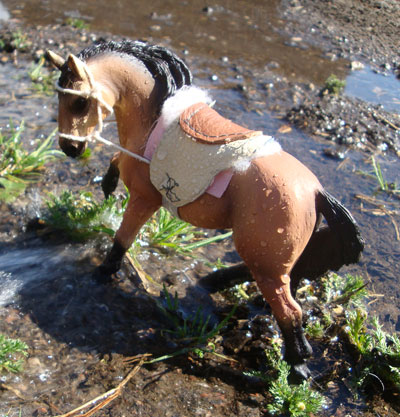 This model horse's name is Empire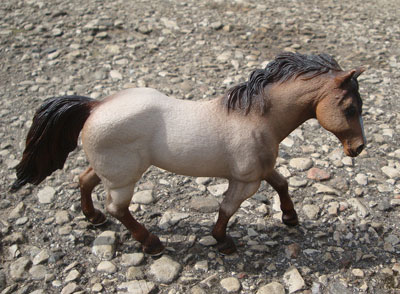 from Shiloh101
Here are some breeds to have at Olson's Pony Farm!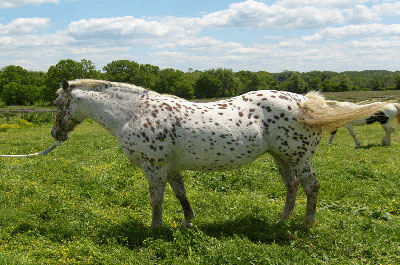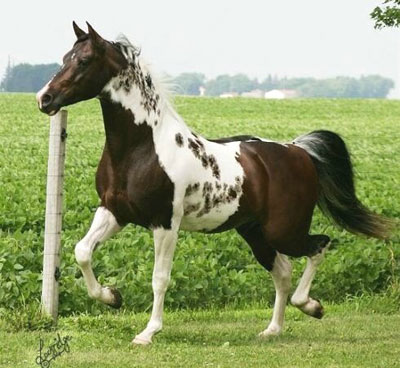 from Taylorfan2010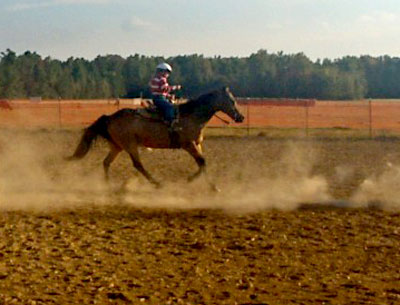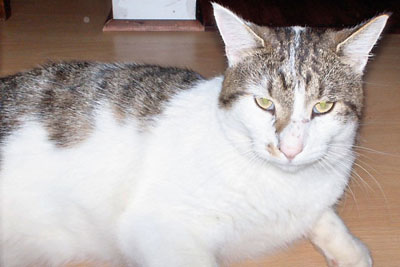 Letter from Ireland
Dia duit everyone! That means hi in Gaelic (Irish). I am from Ireland, but has moved from there to live now, in the beautiful U.S., to live with my 18 horses. I am in Ireland now, with my family. I have taken Mira, on of my green but AMAZING horses with me to a camp, for advanced riders. Its beautiful here, to die for. The training here is a bit different. They speak in Gaelic, so you must learn Gaelic (my native language) if you want to come here! Here the training is a bit more strict. You must be on time, ready to go jump in about 30 minutes. It was a huge learning experience. Sorry I don't have many details, There will be another letter. For now, I am riding the bay horse in all of these pictures (Mira.) I am also going back to the training school and to see my family
in 2 months.

Be prepared!
ponyluv1999
Member Art Gallery
by StormyA
Here are some of my ideas for Club Pony Pals!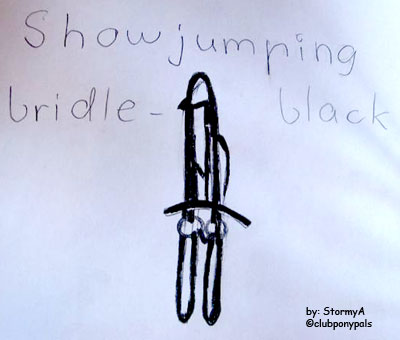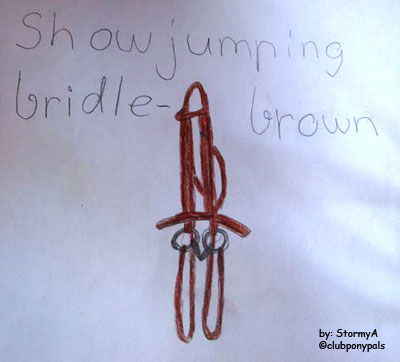 This is a black Appaloosa with a tapestry coat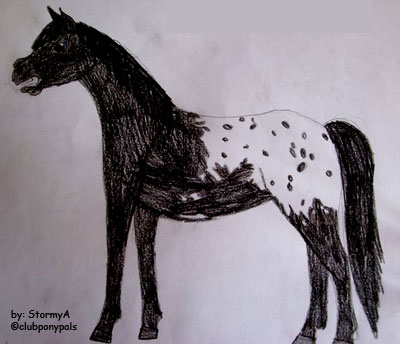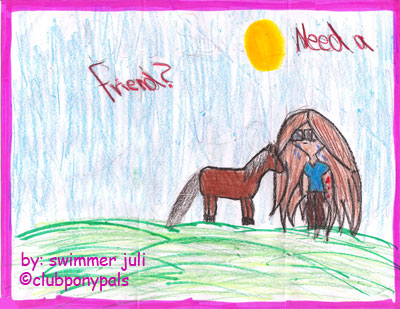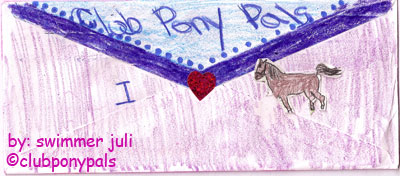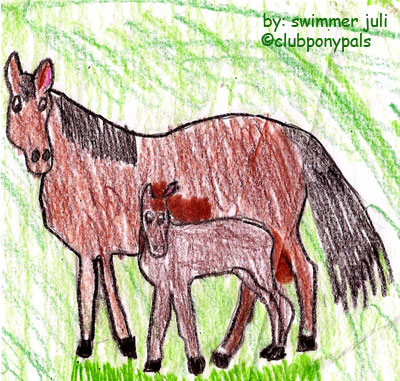 by Microphone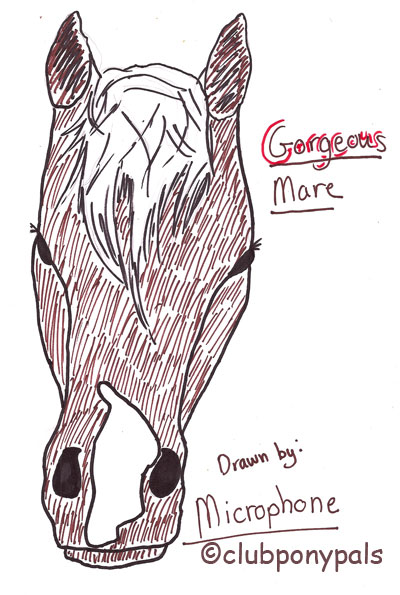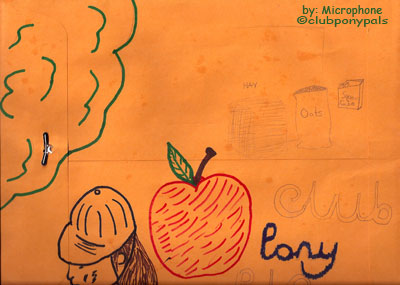 by: Dingokid
Apple & Apples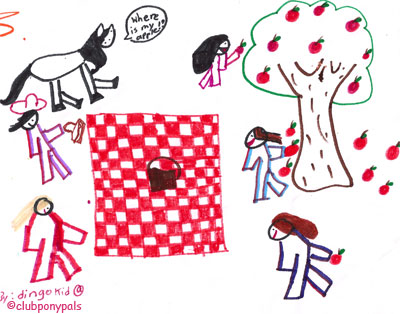 King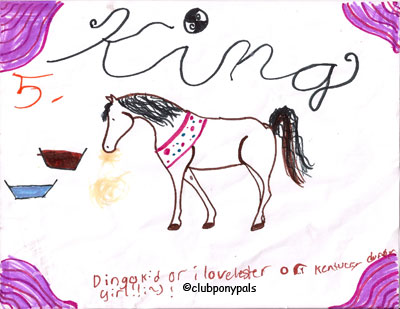 This Week's Winning Postcard
by Chillycat12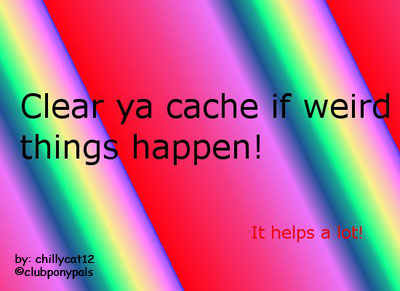 Other Postcard Entries

by Microphone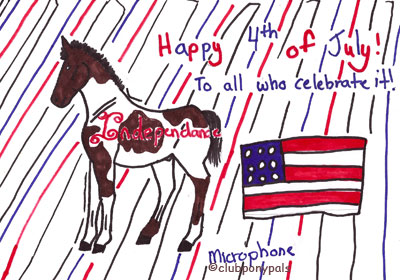 by Nat2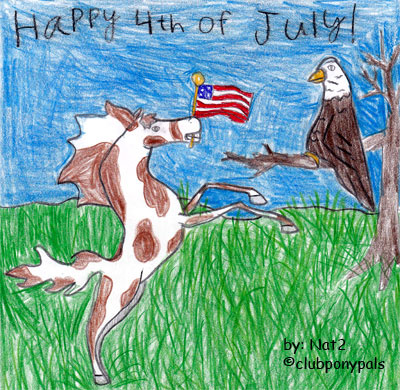 by BayLover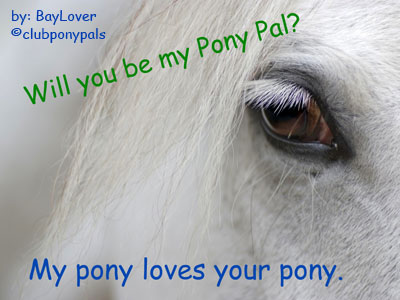 by peteymeblack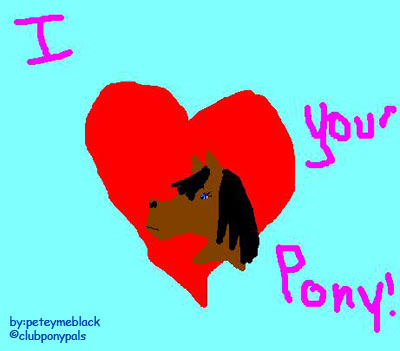 Winning postcard entries each week get 200 Wiggins bucks. All art must be original, it cannot include clip art or copyrighted images.
If you want to enter, send your original art to Contests@ClubPonyPals.com or mail it to:
Club Pony Pals
16654 Soledad Canyon Road #382
Canyon

Country, CA 91387 USA
Dear Pony Pals

Send in your photos, stories and drawings for our contests.

e-mail them to Contests@ClubPonyPals.com or mail it to:

Club Pony Pals
16654 Soledad Canyon Road #382
Canyon Country, CA 91387 USA

The first printing of collectable stickers is almost gone. For the next week or two, if you want a sticker and bookmark make sure and include a mailing address where we can send it.

Please include your user name and the email address you used to register in your letter, too.

Webmaster
Play These Games to Earn Wiggins Bucks

Play these to earn bucks! Each week, that week's highest scoring

Scavenger Hunt
Winner gets 3000 Wiggins bucks,
next nine members scores below that get 500 bucks each.

"Scavenger Hunt "

Geneva-

Kdoepker

patrick27

Shirleyzeng

isabelchien

lulugrapes

Jamie101

ponyluv9

peace and love

Calldaisy

Pony Pal Derby
Race your pony to earn Wiggins bucks!
Each week the derby game's highest scoring player earns 2000 Wbucks.
500 Wbucks goes to each of the next nine highest scores.

"Pony Pal Derby"

RustyGirl

wombat165

Caitlin8

Chelsea2

valz1231

Channel

EagleGirl

geigergirl13

StormyA

SachaGirl1

<![if !supportEmptyParas]> <![endif]>

Math Games
High scoring players in addition,
subtraction or multiplication earn 500 Wiggins bucks,
next nine players who have high scores earn 100 bucks each.

"Add Like Mad"

EagleGirl

RustyGirl

ningy

wombat165

SorayaMerlin

valz1231

balletgirl95

rudytootoot

geigergirl13

truffles123

<![if !supportEmptyParas]> <![endif]>

"Subtraction Action"

wombat165

RustyGirl

Jazabel

cheeseybatty

icemaiden567

judgement

smileyface012197

Lindseyanne

alaw123

bbaramadde

<![endif]>

"Multiplication Station"

ningy

Ponies4everrrrr

valz1231

RustyGirl

Caitlin8

rudytootoot

cheeseybatty

Pernile

eatsleepjump

~Windtalker~
Pony Pal Thoughts for the Day:
It's a lot like nuts and bolts - if the rider's nuts, the horse bolts!
The Horse Whisperer

Few philosophers so thoroughly comprehend us as horses.
Hermann Melville

It is impossible to enjoy riding thoroughly unless one has plenty of work to do.
Jerome K. Jerome