Volume 3 Number 52
July 2 - July 8, 2010





School may be out for the summer but everyone is busier than ever in Wiggins this Fourth of July weekend.Tomorrow night, July 2, Pam has invited Anna and Lulu over to a sleepover in Crandal's barn. Everyone who attends can get a "sleep-dino" for their cabin mantel if they ask Lulu for one.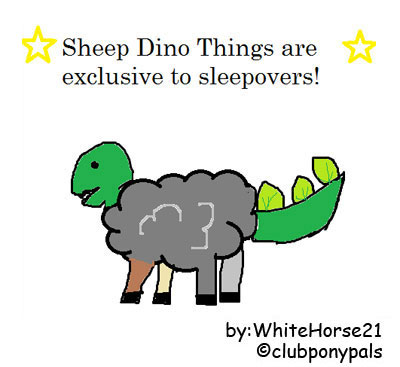 There will be virtual, imaginary, text-only lessons and show events in one room. Ribbons are awarded. Have your teams ready, there will be team compeititons too.
The sleepover starts at 6 pm eastern time, USA, and will go for four hours. Members should go to their page and look for the left side link that says "live moderated chat" and click on it.
To celebrate USA Independence day, Kline's is proud to announce that they now sell

western cowgirl hats for pal avatars
.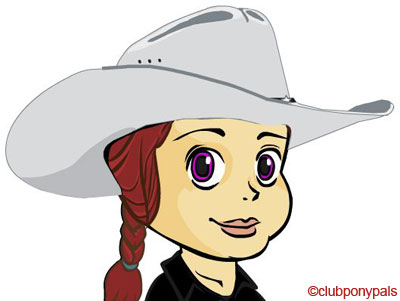 Look in the clothing catalog under "hats." Along with Kline's recently added western boots and blue jeans, members can really go for a Western look.
Other news:
The trail right up to the Wiggins Estate is almost done. Wilhelmina Wiggins has asked that pals help her look for illegal animal traps and whoever is setting them. So it might be a good time to think about buying a camera from Kline's. It's about to come in very, very handy when riding our new Forest Adventure trail. Testers, look for an email rather soon. And there will be a special key to watch for almost hidden somewhere along that same trail. What does it unlock?

New quests are being written right now.

Our first e-book, "CPP's ABC Coloring Book of Horses and Ponies" is being edited now. Look for

Finally, on Saturday July 3, voting starts for our latest story contest entries. There is some really great writing in there from around the world. One entry is in English written by an Estonian pal!

Check our new Clubs page, there's lots to browse there. If you don't see a club that you think would be a good one, write to Jane Crandal on our forum and ask about how to start a club. You can hang Club Plaques in your cabin and all new clubs must submit a club plaque drawing to be listed. If you cannot make a plaque write to Contests@ClubPonyPals.com and we can have Mrs. Crandal or Admin3 our new staff artist help you out.
Our daily live moderated chat is a great place for club members to meet and our fully moderated w-mail system lets club members stay in touch.
Our virtual riding lessons are each Tuesday, from 6:30 to 7:30 Eastern Time. Lessons are held in the live moderated chat. It is a great way to work on mentally visualizing your riding -- and they are lots of fun. Each lesson ends with a short competition, prizes are awarded. Look for show ribbons in winner's cabins!
Feeling lost? Look at a

map of Wiggins here.

New members sign up every day and ask for Pal requests. Take a moment and see who's just signed on recently with our "

Pals, Please Page

." Our world has some great ways to meet other pals.

Click here to learn more.

Please help new members feel welcome - send a card to someone who is new!
Seeing something weird when you log on? Our game changes all the time, if you log in and weird things seem to happen, please clear your computer's cache.

See the instructions here

to learn how.
We are always working on lots of new features. Check here often to learn about them first.

Pony Pal Contest Chart
Need Wiggins bucks? Anybody who wants more Wiggins bucks is missing out if they don't enter one of our contests! Details are below. We need funny cartoons, they should be in black and white. And if a member creates a Youtube video about our site, let us know! We will award a thousand Wiggins Bucks for a good video about us.
| | | | | |
| --- | --- | --- | --- | --- |
| contest name | deadline for entries | voting starts | winners announced | prize amount (in Wiggins bucks) |
| Drawing of the week contest | every Friday | | in Wiggins Weekly | 500 to each winner |
| Cartoon contest | every Friday | every issue | in Wiggins Weekly | 500 to artist, 500 to caption winner, 100 to caption runner-up |
| Postcard of the week contest | every Friday | | in Wiggins Weekly | 200 to winner |
| Cabin of the Week | enter your cabin today | every issue | in Wiggins Weekly | 1000 bucks to cabin with most votes |
| | June 18 | June 21 | July 15 | 3000 1st place, 500 to runners up |
| | June 30 | July 5 | July 24 | 3000 1st place, 500 to runners up |
| Coloring Contest #15 Art entries | July 8 | July 10 | | 500 to winning artist, entry must be black & white |
| | |
| --- | --- |
| If you need bucks, buy an Ultimate Game Card. You can click here to see where game cards are sold. Next time you go to the store, buy a card with cash, come back and enter the secret code from the back of their card to get Wiggins bucks instantly. | |
Cabin of the Week Contest
Enter to win 1000 bucks for your decorating skills!



kdoepker



horselover2010


PonyGirl11

Last Week's Cabin Winner




Raven305

Send contests@clubponypals.com an email telling us the username's cabin you want to enter. Rules are: Each week three cabins will be chosen from the entries for member voting. Members can enter enter as often as they like, but winners cannot enter this contest again for six months.

Last week we added new couches, chairs, curtains and flowers. Look for more new fun furniture items soon. Have a request for something you want to add? Let us know!
Drawing of the Week Contest
by StormyA

Winner gets 500 Wiggins bucks, and their art is made into a painting for members' cabins. If you want to enter, send your art to the Contests@ClubPonyPals.com or mail it to:
Club Pony Pals
16654 Soledad Canyon Road #382
Canyon Country, CA 91387 USA
If you want a sticker and bookmark make sure and include a mailing address where we can send it!
Cartoon Caption Contest -- This week's caption winner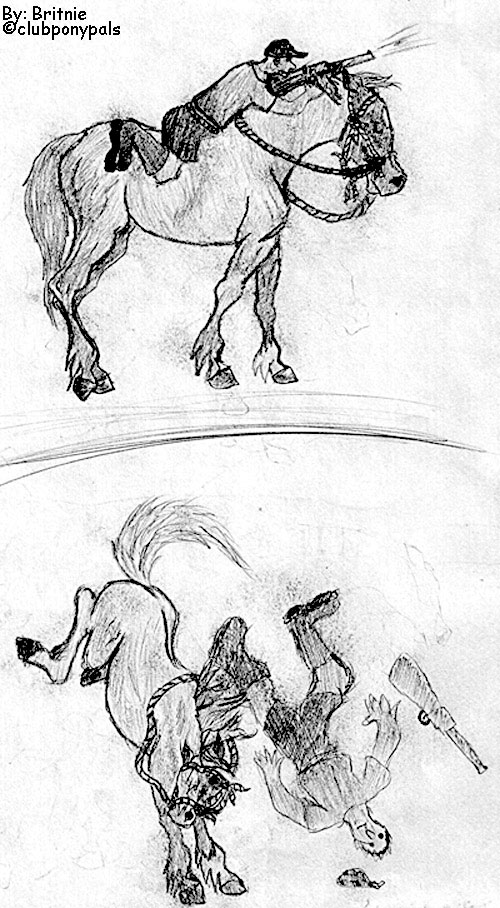 WINNER:
Soldier: Ready! Aim! *Oof* ground... Horse: Hee-hee - by: ajaxsluver101


RUNNER UP:
Pony:Dont you dare shoot!Person:Oh it's not that loud!(*gunshot*)Pony:WOW! Person:That was not loud! Pony: Try saying that after someone shot a gun right by you ear!(*Bucks*) by:owlcityfan99



This winning caption's writer got 500 Wiggins bucks.
The runner-up caption gets 100 bucks.
Vote for your favorite caption for this cartoon--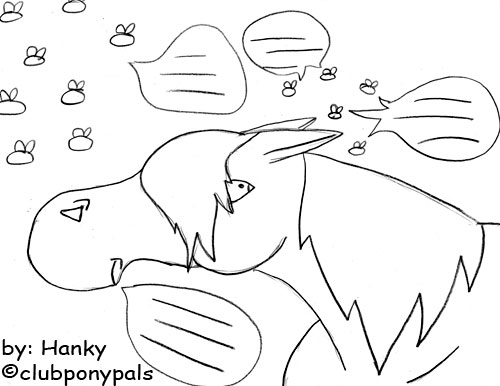 Write a caption for this --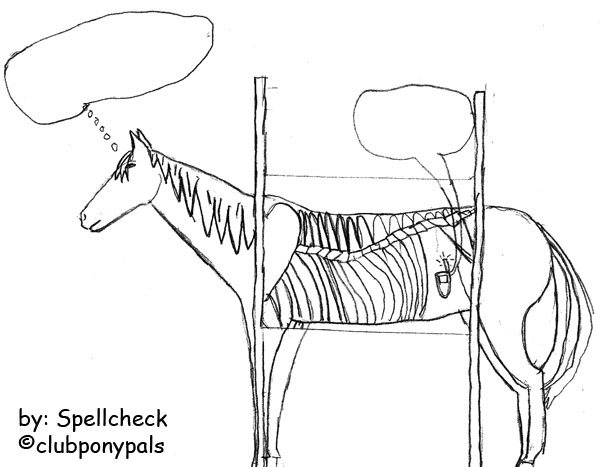 by Spellcheck
Can you write the winning funny caption for this cartoon? Deadline is Friday of this week. Email it to Contests@clubponypals.com
Look for the entries in the next week's e-newsletter and vote for your favorite.
Winning caption gets 500 bucks, runners-up get 100 W bucks each. Captions should be short.

or draw a cartoon --

We are looking for cartoon artists, too. Draw one and email it to us by Friday.

If it is selected, you can earn 500 Wiggins bucks! Hint -- for this contest, please draw your cartoon in black and white. If you want to enter, send your art to Contests@ClubPonyPals.com or mail it to:

Club Pony Pals
16654 Soledad Canyon Road #382
Canyon Country, CA 91387 USA
Member Photo Gallery
A picture of my house decorated for my dad's homecoming and the 4th of July!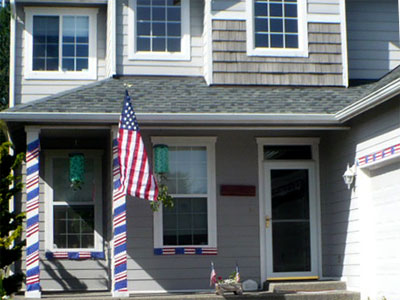 For the Hidalgo's Herd Club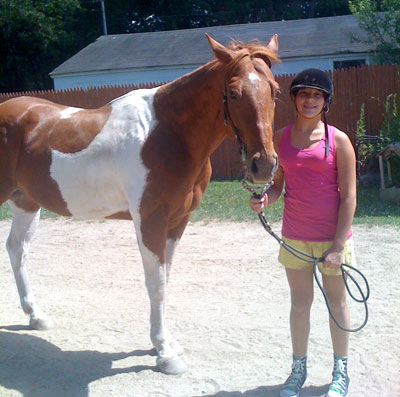 Me and my horse Hidalgo
from Thesoapgirl3

The images are for my stories, which are in the June Story Contest!

by Nat2 and EagleGirl
Here is Nat2 with her indoor rabbit, Princess Jaws.
Her original name was Princess, because she is so pretty. Her second name came after she chewed everything she could find in the living room, including chewing off the buttons on the remote control! She is litter box trained and likes to run around the house and climb on the couch. We have to watch her though, because she likes to climb in bookshelves and eat books. The cats are afraid of her.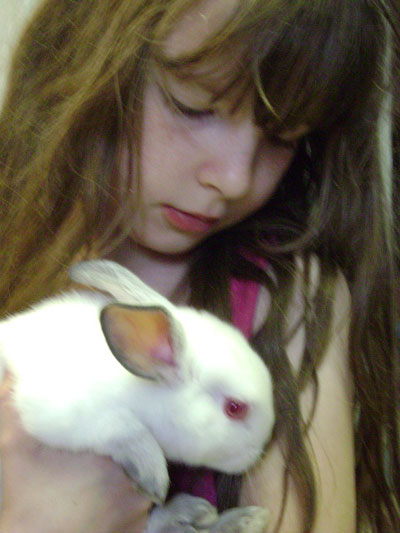 This is our pygmy goat Roxie. This is when she was still a baby and didn't have horns. We don't have her any more, but she was a lot of fun.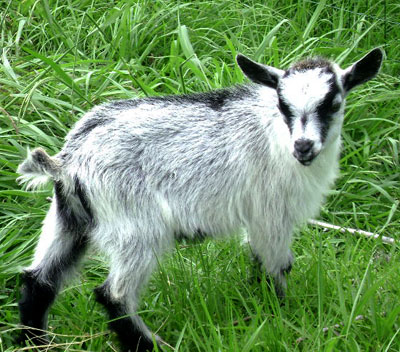 This is our Siamese, Nala, dressed up as Sacagawea. She was not amused, but she ended up being a pretty good sport.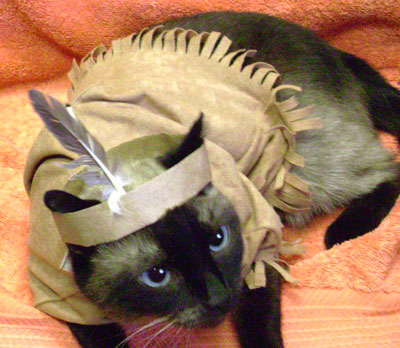 by: WhiteHorse21
Here are some pics from my friend's vacation!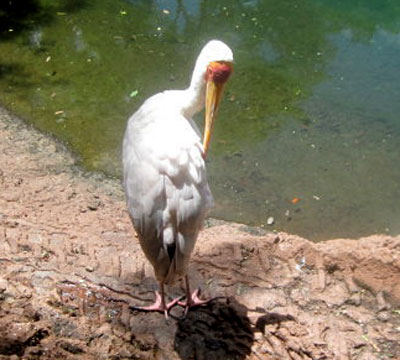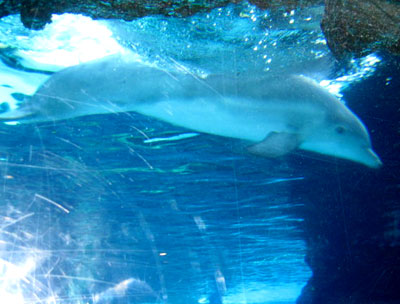 Member Art Gallery
by Nat2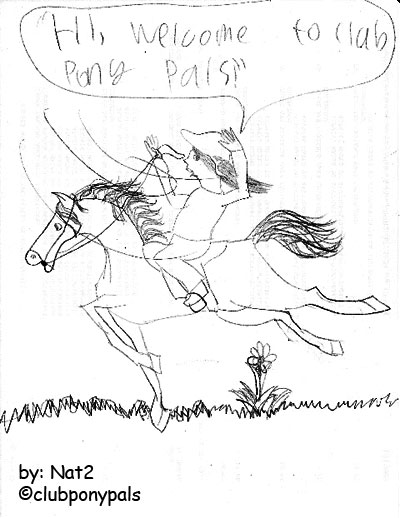 by Shiloh101
For the club plaque Joey's Herd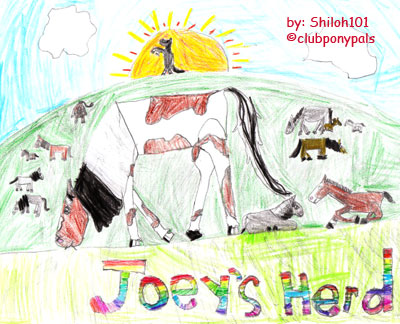 This Week's Winning Postcard
by swimmer juli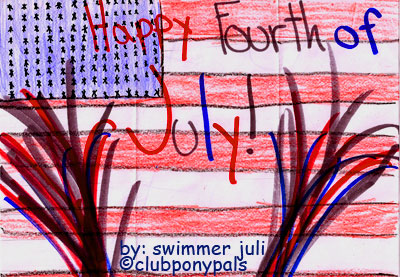 by Horselover2010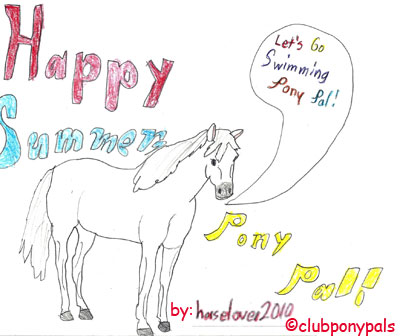 Other Postcard Entries

by MaidMairain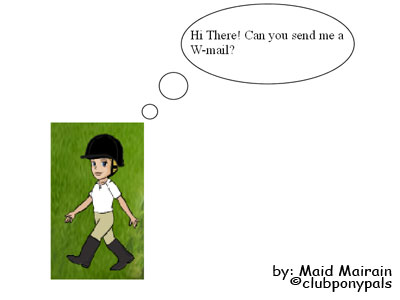 by Maid Mairain

Winning postcard entries each week get 200 Wiggins bucks. All art must be original, it cannot include clip art or copyrighted images.
If you want to enter, send your original art to Contests@ClubPonyPals.com or mail it to:
Club Pony Pals
16654 Soledad Canyon Road #382
Canyon

Country, CA 91387 USA
Dear Pony Pals

Send in your photos, stories and drawings for our contests.

e-mail them to Contests@ClubPonyPals.com or mail it to:

Club Pony Pals
16654 Soledad Canyon Road #382
Canyon Country, CA 91387 USA

The first printing of collectable stickers is almost gone. For the next week or two, if you want a sticker and bookmark make sure and include a mailing address where we can send it.

Please include your user name and the email address you used to register in your letter, too.

Webmaster
Play These Games to Earn Wiggins Bucks

Play these to earn bucks! Each week, that week's highest scoring

Scavenger Hunt
Winner gets 3000 Wiggins bucks,
next nine members scores below that get 500 bucks each.

"Scavenger Hunt "

Kell27

santana

Kalyss26

sunnilemley

Fidget

Kristal 4_2

patrick27

horsesval

abbielouise1234

Raven305

Pony Pal Derby
Race your pony to earn Wiggins bucks!
Each week the derby game's highest scoring player earns 2000 Wbucks.
500 Wbucks goes to each of the next nine highest scores.

"Pony Pal Derby"

chelsea2

swimchick312345

Skyward

princess9903

Love4Horzez

EagleGirl

keira199921

wombat165

Kdoepker

Jane 7

<![if !supportEmptyParas]> <![endif]>

Math Games
High scoring players in addition,
subtraction or multiplication earn 500 Wiggins bucks,
next nine players who have high scores earn 100 bucks each.

"Add Like Mad"

EagleGirl

wombat165

Skyward

horseegirl122

Cmonster2

Darty

allyalli0

Pernile

Nat2

Hiiny9

<![if !supportEmptyParas]> <![endif]>

"Subtraction Action"

wombat165

tlc cwc

allyalli0

Rautka

Pernile

Ann Spirman

Crystal11289921128992

rjephilip

MissLady

djbates

<![endif]>

"Multiplication Station"

Caitlin8

Natalie21

Ponies4everrrrr

Jazabel

wombat165

Pernile

allyalli0

maddy0

cheeseybatty

elliebear8
Pony Pal Thoughts for the Day
When Allah created the horse, he said to the wind, "I will a creature procede from thee. Condense thyself." And the wind condensed itself, and the result was the horse. Margaurite Henry

There is no secret so close as that between a rider and his horse.~
Robert Smith Surtees

With flowing tail and flying mane,
Wide nostrils, never stretched by pain,
Mouth bloodless to bit or rein,
And feet that iron never shod,
And flanks unscar'd by spur or rod
A thousand horses - the wild - the free -
Like waves that follow o'er the sea,
Came thickly thundering on.
Lord Byron