Volume 3 Number 49
June 12 - June 18, 2010




Hi Pony Pals!

With school out and father's day weekend starting, virtual Wiggins is busier than ever.

From now on, this letter from Jane Crandal will be included in your once a week "who your pals are now pals with" email, along with a link to our online edition.

Klines Hardware Specials

To celebrate the start of summer vacation for most of our members, for this weekend only, Kline's is offering their newly arrived black velvet riding helmets for only 99WB. After this weekend the price will go back to their normal 120WB price.

Mr. Kline also asked me to announce that he expects new couches and chairs for cabins to arrive any day now. Look for them in Kline's new "seating" catalog.

Sleepover Scheduled Mark those calendars now for the next virtual sleepover at Crandal's barn on June 18. Our sleepovers are always a great time. Pam runs one room with her famous "20 Questions" game, her mom conducts lessons and shows in another and Lulu and Anna are in another room to chat with members from around the world (my husband Dr. Crandal says sleepovers are like a herd of wild ponies running around our barn.)

New Cabin of the Week award

Our "Cabin of the Week" winners now get a lovely gold cabin for their cabin mantel pieces to show all their pals their latest honor.

New Exterminator award

| | |
| --- | --- |
| | For all of our members who have so helpfully aided us in finding and fixing "bugs" all around our site, we now give out our "Exterminator" animated award. It gets across our attitude toward "bugs" and you can see one in Jane Crandal's cabin. |

Help us keep Club Pony Pals problem-free! Find a "bug" and send us a description that is good enough so that we can see the bug on our computers. Be the first to report a problem and get 500WB and get our handsome new animated item to display in your cabin.
Other news --
Friday, June 18 is our deadline for coloring contest entries.
June 25 is our voting deadline for this month's story contest posts. There are some great ones to enjoy and then rate. Just 5 days later, the 30th is our deadline for this month's story contest entries. Keep writing, we give out sizeable WB prizes for stories and poems that earn the most member votes.
Check our new Clubs page, there's lots to browse there. If you don't see a club that you think would be a good one, write to Jane Crandal on our forum and ask about how to start a club. You can hang Club Plaques in your cabin and all new clubs must submit a club plaque drawing to be listed. If you cannot make a plaque write to Contests@ClubPonyPals.com and we can have Mrs. Crandal or Admin3 our new staff artist help you out.
Our daily live moderated chat is a great place for club members to meet and our fully moderated w-mail system lets club members stay in touch.
Our virtual riding lessons are each Tuesday, from 6:30 to 7:30 Eastern Time. Lessons are held in the live moderated chat. It is a great way to work on mentally visualizing your riding -- and they are lots of fun. Each lesson ends with a short competition, prizes are awarded. Look for show ribbons in winner's cabins!
Feeling lost? Look at a

map of Wiggins here.

New members sign up every day and ask for Pal requests. Take a moment and see who's just signed on recently with our "

Pals, Please Page

." Our world has some great ways to meet other pals.

Click here to learn more.

Please help new members feel welcome - send a card to someone who is new!
Seeing something weird when you log on? Our game changes all the time, if you log in and weird things seem to happen, please clear your computer's cache.

See the instructions here

to learn how.
We are always working on lots of new features. Check here often to learn about them first.

Pony Pal Contest Chart
Need Wiggins bucks? Anybody who wants more Wiggins bucks is missing out if they don't enter one of our contests! Details are below. We need funny cartoons, they should be in black and white. And if a member creates a Youtube video about our site, let us know! We will award a thousand Wiggins Bucks for a good video about us.
| | | | | |
| --- | --- | --- | --- | --- |
| contest name | deadline for entries | voting starts | winners announced | prize amount (in Wiggins bucks) |
| Drawing of the week contest | every Friday | | in Wiggins Weekly | 500 to each winner |
| Cartoon contest | every Friday | every issue | in Wiggins Weekly | 500 to artist, 500 to caption winner, 100 to caption runner-up |
| Postcard of the week contest | every Friday | | in Wiggins Weekly | 200 to winner |
| Cabin of the Week | enter your cabin today | every issue | in Wiggins Weekly | 1000 bucks to cabin with most votes |
| | May 15 | May 16 | June 18 | 3000 1st place, 500 to runners up |
| | May 31 | June5 | June25 | 3000 1st place, 500 to runners up |
| | June 18 | June 21 | | 3000 1st place, 500 to runners up |
| June Story and Poem Contest | June 30 | July 5 | July 24 | 3000 1st place, 500 to runners up |
| | |
| --- | --- |
| If you need bucks, buy an Ultimate Game Card. You can click here to see where game cards are sold. Next time you go to the store, buy a card with cash, come back and enter the secret code from the back of their card to get Wiggins bucks instantly. | |
Cabin of the Week Contest
Enter to win 1000 bucks for your decorating skills!



ganga123



nickie386


Britnie

Last Week's Cabin Winner


Silverdollar1

Send contests@clubponypals.com an email telling us the username's cabin you want to enter. Rules are: Each week three cabins will be chosen from the entries for member voting. Members can enter enter as often as they like, but winners cannot enter this contest again for six months.

Last week we added new couches, chairs, curtains and a plant for your fireplace. Be sure to look at Klines for new clothes too. Look for new purple, yellow, peach furniture items soon. Have a request for something you want to add? Let us know!
Drawing of the Week Contest
by Leopard54321

Winner gets 500 Wiggins bucks, and their art is made into a painting for members' cabins. If you want to enter, send your art to the Contests@ClubPonyPals.com or mail it to:
Club Pony Pals
16654 Soledad Canyon Road #382
Canyon Country, CA 91387 USA
If you want a sticker and bookmark make sure and include a mailing address where we can send it!
Cartoon Caption Contest -- This week's caption winner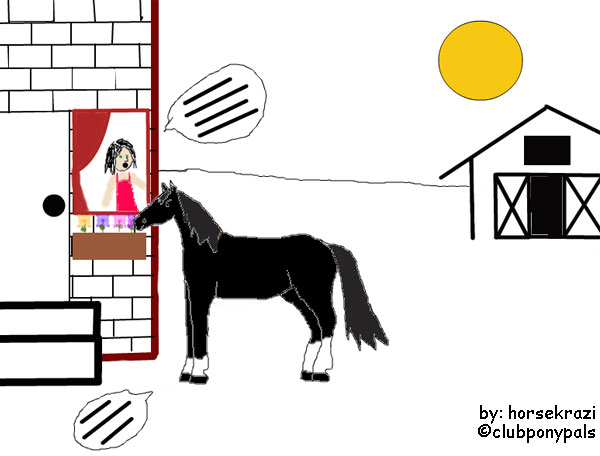 WINNER:
Girl: WHAT! I thought we fixed the hole in the gate!
Horse: Well ya, ya did. But you forgot to close the gate! - by:babegirl11

RUNNERS UP:
Person: AAAHHHHHHHHH!!! Horse: What? What did I do???
Person: You are eating MY FLOWERS! Horse: Duh, what's it look like? You certainly do make nice flowers! - by: AALR

Person: Aww! That big doggy is so cute! WAIT IS THAT OUR HORSE? Horse: Yo. Got any food? Person: AHHHHHH! *runs away* - by: iluvcoco

This winning caption's writer got 500 Wiggins bucks.
The runner-up caption gets 100 bucks.
Vote for your favorite caption for this cartoon--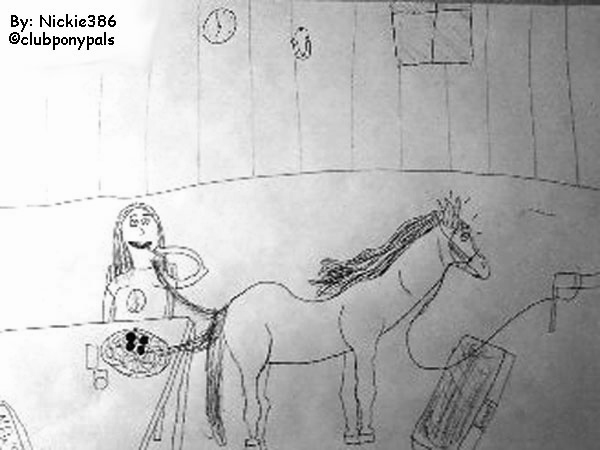 Write a caption for this --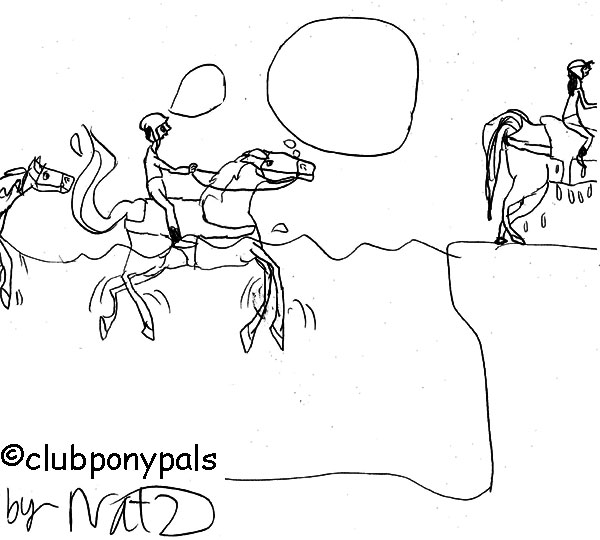 by Nat2
Can you write the winning funny caption for this cartoon? Deadline is Friday of this week. Email it to Contests@clubponypals.com
Look for the entries in the next week's e-newsletter and vote for your favorite.
Winning caption gets 500 bucks, runners-up get 100 W bucks each. Captions should be short.

or draw a cartoon --

We are looking for cartoon artists, too. Draw one and email it to us by Friday.

If it is selected, you can earn 500 Wiggins bucks! Hint -- for this contest, please draw your cartoon in black and white. If you want to enter, send your art to Contests@ClubPonyPals.com or mail it to:

Club Pony Pals
16654 Soledad Canyon Road #382
Canyon Country, CA 91387 USA
Member Photo Gallery
from djbates

Dear Club Pony Pals,
Here is a picture of me doing a horse show. I have been doing leadline for 2 years.
This summer I am going to learn how to trot. Thank you.
From Pony Pal djbates
from Britnie a picture of her pony Shadow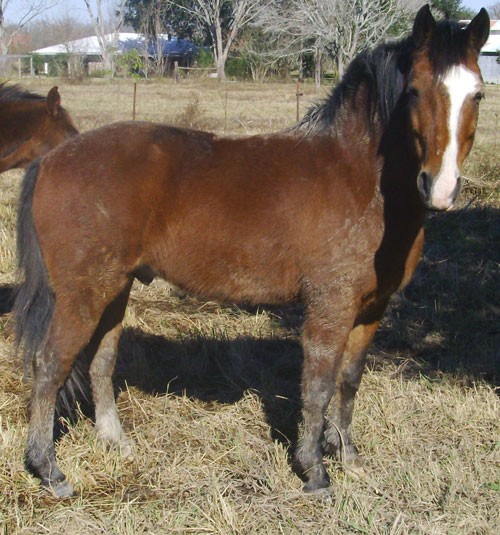 Member Art Gallery
by iambella
Hi CPP!
It's iambella. I have a few drawings. One of them is for the next drawing of the week. Another is for the poast card contest. Oh, and I am working on a story for the next story contest. Excuse the sloppy writing! Hahah!
Love, iambella & Cochise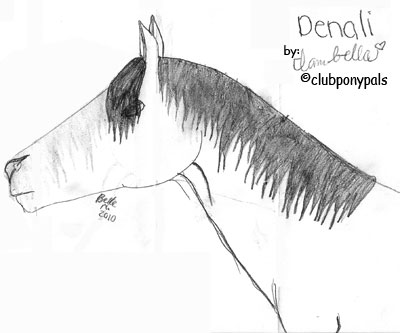 p.s. My mom got a new show horse! His name is Denali!



by Maid Mairian

Pam and Lightning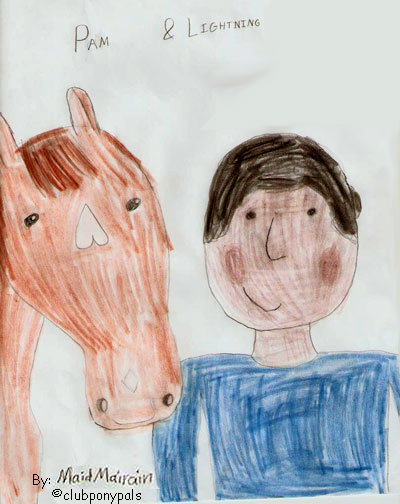 Anna and Acorn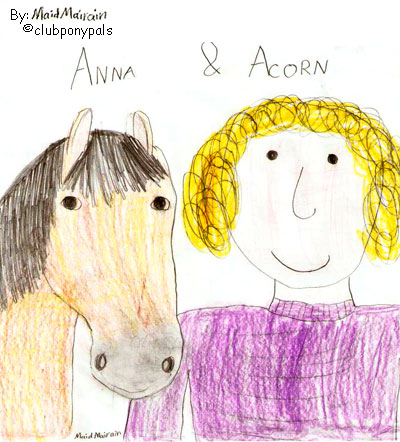 by PicassoGirl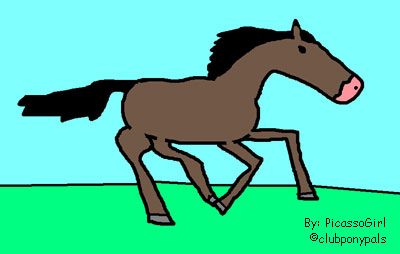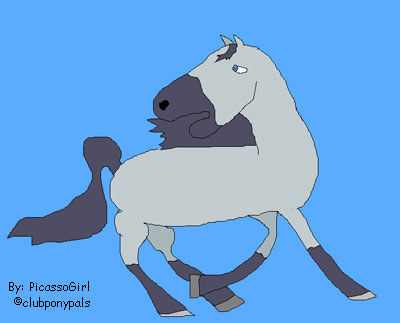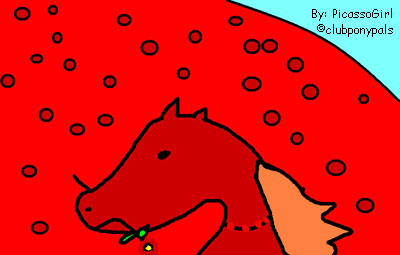 by Nat2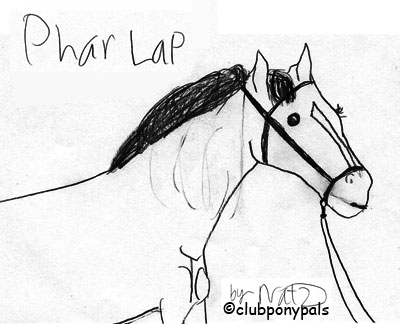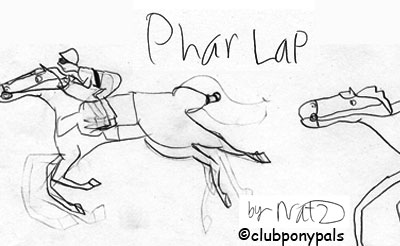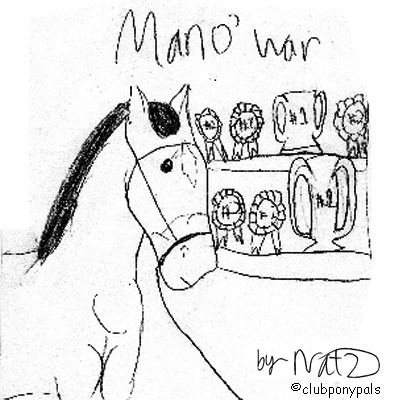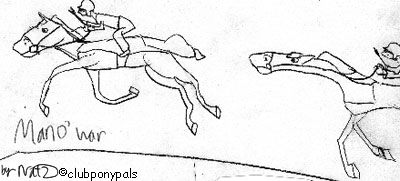 by thehorsegrl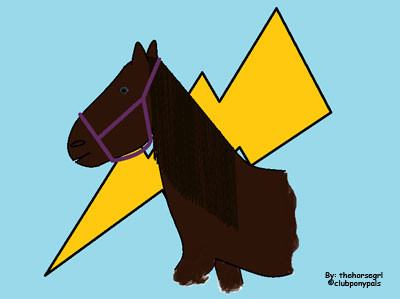 by Britnie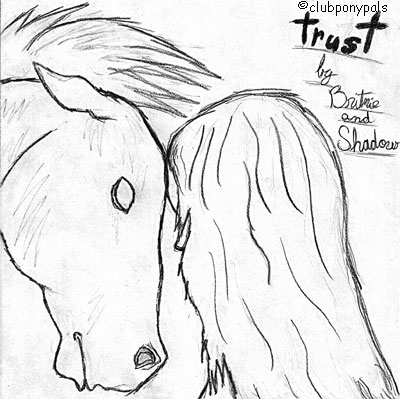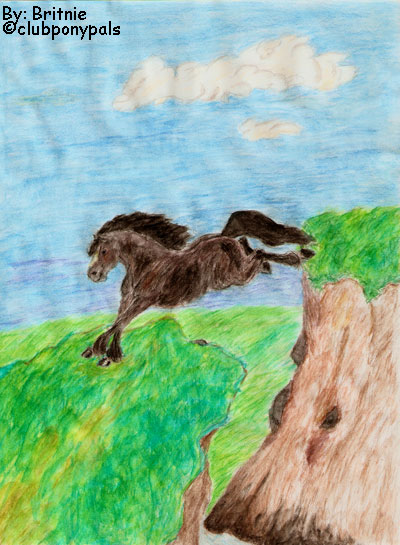 by pp2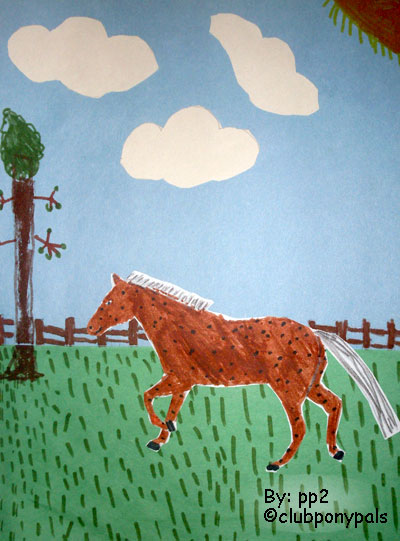 I drew a picture of a runing appaloosa mare because I like appaloosas so much. The first horse I rode at the stable I ride at was an appaloosa named Pepper.
This Week's Winning Postcard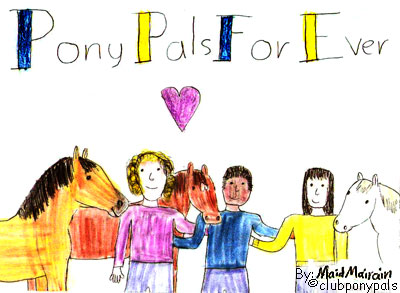 by Maid Mairain
Other Postcard Entries

by iambella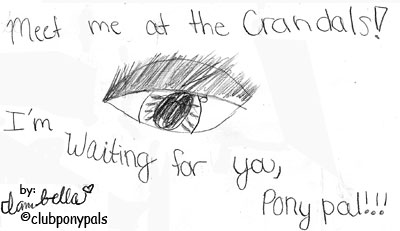 by Alyssa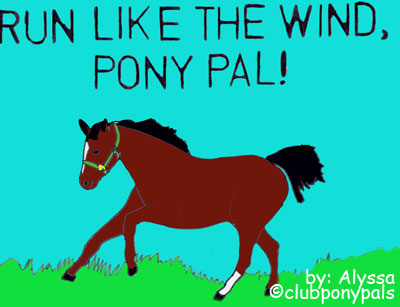 Winning postcard entries each week get 200 Wiggins bucks. All art must be original, it cannot include clip art or copyrighted images.
If you want to enter, send your original art to Contests@ClubPonyPals.com or mail it to:
Club Pony Pals
16654 Soledad Canyon Road #382
Canyon

Country, CA 91387 USA
Dear Pony Pals

Send in your photos, stories and drawings for our contests.

e-mail them to Contests@ClubPonyPals.com or mail it to:

Club Pony Pals
16654 Soledad Canyon Road #382
Canyon Country, CA 91387 USA

The first printing of collectable stickers is almost gone. For the next week or two, if you want a sticker and bookmark make sure and include a mailing address where we can send it.

Please include your user name and the email address you used to register in your letter, too.

Webmaster
Play These Games to Earn Wiggins Bucks

Play these to earn bucks! Each week, that week's highest scoring

Scavenger Hunt
Winner gets 3000 Wiggins bucks,
next nine members scores below that get 500 bucks each.

"Scavenger Hunt "

csicsaiova

charliehorse

1horses08

brook0626

Kristal 4_2

dddfffrr

bubblegumpop

gabbykitty77

TASIAJARA

casper1

Pony Pal Derby
Race your pony to earn Wiggins bucks!
Each week the derby game's highest scoring player earns 2000 Wbucks.
500 Wbucks goes to each of the next nine highest scores.

"Pony Pal Derby"

CruXtrem

Kdoepker

RustyGirl

Britnie

horseegirl122

hunterjumper200

djbates

jaimee

EagleGirl

chelsea2

<![if !supportEmptyParas]> <![endif]>

Math Games
High scoring players in addition,
subtraction or multiplication earn 500 Wiggins bucks,
next nine players who have high scores earn 100 bucks each.

"Add Like Mad"

EagleGirl

RustyGirl

horseegirl122

frumpyfriesians

balletgirl95

Spaz

highway

CloudyShadow

sootyiscool

elementah

<![if !supportEmptyParas]> <![endif]>

"Subtraction Action"

RustyGirl

EagleGirl

keely

Horsegirl96

iluvchance

Sunny Risers Owner

horsiegirl

mollieb

cherriesandchocolate

caligrace

<![endif]>

"Multiplication Station"

EagleGirl

Flower1224

highway

elementah

13annar

XoitsmmoX

cheerjanie123

beauty246848292

cece98

KerBlang
Pony Pal Thoughts for the Day
All King Edward's Horses Canter Many Big Fences.
-Mnemonic for the A-K-E-H-C-M-B-F letters around a dressage arena

Experienced riders are not prone to brag. And usually newcomers, if they start out being boastful, end up modest. -C. J. J. Mullen

The riding of young horses is an excellent nerve tonic. -Geoffrey Brooke pony

Keep one leg on one side, the other leg on the other side, and your mind in the middle. -Henry Taylor