Volume 3 Number 48
June 7 - June 11, 2010




Dear Pony Pals ~ <![if !supportEmptyParas]>
Sleepover Scheduled for June 18th, 6 to 10 pm Eastern time, USA. Stop by to chat with Pam, Anna and Lulu, or to take lessons with Mrs. Crandal. Look for more details in next week's newsletter.

New Release Day The Wiggins Weekly will now hit the web on a new day, starting one week from -- yesterday.
Our very next issue posts on Saturday, June 12. So that means we have a new deadline, too. All material for the Wiggins Weekly will be due each week on Friday, contests and scavenger hunt scores will be tabulated every Friday at 3 pm eastern time. Elsewhere in the world, consult a time chart.

Kline's Updated No more leafing through dozens of pages to find what you want at Klines. This week we expanded their catalog into three sections so that members can find what they want faster and easier.
When you go inside Kline's in downtown Wiggins, click anywhere and down will bounce a new catalog sign for our three catalogs. They are "Hardware, Feed and Tack," "For Your Cabin" and "Clothes and Shoes."

So a big Pony Pals "thanks" to all our members who asked us to offer three separate catalogs. Kline's now carries so many different items that pals got tired of leafing through one big catalog!

For members who want to decorate their personal cabins that are free with bought ponies from Olson's, Klines carries couches, settles and chairs in green, pink, natural and blue. New paintings for above cabins' fireplaces are arriving every week.

And Kline's stocks all of our members' SEVENTY clubs' plaques in their own special catalog section. For less than a USA dime, club members can buy and hang their plaques in their personal cabins for all their visiting pals to see.
Club Page update To find out about clubs, look for our special new Clubs page. Whether you're a proud Aussie or Kiwi, Canadian, a dog fancier, a kitten fan, a unicorn believer, a 4-H supporter or someone who likes something totally different, ClubPonyPals probably has a club where you can find others who share your interest.
If you don't see a club that you think would be a good one, write to Jane Crandal on our forum and ask about how to start a club. You can hang Club Plaques in your cabin and all new clubs must submit a club plaque drawing to be listed. If you cannot make a plaque write to Contests@ClubPonyPals.com and we can have Mrs. Crandal or Admin3 our new staff artist help you out.

Our daily live moderated chat is a great place for club members to meet and our fully moderated w-mail system lets club members stay in touch.
Other news --

Our virtual riding lessons are each Tuesday, from 6:30 to 7:30 Eastern Time. Lessons are held in the live moderated chat. It is a great way to work on mentally visualizing your riding -- and they are lots of fun.

New members sign up every day and ask for Pal requests. Take a moment and see who's just signed on recently with our "

Pals, Please Page

." Our world has some great ways to meet other pals.

Click here to learn more.

Please help new members feel welcome - send a card to someone who is new!

Seeing something weird when you log on? Our game changes all the time, if you log in and weird things seem to happen, please clear your computer's cache.

See the instructions here

to learn how.
Finally, hats and helmets are on the way for members' avatars.
We are always working on lots of new features. Check here often to learn about them first.
How is your summer vacation shaping up? Let us know.
Pals,

Pony Pal Contest Calendar
Need Wiggins bucks? Anybody who wants more Wiggins bucks is missing out if they don't enter one of our contests! Details are below. We need funny cartoons, they should be in black and white. And if a member creates a Youtube video about our site, let us know! We will award a thousand Wiggins Bucks for a good video about us.
| | | | | |
| --- | --- | --- | --- | --- |
| contest name | deadline for entries | voting starts | winners announced | prize amount (in Wiggins bucks) |
| Drawing of the week contest | every Friday | | in Wiggins Weekly | 500 to each winner |
| Cartoon contest | every Friday | every issue | in Wiggins Weekly | 500 to artist, 500 to caption winner, 100 to caption runner-up |
| Postcard of the week contest | every Friday | | in Wiggins Weekly | 200 to winner |
| Cabin of the Week | enter your cabin today | every issue | in Wiggins Weekly | 1000 bucks to cabin with most votes |
| | May 15 | May 16 | June 18 | 3000 1st place, 500 to runners up |
| | May 31 | June5 | June25 | 3000 1st place, 500 to runners up |
| | June 18 | June 21 | | 3000 1st place, 500 to runners up |
| June Story and Poem Contest | June 30 | July 5 | July 24 | 3000 1st place, 500 to runners up |
| | |
| --- | --- |
| If you need bucks, buy an Ultimate Game Card. You can click here to see where game cards are sold. Next time you go to the store, buy a card with cash, come back and enter the secret code from the back of their card to get Wiggins bucks instantly. | |
Cabin of the Week Contest
Enter to win 1000 bucks for your decorating skills!


chillycat12


oreopony6


silverdollar1

Last Week's Cabin Winner


TigeressCC

Send contests@clubponypals.com an email telling us the username's cabin you want to enter. Rules are: Each week three cabins will be chosen from the entries for member voting. Members can enter enter as often as they like, but winners cannot enter this contest again for six months.

Last week we added new couches, chairs, curtains and a plant for your fireplace. Be sure to look at Klines for new clothes too. Look for new purple, yellow, peach furniture items soon. Have a request for something you want to add? Let us know!
Drawing of the Week Contest
Dear Club Pony Pals, I really like your site! It is fun and educational! I was wondering if you cold be a little more specific when you assign the quests, though. Sometimes i don't know what to do. Anyway, i hope you like the picture I've drawn for you! Oh! Another question, how do you change the color of your horse? Do you have to buy a new one, or can you change it somewhere? I really like your site and I hope you enjoy my drawing! Your fan, Joelle M.

Here is a drawing I've been working on that I was hoping you guys could turn into a painting for cabins because I want to nature-theme my cabin and there aren't any pictures that fit what I want. The colors are really dull because my scanner is old, so I was hoping you guys could darken them to make them actually NOTICEABLE. It is already pre-colored because the paper was dirty and I had to color it in to hide the smudges and stains, so you can warp the colors, just as long as the scene stays pretty much the same. Thanks, Spellcheck

Winner gets 500 Wiggins bucks, and their art is made into a painting for members' cabins. If you want to enter, send your art to the Contests@ClubPonyPals.com or mail it to:
Club Pony Pals
16654 Soledad Canyon Road #382
Canyon Country, CA 91387 USA
If you want a sticker and bookmark make sure and include a mailing address where we can send it!
Cartoon Caption Contest -- This week's caption winner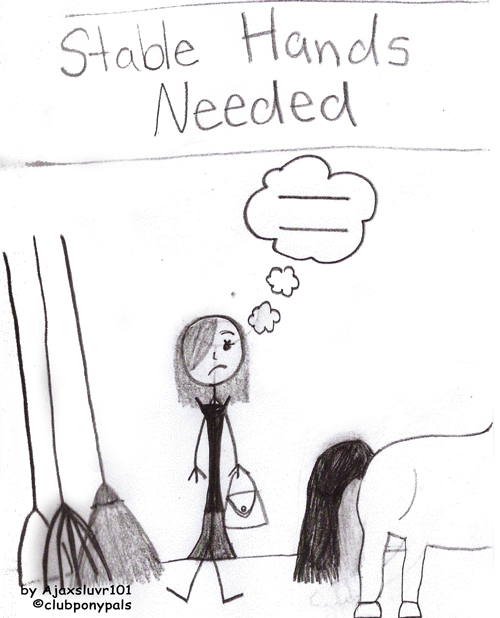 Hold on! I'm suppose to MUCK OUT A STALL?!? And then a PASTURE? Are you insane? This a designer dress!!" by keely
This winning caption's writer got 500 Wiggins bucks.
The runner-up caption gets 100 bucks.
AGH! I just broke a nail! Theres no way I'm going to work as a stable hand! eww!
by Iambella
Vote for your favorite caption for this cartoon--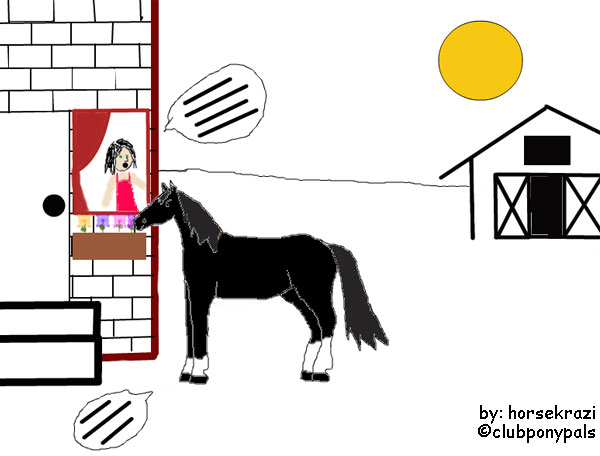 Write a caption for this --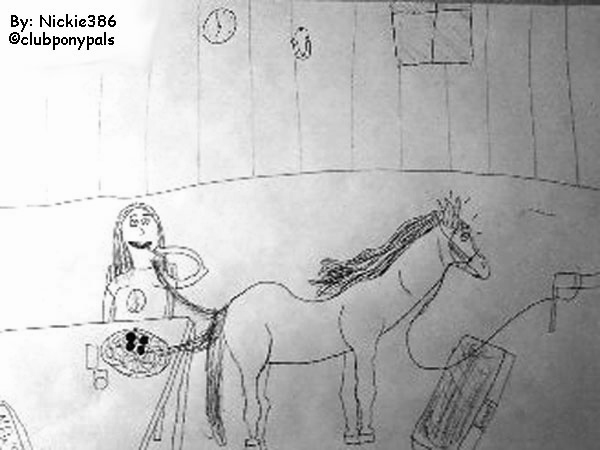 by Nickie386
Can you write the winning funny caption for this cartoon? Deadline is Friday of this week. Email it to Contests@clubponypals.com
Look for the entries in the next week's e-newsletter and vote for your favorite.
Winning caption gets 500 bucks, runners-up get 100 W bucks each. Captions should be short.

or draw a cartoon --

We are looking for cartoon artists, too. Draw one and email it to us by Friday.

If it is selected, you can earn 500 Wiggins bucks! Hint -- for this contest, please draw your cartoon in black and white. If you want to enter, send your art to Contests@ClubPonyPals.com or mail it to:

Club Pony Pals
16654 Soledad Canyon Road #382
Canyon Country, CA 91387 USA
Member Photo Gallery
from geigergirl13



Hi! I just wanted to send in some pictures of me on my lesson horse, Kimo, and Me on the horse I just sold, my sweet Penny! I was hoping maybe some of them could be put in the Wiggins weekly! I understand if they cant though. just wanted to share some more happy horse stories! I had to sell penny because i could not safely jump on her and jumping is what i do now. i got her when we lived on our farmn in michigan, but not having her at home makes it so much harder to do things with her, and took all the fun out of riding her. i miss her a lot, but i get to visit whenever i want, as long as her new owners are home, and i enjoy jumping even more now because I can give all my attention to Kimo!
from laurabianca
i love this club! i think is the best site ! i love horses and i go to a riding lesson too! i am  a member of club pony pals site just from two days. i know my paint is NOT the best from the competition, but i love to paint so...!  best regards! love, bianca! p.s: please w-mail me with your comment! thanks!
PS this are some pictures with me at the riding lesson . in the first picture: dusita, a female. in the second one: izabel, a male!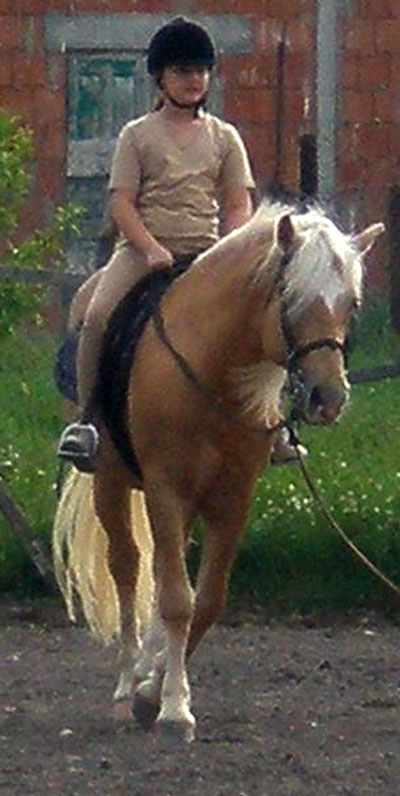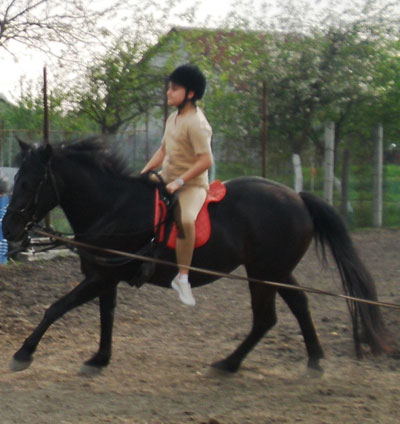 from Sephriam3

We might borrow a horse from my instructor for the summer, but here is a horse that my mom, my instructor and I REALLY like: 

His name is Pied Piper(aka Piper). Isn't he pretty?
from Britnie

I've always sent in a picture of Shadow, but I decided, I will send in a picture of Crete, my mom's horse, and Achilles, my brother's horse. Crete was named after an island, and Achilles, I believe was a famous warrior back in the day.....Achilles is the Golden Palomino, Although he doesn't look golden yet because he's very dirty(my brother does a horrible job at grooming)and it was spring so he was in between his Winter and Summer coat. Crete is the chestnut horse, though the person my mom bought him from said he was a strawberry roan.....Also, Crete is a solidcolored Paint, and Achilles is a Welsh x Quarter Horse.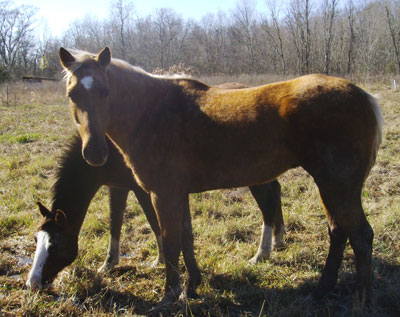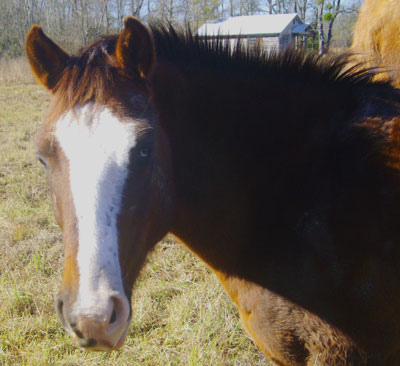 from Aubrey97
This is Aubrey97's new kitten Callie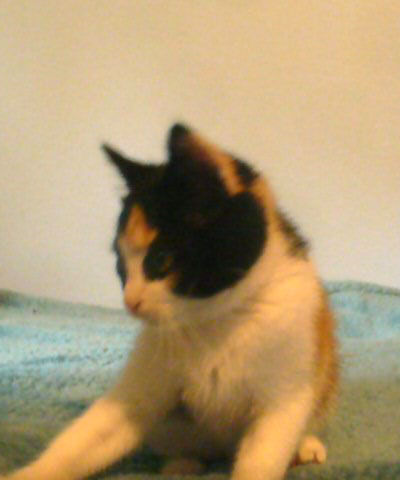 Member Art Gallery
by Samantha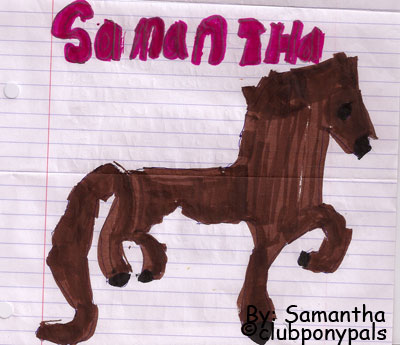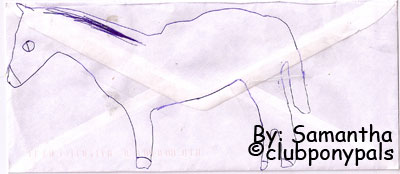 by PicassoGirl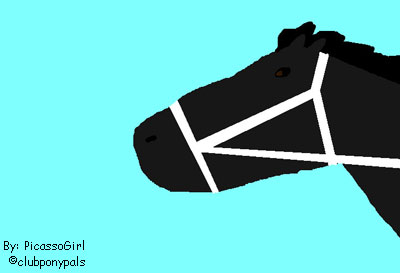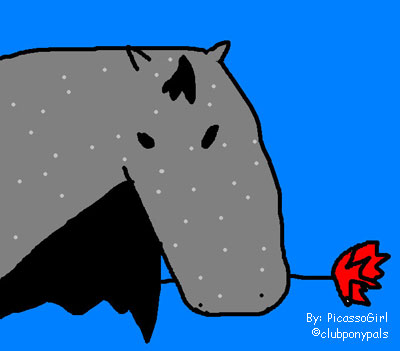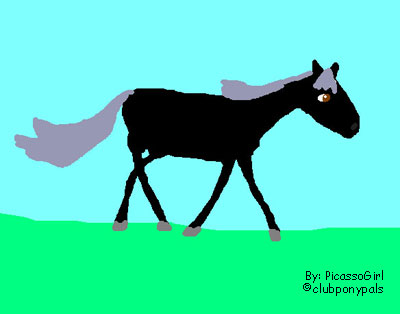 by Aura2233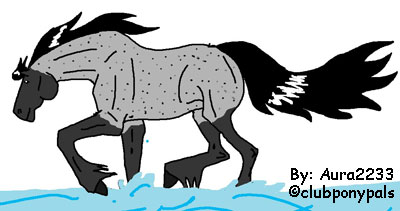 by Crusinpaint123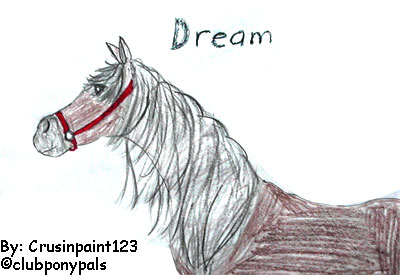 by zohreh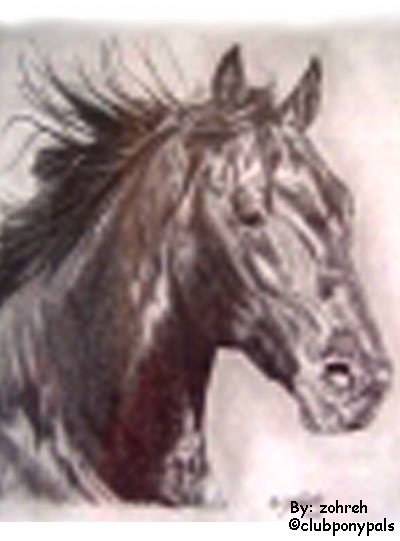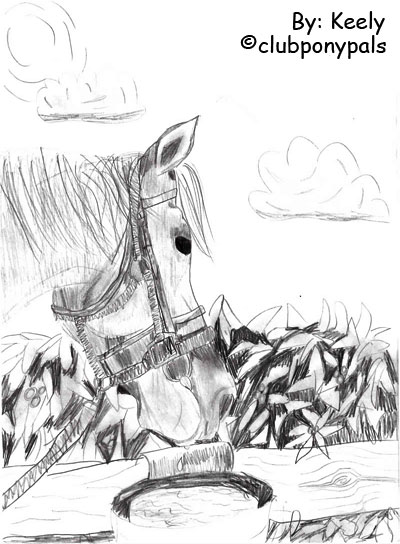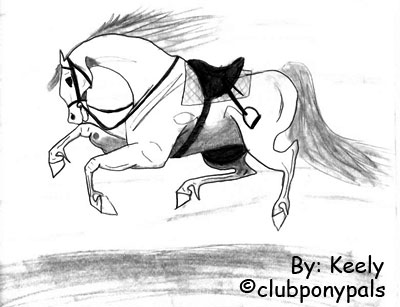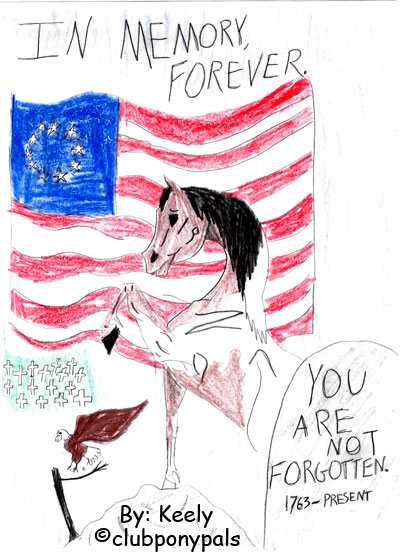 This Week's Winning Postcard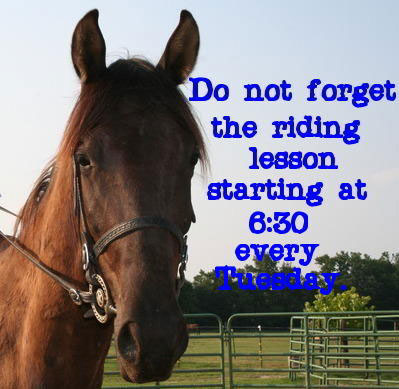 by Keely
Other Postcard Entries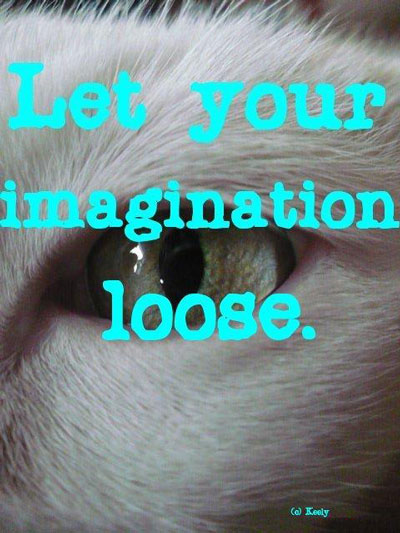 by Keely
Winning postcard entries each week get 200 Wiggins bucks. All art must be original, it cannot include clip art or copyrighted images.
If you want to enter, send your original art to Contests@ClubPonyPals.com or mail it to:
Club Pony Pals
16654 Soledad Canyon Road #382
Canyon

Country, CA 91387 USA
Dear Pony Pals

Send in your photos, stories and drawings for our contests.

e-mail them to Contests@ClubPonyPals.com or mail it to:

Club Pony Pals
16654 Soledad Canyon Road #382
Canyon Country, CA 91387 USA

The first printing of collectable stickers is almost gone. For the next week or two, if you want a sticker and bookmark make sure and include a mailing address where we can send it.

Please include your user name and the email address you used to register in your letter, too.

Webmaster
Play These Games to Earn Wiggins Bucks

Play these to earn bucks! Each week, that week's highest scoring

Scavenger Hunt
Winner gets 3000 Wiggins bucks,
next nine members scores below that get 500 bucks each.

"Scavenger Hunt "

1horses08

amp088

StarliteEve

jazzyjessica

Mariah399

Parmesan

1horses08

123pinky45

Alexandra B Jones

sarah brown

Pony Pal Derby
Race your pony to earn Wiggins bucks!
Each week the derby game's highest scoring player earns 2000 Wbucks.
500 Wbucks goes to each of the next nine highest scores.

"Pony Pal Derby"

Murtagh

cicara

Lizzy1

djbates

silverdollar1

HorseyJoy

HayashiOkami

Sham_Slam

allyalli0

horselvr101

<![if !supportEmptyParas]> <![endif]>

Math Games
High scoring players in addition,
subtraction or multiplication earn 500 Wiggins bucks,
next nine players who have high scores earn 100 bucks each.

"Add Like Mad"

EagleGirl

CurlyQ

horseegirl122

lilabean3

KerBlang

HorseyJoy

balletgirl95

Nat2

kyoder97

djbates

<![if !supportEmptyParas]> <![endif]>

"Subtraction Action"

kande

horseegirl122

horseygirl00012

iambella

djbates

LovasDori

Horsegirl96

popgirl

orethepony

alice757

<![endif]>

"Multiplication Station"

CurlyQ

horsecrazybri

lealea

lilkayle9

NIKKI_lyn

kieran1

Morgan18364

Jemc15

pillowfight31342d

navajetscrystal
Pony Pal Thoughts for the Day
Courage is when you saddle up your horse and ride anyway. ~ Scoutie
A pony is a childhood dream, a horse is an adulthood treasure. ~ Rebecca Carroll
Never send a man to do a horse's job. ~ Mr. Ed