Volume 3 Number 40
April 12-18, 2010

Dear Pony Pals <![if !supportEmptyParas]> <![endif]>
Olson's Horse Farm is open for business! When I went to Olson's to see who was there, a lot of Pony Pals were already looking over new ponies.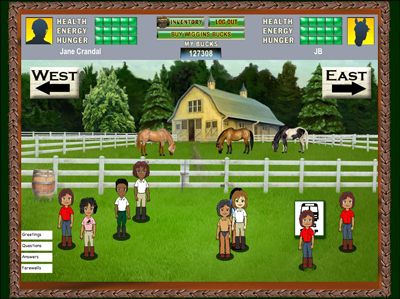 When a member buys a pony at Olson's Horse Farm, they get their own cabin to furnish and decorate. There will be lots of things to choose from. Just to start, we offer paintings, club plaques, flowers, an alarm clock and more. We are adding items each day. Trophies display how many miles a member has ridden. And each week we will award a special trophy to each member in the top five who earn the fastest Cross Country trail times. You can stop by a member's cabin and see how they are starting to furnish it and what trophies they have won. Pam's cabin looks like this today.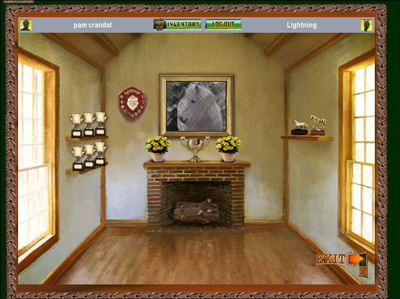 What will your cabin look like? You can learn more about Olson's Horse Farm here.
In contest news, winners for Coloring Contest #12 are
Hand colored - 10 and under

winner Skipper234 entry #1
runner up Alliefunny

Hand colored -- age 11 and older

winner RustyGirl
runner up Horseegirl122

Computer colored

winner PonyHorseRider
runner up fancylover2
Coloring Contest #13's winning art is RustyGirl's rearing pony. Download an entry form for this contest and start coloring.
With all the excitement and work of launching Olsons, our CPP horse and pony alphabet coloring book is still in production. Look for all the drawings to be online soon.
When it is ready as CPP's first e-book, our "Pony Pals ABC's of Horses" will be a great way to help kids worldwide learn their English ABC's while they find out about horse and pony breeds.
<![if !supportEmptyParas]> <![endif]>
Feeling lost? Look at a map of Wiggins here.
Our virtual riding lessons are each Tuesday, from 6:30 to 7:30 Eastern Time. Lessons are held in the live moderated chat. This is a great way to work on mentally visualizing your riding -- and they are lots of fun.
Every day hundreds of new members sign up and ask for Pal requests. Take a moment and see who's just signed on recently with our "Pals, Please Page." Our world has some great ways to meet other pals. Click here to learn more. Please help new members feel welcome - send a card to someone who is new!
Our game changes all the time, if you log in and weird things seem to happen, please clear your computer's cache. See the instructions here to learn how.
Members ask me all the time "how do I earn more bucks?" Anybody who wants more Wiggins bucks is missing out if they don't enter one of our contests! Details are below. We need funny cartoons, they should be in black and white.
And if a member creates a Youtube video about our site, let us know! We will award a thousand Wiggins Bucks for a good video about us.
Pals,

Pony Pal Contest Calendar
| | | | | |
| --- | --- | --- | --- | --- |
| contest name | deadline for entries | voting starts | winners announced | prize amount (in Wiggins bucks) |
| Drawing of the week contest | every Friday | | in Wiggins Weekly | 500 to each winner |
| | every Friday | Monday | in Wiggins Weekly | 500 to artist, 500 to caption winner, 100 to caption runner-up |
| | | | | 500 for every drawing used |
| | March 31 | April 5 | April 23 | 3000 1st place, 500 to runners up |
| | May 15 | May 16 | June 19 | 3000 1st place, 500 to runners up |
Drawings of the Week Contest
by Ajaxsluvr101

by lilabean3-+

Winners each get 500 Wiggins bucks. If you want to enter, send your art to the Contests@ClubPonyPals.com or mail it to:
Club Pony Pals
16654 Soledad Canyon Road #382
Canyon Country, CA 91387 USA
If you want a sticker and bookmark make sure and include a mailing address where we can send it!
Cartoon Caption Contest -- This week's caption winner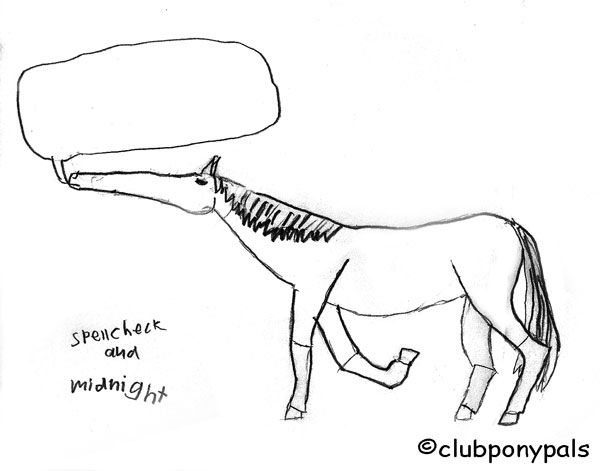 Horse: Okay obviously by naming me ponochhio you cursed me. Look! I'm not lying,i didn't take NOT ONE carrot from the carrot jar. So why is my nose long you ask? I just don't know!
by misspippy
This winning caption's writer got 500 Wiggins bucks.
The runner-up caption gets 100 bucks.
Horse: "I did NOT eat all the carrots!" *nose grows longer*
by Rose-97
Vote for your favorite caption for this cartoon--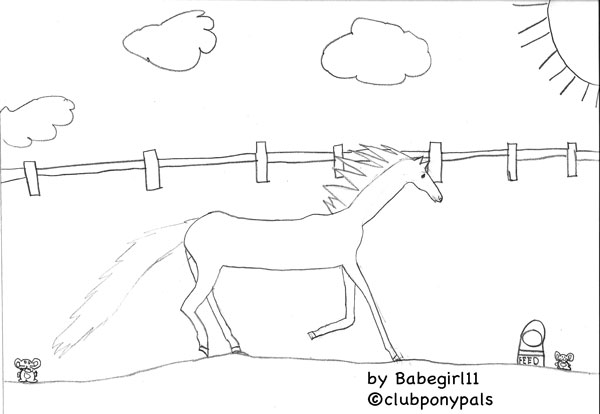 Write a caption for this --

Can you write the winning funny caption for this cartoon? Deadline is Friday of this week. Email it to Contests@clubponypals.com
Look for the entries in the next week's e-newsletter and vote for your favorite.

Winning caption gets 500 bucks, runners-up get 100 W bucks each. Captions should be short.

or draw a cartoon --

We are looking for cartoon artists, too. Draw one and email it to us by Friday.

If it is selected, you can earn 500 Wiggins bucks! Hint -- for this contest, draw your cartoon in black and white. If you want to enter, send your art to the Contests@ClubPonyPals.com or mail it to:

Club Pony Pals
16654 Soledad Canyon Road #382
Canyon Country, CA 91387 USA
Member Photo Gallery
from misspippy

Hey Clubponypals! The first picture in this set is me and pippy at a costume class last year at a show the day after halloween. I was a bumble bee for halloween so i dressed her up as one too!We actually won first place in that class! There were 2 winenrs:most creative and best pair,we won best pair! One of them is  me and pippy  in the washstall and i think its me kissing her nose on a really cold day! The last one is my gecko,Valentine!

Misspippy's gekko Valentine says "Hi!"
from Ponyluv1999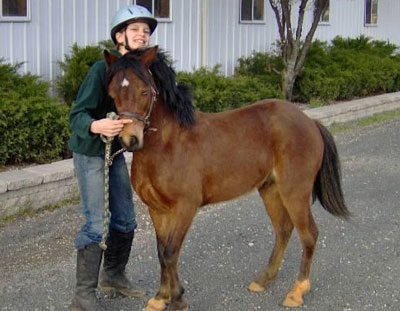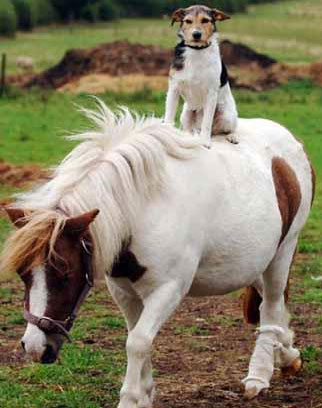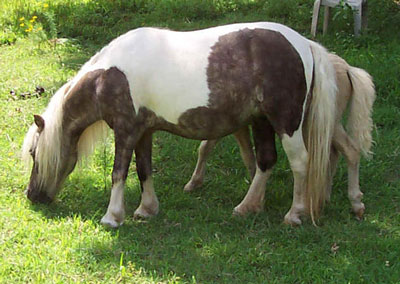 from orioncrazy1717
These are pictures of me and my horse Orion some are showing some aren't a lot of people were asking me to send in pictures of him so here they are:) orioncrazy1717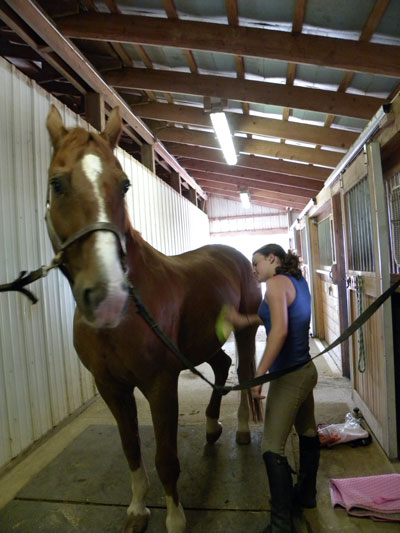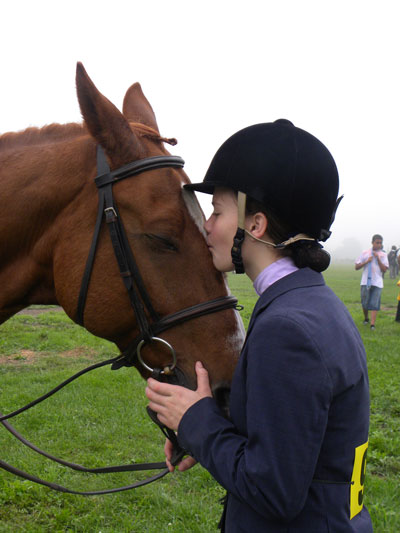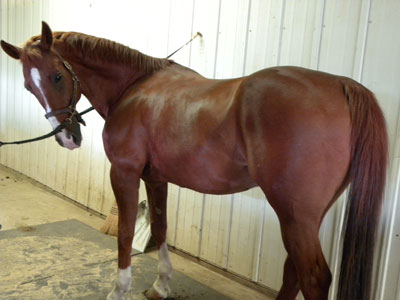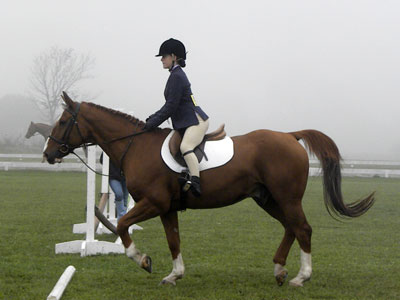 from Snuggle12
Here are so pics of me on a horse named Robin. I can jump 3rd hole but the jumps are low becase the girl behind me is new at jumping. I'm going to a show on the 24th and I don't know who I'm showing yet so wish me luck :) Snuggle12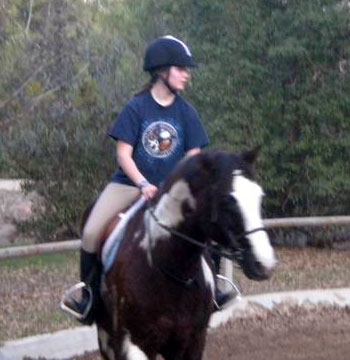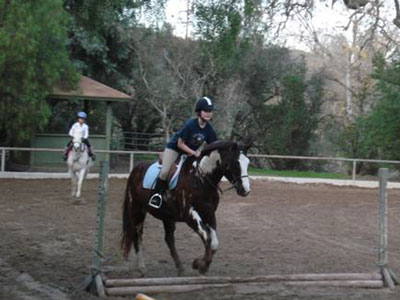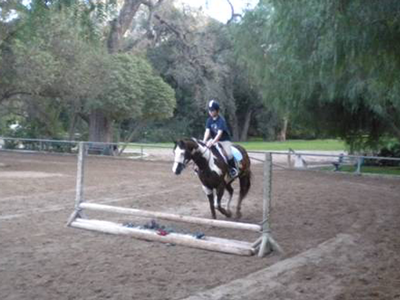 from Famoushorse101
Hi, this is Famoushorse101 andI'm submitting 3 pictures for the WW please get them in ASAP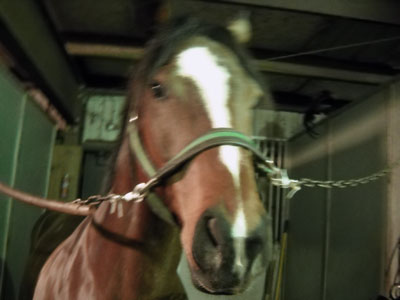 This is Stripe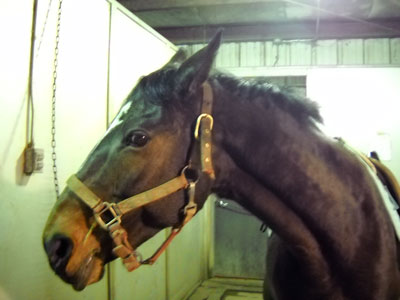 This is Darkling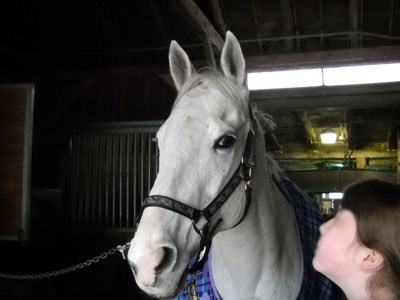 This is Cyrus<3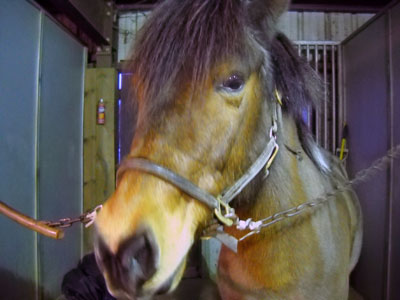 THis is Splash
Member Art Gallery
from lilabean3
Hi. I love playing Pony Pals and I need to earn a little money. I drew these pictures for you and I hope you like them I worked very hard to make them. I love you Pony Pals!!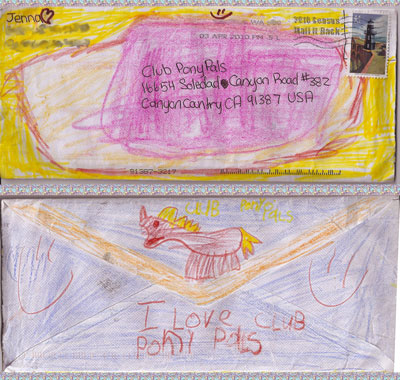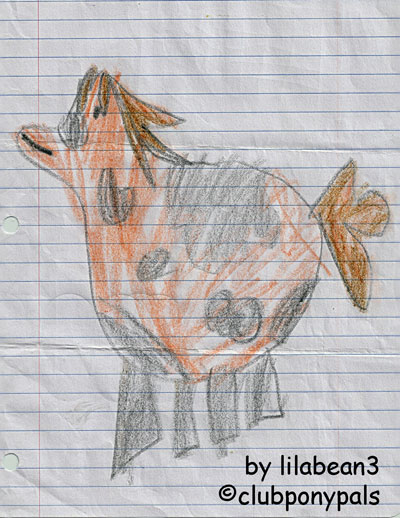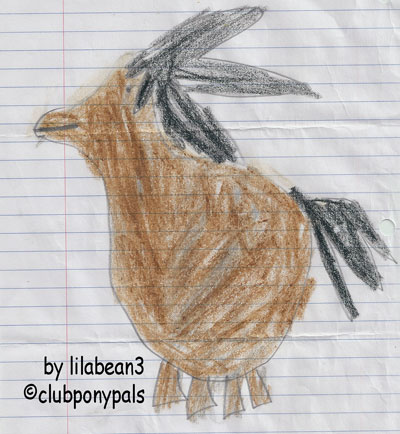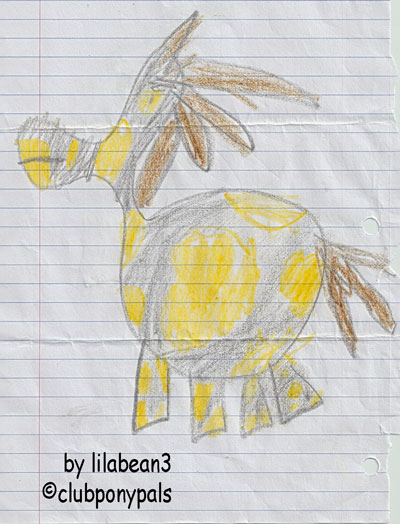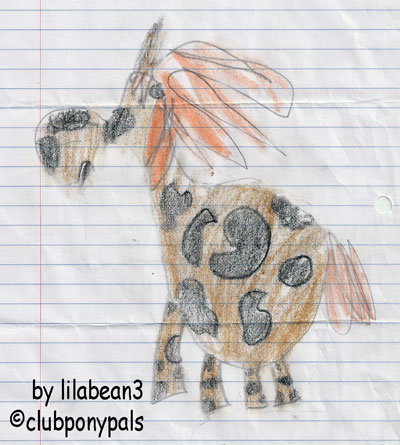 from keely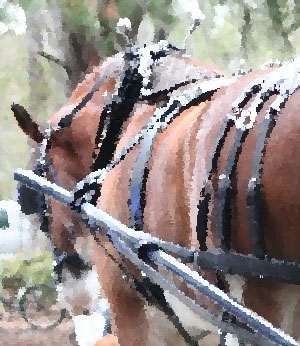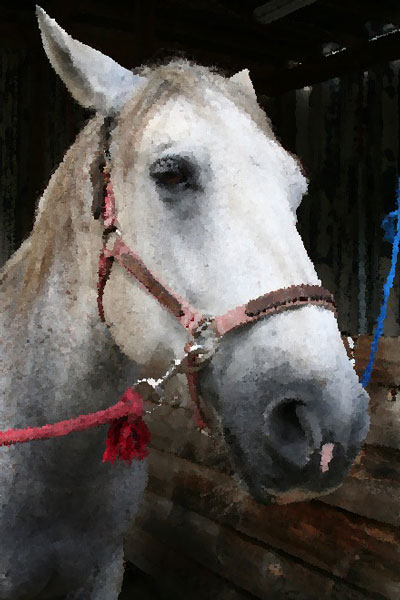 by Raven305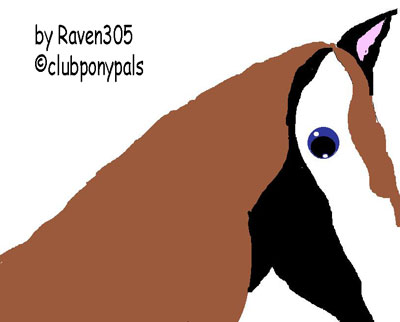 New Postcards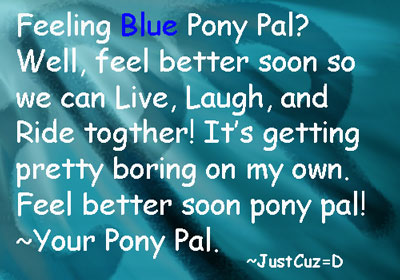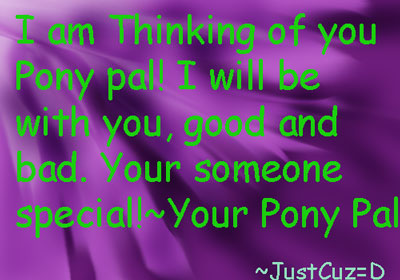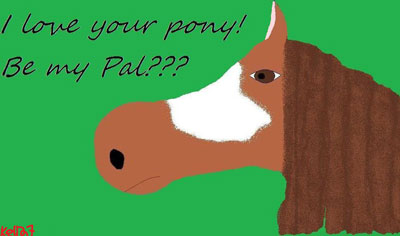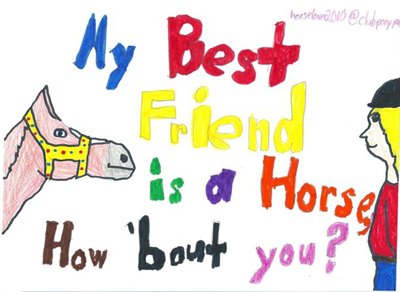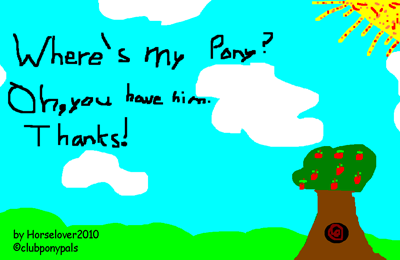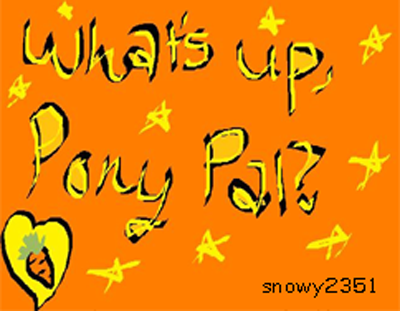 Each postcard entry wins 200 Wiggins bucks. All art must be original, it cannot include clip art or copyrighted images.
If you want to enter, send your original art to Contests@ClubPonyPals.com or mail it to:
Club Pony Pals
16654 Soledad Canyon Road #382
Canyon Country, CA 91387 USA
Letter from New Zealand
Horses in New Zealand

Horses and ponies in nz are wonderful but of course they are the same as you guys ones in California. Unfortunately if your horse or pony lives in a paddock in nz it may get caught by some unsuspected drought, so it's better to keep your pony in a stable in summer. We often get lots of floods here too if it rains for a long period so the horses sometimes get stuck in the floods. Ponies love to go for a ride in nz great dense bush so loads of people often go trekking on their ponies. We have loads of shows in nz so the horses and Ponies are very fortunate. Most of the ponies that I've seen love New Zealand and are very Happy.

Hugh
Member clubs!
Hang Club Plaques in your cabin show that you belong. Check Member clubs on our new Club Plaque page. You can hang Club Plaques in your cabin and all new clubs must submit a club plaque drawing to be listed. If you cannot make a plaque write to Contests@ClubPonyPals.com and we can have Mrs. Crandal or Admin3 our new staff artist help you out.
Dear Pony Pals

Send in your photos, stories and drawings for our contests.

e-mail them to Contests@ClubPonyPals.com or mail it to:

Club Pony Pals
16654 Soledad Canyon Road #382
Canyon Country, CA 91387 USA

The first printing of collectable stickers is almost gone. For the next week or two, if you want a sticker and bookmark make sure and include a mailing address where we can send it.

Please include your user name and the email address you used to register in your letter, too.

Webmaster
Play These Games to Earn Wiggins Bucks

Play these to earn bucks! Each week, that week's highest scoring

Scavenger Hunt
Winner gets 3000 Wiggins bucks,
next nine members scores below that get 500 bucks each.

"Scavenger Hunt "

Kell27

Chillycat12

Sir Lunchalot

selea

JustCuz=D

WildRose

Skipper234

Famoushorse101

SamWise345

yahya


Math Games
High scoring players in addition,
subtraction or multiplication earn 500 Wiggins bucks,
next nine players who have high scores earn 100 bucks each.

"Add Like Mad"

RustyGirl

Sarah33345

Rocket101

RascalHuggins

djbates

Raven305

KerBlang

warhorse

Horselover18502

prairiegirl6

<![if !supportEmptyParas]> <![endif]>

"Subtraction Action"

kande

RustyGirl

keely

sarah33345

warhorse

djbates

johanna(2)

trommlitz

babegirl11

Nat2

<![endif]>

"Multiplication Station"

WildRose

kande

RustyGirl

misiu1205

warhorse

Lizzy1

sarah33345

Tally79

Raven305

Nat2
Pony Pal Thoughts for the Day
There is just as much horse sense as ever, but the horses have most of it. ~ Anonymous

___________________

Whoever said a horse was dumb, was dumb. ~ Will Rogers

___________________

If your horse doesn't care, you shouldn't either. ~ Linsy Lee

___________________

My dear, I don't care what they do, so long as they don't do it in the streets and frighten the horses. ~ attributed to Mrs. Patrick Campbell