Volume 3 Number

31
February 8-14, 2010
Club Pony Pals News
News- Sleepover Scheduled!
Dear Pony Pals
First - Next Sunday is Valentine's Day. Make sure and send all your pals a card. There are a few new Valentines in our gift catalog.
We are holding a virtual barn sleepover on Friday, February 26th from 6 pm to 10 pm Eastern Standard Time. Pam, Anna, Lulu and I will all be online to chat and tell stories. There will be riding lessons every hour for 20 minutes, Pam's games of 20 questions and a room to chat with Anna and Lulu, too. Don't forget to stop by and visit.
As an update, the San Diego Police Department Police Department auction is ongoing. I once heard that a horse's value is winnings plus training, these horses are STILL a bargain. For more information, please click on this link to learn more about what will happen to Wam, Trigger, Major, Junior, Bret and Bandit.
CPP members chose Coloring Contest #11's winning art so start coloring! You can download your Coloring Contest #11 entry form, entry deadline is March 12th.
CC10 entries are in, the voting is open.
You can now vote for the QWERTY keyboard creativity contest.
The January Story & Poem Contest is open for voting now.
Our new virtual riding lessons are each Tuesday, from 6:30 to 7:30 Eastern Time. Lessons are held in the live moderated chat. This is a great way to work on mentally visualizing your riding -- and they are lots of fun, too!
Every day hundreds of new members sign up and ask for Pal requests. Take a moment and see who's just signed on recently with our "Pals, Please Page." Our world has some great ways to meet other pals. Click here to learn more. Please help new members feel welcome - send a card to someone who is new!
Our game changes all the time, if you log in and weird things seem to happen, please clear your computer's cache. See the instructions here to learn how.
Members ask me all the time "how do I earn more bucks?" Anybody who wants more Wiggins bucks is missing out if they don't enter one of our contests! Details are below. We need funny cartoons, they should be in black and white.
Pals,

Pony Pal Contest Calendar
| | | | | |
| --- | --- | --- | --- | --- |
| contest name | deadline for entries | voting starts | winners announced | prize amount (in Wiggins bucks) |
| Drawing of the week contest | every Friday | | in Wiggins Weekly | 500 to each winner |
| | every Friday | Monday | in Wiggins Weekly | 500 to artist, 500 to caption winner, 100 to caption runner-up |
| | January 29 | February 6 | February 22 | 2000 to first place, in each category,1000 to top five runners up |
| | January 29 | February 4 | February 12 | 1000 1st place, 500 runners up |
| | January 31 | | | 3000 1st place, 500 runners up |
| | March 12 | March 15 | March 26 | 1000 1st place, 500 runners up |
| February Story Contest | February 28 | | | 3000 1st place, 500 runners up |
Drawings of the Week Contest

by horsesgiveuswings & Liberty

by Sorris & Stoney

Winners each get 500 Wiggins bucks. If you want to enter, send your art to the Contests@ClubPonyPals.com or mail it to:
Club Pony Pals
16654 Soledad Canyon Road #382
Canyon Country, CA 91387 USA
If you want a sticker and bookmark make sure and include a mailing address where we can send it!
Cartoon Caption Contest -- This week's caption winner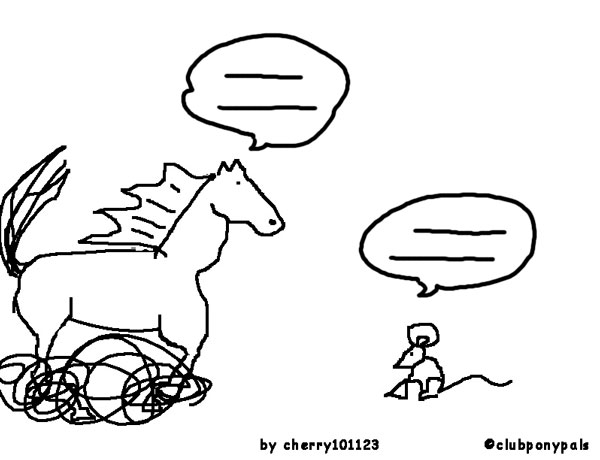 Horse: "Drop the cheese and put your hands in the air!" Mouse: "I'll think about it" *takes cheese and runs* by beth 9 2000 & Daisy
This winning caption's writer got 500 Wiggins bucks.
The runner-up caption below gets 100 bucks.
*mouse* "Your food is ready, Mr Horrse!" *Horse* "(Vrooooooooooom! Schreeeech!) Yummy food!" By Snowy2351 & Starlit Snowflake
Vote for your favorite caption for this cartoon --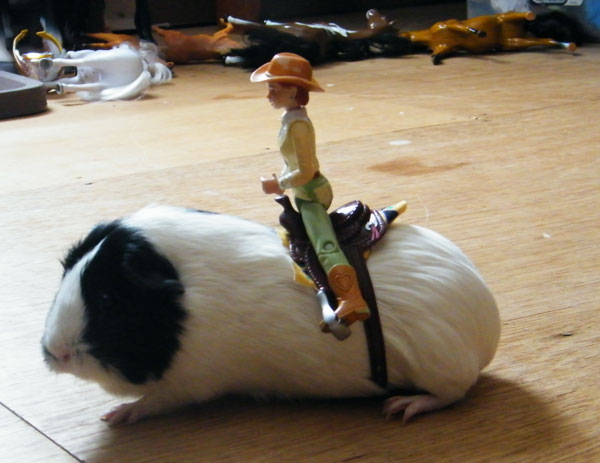 Photo by Hope & Gold Dust
Write a caption for this --

Can you write the winning funny caption for this cartoon? Deadline is Friday of this week. Email it to Contests@clubponypals.com
Look for the entries in the next week's e-newsletter and vote for your favorite.

Winning caption gets 500 bucks, runners-up get 100 W bucks each. Captions should be short.

or draw a cartoon --

We are looking for cartoon artists, too. Draw one and email it to us by Friday.

If it is selected, you can earn 500 Wiggins bucks! Hint -- for this contest, draw your cartoon in black and white. If you want to enter, send your art to the Contests@ClubPonyPals.com or mail it to:

Club Pony Pals
16654 Soledad Canyon Road #382
Canyon Country, CA 91387 USA
Member Photo Gallery
PICS OF HORSEGIRL24'S FARM

Heres the pics! Thanks so much if you can show them on the WW and if you want I can get more pics! I hope u really like them. These were taken recently, but I'm not sure when. Thanks, horsegirl24 & charm

These are beautiful, my compliments to the photographer. Yes, please send more. Your farm looks great and I can't wait to see what it looks like in summer too! Admin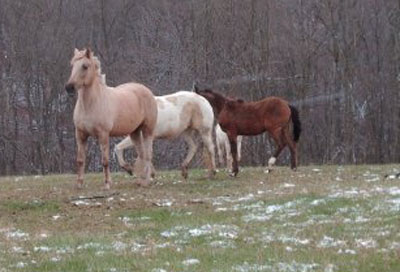 the 1 with a horse and girl is me and my horsey
from ali222 & Rain
<![if !vml]> <![endif]> <![endif]>
<![if !supportEmptyParas]> <![endif]>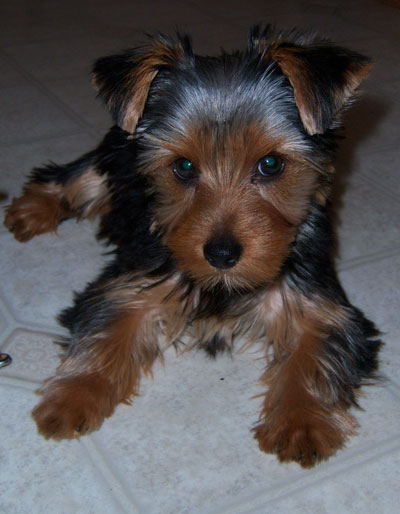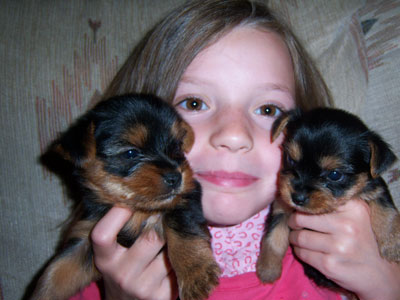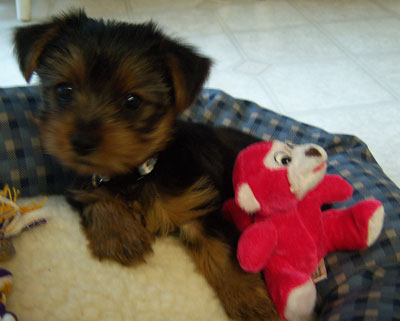 photos from RodeoSue & Reece
<![if !supportEmptyParas]> <![endif]>
New CPP "The ABC book of horse breeds" Needs Illustrations
List text by: Chelsea2, Whinnie21, and Lisa11
Arabian, Appaloosa illustrations by Skipper234 & Acorn
To enter your drawing for use in this e-book, send in your black and white illustrations for other breeds. Entries that we can use will get 500 Wiggins bucks for use of their entry in the book. Make sure and label your drawing with your username and the breed name. We need drawings for these breeds (and others if you think of them)
Bakshir Curly, Belgian
Choctaw, Cleveland Bay, Clydesdale
Dartmoor Pony
Exmoor
Friesian, Fijord
Gideon Arabian
Hanoverian, Halflinger
Icelandic pony
Jutland
Keiger Mustang
Lipizzaner
Missouri Fox trotter, Morgan
Norwegian Fjord
Oldenburg
Percheron
Quarter Horse
Rocky Mountain Horse
Shire, Suffolk, Standardbred
Tennessee Walker, Thoroughbred
Ukrainian saddle
Vladimir
Welsh Pony, Warmblood
Xilingol
Yakut
Zhemaichu
Member Art Gallery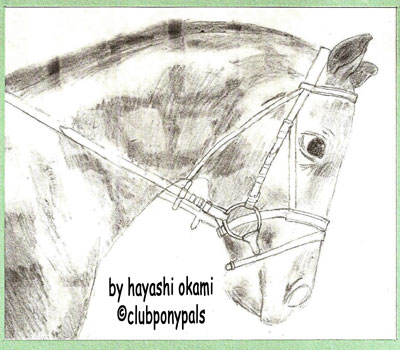 This is a picture I drew for my friend for Christmas. I figured that I would submit it for the weekly. Hayashi Okami & Dark Steel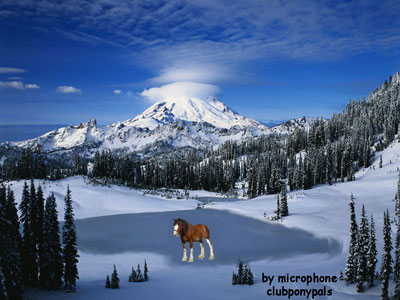 this one really is photoshopped!   microphone & Black Dawn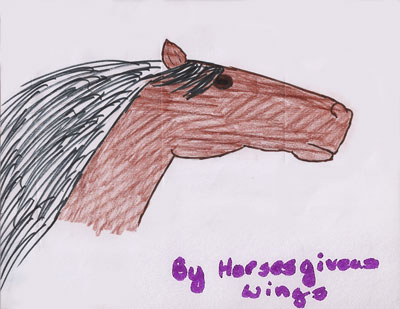 Dear Club Pony Pals, My name is Allie and I joined Club Pony Pals yesterday. I know you're busy, but I hope you'll answer my letter. I love your games! I would like to know if you're going to add any more. If so -- that would be totally awesome!!! Also are there easy ways to get Wiggins bucks? Do you do any sort of contests? Well, I hope you have a good day, Your friend,
Allie a/k/a horsesgiveuswings & Liberty
P. S. I hope you like my pictures!
Hi horsesgiveuswings! Welcome to our barn! You found one way to win Wiggins bucks, congrats on being one of this week's art contest winners, you get 500 Wiggins bucks for your entry. You included your mailing address, so look for a sticker in the mail. WebMaster
New Postcards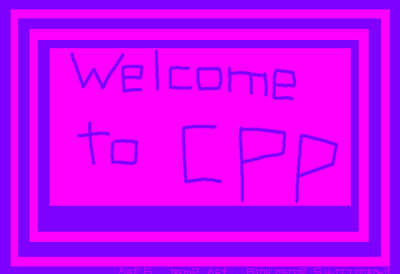 by Ast & Summersault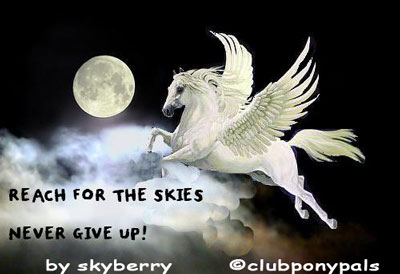 by skyberry & American Beauty
Each postcard entry wins 200 Wiggins bucks. All art must be original, it cannot include clip art or copyrighted images.
If you want to enter, send your original art to Contests@ClubPonyPals.com or mail it to:
Club Pony Pals
16654 Soledad Canyon Road #382
Canyon Country, CA 91387 USA
Member clubs!
Hang Club Plaques in a cabin show that you belong. Check Member clubs on our new Club Plaque page. All new clubs must submit a club plaque drawing to be listed. If you cannot make a plaque write to Contests@ClubPonyPals.com and we can have Mrs. Crandal or Admin3 our new staff artist help you out.
Dear Pony Pals

Send in your photos, stories and drawings for our contests.

e-mail them to Contests@ClubPonyPals.com or mail it to:

Club Pony Pals
16654 Soledad Canyon Road #382
Canyon Country, CA 91387 USA

If you want a sticker and bookmark make sure and include a mailing address where we can send it!

Please include your user name and pony name in your letter, too.

Webmaster
Top High Scores from last week
"Crandal's Cross Country Course going North"

Hanky

horseegirl122

blue869

Cheyenne Woods

meme#1

BroncRidnCowgirl

Falong

Drifter

thehorsegirl

Horse grl

<![if !supportEmptyParas]> <![endif]>

"Crandal's Cross Country Course going South"

Cheyenne Woods

HorseCrazyMGirl

MissAJalways

ilovehuntseat

me#1

topsy turvey w

Abbprincess

girlygirly12

blackjack123

rayhorse

"Main Street Matchup"

**Magic**

Warren

RustyGirl

DaWgZ

isabella88

icarlykids

Thysyrael

safier11

missplooy

valerief

Play these to earn bucks! Each week, that week's highest scoring

Scavenger Hunt
Winner gets 3000 Wiggins bucks,
next nine members scores below that get 500 bucks each.

"Scavenger Hunt "

Hanky --- tied

microphone --- tied

Skipper234

sprite114

fallenangel153

Emykin

**Magic**

Antito123

bjsblue

rachel_mayling

dinolily


Math Games
High scoring players in addition,
subtraction or multiplication earn 500 Wiggins bucks,
next nine players who have high scores earn 100 bucks each.

"Add Like Mad"

watermellontreee

RustyGirl

MagpieSK

MissAJalways

ika925

hopeful9721

ponyluva123

Rustychick

blackcreeklover9898

ilovehuntseat

<![if !supportEmptyParas]> <![endif]>

"Subtraction Action"

RustyGirl

MissAJalways

258Verunka

pepperrocks123

fogliano

**Magic**

valerief

You could have earned 100 Wiggins bucks if you played this game.

You could have earned 100 Wiggins bucks if you played this game.

You could have earned 100 Wiggins bucks if you played this game.

<![endif]>

"Multiplication Station"

bertie

RustyGirl

tiger_123

fogliano

Britnie

sprite112

Raven305

Rio89

Airplane123

zabicka111
Pony Pal Thoughts for the Day
Love is patient, love is kind. It is not jealous, is not pompous, it is not inflated, it is not rude,
it does not seek its own interests,
it is not quick-tempered,
it does not brood over injury,
it does not rejoice over wrongdoing but rejoices with the truth.
It bears all things, believes all things, hopes all things, endures all things.
Love never fails.
St. Paul, 1 Corinthians 13:4


_____________

If you don't like yourself, how can you extend love to others.
~ Byron Pulsiferer

_____________

I was nauseous and tingly all over ...
I was either in love or I had smallpox.
~ Woody Allen

_______________

He that falls in love with himself will have no rivals.
~ Benjamin Franklin