Dear Pony Pal Jeanne
Acorn is good. He and I practice tricks a lot. My dad took a picture of Snow White running this week. I drew her for you. I practice drawing ponies all the time.
This drawing was easy because I used a photo to draw from.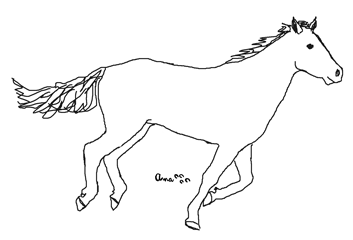 Last year the Wiggins art show got cancelled. The town hall where they were going to hold it got a leak. Maybe I will enter this drawing if the town holds another one.
Will you draw a picture for me? You can find a picture you like of a pony and trace it like I did, that is good practice.
You will get better as you draw more.
Your Pony Pal artist friend,