Dear Rebekah
Thank you for writing.
Before I got Acorn, I pretended for hours that I had my own pony. My teachers tell me I daydream in class a lot.
I am thinking of ponies. That makes me happy. Have you tried the new Pony Pals game?

________
Dear Anna,
I love to read the Pony Pal's books!! I really like to read about you and Acorn! I like to paint as well. It must of been annoying when that girl at the fair, was all over you and Acorn. Tell Acorn that I agree with that girl, Acorn is really, really, very cute!!! I sill cannot believe that Rema sill did not thank Lulu for saving Snow White's life!!! For my B-Day, I have always wanted a pony or a horse like Acorn, Snow White, or Lighting. But my mom ALWAYS says NOOOOOOOOO!!!!!!! She even says she wanted a pony when she was little. But her mom always said no. Even her back yard was connected to a BIG BIG field.
From your biggest fan,
Maggie

Dear Maggie
Thanks for telling me you like the stories Jeanne writes. Its fun that I get letters from new friends like you. 8-)
Acorn is the best. When it gets colder he gets spunky sometimes.
This week Acorn was really funny. When I went in the paddock with his halter I could not catch him. He turned around. He bucked. He kicked up his hind legs and ran off to the other end of the pasture. I was mad a little but he was really really cute and it was hard not to laugh!
I went back and got a carrot and he came to get it. Then he came over and I haltered him. Snow White just watched like she was wondering what was up with him.
How come her mom always said no? You could ask your mom and maybe she would tell you about wanting a pony when she was growing up. Write back and let me know what she said.
Friends,



PS If you want a pony, did you try Mrs. Crandal's new game? You can have a free pony there. And that pony never runs off when you try to catch it. ;-)
________
Hi Anna,
My name is Mary and I love the pony pals and have read almost every book. In the book you have a tutor just like me. Do you have an LD (Learning Differently I call it)? I have a stuffed horse my grandpa gave me when I had to go to the hospital. I called it Acorn cause that is my favourite horse in pony pals. And you are my favourite cause you have trouble in school just like me. What is you favourite pony pals book? Mine is the ghost pony.
Mary
Dear Mary

You have a tutor, too? Mine helps me with dyslexia. She helps me to write better. And to do math. She's really nice.
You write good. What kind of LD do you have? Do you have to wear glasses when you read to help you see letters better? I have blue glasses that help.
I think my favorite book is about when I got Acorn. It is "Pony for Keeps." I was really sad when I came home from school and he was not there. I remember how happy I was that I got to keep Acorn. He makes me happy every day.
Pony Pals,

________
dear anna
well since i've been sick she's just changed and left me out. and before that i ask her will we be best friends forever but the next day she left me. I hope u can help now i have no one to play with:( i have to study to because i'm bad at math and writing. i didn't go trick or treating but that doesn't matter. wat u been up to? from ponypal
amy
Dear Amy
I am really sad you are sick. I hope you feel better soon. Do you have other friends who like ponies? Do you have a tutor to help you with writing and math?
My tutor helped me this week. We are studying percents. Did you know every fraction has a percent to it?
You can figure it out. It is like an x.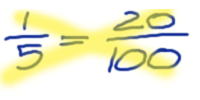 If you have any three numbers you can always figure out the last one. Take one-fifth. If I wanted to know a percent that equals that, 1 times 100 would be 100 (which is what percents is). Then divide that by five, which makes 20. It works all the time, too.
What are you studying in math?
Pony Pals,

Dear Anna, Hi! Tiny is not very tiny. I ride western. I have to best friends their names are Shazia and Felicia. What are you getting Acorn for Christmas? How is school? Please write back. Love, Alyssa
Dear Alyssa
Tell Shazia and Felicia I sent high fives. I have two best friends too. They are Lulu and Pam.
What kind of pony is Tiny? What color? Does he like to go fast? Do you ride ghymkana? Barrels? Or do you ride trail like us?
Acorn gets a carrot every day. My dad says that's enough. He is not working in construction right now. He is working on fixing our roof where it leaks. He is using a lot of black stuff up there. It smells.
School is okay. This week we had a math test about percents. It was okay. I got a B! My tutor was really happy when I told her!
Tell me an adventure from riding Tiny.
Your friend,

Dear Anna, I'm glad you and Lulu worked things out and I'm glad Acorn and Snow White worked things out. Thanks for letting me know why Acorn was sad. How are Lightning, Acorn, and Snow White doing?
Friends, Cayce
Dear Cayce
Acorn is really good. He played "chase me" in his paddock this week. Finally I got a carrot. Then he came over and was happy to have his halter put on.
Snow White is fine. She rolled in the mud. She was Snow Brown then. Lulu had to brush and brush and brush to get it all off.
We went for one long trail ride this week on Saturday. We rode up Mt. Morris. It has been rainy and snowy here. Lulu and I rode out on trail one day to Badd Brook and back. Then it got dark and we had to go in.
Have you ridden Annie lately?
Friends,