Dear Amy G
How come you didn't go trick or treating? Don't they do that where you live? I hope you weren't too sick to go, I remember you had a cold.
Wiggins is fun. Everybody knows everybody. And a lot of people like to tell stories about who's doing what.
Grandma has lived here a long time and she hears all the stories. She says ladies like to tell tales when they get their hair done, her job is "one part hair three parts head." I think she means people like to tell her about their problems.
We are having a barn sleepover at Pam's on Thanksgiving Friday. Grandma said it was ok and Anna said her mom said she could go on Friday night. We all have to be at our houses for turkey day.
Anna drew a picture of all of us. Hope that's ok.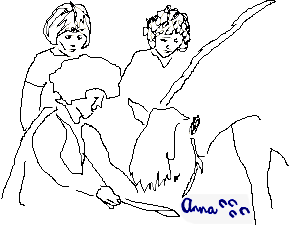 Your friend,



Lulu,
Cimmaron's limping, but he feels better after he soaks his
hoof. Cimmaron's not off of his feed. Glad ya'll had fun
Trick-or-Treating. Please tell Dr. Crandal that I said thanks for the
info. Friends,
Cayce
Dear Cayce,
Thanks for letting me know about Cimmaron. I'm glad he's getting better. Give him a big hug for me. Pam's dad said your welcome.
Friends,