Dear Cayce
Acorn was born at Mr. Olson's. His mother was named Mushroom. His father's name was Jumper. A lady named Sally bought Acorn when was five years old. Sally had him for eight years, then she sold him back to Olson's. My parents bought him from Mr. Olson.
How do you have a good vacation?

________

Dear Hope
Acorn and me are good. I have to study. There is a test. My mom tells me not to draw so much. This picture of us is from "A Pony for Keeps."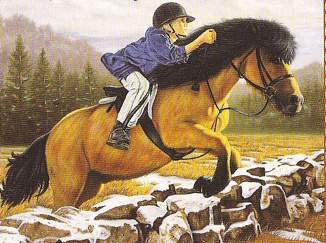 Acorn liked the hug. He liked the oats, too.
Your Friend,

________
Dear Anna,
I love your drawings! I was wondering if you could draw one of my horse Sugar. She is tall, has big eyes, and an upside down heart on her head.
Thanks!
Haley+Sugar
Dear Haley
What kind of pony is Sugar? If you have a picture that would be good. It is a easy to use a picture to draw.
Your Pony Pal,

________
hello this is amy g...i so love you guys and your ponies i don't have a pony but really want one..i have read most of the pony pal books they are the best me and me best friend timara read them all the time..i want to be a pony pal and live in wiggins and be your guys best friend but maybe we can be pen pals lol...so can we be best friends and say hi to lulu and pam for me thanks ook talk to you soon bye
PS hi this is for all the pony pals the picture is of my little sister cool aye ok please reply thanks bye..
from amy g in NZ
Dear Amy G,
I know how it is to want a pony. Maybe Timara and you can both be Pony Pals.
Your sister's picture made me laugh! She looks happy.
Gotta go study for my test,