Volume 3 Number 43
May 3 - 9, 2010

Club Pony Pals News
Sleepover Success New Ways to Buy Bucks

Dear Pony Pals <![if !supportEmptyParas]>
Last Friday's sleepover was really fun! Look for Show Ribbons in member cabins, winners get a ribbon to put up.
Board bills appear on the first in your inventories. Now members anywhere can get more Wiggins Bucks without a credit card. Go buy an Ultimate Game Card in stores like Walmart, 7-eleven, CVS Pharmacy, Blockbuster, Best Buy, Game Stop and more. There is a secret code on the back of this card that lets members get bucks without using a credit card.
| | |
| --- | --- |
| This Ultimate Game Card means members can go to the store and buy a card with cash, come back and enter the secret code from the back of their card to get Wiggins bucks instantly. | |
Other news --
Cabin furniture will be for sale at Kline's soon. You can add chairs, tables, curtains and make your cabin look just like you want it to.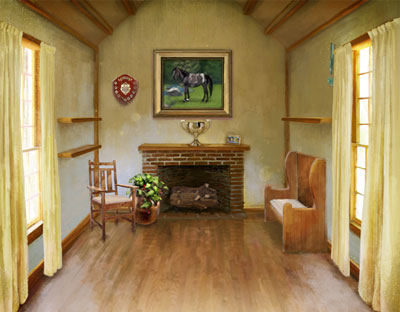 Look for April Story Contest entries to be online next week.
Download an entry form for our current coloring contest.
With all the excitement and work of launching Olsons, our

CPP horse and pony alphabet coloring book

is almost done. We plan some exciting news about how members will be able color their ponies.
Feeling lost? Look at a

map of Wiggins here.

Our virtual riding lessons are each Tuesday, from 6:30 to 7:30 Eastern Time. Lessons are held in the live moderated chat. It is a great way to work on mentally visualizing your riding -- and they are lots of fun. Each lesson ends with a short competition, prizes are awarded.
Every day hundreds of new members sign up and ask for Pal requests. Take a moment and see who's just signed on recently with our "

Pals, Please Page

." Our world has some great ways to meet other pals.

Click here to learn more.

Please help new members feel welcome - send a card to someone who is new!
Seeing something weird when you log on? Our game changes all the time, if you log in and weird things seem to happen, please clear your computer's cache.

See the instructions here

to learn how.
Need Wiggins bucks? Anybody who wants more Wiggins bucks is missing out if they don't enter one of our contests! Details are below. We need funny cartoons, they should be in black and white. And if a member creates a Youtube video about our site, let us know! We will award a thousand Wiggins Bucks for a good video about us.
Pals,

Pony Pal Contest Calendar
| | | | | |
| --- | --- | --- | --- | --- |
| contest name | deadline for entries | voting starts | winners announced | prize amount (in Wiggins bucks) |
| Drawing of the week contest | every Friday | | in Wiggins Weekly | 500 to each winner |
| Cartoon contest | every Friday | Monday | in Wiggins Weekly | 500 to artist, 500 to caption winner, 100 to caption runner-up |
| Postcard of the week contest | every Friday | | in Wiggins Weekly | 200 to winner |
| | May 15 | May 16 | June 19 | 3000 1st place, 500 to runners up |
| | March 30 | April 5 | April 23 | 3000 1st place, 500 to runners up |
| April Story and Poem Contest | April 30 | May 5 | May 22 | 3000 1st place, 500 to runners up |
Drawing of the Week Contest
by microphone

Winner gets 500 Wiggins bucks, and their art is made into a painting for members' cabins. If you want to enter, send your art to the Contests@ClubPonyPals.com or mail it to:
Club Pony Pals
16654 Soledad Canyon Road #382
Canyon Country, CA 91387 USA
If you want a sticker and bookmark make sure and include a mailing address where we can send it!
Cartoon Caption Contest -- This week's caption winner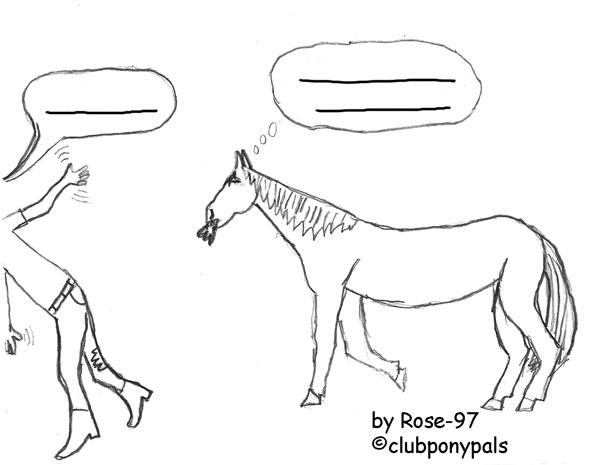 Horse: Yuck! They smelled like wild flowers but they taste like those health treats she gives me.....
Girl: Not again! I told mother to quit using that wild flower detergent......
by horsekrazi
This winning caption's writer got 500 Wiggins bucks.
The runner-up caption gets 100 bucks.
Girl: Hey I like these jeans! Pony: I know, they're delicious, huh? by Rose-97
Vote for your favorite caption for this cartoon--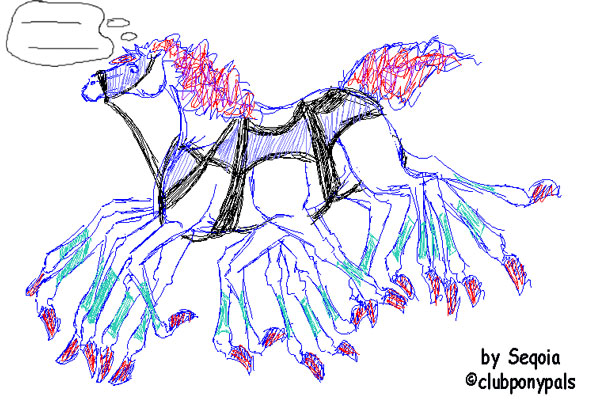 Write a caption for this --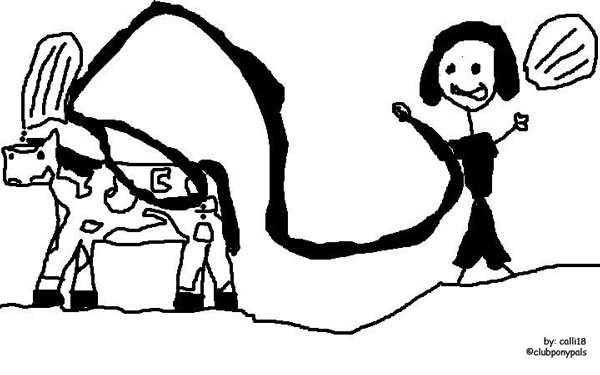 by calli18
Can you write the winning funny caption for this cartoon? Deadline is Friday of this week. Email it to Contests@clubponypals.com
Look for the entries in the next week's e-newsletter and vote for your favorite.

Winning caption gets 500 bucks, runners-up get 100 W bucks each. Captions should be short.

or draw a cartoon --

We are looking for cartoon artists, too. Draw one and email it to us by Friday.

If it is selected, you can earn 500 Wiggins bucks! Hint -- for this contest, please draw your cartoon in black and white. If you want to enter, send your art to Contests@ClubPonyPals.com or mail it to:

Club Pony Pals
16654 Soledad Canyon Road #382
Canyon Country, CA 91387 USA
Member Photo Gallery
from Hugh in New Zealand

Hello Pals
Haven't on club pony pals for awhile so I missed publishing in the other Newsletter so im Here again from nz to tell you Heaps of fun horsey stuff I sent you in a Photo of me when I was 4 I don't achurarly look like that now instead I Have galsses now wich make my Face a little bit less boring.I love Treking I went in the nz holidays for a 4 day riding horses course it was so fun I rode a horse called banjo trotting is not my fav thing to do tho. Its trekking so im going to send you in some cool photos of me and other horsey photos.
Thanks pals
Hugh
from amanda ellen

hello admin its me amanda ellen i have some pics that i wanted to share some pics of me and my family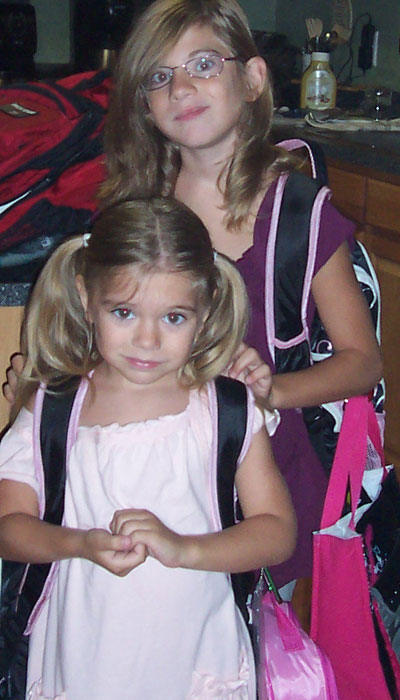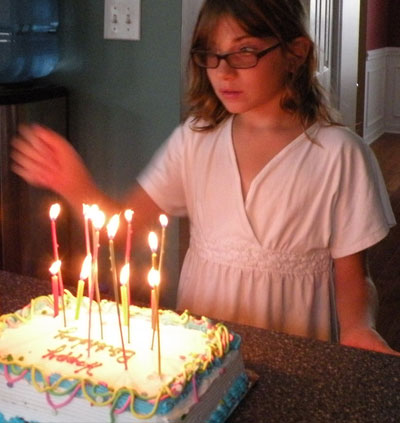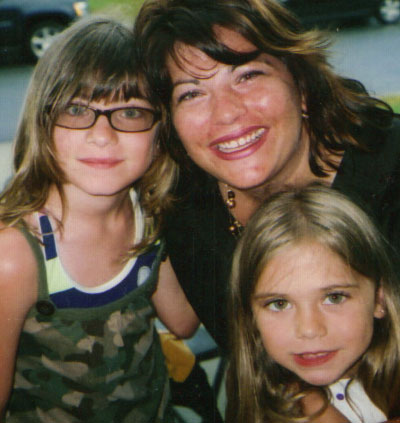 from Olive79

Hi The pictures are of my two dogs, Blackbery and Star. Blackberry is all black, Star is the one with the white chest and the cocked head. Blackberry is leaping up probably thinking the camera is a treat! Star is the younger of the two, and she is the princess! Blackberry is more rough and tumble type. Acutally Blackberry belongs to Emily, my older sister. The dogs are really the whole family's. They are our only pets and they are pretty spoiled! (Compared to some) I made a Horse City picture and could yo install it to hang up in my cabin? Olive79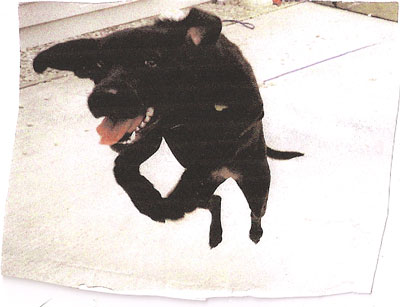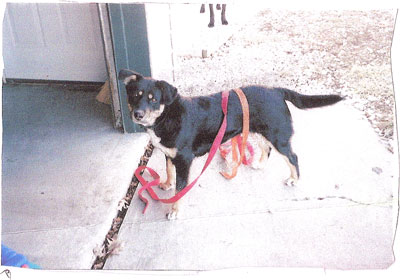 from Snuggle12
Dear Webmistress, Here are some pictures of that show I was talking about a few weeks ago. I rode a Arabin cross named Wishful "Wishy" and we did really well we got 2nd, 1st, 5th,7th out of 13. the first pics are of me and Wishy the next one is of me and my 2nd place ribbon, next there's me and my 1st, then me and my 5th and 7th. Snuggle12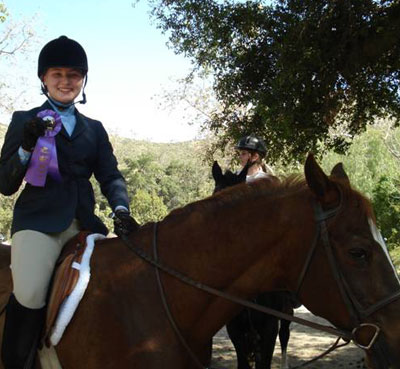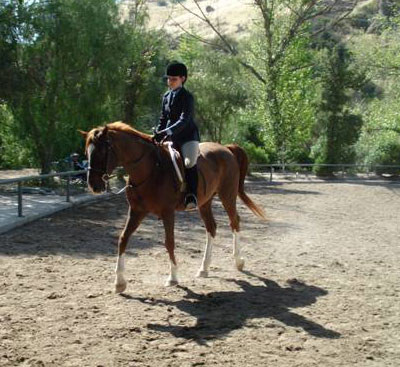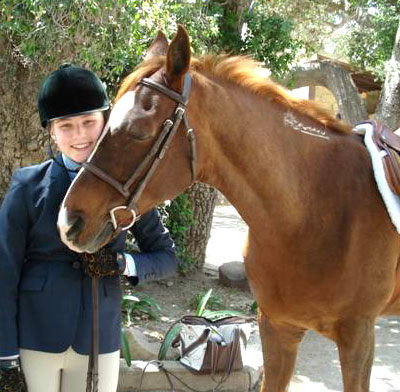 Member Art Gallery
from GraceAnn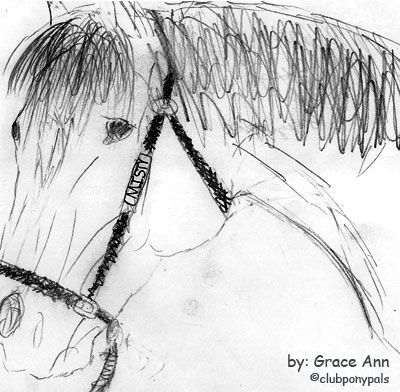 by Fendieshorsegirl34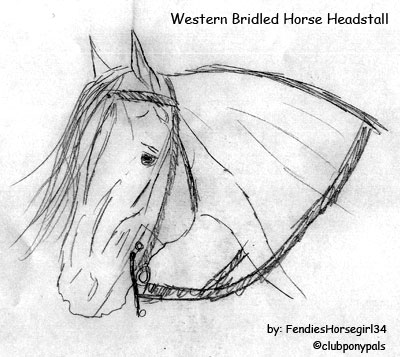 from thesoapgirl3

Thesoagirl3 and The Dreamers here! This is my entry for the next month's art contest. I took me a while, but it's finally done! Hope I get votes! TSG3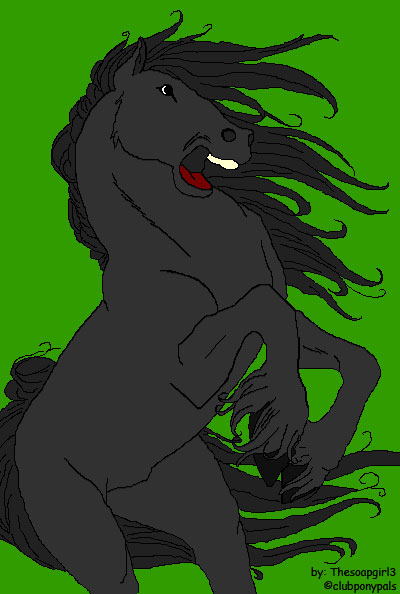 This Week's Winning Postcards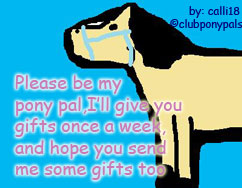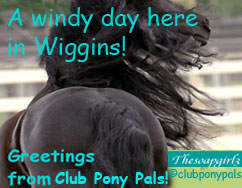 This Week's Postcard Gallery --- the other entries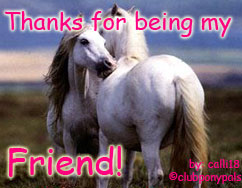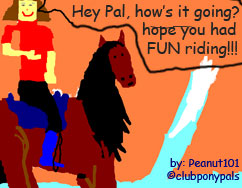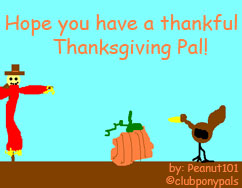 Two postcard entries each week win 200 Wiggins bucks. All art must be original, it cannot include clip art or copyrighted images.

If you want to enter, send your original art to Contests@ClubPonyPals.com or mail it to:
Club Pony Pals
16654 Soledad Canyon Road #382
Canyon Country, CA 91387 USA
Member clubs!
Hang Club Plaques in your cabin show that you belong. Check Member clubs on our new Club Plaque page. You can hang Club Plaques in your cabin and all new clubs must submit a club plaque drawing to be listed. If you cannot make a plaque write to Contests@ClubPonyPals.com and we can have Mrs. Crandal or Admin3 our new staff artist help you out.
Dear Pony Pals

Send in your photos, stories and drawings for our contests.

e-mail them to Contests@ClubPonyPals.com or mail it to:

Club Pony Pals
16654 Soledad Canyon Road #382
Canyon Country, CA 91387 USA

The first printing of collectable stickers is almost gone. For the next week or two, if you want a sticker and bookmark make sure and include a mailing address where we can send it.

Please include your user name and the email address you used to register in your letter, too.

Webmaster
Play These Games to Earn Wiggins Bucks

Play these to earn bucks! Each week, that week's highest scoring

Scavenger Hunt
Winner gets 3000 Wiggins bucks,
next nine members scores below that get 500 bucks each.

"Scavenger Hunt "

microphone

EquusCaballus

Ruby Rox

rp2

iluvhorses0699

Efarik

GooneyGirl11

nevershoutnever

Lucinda Sanders #1

Kell27


Math Games
High scoring players in addition,
subtraction or multiplication earn 500 Wiggins bucks,
next nine players who have high scores earn 100 bucks each.

"Add Like Mad"

kande

Nat2

jliebe

Skyward

ShamrocksMagic

anaflm

Azura_Rose

vetvic

Candy1

PhantomStallionLuver

<![if !supportEmptyParas]> <![endif]>

"Subtraction Action"

CurlyQ

rp2

microphone

MissLady

Rylie Shannon

djbates

AiZhen

Ilse0402

ugnelion

Candy1

<![endif]>

"Multiplication Station"

CurlyQ

HayashiOkami

PhantomStallionLuver

jliebe

thesoapgirl3

AnimalLover 808

morgan132321

djbates

Stellalovesme

jrh09
Pony Pal Thoughts for the Day
Courage, wisdom born of insight and humility, empathy born of compassion and love, all can be bequeathed by a horse to his rider. ~ Charles de Kunffy
_____

Horses aren't my whole life they make my life whole
~ Club Pony Pals member Jaffacakes98