Volume 3 Number 1 - July 13-19, 2009
Club Pony Pals News
Third Anniversary Issue
More Pony Fun Starts
Dear Pony Pals

The Green Market is now open for business! If you have some extra apples, head down to that store in downtown Wiggins and you can sell them there. Take the time to do some shopping. There's lots of good stuff to buy and more being added soon. If you have something you want to buy at that store, just ask and you may get it.

Come by on Friday July 17th -- that's our next virtual sleepover, from 8pm to 10pm EST. Pam, Anna, Lulu and I will all be there, chatting and answering questions. Stop by and visit!

There are also two birthday parties scheduled, the next one is for member 5a94 on July 27th, and one in August, too. If you want to schedule a chat on your birthday, just write a note to me on the forum and I will see what we can do.

This week the new regular Pony Pal chat in the afternoons has been great! Pony Pals from Ecuador, New Zealand, England and all over the USA stopped by to visit with their Pony Pals from our game. There was even a short look at one part of our new multiplayer game, where players try to throw around a beach ball.

Whenever you log on, if you see a title that says "Live moderated chat going on now. Click here to join!" that means chat is live! When you click on those words you will be taken to a moderated chat window. Our same forum rules apply. That means no last names, no personal information and nothing mean or creepy.

There are also two birthday parties scheduled, the next one is for member 5a94 on July 27th, and one in August, too.

Our members continue to share their amazing artwork here in the Weekly. The jigsaw entries were so good that it was a tie and both members got prizes.

Our June Story contest entries are waiting for you to read at this link. Voting for our June story contest started on July 1st. We will declare our winner during the July 17 sleepover. Vote for your favorite story as many times as you want. Our story contest's winner -- chosen by voting members -- will get 2500 Wiggins Bucks. The next two runners-up each get 1000 Wiggins Bucks. Please email your story entries to Webmaster@ClubPonyPals.com
or post it in our forum. Stories can be any length. This is Club PONY Pals so there should be a pony or horse in it somewhere.

Our coloring contest entries are ready to look at and vote for your favorite

Deadline for voting is Friday, July 24th. This is your chance to choose who will earn 1000 Wiggins bucks for their coloring skills!

ClubPonyPals has another NEW contest: "This Month's Best YouTube Video about ClubPonyPals." Each month we will award 500 Wiggins Bucks to the player who posts the best video about our club. YouTube is a site that has all kinds of content on it and you will need your parents permission to go there. Please make sure and ask your parents!! If you do get permission, you can go to YouTube and search for Club Pony Pals. There are two videos already there. They are automatically entered! Be creative!

This week's high scoring players or math games got 100 Wiggins bucks, the next nine high scoring players got 50 bucks each. Start solving those math mini games in Pam's game collection in Crandal's barn loft.

Our weekly jigsaw art contest is still going. Each week, the winner gets 100 Wiggins Bucks, a bumper sticker and a bookmark that is redeemable for some virtual pony treats on the sign in page where it says "coupon code."

This edition of The Wiggins Weekly marks our third anniversary of publication.How should we celebrate the start of our third year ?

P.S. We are looking for new members. If you have a friend you think might like our Club, please tell them to sign up and try it. The only way we can keep our site free is if we get lots of new members.
Jigsaw Puzzle Contest Winners
Dear Club Pony Pals,

I love Club Pony Pals. I sent in the coloring contest and a picture I drew for the weekly jigsaw contest. I had to photocopy my picture because my mom says I should keep the real one. Good luck to everyone out there who is entering the contest. With love, Lacey12 & lacey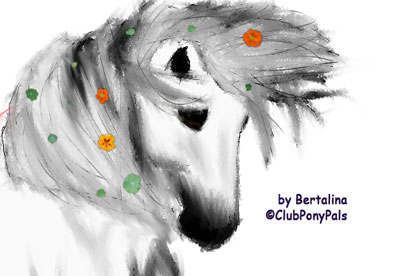 jigsaw contest- do you like it? -- C L @ ! R E (Bertalina)
Lacey12 and Bertalina each got a free bumpersticker, bookmark and 100 Wiggins bucks for sending in this great drawing. If you want to enter, send your art to the Webmaster@ClubPonyPals.com or mail it to:
Club Pony Pals
16654 Soledad Canyon Road #382
Canyon Country, CA 91387 USA
If you want a sticker and bookmark make sure and include a mailing address where we can send it!
Member art gallery
by 1goldbug & Samantha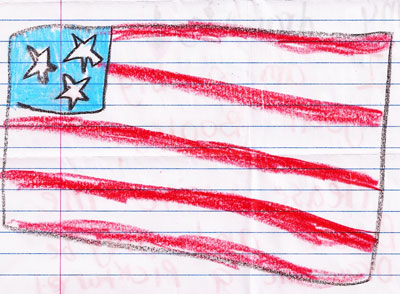 Dear Pony Pals,
I hope you like my drawing! I am a big fan of your books! Please write me back and maybe draw me a picture! Your fan, Ambrossia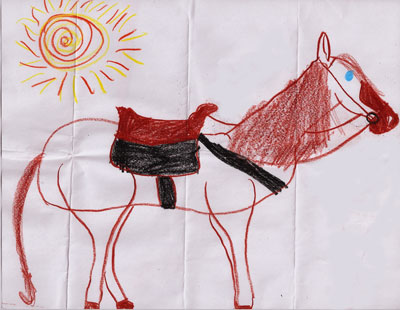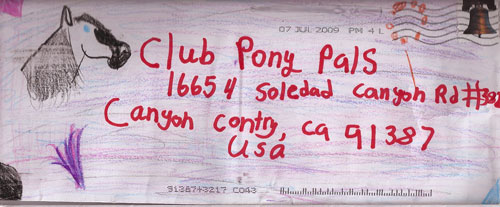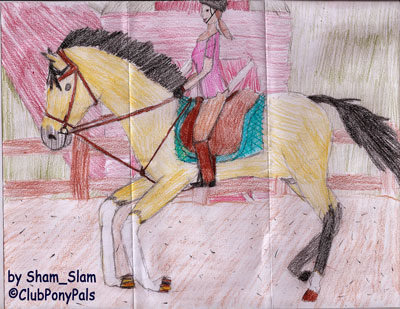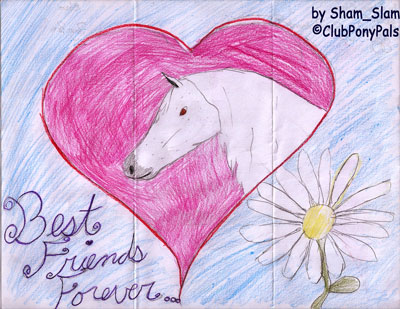 by Sham_Slam & Faith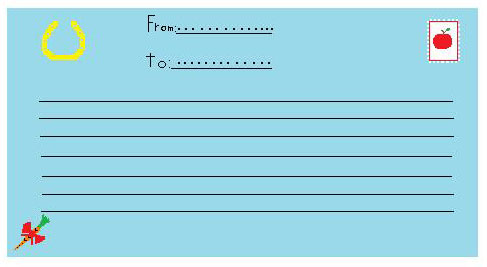 Britnie's post card design
envelope from MagsJonas & JB
Dear Club Pony Pals,

I love Club Pony Pals. I sent in the coloring contest and a picture I drew for the weekly jigsaw contest. I had to photocopy my picture because my mom says I should keep the real one. Good luck to everyone out there who is entering the contest. With love, Lacey12 & lacey
envelope by lacey12 & lacey
Dear Club PonyPal
This is a jigsaw engry. I did a different one last week. If I win I would like you to deposit the money into honi909 and Dakota. Love, M***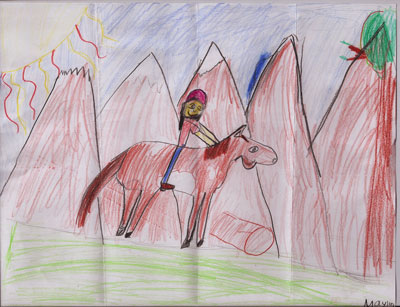 by honi909 & Dakota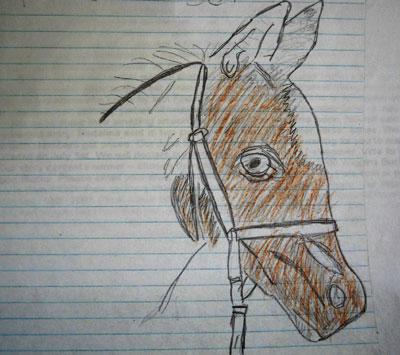 This is a drawing i did when i was 7 yrs old horseluver4evr & tucker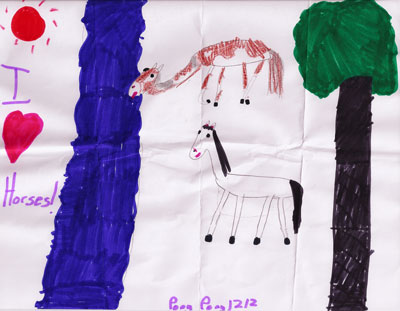 by ponypony1212 & Sweetie
Dear Pony Pals
I'm Elizabeth T. and theres some pictures in the envelope.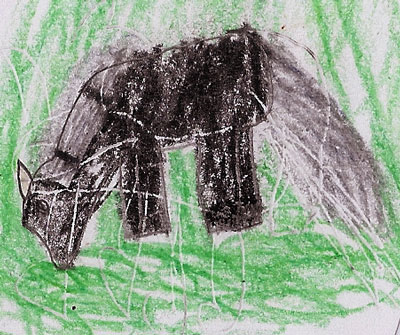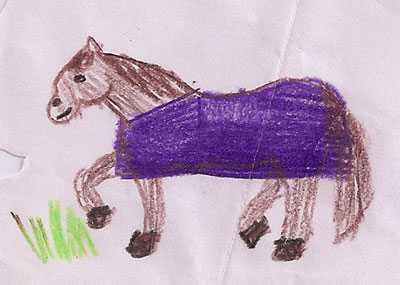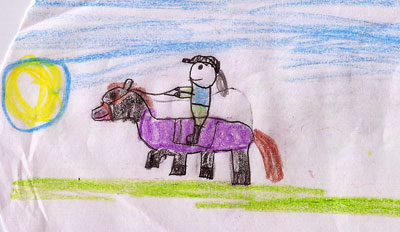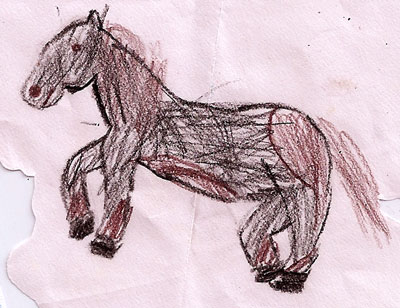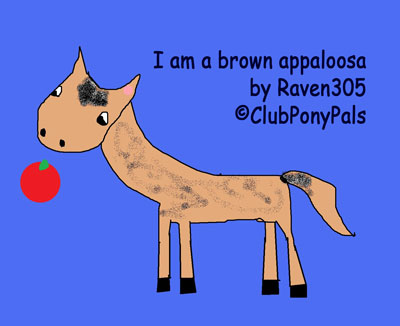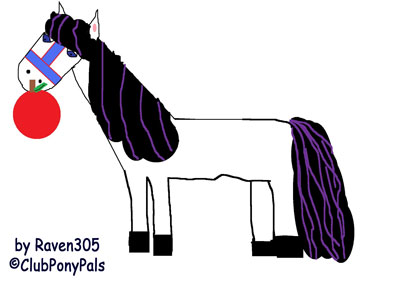 by Raven305 & Raven
Pony Pal Photo of the Week
from pumpkinxoxo & Polfa
Club Pony Pals Forum Posts of the Week
katyperry & Blitz writes
Hi Lulu and Snow White

i love snow white almost as much as my own pony cheekie she is a bay and she is 13.1 like snow white!! do you want to ride together when we can and do you know what other things are being made for club pony pals cos i love this game and i want it to just get better and better!!

katyperry & Blitz
_______
Mimi567 & mimi writes
i like the bus stop alot but i was planing to buy a new saddle for mini so riding her is better than spending two wiggings bucks. dont you think? so i am working on my goal wictch is 920 wiggins bucks PS mske that 950 wiggins bucks insted of 920
_____
ponyprincess9 & Dreamer writes
heres some tips to get noticed on this game 1.make high mini game scores.mini games like apple bounce. 2.send messages to the people when you click on Go To The Forum,click those people and scroll down and click on send message. 3.join live moderated chats.next one is on the 17th of this month. I am really famous on this game so you might be to! PP9 & Dreamer
_________
Bella & Cochise writes
Hey Mrs. Crandal!!! So of course you know Daisy and Splash! Well i dont think that one buck for each time you groom them is enough. I groom horses for a job and i get paid 10 dollars per horse. So maybe you can bring the reward up to 5 bucks?

and also we need more ways to get bucks. Why does the stuff in the shop have to cost so much? I mean really is it practical to have something over ONE THOUSAND bucks?

ok thankyou for your time, Bella and Cochise.

please write back ASAP!
Jane Crandal responds
Dear Iambella Hey and hi! We talked on the chat today. It's so hard to answer questions there, glad you wrote me here. Please read the newsletter, there is lots of information there about contests where you can win bucks! If you need Wiggins bucks right away, the quick solution is to buy some bucks from the store link at the top of our game window. When the Green Market opens you can sell any extra apples you might have to the market, they make excellent apple cider there. That is another way to earn bucks -- pick apples. Until the market opens you can also play mini-games, the math games give you 100 bucks if you get the weekly high score and 50 bucks if you are one of the top ten players. Other mini-games give you a few bucks each time you play them. Check the Wiggins Weekly for contests where you can earn even more Wiggins bucks. As we build out the site there will be even more ways to earn bucks. Watch the Wiggins Weekly e-newsletter to find out how. The law of supply and demand means that grooming Splash and Daisy earns you one buck apiece, that is what Crandals Barn pays. Same deal for the saddles. The prices are based on how much a similar new saddle would cost, actually for as nice as those saddles are they are not expensive. Every item in Kline's is priced just like it would be in a real tack store, that's where the prices were set.
JC

Dear Pony Pals

Send in your photos, stories and drawings for our contests. Every entry that includes their mailing address to get a free sticker and bookmark, the winner gets 100 Wiggins Bucks deposited into the player account of their choice. Please include your user name in your letter, too.

Webmaster
Top High Scores from last week

"Crandal's Cross Country Course going North"

names at
hayleerae12
keyara
RascalHuggins
clover1
misslola
QueenS.K
RascalHuggins
wildfirerox
alexkenzie

<![if !supportEmptyParas]> <![endif]>

"Crandal's Cross Country Course going South"

names at
keyara
hayleerae12
aej1998
mybuety
Kruszon
misslola
carolinagirl104
cloe50
Rebel Rocks

Play these math games to earn bucks! Each week, that week's highest scoring players in addition, subtraction or multiplication earn 100 Wiggins bucks, next nine players who have high scores earn 50 bucks each.

"Add Like Mad"

dudlygirl
Kdoepker
horseegirl122
KerBlang
Flashie1
frosty
Horse Lover 101
Zephrys
Abigail Kristin
pony_girl_101

<![if !supportEmptyParas]> <![endif]>

"Subtraction Action"

KerBlang
Flashie1
horseegirl122
pony_girl_101
Lpetz23
dudlygirl
1213animals
clreichert
allyalli0
clreichert

"Multiplication Station"

loloz1
HayashiOkami
Flashie1
TIHE9
French Indian
Drizzleherb
kostopulas3
ponyprincess9
pony_girl_101
ruffianrules4ever

"Main Street Matchup" our newest game!

midfield12
Magecat
Kdoepker
jessica stout
AmetistaAmore9409
TIHEANNIE0
Skipper234
C Rose
midfield12
Cheverlyc
Pony Pal Thoughts for the Day
It's all in the mind y'know.
George Harrison
________________________________
What you can't duck, welcome.
from Savvy Sayin's by Ken Alstad