Volume 2 Number 52 - July 6-12, 2009
Club Pony Pals News
Summer Fun in Wiggins
Dear Pony Pals

You don't need to ride your pony to get to downtown any more! You can take our new "Wiggins Express" bus to downtown and go shopping. You can catch our bus by clicking on our "bus stop" sign near the mounting block outside Crandal's barn.

While you are shopping at Kline's downtown, check out the new blue halter & lead rope, saddle blanket and English saddle pad.

If you happen to find Scout my kitten in a barrel while you are downtown, you can bring him back on the bus -- but he dislikes bus travel and might start complaining.

We have a new chat feature on our game. We now have an "admin" to open the live moderated chat so you can see whoever is online when you log in and talk to them. Whenever you log on, if you see a title that says "Live moderated chat going on now. Click here to join!" When you click on those words you will be taken to a moderated chat window.

Once you are there, you will see a right hand column that lists which members are there, by username. At the very top of that column, you can click on a square box of pulldown items to edit your profile and choose a temporary avatar symbol that will show up next to your name while you are in the chat.

All messages are moderated, so our same forum rules apply. That means no last names, no personal information and nothing mean or creepy.

A big "thank you" to all the members who came by last Friday's sleepover. Our next one is scheduled for July 17th, so mark your calendars. There are also two birthday parties scheduled, the next one is for member 5a94 on July 27th, and one in August, too.

Our members continue to share their amazing artwork here in the Weekly. This week, Niliwolf sent in a two-part artwork "what rules?" plus a postcard entry. Bertalina sent in two pieces of art from her "water horse" series. The jigsaw entries were so good that it was a tie and both members got prizes.

Our June Story contest entries are waiting for you to read at this link. Voting for our June story contest started on July 1st. We will declare our winner during the July 17 sleepover. Vote for your favorite story as many times as you want. Our story contest's winner -- chosen by voting members -- will get 2500 Wiggins Bucks. The next two runners-up each get 1000 Wiggins Bucks. Please email your story entries to Webmaster@ClubPonyPals.com
or post it in our forum. Stories can be any length. This is Club PONY Pals so there should be a pony or horse in it somewhere.

Our coloring contest entries deadline has been extended to July 10th, 2009. Take a look at the great entries below from Britnie and HayashiOkami. You can earn 1000 Wiggins bucks if you win!

And in July ClubPonyPals has another NEW contest: "This Month's Best YouTube Video about ClubPonyPals." Each month we will award 500 Wiggins Bucks to the player who posts the best video about our club. YouTube is a site that has all kinds of content on it and you will need your parents permission to go there. Please make sure and ask your parents!! If you do get permission, you can go to YouTube and search for Club Pony Pals. There are two videos already there. They are automatically entered! Be creative!

Very soon downtown Wiggins' Green Market will open. If any of you have some spare apples, the Green Market sells cider and will buy your extra apples to use in making their own apple cider. If you pick apples while you are riding along Pony Pal trail, here's a way to make some Wiggins bucks for that new saddle from Klines.

And our avatars are getting closer to being ready for testing! Programmers are working on them right now. Testers will be hearing from us by email just as soon as we have a version ready to for them to try.

This week's high scoring players or math games got 100 Wiggins bucks, the next nine high scoring players got 50 bucks each. Start solving those math mini games in Pam's game collection in Crandal's barn loft.

Our weekly jigsaw art contest is still going. Each week, the winner gets 100 Wiggins Bucks, a bumper sticker and a bookmark that is redeemable for some virtual pony treats on the sign in page where it says "coupon code."

Our third anniversary issue of the Wiggins Weekly is coming right up. How should we celebrate the start of our third year of e-publication?

P.S. We are looking for new members. If you have a friend you think might like our Club, please tell them to sign up and try it. The only way we can keep our site free is if we get lots of new members.
New Coloring Contest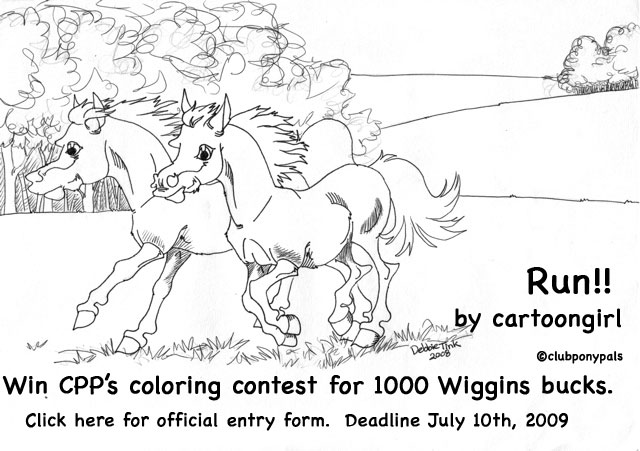 Click to load a printable page.
This coloring contest's deadline is extended to July 10th --
that's Friday of this week!
Here are some of the entries.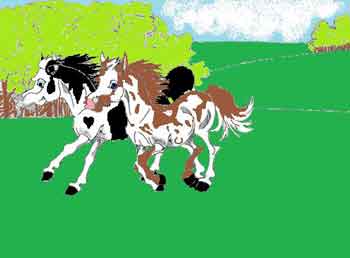 by britnie, who wrote
Hello WebMaster, I hope you like this picture. I thought of how plain it looked without color so I added extra, extra color to it. That's why I have Paint ponies, since they or very colorful. Pony Pal member, Britnie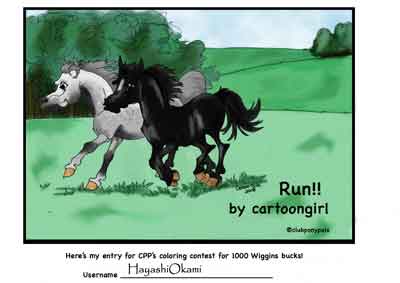 by HayashiOkami
Jigsaw Puzzle Contest Winners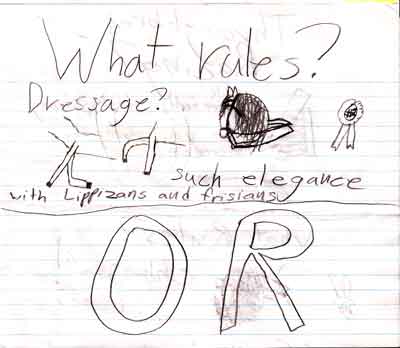 Niliwolf's question is "What Rules?" mouse over to see the answer....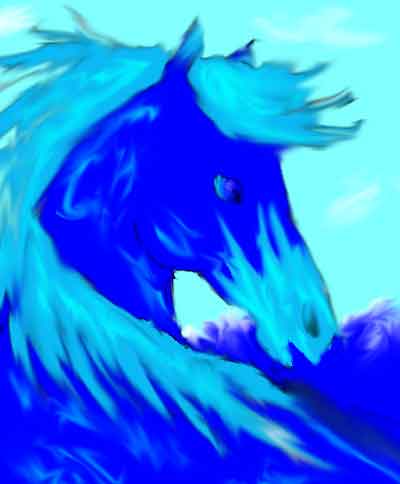 hi this i for the jigsaw contest wish i win i put alot of effort inside Bertalina
Niliwolf and Bertalina each got a free bumpersticker, bookmark and 100 Wiggins bucks for sending in this great drawing. If you want to enter, send your art to the Webmaster@ClubPonyPals.com or mail it to:
Club Pony Pals
16654 Soledad Canyon Road #382
Canyon Country, CA 91387 USA
If you want a sticker and bookmark make sure and include a mailing address where we can send it!
Member art gallery
Bertalina sent a second water horse drawing, too!

hi this i for the jigsaw contest wish i win i put alot of effort inside Bertalina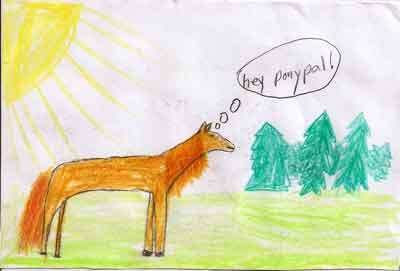 Postcard from NiliWolf
Hi! I just wanted to send in this picture of my pony dressed up for Independence Day. I'm Asherel and my pony is DZ Weedo. Thanks! A & DZW
Here's my art. Mandapanda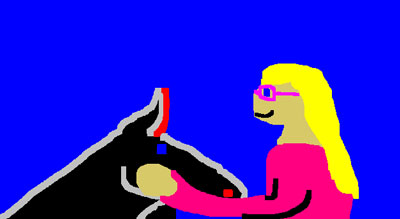 Pony Love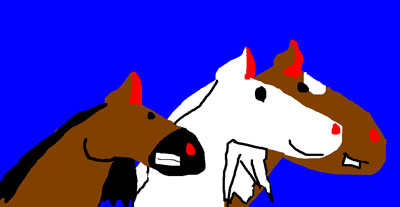 Pony Pals ponies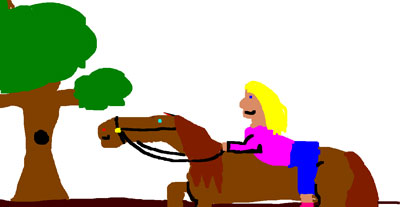 Let's Ride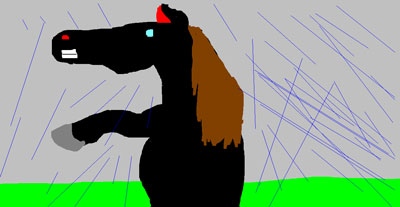 Never Give Up
Club Pony Pals Forum Posts of the Week
Lizzy1
Horses see people as predators, when you get in her stall stick out hand. If the horse touches your hand with it's muzzle, it is kind of a single that says "Okay, you can touch me." Blow in the horse's nose. It is a signal from you that says " I am not going to hurt you." Don't blow to hard in your horse's nose or it might spook it.
___________________
pumpkinxoxo writes
hi Lulu, my real horse is a 16. 2 hh high Dark bay Warmblood gelding with 1 little coronet sock on his hind right leg, and a large star and stripe that goes down half his face! he is so cute! We are going to the nationals in jumping! we love to jump, we go up tp 5'4 feet! and sometimes higher. i love the pony pals! thanks so much
_______________
chillycat12 writes
Mrs.Crandal how do you join in conversations???i'm full of questions cause i'm new. from, chillycat12

Dear chillycat Welcome to our barn! If you see a conversation you want to join, you can write in the box at the bottom. If you see someone's w-mail that makes you think they would be interesting, you can send them a friend request by clicking on "make my pal" below their name. Then you will be able to write them w-mails directly. Thanks for asking! JC
_____________
i☺clubponypals writes
put me in your thing please!!!!
________________
doodlebug1 writes
hi thanks for being my pony PAL.......... DONT U THINK THIS GAME IS FUN......... BUT THERE COULD BE SOME CHANGES
skyrider94 writes back
yeah there definitely could! but i heard that well be able to have avatars and ride together soon. this is a relatively new game. i first started when all you could do is ride the pony pal trail and groom your horse. that was it. the game has come real far since. itll perk up, youll see! :) and im glad to meet you too! if you would like to ask me any questions, go ahead! i dont mind the least! talk to you soon! :)sky
Dear Pony Pals

Send in your photos, stories and drawings for our contests. Every entry that includes their mailing address to get a free sticker and bookmark, the winner gets 100 Wiggins Bucks deposited into the player account of their choice. Please include your user name in your letter, too.

Webmaster
Top High Scores from last week

"Crandal's Cross Country Course going North"

names at
cloe50
RedRevenge
jenisha
EllieIsConfused
mybuety
Chloe1o1
AmarilloSky
nechic
SGbarrelbabe

<![if !supportEmptyParas]> <![endif]>

"Crandal's Cross Country Course going South"

RedRevenge
PonyPals
jenisha
ozzie
mybuety
Horsesgo12
cloe50
ponypony1212
EllieIsConfused
saddlenessgirl3

Play these math games to earn bucks! Each week, that week's highest scoring players in addition, subtraction or multiplication earn 100 Wiggins bucks, next nine players who have high scores earn 50 bucks each.

"Add Like Mad"

loloz1
horseegirl122
WildRose
Mommypaint
Little Joe
PaigeSmith
zinckana
doodlebug1
KerBlang
Raven305

<![if !supportEmptyParas]> <![endif]>

"Subtraction Action"

horseegirl122
dudlygirl
Horse Lover 101
kostopulas3
iffets2
paris9999
horsees101
mobetter
Wild_Rose
animalsrule58

"Multiplication Station"

WildRose
HayashiOkami
skyrider94
riri123
senka8
horseegirl122
EllieIsConfused
raennior49
kostopulas3
Raven305

"Main Street Matchup" our newest game!

avadot
Skipper234
names at
af98366
Snnyblue
Kdoepker
Horselove978
gninned
BurningHeartxo
Raven305
Pony Pal Thoughts for the Day
A really intellegent woman feels what other women only know.
Mr. Tut-Tut, Chinese,17th Century
________________________________
A cat has nine lives but a lie can live forever.
from Savvy Sayin's by Ken Alstad