Volume 2 Number 51 - June 29-July 5, 2009
Club Pony Pals News
Summer Online Sleepover Season Starts
Dear Pony Pals

It's virtual sleepover time in Crandal's Barn again!

This Friday night, July 3, Club Pony Pals' next virtual sleepover starts at 7 pm Eastern Time USA and will be online until 10 pm Eastern Time USA.

Here's how to join other Pony Pals at this sleepover. When you log in, the first page you see will have a title that says "Live moderated chat going on now. Click here to join!" When you click on those words you will be taken to a moderated chat window.

Once you are there, you will see a right hand column that lists which members are there, by username. At the very top of that column, you can edit your profile and choose a temporary avatar symbol.

Pam, Anna and Lulu will be there along with Mrs. Crandal. Pam usually has a game of 20 questions going.

All messages are moderated, so it can get crowded! But it is almost always silly and is always lots of fun.

Depending on where you are, you need to look up what time and day the chat will be for you. Click on this link http://www.worldtimezone.com/ to see when the sleepover will start in your time zone.

After this Friday's sleepover, our next one is scheduled for July 17th, so mark your calendars.

Our members continue to share amazing artwork here. Picassogirl's special summer edition of Pony Pal adventures is an animation! The video is amazing. Click on this link to watch the adventures of Pam, Anna, Lulu, Lightning, Acorn and Snow White on their sleepover trip to the beach.


Our June Story contest entries are waiting for you to read at this link. Our story contest's winner -- chosen by voting members -- will get 2500 Wiggins Bucks. The next two runners up each get 1000 Wiggins Bucks. Email stories in to Webmaster@ClubPonyPals.com
or post it in our forum. Stories can be any length. This is Club PONY Pals so there should be a pony or horse in it somewhere.

There are only a few days left for this month's story contest. The deadline is midnight June 30th, 2009, voting starts on July 1st and the winner will be announced during the July 17 sleepover.

Our coloring contest entries deadline has been extended to July 10th, 2009.

And in July ClubPonyPals is starting another NEW contest: "This Month's Best YouTube Video about ClubPonyPals." Each month we will award 500 Wiggins Bucks to the player who posts the best video about our club. YouTube is a site that has all kinds of content on it and you will need your parents permission to go there. Please make sure and ask your parents!! If you do get permission, go to YouTube and search for Club Pony Pals. There are two videos already there. They are automatically entered! Be creative!

Another new feature starting with this issue are ClubPonyPals Banners for other website pages -- Free! Post them on other websites and we will award 100 Wiggins Bucks for each place that a member posts them and sends us to verify. Here's a link where you can grab them. http://www.clubponypals.com/wigweekly/ww2-51pg2.html

Now that downtown Wiggins is open, we are thinking about opening the Green Market. What kinds of things would you like to see for sale in the Green Market? Please write to Mrs. Crandal on the forum and tell her.

And....our avatars are getting closer to being ready for testing! Programmers are working on them right now. Testers will be hearing from us by email just as soon as we have a version ready to try.

This week's high scoring players or math games got 100 Wiggins bucks, the next nine high scoring players got 50 bucks each. Start solving!

Our weekly art contest is still going. Each week, the winner gets 100 Wiggins Bucks, a bumper sticker and a bookmark that is redeemable for some virtual pony treats on the sign in page where it says "coupon code."

P.S. We are looking for new members. If you have a friend you think might like our Club, please tell them to sign up and try it. The only way we can keep our site free is if we get lots of new members.
New Coloring Contest
Jigsaw Puzzle Contest Winner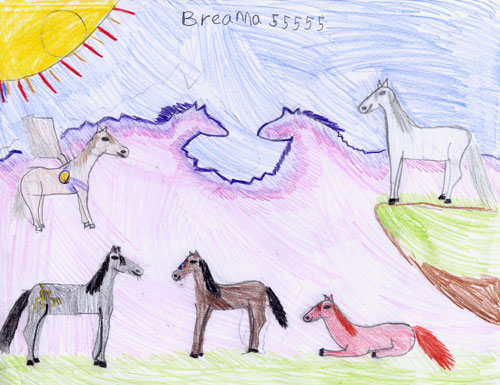 Breanna5555 got a free bumpersticker, bookmark and 100 Wiggins bucks for sending in this great drawing. If you want to enter, send your art to the Webmaster@ClubPonyPals.com or mail it to:
Club Pony Pals
16654 Soledad Canyon Road #382
Canyon Country, CA 91387 USA
If you want a sticker and bookmark make sure and include a mailing address where we can send it!
Member art gallery
From Amelia S. in Indiana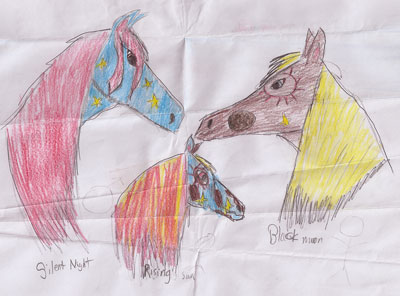 This beautiful drawing came without a name or address in the envelope. Please make sure and put your username and a mailing address in with your entry if you want a sticker and bookmark.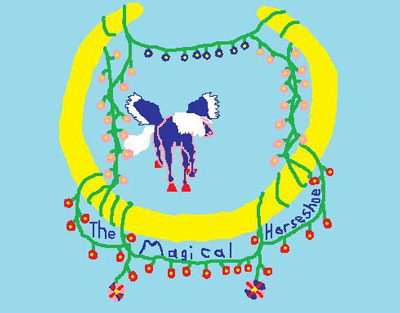 This is my entry for Club Pony Pals. I thought you'll would like it. I put a lot of effort into it. It took a long time to get it done. Britnie
PS Here's a quick definition of what my story will be about: Britnie and Shadow are going to go to a competition. But they have a problem. Shadow is not the best trained pony and they might not be trained in time for the competition............at least not trained enough to win a ribbon.............................
My pony Indian Paint and Scout in the paddock by Chloe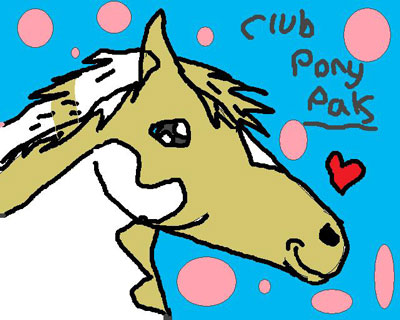 Hi! I love club pony pals and this is my entry for the picture contest.
Kapony and Kona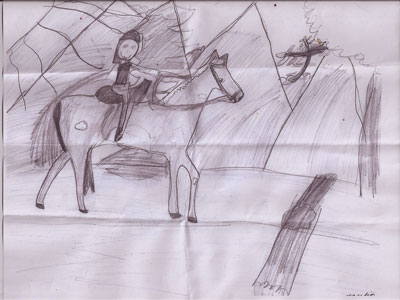 Dear Club Pony Pals

I am 9 1/2. My name is Maylin. If I win I would like you to deposit it into Schoolover's account. But I don't care if I win. It is a jigsaw entry. I originally made it for my dad but then I made a copy. I love the website. I mentioned it to my friend Christine, and McKenzie. Is all the stuff in Club Pony Pals.com something that's in real life? What game gives the most money on Club Pony Pals? Let me know if I'm chosen. Can I enter more than once?

Maylin also known as Schoolover
Hi Schoolover,
Thanks for your entry and letter. We all are so glad you like the website and game. As much as we can, everything in the Club and about ponies on our site is really true to life. The thing that gives the most money on Club Pony Pals is the story contest, next is the math games and the jigsaw contests. Rescuing Scout and taking the letter to the Post Office are next below that. (If you do it every day, you earn about 150 Wiggins bucks a week.
You can enter as many times as you want. Thanks for writing,
WebMaster
Club Pony Pals Forum Posts of the Week
Misty
Dear Anna,

*Jumps with Joy* My dad said if I gave up most Christmas and B-Day presents I could take riding lessons! I think it's so worth it. Because, I'm following my dream not the stuff I don't need.

Misty~

P.S. In the Pony Pal books your my favorite!
_______________
starlight910 & Stardust
I'm NEW! Ter tell ya the truth, my teacher thinks this is a good website.
_______________
271220
Pam, big problem. I don't know how to make money!I really really want the Western saddle for Whitestorm but how am i going to get 1250 credits?Half the time when i look for your kitten she's not there. and mailing letters isn't going to help much as it would take me FOREVER to get to 1250. Help!

Dear 271220 If you need more Wiggins bucks, the quick solution is to buy some bucks from the store link at the top of our game window. You can also play mini-games, the math games give you 100 bucks if you get the weekly high score and 50 bucks if you are one of the top ten players. Other mini-games give you a few bucks each time you play them. Grooming Splash and Daisy earns you one buck apiece. Check the Wiggins Weekly for contests where you can earn even more Wiggins bucks. As mom builds out the site there will be even more ways to earn bucks. Watch the Wiggins Weekly to find out how. Pam
_______________
Breanna5555
I love to sing! I love to do art! THIS IS AWSOME! If only we could see each other but this is better because we don't have call each other beg our parents to have a play date and stuff like that. do you like unicorns?? Any ways hows Angle??? I had a idea Mrs.Crandle is working on people riding together and I think You Brit and me should ride togther as our own pony pals!
_______________
Hi!!! I am a player on the game and I was wondering can you send wiggins bucks to a pony pal? If you can how do you do it? Thanks a lot!

Dear Pony Pal Family --- Thanks for asking! Look for big changes very soon about how you get and give Wiggins bucks to friends! WebMaster
Dear Pony Pals

Send in your photos, stories and drawings for our contests. Every entry that includes their mailing address to get a free sticker and bookmark, the winner gets 100 Wiggins Bucks deposited into the player account of their choice. Please include your user name in your letter, too.

Webmaster
Top High Scores from last week

"Crandal's Cross Country Course going North"

kenya
RascalHuggins
CrazyCami13
ponypony1212
horse1111
robyn1chaz
lake123
mgh
kathyjane
Clue

<![if !supportEmptyParas]> <![endif]>

"Crandal's Cross Country Course going South"

robyn1chaz
horse1111
Kara low
Mistyhorse11
horseegirl122
PonyPals
Kedmic
mgh
Lulubel
robyn1chaz

Play these math games to earn bucks! Each week, that week's highest scoring players in addition, subtraction or multiplication earn 100 Wiggins bucks, next nine players who have high scores earn 50 bucks each.

"Add Like Mad"

horseegirl122
WildRose
Mommypaint
JessieJoy
rnplus2
Lulubel
Raven305
HorseCrazyMGirl
JannelleRea14
orange11

<![if !supportEmptyParas]> <![endif]>

"Subtraction Action"

horseegirl122
WildRose
Horseluvr4lufe
chelsea2
holly1909
emilyspal
Raven305
Devanni
Kaitlin555
mimi567

"Multiplication Station"

HayashiOkami
WildRose
horseegirl122
emmalouski
Katie the Horselover
Moo Dy
Britnie
iluvmylucy
rnplus2
horselover2727

"Main Street Matchup" our newest game!

moemoney97
keely
ray09
Horseluvr4lufe
thehorsegirl
Skipper234
WildRose
MBRShorse
RascalHuggins
Lizzy1
Pony Pal Thoughts for the Day
Nothing is more conducive to peace of mind
than not having any opinion at all.
Lichtenberg, 1764-99
________________________________
Saddle your horse before sassing the boss.
from Savvy Sayin's by Ken Alstad