Volume 2 Number 50 - June 22-28, 2009
Club Pony Pals News
Rave Reviews as Downtown Wiggins Opens
Dear Pony Pals

Now members who ride to Anna Harley's paddock at the edge of Wiggins can tie their ponies and walk into downtown Wiggins.

Kline's hardware, tack and feed is now open for business. Click on the front door and then on any aisle to bring up their catalog.

There are new tack items like saddles, bridles, saddle blankets, halters and leadropes in different colors and more. There are also bags of carrots, oats and more horse cookies.

With personal avatars, riding together and new personal pages just around the corner, Kline's catalog will soon be filled with more items. As soon as the new personal pages are ready, members will be able to send each other virtual gifts, many of which will not be very expensive. And the new personal pages will show any special tack that the member wants to display.

There are Wiggins bucks for sale at our Store link at the top of the
page, including a special offer that helps benefit Mongolia's child pony jockies in that country's annual summer Nadamm festival. See Wiggins Weekly issue 2-40, April 13, 2009 for more about this offer.

To help members earn some credits to buy items at Klilnes with virtual Wiggins Bucks, on the way to Wiggins and in town there are two new quests that members can complete to get some credits.

First, Scout the kitten is in a barrel and needs to be brought back to the aisle of Crandal's barn. But which barrel? There are barrels in every clearing and in town. The only barrel Scout can't be in is the one where the Apple Bounce game is. That barrel is already in use and has a steady fall of apples into it.

So, to earn ten Wiggins Bucks, mouseover on every barrel. If Scout meows, there he is. Click on that barrel. You'll get a view of Scout in the barrel's bottom. Click on Scout. He goes into your "saddlebag" inventory. You'll need to carry him all the way back to the barn aisle. Then open your inventory, click on the image of scout and then you'll see him in the barn aisle's door. A card will appear to thank you for returning him to the barn.

BUT if you go too fast as you return Scout to the barn, he will first meow loudly at the trot. If you canter, Scout will get scared and jump out of your saddlebag. You won't be able to rescue him again that day. So, members have to decide -- rapid travel or reward?

Scout can be rescued once a day.

Our second new quest is an errand for Mrs. Crandal. On the bulletin board that is next to the vending machine in the barn aisle is pinned a white letter. Clicking on it will put it in a member's inventory. When a member rides their pony to the edge of virtual Wiggins, ties their pony and goes on foot into town, they can reach a mailbox in front of the Wiggins post office. Then if a member clicks on their inventory and clicks on the letter, they can "mail" it. There is a reward for mailing Mrs. Crandal's letter. This letter can be mailed once a day.

There are other ways to earn Wiggins Bucks. Starting this week, there is a prize of 100 Wiggins bucks for each math game top high score and 50 apiece to player who places in the top ten scorers. Start solving!

And remember, the deadline for June's story contest is just about a fortnight (Hi UK members!) away, or ten days. Our story contest's winner -- chosen by voting members -- will get 2500 Wiggins Bucks. The next two runners up each get 1000 Wiggins Bucks. Email stories in to Webmaster@ClubPonyPals.com
or post it in our forum. Stories can be any length. This is Club PONY Pals so there should be a pony or horse in it somewhere. Deadline for this month's contest is June 30th. The winner will get 2500 Wiggins Bucks! So start writing!!

Anna said we need another art contest, too. So even if you can't write or draw, enter our July coloring contest. Read how below.

Our weekly art contest is still going. Each week, the winner gets 100 Wiggins Bucks, a bumper sticker and a bookmark that is redeemable for some virtual pony treats on the sign in page where it says "coupon code."

If you are having problems with the game, you may need to clear your computer's cache files. Read how below.

We have gotten a lot of requests for another virtual sleepover. So mark your calendars, it will be July 3, 2009. It starts at 8 pm Eastern Time USA and will run until 10 pm Eastern time or whenever everyone gets too tired!

P.S. We are looking for new members. If you have a friend you think might like our Club, please tell them to sign up and try it. The only way we can keep our site free is if we get lots of new members.
New Coloring Contest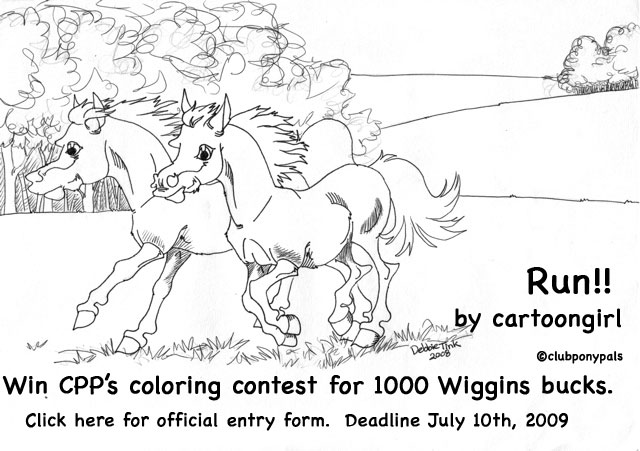 Jigsaw Puzzle Contest Winner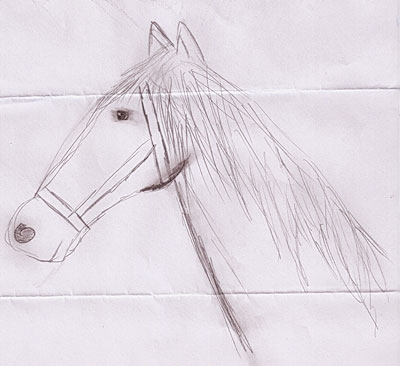 Emma S. won this week's jigsaw puzzle contest! She sent in a bunch of other drawings, too!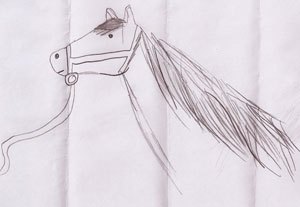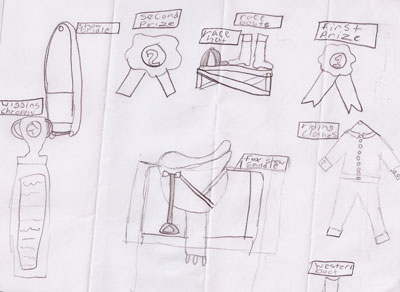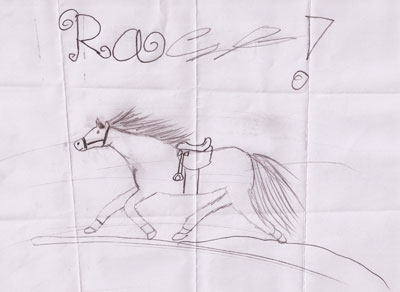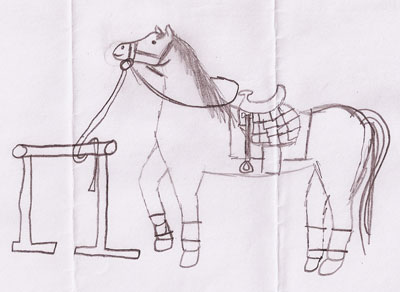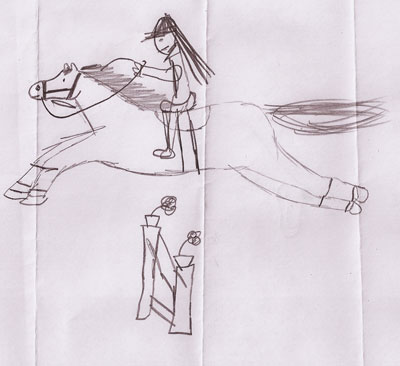 Even Emma's envelope showed Pony Pal Power!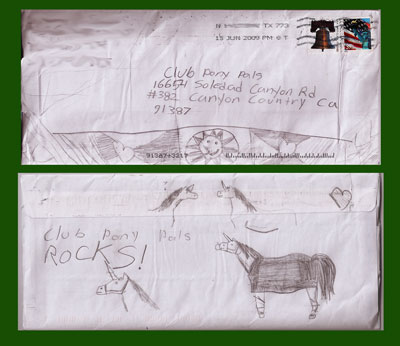 Emma got a free bumpersticker, bookmark and 100 Wiggins bucks for sending in these great drawings. If you want to enter, send your art to the Webmaster@ClubPonyPals.com or mail it to:
Club Pony Pals
16654 Soledad Canyon Road #382
Canyon Country, CA 91387
If you want a sticker and bookmark make sure and include a mailing address where we can send it!
Member art gallery
Pony Luv Pictures!!! by picassogirl

Squille and Pongo

Daisy and Splash

Pam loves Lightning

Anna loves Acorn

Lulu loves Snow White

Ms. Wiggins loves her horses and ponies

Woolie and Fat Cat

Scout and Tinkerbelle
by Nili S.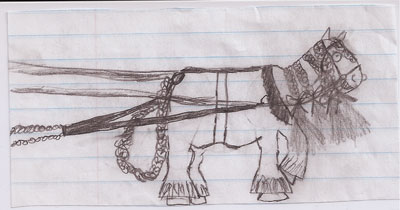 by bkerr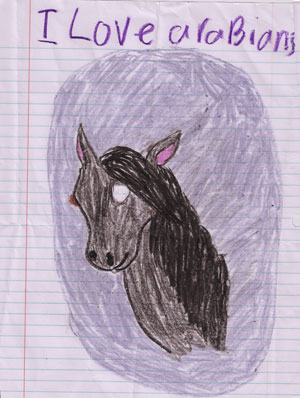 Dear Pony Pals

I am a big fan of your books and ponies. My name is Harlie S and I would like to ask you a question. Is Lightning Pam's pony a boy or a girl because in one book it says she is a girl and in another it says she is a by. Then he/she goes back and forth. Please answer my question because I love your books a but when it says she is a girl then a boy then a girl a again it is very confusing!

Your want to be a Pony Pal,

Harlie S.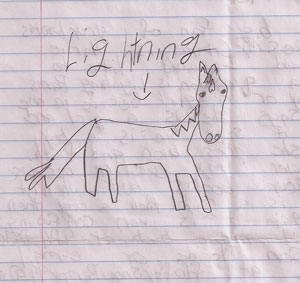 Dear Harlie -- Lightning is a mare, she was born in Ireland and you can read all about her in Super Special #2 "The Story of Our Ponies." Webmaster
Club Pony Pals Forum Posts of the Week
chelsea2 & Frosty
What to do in a new barn
#1 DO NOT RUN!
#2 DO NOT BE MEAN TO THE HORSES!
#3 DO NOT BE MEAN TO PEOPLE!
#4 HORSES COME BEFORE YOU!
#5 HOPE THAT YOU KNOW SOMEONE THERE!
#6 THAT IS ALL!
AND THAT IS CHELSEA'S 6 THINGS NOT TO DO IN A BARN!
_______________
anara0414 & amara
hello i currently own a horse rescue and we have 10 different horse breeds we don't just have on i have a Morgan who is 8 then i have a Belgium who is 22 i also have a 23 year old ottb.lamins terms off the track thoroughbred. then we have a 2year old tri color paint. then we have a dutch warm blood who is 15 then i have an 10 year old quarter horse.then i have a brown and white paint that is 22 years old then i have a Grey Arabian who is 7 years old . then i have a 4 year old appendix.then last but not least i have a 24 year old Arabian cross we don't know what he is crossed with.the appendix and the 10 year old quarter and the Belgium and also the ottb and the 23 year old Arab cross and the full Arab the 2y/o tri paint and the warm blood and the brown and white paint are all rescues that have came from bad situations and we get them give them TLC and care and love and they all turn out to be great horses 8 of theses are mine and my family's personal horses. we do a lot of natural horseman ship.my mom is the trainer.we also do a lot of showing. when i say showing i mean barrels poles western pleasure hunter jumper dressage showman ship halter raining team pending roping and alto of other stuff.i 44 days we will go to world shows. if anyone wants to be friends just add me i am fun and loving and i love the horses. i am not afraid to go out and get dirty. i love to show and train the horses and i also love to rehab the rescues and give them the TLC they need and not the abuse they don't need. my horse on hear is Amara contact me or add me anytime

love amara0414
_______________
WinstonSpirit & Winston
I named Winston after my aunt's quarter pony. He was her first pony. My aunt taught me how to ride on him. He was the sweetest pony ever. Every summer I would stay at her farm. Then he started getting sick and her died of old age. When my mom bought me Winston, I knew it was the perfect name for him. I have made some new pals!Kali said she was going to make a acount as soon as her mom gets the computer fixed ( her hamster chewed the wire in half!) Pals,
WinstonSpirit & Winston
_______________
Britnie and Shadow
Dear Mrs.Crandal, This is just a thank you and appreciation letter. Thank you for making this site. Thank you for making it free. Thank you to everyone who has helped, and is still helping, make this site better. Thank you for realistic riding. Thank you for all the mini games. Thank you for letting me test wiggins and other stuff. Thank you for taking my ideas into consideration. Again, thank you for making this site free. Thank you for adding more and more stuff to this site. I appreciate having this site to play on. Thank you for making sure this game won't crash my computer. Thank you for not having to download this game. I used to always go search for a game like this but the only way I could play one like this was to download it and pay to play. I appreciate whoever helped, or still helps, this game. Now, I never go look for more games because I already have this one. I hope you get this message. If you do, make sure EVERYONE WHO HELPED OR HELPS this site reads it. Again, thank you for a wonderful game that is free and has no down load. and one thing, will you promise me something? The promise is, is to NEVER sell this site so it'll always be free, as long as you live. Your special friends,
Britnie and Shadow
_______________
Hope & Gold Dust
Hi JC Everthing is Wonderful in Wiggins and the tack is Great I bought the western saddle and the halter and the purple saddle pad the oats too thanks ssooo much for working hard on it! Love hope P.S Gold Dust says thanks too and she likes her new Blanket.
_______________
Jane Crandal writes about clearing your cache
When we built downtown Wiggins we had to make a lot of things change in our game. If you are having problems you need to empty your cache. If you use internet explorer, you will have a large "e" icon on your desktop or on your start menu. This icon operates the Internet Explorer program. Right-click on this icon. From the drop-down menu, select "Internet Properties". A box will display with file tabs across the top. The first tab will be "General". On this page, left-click the "Delete" box next to "Browsing History". Another box will display. Be sure the following items have a check mark: Preserve Favorites Temporary Internet Files Cookies History Form Data Click "Delete" at the bottom of this box.

When the delete process is completed, that box will disappear.

Left-click the "OK" button to close the "Internet Properties" box.

Re-boot the computer.

That should fix it and it will work fine. JC
Dear Pony Pals

Send in your photos, stories and drawings for our contests. Every entry that includes their mailing address to get a free sticker and bookmark, the winner gets 100 Wiggins Bucks deposited into the player account of their choice. Please include your user name in your letter, too.

Webmaster
Top High Scores from last week

"Crandal's Cross Country Course going North"

flawless_dreamer
kenya
horse1111
MeganGabriella
sarahhorse1
saddleclubgal
pup1foal
QueenS.K
starlight98
flawless_dreamer

<![if !supportEmptyParas]> <![endif]>

"Crandal's Cross Country Course going South"

Vykutisss
ilovehorses09
lisa11
sarahorse
bmr
poky07
meredithawsom99
mgh09
misslola
Zorro

Play these math games to earn bucks! Starting this week, the week's highest score in addition, subtraction or multiplication earns 100 Wiggins bucks, next nine players who have high scores earn 50 bucks each.

"Add Like Mad"

madpk5
horseegirl122
saddy66
tomorrowtwice
Zorro
msjane
elizabethhealy0
~KT~
Raven305
battle

<![if !supportEmptyParas]> <![endif]>

"Subtraction Action"

Horseluvr4lufe
ace040606
naveh
kitdoll9
Raven305
chocolate chip
i luv brett
horsez1myhart
You could have earned 50 bucks here!
You could have earned 50 bucks here!

"Multiplication Station"

HayashiOkami
ponyluvr4eva
Black Fire
jenamayetall
Zorro
abbygirl128
madpk5
schoolover
LorP06
Neekey

"Main Street Matchup" our newest game!

uptop
sammygurl88
**Magic**
saddleclubgal
kinz
rama2001
glorose
Mythica
lisa98
Kigerlover
Pony Pal Thoughts for the Day
If you hear that someone is speaking ill of you, instead of trying to defend yourself you should say, "She obviously does not know me very well, since there are so many other faults she could have mentioned."
Epictetus, Enchridion, 2nd century
________________________________
A horse thief takes one trail. The posse has to choose from ten.
from Savvy Sayin's by Ken Alstad