Volume 2 Number 48 - June 8-14, 2009
Club Pony Pals News
Sleepover Surprise ---
Dear Pony Pals

Mark your calendar, our next virtual sleepover is this Friday, June 12th from 7 pm to 11 pm Eastern Standard Time. We have a surprise planned that should make our games and chatting even more fun than before!

Speaking of sleepovers, from now until Friday is all the time you have to vote for your favorite story in our May 2009 story contest! Because we have so many entries this month, the top five stories will each get 1000 Wiggins Bucks and the winner will get 2500 Wiggins Bucks. So there is a lot at stake! Read them and vote for your favorite before June 12. The winners will be announced at 10:30 pm EST during our next virtual sleepover on June 12th.

Testers should be on the lookout for an email this week about downtown!

Our game changes every week. Remember to groom your pony to keep it healthy and happy. Don't forget to send a message to your friends in the forum so they know what you're up to.




PS. Just a reminder -- We can still use testers. Send me a message on the forum if you want to be added to the list.
Jigsaw Puzzle Contest Winners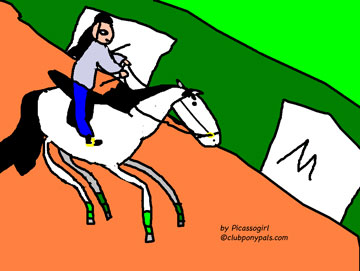 My picture. Dressage. PicassoGirl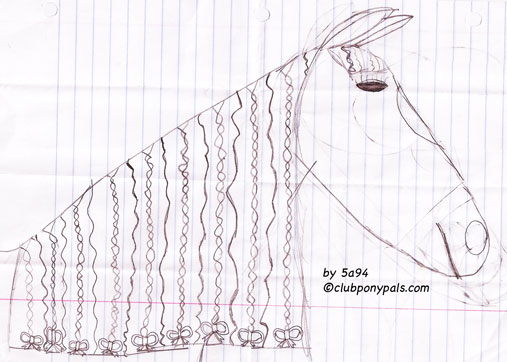 My name is Amber I am 11 years old turning 12 this Summer. This is one of my drawings. What do you think? Love, Amber (5a94)
Picasso Girl and 5a94 tied for this week's jigsaw puzzle artists!
Each got a free bumpersticker, bookmark and 100 Wiggins bucks for sending in this great drawing. If you want to enter, send your art to the Webmaster@ClubPonyPals.com or mail it to:
Club Pony Pals
16654 Soleadd Canyon Road #382
Canyon Country, CA 91387
More member art
From Pony Pal Britnie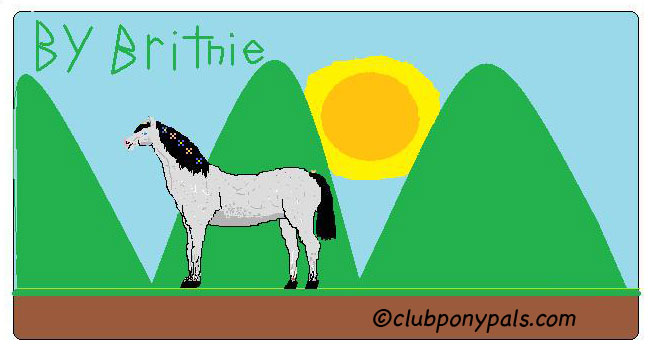 From Pony Pal Horse Grl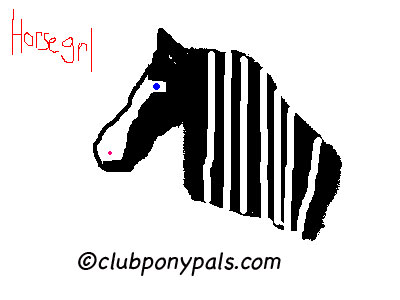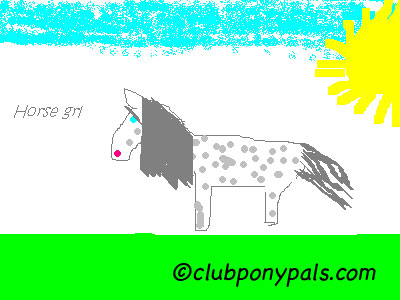 Member Photos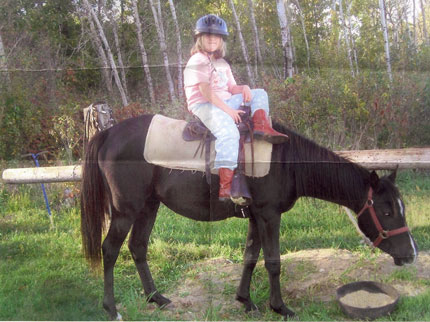 My horse, Rosa, I told you guys on the internet about her. She could have a baby. I hope she has a filly. Rosa is doing good.This is a picture of me riding Rosa. What do you think?
Love, Amber (5a94)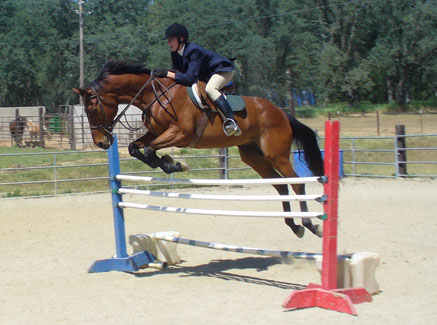 Here is a photo of me and a lesson horse. I am 15 and a half years old and this thoroughbred gelding, named Genuine James is a lesson horse that I have ridden for two years and also shown. Unfortunately, he's for sale and so that's why we took a picture of him. Since it turned out nicely, I thought I might as well enter it in the contest. Hope you like it!
Johanna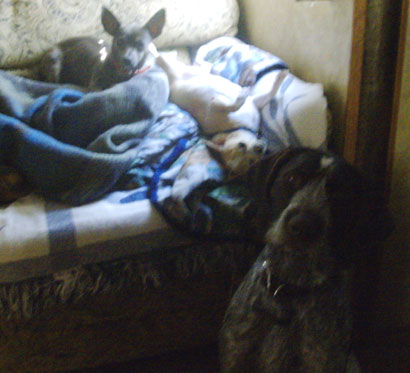 I hope you get these last pictures! Mrs.Crandal says she hasn't gotten these.
Pony Pal, Britnie
PS I added a picture of Angel and I think you can see Art in it too.
Club Pony Pals Forum Posts of the Week
by Mistyhorse11
Oh, my gosh! I can't believe it! Club Pony Pals Rocks! Thank you for making a fun website thats fun for people who don't have a real horse like me. But, I'm hoping to get a horse!
by Abigail831
Hi I am new. I have never been on a forum and I'm lucky I got my mom to find this site otherwise I would have to wait un till I am 13 to get on another site forum. This is AWSOME!!!
Dear Pony Pals

Send in your photos, stories and drawings for our contests. Every entry that includes their mailing address to get a free sticker and bookmark, the winner gets 100 Wiggins Bucks deposited into the player account of their choice. Please include your user name in your letter, too.

Webmaster
Top High Scores from last week

"Crandal's Cross Country Course going North"

72798
Katty
Lulubel
lake123
lisa11
sarahorse
laynee
PonyPals
pacatso123
karter

<![if !supportEmptyParas]> <![endif]>

"Crandal's Cross Country Course going South"

horsegirlnum1
pacatso123
mustanggirl
Katty
Glider
sarahorse
Patrick
sandybeach
PonyPals

"Add Like Mad"

callamay
Kdoepker
Rediet
orange11
sockfoot
SweetiePie2
rp
callamay
Streak1214
callamay

<![if !supportEmptyParas]> <![endif]>

"Subtraction Action"

Lulubel
pony_girl_101
20304
SevenHoofbeats
QueenS.K
runnergirl12
20304
illy
ashleyc8
koko

"Multiplication Station"

HayashiOkami
Lulubel
WildRose
Stolte
Iginla12
Mei
boff13
Carly1234
Schleich
InfernoAngel

"Sheep Herding" our newest game!

chicady
Lisa
Horse Lover 101
HorseCrazy1101
horsrock
Lulubel
horseluver4evr
lillypad123
sandybeach
fallenangel153
Pony Pal Thoughts for the Day
The love of life is necessary to the vigorous prosecution of any undertaking.
The Rambler by Dr. Johnson 1750
________________________________
Hate is like water in a dry gulch. The longer it runs, the deeper it digs.
from Savvy Sayin's by Ken Alstad