Volume 2 Number 47 - June 1-7, 2009
Club Pony Pals News
Spring into Summer
Dear Pony Pals

It's been a beautiful week in Wiggins. Everything is green, birds are building nests everywhere and spring is quickly changing into summer.

The weather outside may be wonderful but that hasn't kept a lot of Club Pony Pals members away from writing their own stories.

This month we have 21 stories for our May 2009 story contest!

These range from a short poem to what looks like the first chapter of a book! The writing is fabulous. With this many stories, it will take a few days for everybody to read them all. Because we have so many entries this month, the top five stories will each get 1000 Wiggins Bucks and the winner will get 2500 Wiggins Bucks. So there is a lot at stake! Read them and vote for your favorite before June 12. The winners will be announced at our next virtual sleepover on June 12th.

Our game developers continue to work on downtown. I've had a chance to walk around this new part of downtown Wiggins --and it's beautiful. There are still a few things that have to be fixed but our testers will get to try out a visit to town very soon.

This week the Pony Pals went for a sleepover at the Wiggins Estate. Lulu tells me that there was lots of wildlife, including a raccoon that came by to check out their food cache, a couple of deer and a fawn. The two deer were really surprised when the girls came out of their tent in the morning! The Pony Pals were amazed when they saw that a snake had left its slithery track -- right through their campsite.

Finally, we have something a little different planned for our next virtual sleepover. It should make the games and chatting even more fun than before! Mark your calendar, our next virtual sleepover is June 12th from 7 pm to 11 pm Eastern Standard Time.

Our game changes every week. Remember to groom your pony to keep it healthy and happy. Don't forget to send a message to your friends in the forum so they know what you're up to.




PS. This is a reminder about testing from Britnie...

Okay, now about the test. A team of people are making down town wiggins. Over there, you'll have all sorts of adventures(I heard from Mrs.Crandal). The test, is for testers, they go and make sure everything works right. When Mrs.Crandal's new barn was being built (You might not have been on at that time), they let testers go and test it, one tester found that the peanut butter and jelly sandwich was not priced, now it is though. At that time I wasn't a tester, now I am though. Are you a tester? If not, you can go ask Mrs.Crandal on the forum and she'll say yes. Now do you know what the test is?

We can still use testers. Send me a message on the forum if you want to be added to the list.
Jigsaw Puzzle Contest Winners
Hi! I attatched my entry for the jigsaw puzzle contest! I hope it works! -Mre21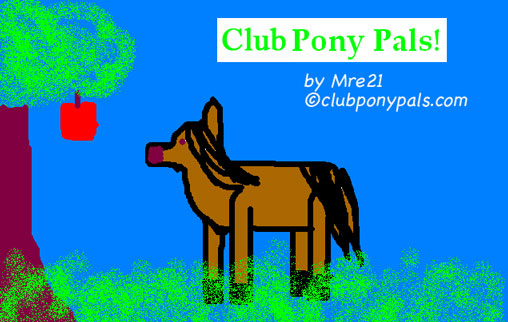 My username is Britnie. Hope you like the drawing. I don't know if you can see it but I accidentally put a hole in the paper! Say hello to everyone! If you look closely at the hill the pony pals are riding on, you'll notice the farther down it gets, the darker the dirt becomes.
PS. Do you see the horse cloud?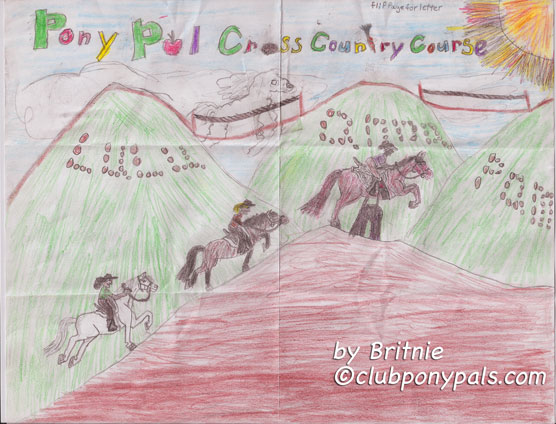 Mre21 and Britnie tied for this week's jigsaw puzzle artists! Each got a free bumpersticker, bookmark and 100 Wiggins bucks for sending in this great drawing. If you want to enter, send your art to the Webmaster@ClubPonyPals.com or mail it to:
Club Pony Pals
16654 Soleadd Canyon Road #382
Canyon Country, CA 91387
More member art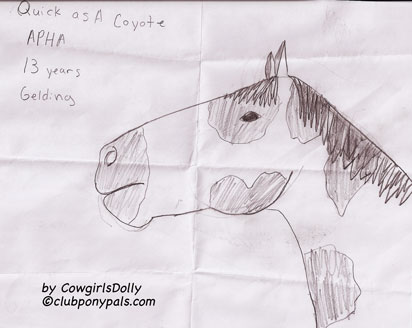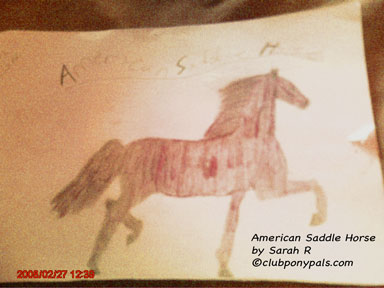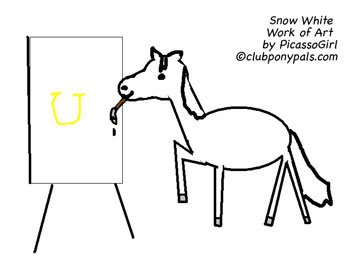 Snow White: Work Of Art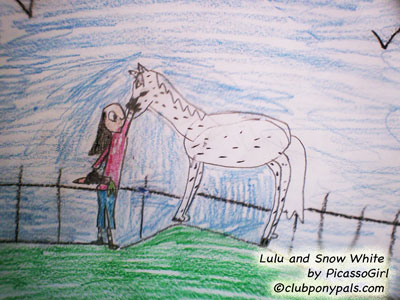 Lulu and Snow What made on paper Made with a plain pencil, a charcoal pencil, and colored pencils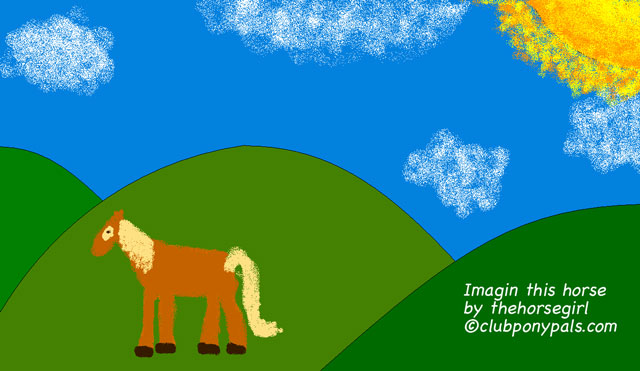 Hope you like this art, I imagin this horse in my head. thehorsegirl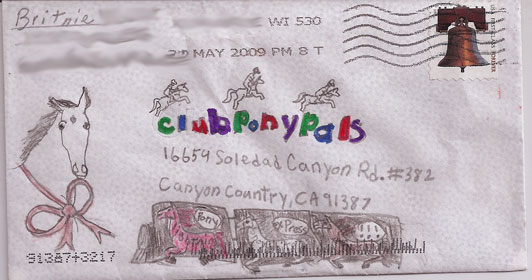 Britnie's envelope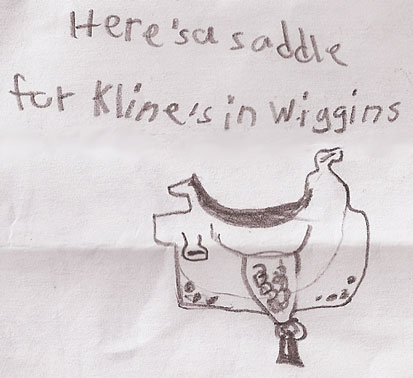 Britnie's saddle design
Club Pony Pals Forum Post of the Week
by thesoapgirl3
Dear Horseluvr4life,

One thing you can try is what I'm doing right now. If you start taking riding lessons, odds are, you might be able to board your horse there. I myself don't have the room at my house for a pony either, and I don't have the money for lessons either... so I'm working around the paddock, yes, that means cleaning poo!!! Things are ALWAYS negotiable, and if you work up the courage to ask, then you will get results! I remember when I first talked to my riding teacher about working something out, I was so scared! I didn't know what to say and was afraid to ask. But when I got up the courage to ask... success! Someday soon I'm going to ask her if I bought my own pony if my riding lessons could stop and I could keep working for the board of my pony. We could probably pay for feed and that's it, but lucky for me I live really close to the place where I ride, so I wouldn't need to pay anyone to take care of him/her.

If this is something that you really want, then someday, you'll get your horse!!

thesoapgirl3 & Golden Dreamer

P.S. - My school pony agrees!
Dear Pony Pals

Send in your photos, stories and drawings for our contests. Every entry gets a sticker and bookmark, the winner gets 100 Wiggins Bucks deposited into the player account of their choice. Please include your user name in your letter, too.

Webmaster
Top High Scores from last week

"Crandal's Cross Country Course going North"

laynee
Lulubel
lake123
horse1111
sarahhorse1
Beana19
bgreen
72798
karter
dom2009

<![if !supportEmptyParas]> <![endif]>

"Crandal's Cross Country Course going South"

Glider
72798
Katty
lake123
PonyPals
sarahorse
horse1111
jazzy1379
Beana19
yubacollege
dom2009

"Add Like Mad"

chickenface105
shorty14792
mini_mi92
shorty14792
ponypower
shortstuff14792
horseloverds
Lilindy
itsmeallme21
starlight4ever

<![if !supportEmptyParas]> <![endif]>

"Subtraction Action"

Bascotasco
judgement
Rediet
Lalc1997
Catstem
westernpaint222
liujenny
Aquawillow
kadoo
----- your name would have been here if you played this game! ---

"Multiplication Station"

HayashiOkami
apache1145
Dahlila6
Sakkora
2kala101
rzhou15
emratzlaff
EMS99
PrincessPony
divinegirl2

"Sheep Herding" our newest game!

Pegasus525
horseloverds
maria13
gemic
horsefreak140
Lizzy1
starlight4ever
starpony8642
GRE0002
Canoeshoe
Pony Pal Thoughts for the Day
All the while thou art studiest revenge,
thou art tearing thy own wound open.
Thomas Fuller, 1731
_______
The test of a vocation is the love of the drudgery it involves.
Logan Pearsall Smith, 1931
___________
To the man who is afraid everything rustles.
Sophocles 5th century BC