Volume 2 Number 46 - May 25-31, 2009
Club Pony Pals News
Where are things in Wiggins?
Dear Pony Pals

This week new member Ponyies wrote in and asked for a map of Wiggins. We have lots of new members, and some of you haven't read Jeanne Betancourt's Pony Pals books. Each book has a map in the front that shows how the town is laid out. My new map shows some of the places where the Pony Pals had adventures, too. Take a look and see if you can figure out where our trails go!

As of Friday, school's out in Wiggins, and the girls are making plans for a campout this week on the Wiggins Estate. In other news, Lulu's dad is planning to be back in his hometown to visit from the summer solstice through the forurth of July.

Our game developers continue to work on downtown. I've had a chance to walk around this new part of downtown Wiggins and it's beautiful. There are still a few things that have to be fixed, but our testers will get to try out visitinig town very soon.

One other note, I've gotten a lot of emails about the lost kitten. Scout my kitten keeps heading off and exploring. When I went down the trail towards Wiggins this week he followed right behind me and then I couldn't find him for a couple of hours before he came home. Please, if you see him and you're not right by our barn, make sure and pick him up and bring him back.

Mark your calendar, our next virtual sleepover is June 12th from 7 pm to 11 pm Eastern Standard Time.

Finally, the deadline for May's story contest is midnight May 31st. That's next Sunday! You can enter by sending the story in an email to Webmaster@ClubPonyPals.com, you can mail them to the mailing address below, or you can enter them by sending them to me in the forum.

Our game changes every week. Remember to groom your pony to keep it healthy and happy. Don't forget to send a message to your friends in the forum so they know what you're up to.




PS. We can still use testers. Downtown Wiggins will launch soon. If you want to be one of the first members to see it, just message me on the forum and you will get to visit downtown before everyone else.
Jigsaw Puzzle Contest Winner
Here is my entry. I hope you pick it. Horse Grl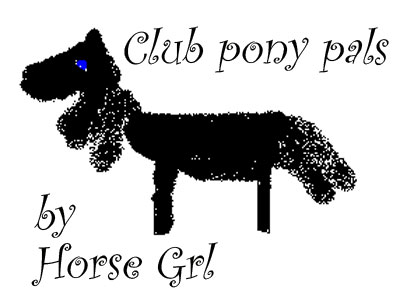 Horse Grl is this week's jigsaw puzzle artist! She got a free bumpersticker, bookmark and 100 Wiggins bucks for sending in this great drawing. If you want to enter, send your art to the Webmaster@ClubPonyPals.com or mail it to:
Club Pony Pals
16654 Soleadd Canyon Road #382
Canyon Country, CA 91387
Member Photos
Hello there! Here are some photos of my adorable pony Tahla and I. I hope you like them! Yours sincerely, Sharna♥
Dear Pony Pals

Send in your photos, stories and drawings for our contests. Every entry gets a sticker and bookmark, the winner gets 100 Wiggins Bucks deposited into the player account of their choice. Please include your user name in your letter, too.

Webmaster
Top High Scores from last week

"Crandal's Cross Country Course going North"

72798
Lulubel
laynee
juniorwildcat1
brianp
3DE
lizzard52
kvenzor
CW1234
BlackB13

<![if !supportEmptyParas]> <![endif]>

"Crandal's Cross Country Course going South"

Lulubel
gabbiegoober
juniorwildcat1
sarahorse
wildfirerox
sarahhorse2
PonyPals
gabbiegoober
3DE
sableslippers

"Add Like Mad"

tinymite
Nickie386
ponyluva
MistyPony1994
Nickie386
mobetter
paul jing1
vph12345
KaylaJUMPS!
Daizyzlove

<![if !supportEmptyParas]> <![endif]>

"Subtraction Action"

leah2512
tinymite
clairegi
elliottpony
flor
Snow white

"Multiplication Station"

HayashiOkami
EquineLuv67
Daizyzlove
tweedlebug24
GlitterGirl2247
gabi78657
twlight1890
bigbone5
cmmy
iluvbeez

"Sheep Herding" our newest game!

lalahorse
Lulubel
Hope
Beauty Lover
Pleachen2
Britnie
starpony8642
Notta
iluvbeez
spencergirl
Catstem
School's Out! --- Pony Pal Thoughts for the Day
Who is wise? She who learns from all she meets. As it is said,
"From all my teachers I have gotten understanding."
Ben Zoma, 1st Century AD
_______
The things we know best are things we haven't been taught.
Vauvenargues, 1746
___________
Folks that always ride in a high lope miss the fun along the trail.
Savvy Sayin's by Ken Alstad