Volume 2 Number 45 - May 18-24, 2009
Club Pony Pals News
Saturday Sleepover Success Summary
Dear Pony Pals

Crandal's sleepovers do take on a life of their own. Last Saturday's event had

1200+ w-mails sent
Scout got lost
150+ brownies consumed
Scout got found
Two club members had a campout next to their computer
Another member got tucked in and went to sleep in a chair right by her computer!

As always, it was great fun and we all had a good time. We plan to have our next virtual sleepover June 12th from 7 pm to 11 pm Eastern Standard Time.

Our April story contest has a winner. With 28% of all votes, "Remembering Buttercup" wins Club Pony Pals member ilyx 1000 Wiggins bucks.

The deadline for May's story contest is midnight May 31st. Time to get writing! We need more entries.

We can still use testers. Downtown Wiggins will launch soon. If you want to be one of the first members to see it, just message me on the forum and you will get to visit downtown before everyone else.

Every week we get lots of letters and photos. Please still email your letters, stories and photos or drawings to Webmaster@ClubPonyPals.com.

Our game changes every week. Don't forget to groom your pony to keep it healthy and happy.



Jigsaw Puzzle Contest Winner
This is a picture of my horse, Wildfire. I drew it on the computer, but it is my original work :)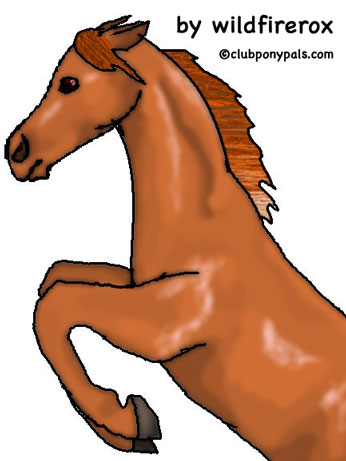 wildfirerox is this week's jigsaw puzzle artist! She got a free bumpersticker, bookmark and 100 Wiggins bucks for sending in this great drawing. If you want to enter, send your art to the Webmaster@ClubPonyPals.com or mail it to:
Club Pony Pals
16654 Soleadd Canyon Road #382
Canyon Country, CA 91387
Jigsaw Puzzle Contest Entries
Dear Club Pony Pals,

Here are some more off my pony art that you can use as a jigsaw. The first one is a water colour, the outher two are colour pencil dawings.

Debbie
showjumping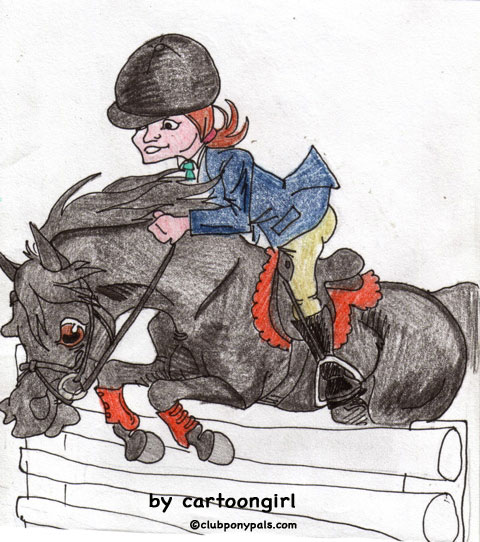 stable busy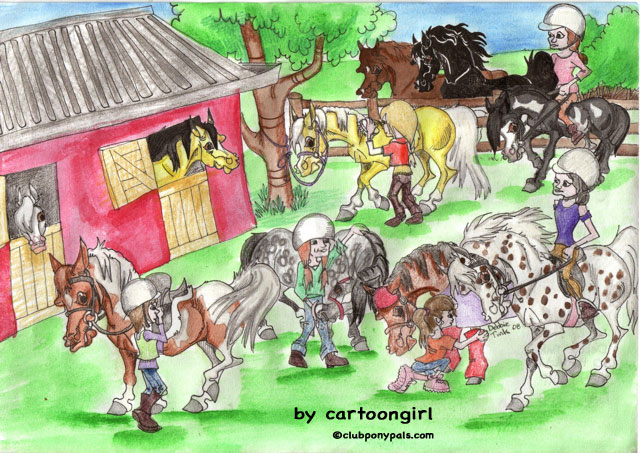 Member Photo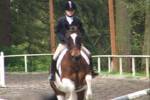 Dear Club Pony Pals
Hi this is my daughter at her horse show
whitepony's mom
Dear Pony Pals

Send in your photos, stories and drawings for our contests. Every entry gets a sticker and bookmark, the winner gets 100 Wiggins Bucks deposited into the player account of their choice. Please include your user name in your letter, too.

Webmaster
Top High Scores from last week

"Crandal's Cross Country Course going North"

arinna
bgreen
madip0899
72798
longbow
juniorwildcat1
Kiwi_Chick
juniorwildcatgirl
madip0899BucketHead
loliebug

<![if !supportEmptyParas]> <![endif]>

"Crandal's Cross Country Course going South"

arinna
juniorwildcatgirl
MBRShorse
BucketHead
Sharp
raeraee
horselover1028
Kiwi_Chick
pengulapu
ponyluv1999

"Add Like Mad"

JesseB
Alliegator
khansel
vshaffer
Nickie386
alpal
Baki426
Candy1
TonyShadowplay
Alliegator

<![if !supportEmptyParas]> <![endif]>

"Subtraction Action"

JesseB
Alliegator
white-arab-horse
Emma66
chelsea2
Britnie
RodeoSue

"Multiplication Station"

JesseB
horsegirlnum1
chicken1
DynastySurf
emma111
monkeyfan1
Misticatnight
emger11
iluvbeez

"Sheep Herding" our newest game!

Baki426
Britnie
lillizotte23
DynastySurf
devon morrison
pamula crandale
kotamaem
white-arab-horse
Candy1
Apalusa
Pastel
Hope

<![if !supportEmptyParas]>
Pony Pal Thoughts for the Day
A mother should give her children a superabundance of enthusiasm, that after they have lost all they are sure to lose in mixing with the world, enough may still remain to prompt and support them through great actions.
– Julius C. Hare (1795-1855) English Cleric