Volume 2 Number 44 - May 11-17, 2009
Club Pony Pals News
Tie Vote 120 to 120! Coin toss decides it --
Next Virtual Sleepover Saturday May 16

Dear Pony Pals
All Club Pony Pals' members are invited to join our next virtual Pony Pals sleepover this Saturday, May 16th, from 7 pm to 11 pm Eastern Standard Time. Pam, Anna, Lulu and I will all be there, "live" on our computers.
Our sleepover chats' threads will again be on the forum page.
Like always, all messages will be reviewed by adults before any are allowed to post.
Wiggins is Eastern Standard Time. On this map, it shows that EST is GMT – 4. http://www.worldtimezone.com/ What time will it be where you are?
Before Saturday's sleepover read and then vote for your favorite story from our April story contest. We will announce the winner at on May 16th.
Our site has a new feature. The ClubPonyPals forum now has "Search for your Friends" that is on your personal page. Use it to look up your friends by pony name or player username and then send them a "make my pal" request.
So if you have read a forum post that you like and think that whoever wrote it would be a good pal, now you have an easy way to find them.
Even more exciting, downtown Wiggins is about to launch. If you want to be a tester, just message me on the forum and you will get to visit downtown first.
Every week we get lots of letters and photos. Please still email your letters, stories and photos or drawings to Webmaster@ClubPonyPals.com. They will be posted in the online Wiggins Weekly.
Our game changes every week. Don't forget to groom your pony to keep it healthy and happy.

Jigsaw Puzzle Contest Winner
Dear Club Pony Pals
Here are my next entries for the drawing contest. (By the way freehand means that I did not trace it I drew it without looking at any other drawings)
B Kerr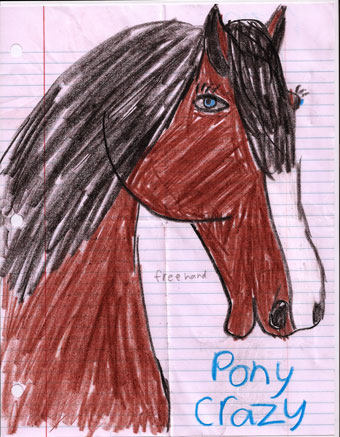 bkerr is this week's jigsaw puzzle artist! She got a free bumpersticker, bookmark and 100 Wiggins bucks for sending in this great drawing. If you want to enter, send your art to the Webmaster@ClubPonyPals.com or mail it to:
Club Pony Pals
16654 Soleadd Canyon Road #382
Canyon Country, CA 91387
Jigsaw Puzzle Contest Entries
B kerr's second drawing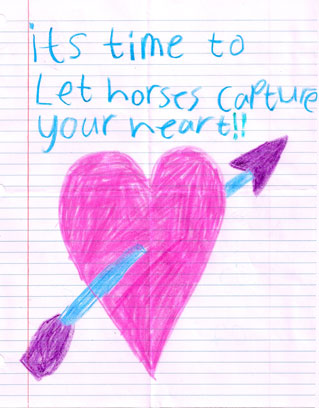 Dear Club Pony Pals
I hope you like my story, Clubponypals.
In this letter I also have a drawing for the weekly drawing contest. Can you please write me back? Oh, and tell Pam, Anna and Lulu to write to Skittles soon. Thanx.
Friends,
Skittles
P.S. I love Pony Pals!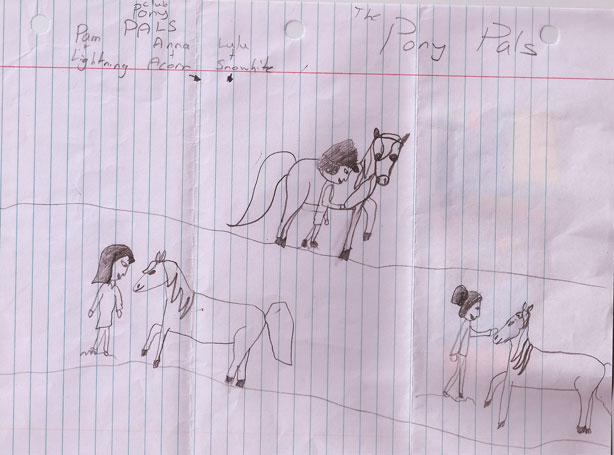 keely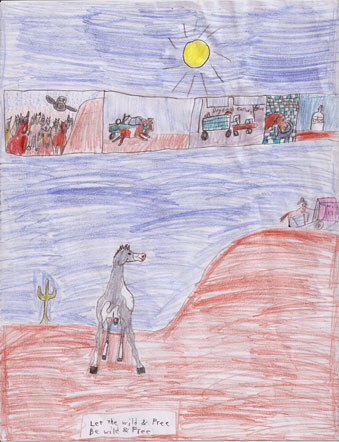 Let the wild and free be wild and free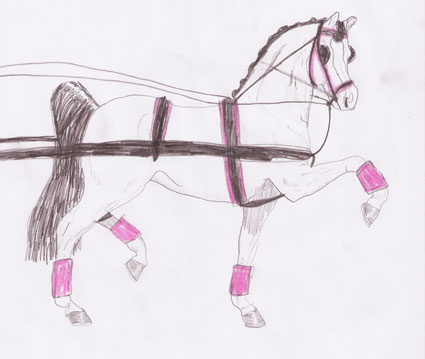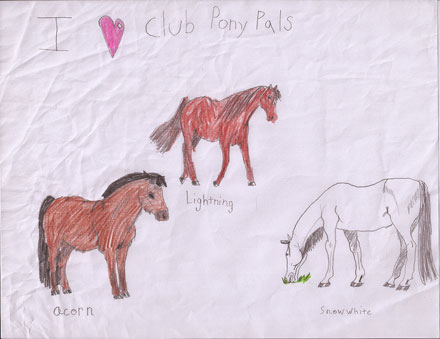 Dear Club Pony Pals

I read Pony Pals. I love Pony Pals. I love ponys and horses. I have ponys and horses everywhere in my room! I like anll animals but horses are my favorite. There are lots of pony books at the library but I picked Pony Pals. I used to read Saddle Club but I stopped. I don't have a pony of my own yet. I will when I grow up.

I your "about the author" you were right about "you don't have to have apony to love them!" Some day I want to be in Ponypals Club. The Pony Pal books I read were great! Me and my dad thought your pictures were really good!! I could never draw like that! I hop you write more. Sincerely, Mary W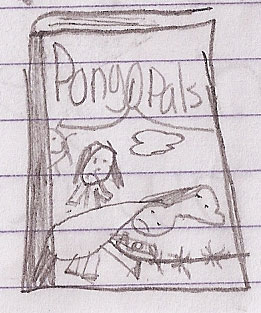 Mandapanda1997's "I Love Horses" drawing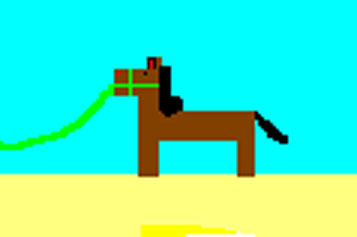 Emma's Art Gallery
Dear Club Pony Pals
Do you like my pictures? It's the best I could draw. I want to draw like Anna some day.
Emma S
age 10
PS I have all the Pony Pal books!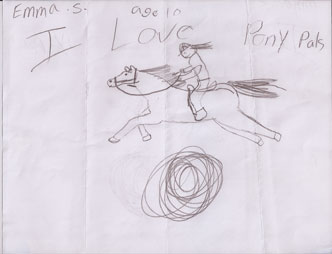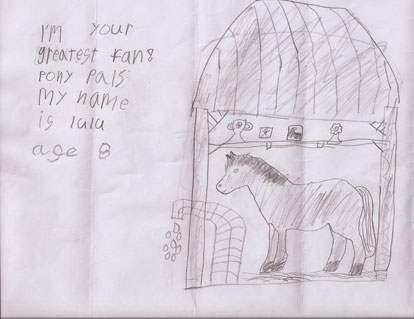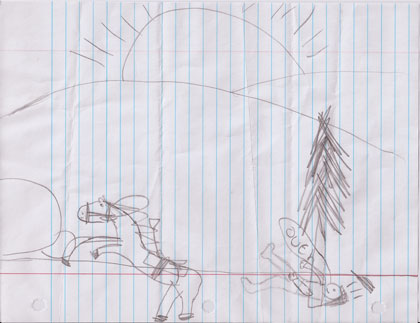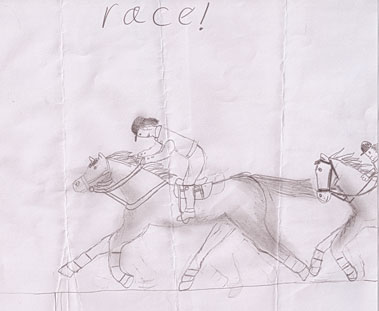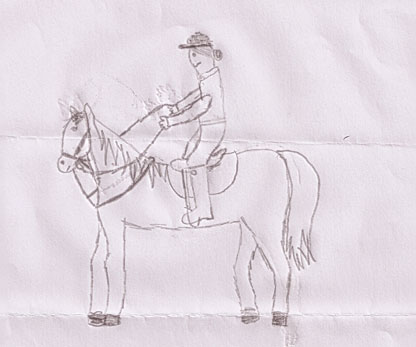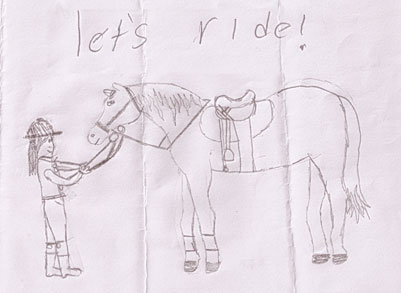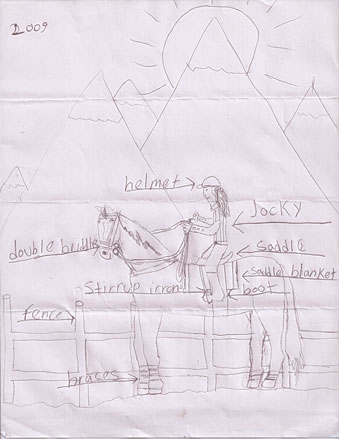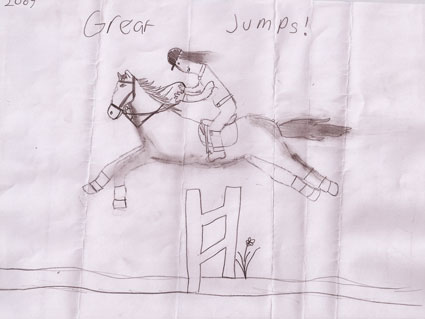 Dear Pony Pals

Send in your stories and drawings for our contests. Every entry gets a sticker and bookmark, the winner gets 100 Wiggins Bucks deposited into the player account of their choice. Please include your user name in your letter, too.

Webmaster
Top High Scores from last week

"Crandal's Cross Country Course going South"

Lulubel
72798
laynee9
annar
midnightcollins
AmarilloSky
lizzard52
Elbell
wenrth
AmberRandy

<![if !supportEmptyParas]> <![endif]>

"Crandal's Cross Country Course going North"

laynee9
72798
AmarilloSky
arinna
wenrth
Scoutlover
Kenzie
MBRShorse
Apryl96
midnightcollins

"Add Like Mad"

skyrider94
pinky90
aspenrose3rose
Alliegator
hbwildchild
aspenrose3rose
rathal84029
Alliegator
hbwildchild
fizzelt
keely

<![if !supportEmptyParas]> <![endif]>

"Subtraction Action"
if you play this game, there's a good chance your name will be here next week!

ss_coppercore
keely
Samilina
Flicka66
izzybelle3
JesseB
QuestLuva
ankrom
izzybelle3
Emma66

"Multiplication Station"

Katie the Horselover
JesseB
HORSEGIRL031999
horselover4556
QuestLuva
SpiritHorse
katier
keely
katier
kerrine

"Sheep Herding" our newest game!

horse queen
Drifter
iamsilly
keely
321gizmo
Graciegirl96
Hope
Suzie
nicehorses
Skipper234

<![if !supportEmptyParas]>
Pony Pal Thoughts for the Day
They say princes learn no art truly , but the art of horsemanship. The reason is, the brave beast is no flatterer. He will throw a prince as soon as his groom.

Mix a little foolishness with your prudence:
It's good to be silly at the right moment. - Horace, Roman Poet