Volume 2 Number 42 - April 27- May 2, 2009
Club Pony Pals News
You are invited!

Second Sleepover Scheduled
Dear Pony Pals
All Club Pony Pals' members are invited to join our next virtual Pony Pals sleepover this Friday, May 1st, from 7 pm to 11 pm Eastern Standard Time. Pam, Anna, Lulu and I will all be there, "live" on our computers.
Our sleepover chats' threads will again be on the forum page. If you already are active on our Forum and have some "Pony Pen Pals," your messages to them will be put through right away.

The main sleepover party thread will be on Mrs. Crandal's forum page. There will also be a button on the main forum page for a 20 questions game. Pam will start that thread with help from Anna and Lulu.
Like always, all messages will be reviewed by adults before any are allowed to post. Our forum's rules: no personal information like last names, phone numbers or where you live and nothing mean or creepy.

Wiggins is Eastern Standard Time. On this map, it shows that EST is GMT – 4. http://www.worldtimezone.com/
What time will it be where you are?

In the United States, their sleepover will be

7pm to 11 pm Eastern Time

6pm to 10 pm Central Time

5pm to 9pm Mountain Time

4pm to 8pm Pacific Time


One member, ahorse4u, said that we should hold the sleepover on Saturday. Another asked if we could hold it some other day than the first Friday of the month. This is definitely a Club Pony Pal Problem. Please vote for what evening want the third sleepover to be.

Every week Club Pony Pals makes changes to our game. This week no new trails are ready but we made a lot of other good things happen on our site.
Now, wherever you are on the site, you can check for W-mail (Wiggins Mail) messages from your Pals and your pony will be just like you left it when you come back to it from visiting the forum.

Daisy and Splash my lesson ponies are always glad to see you and get groomed and now you can feed them treats, too.

If you go to the barn game loft to play a game, your pony will be waiting for you the same way it was when you return from the loft.

There are now 33,000 Club Pony Pals members. Lots of Pony Pals are making friends on our forum. How many Pals on the forum do you have?
The Club Pony Pals member who has the largest number of Pals when our sleepover starts will get 100 Wiggins Bucks.

Thursday night at midnight is the deadline for members to send our WebMaster their Monthly Member Story Writing Contest entries. Members' stories can be 100 to 1000 words in length. All entries must be written by the member who sends them in. All entries become property of Club Pony Pals. Entering the contest means you give ClubPonyPals.com permission to publish them under the byline of your username.
First prize winner each month will get 1000 Wiggins bucks, a Club Pony Pals sticker and bookmark! Deadline for this month's entries is midnight April 30. So don't put it off -- start writing today! You can read more about it in our forum.

The stories will be online during the sleepover and you can vote for your favorite from May 1 through May 9. Club Pony Pals members will decide who is the winner and it will be announced in the May 10th Wiggins Weekly.

Finally, this week we had lots of letters and photos. Please still email those to "Webmaster." They will be posted here in the Wiggins Weekly.

Our game changes every week. Don't forget to groom your pony to keep it healthy and happy.

Jigsaw Puzzle Contest Winner
Dear Pony Pals,
I drew a picture called "I love horses" cause I do love horses and ponies.
I'm Leanne, age 8 1/2.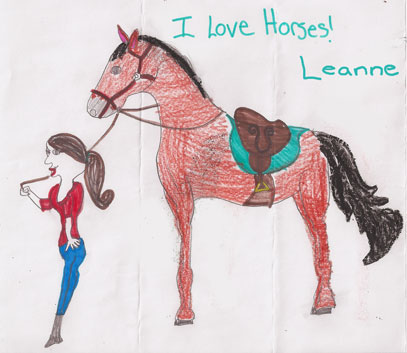 Leanne is this week's jigsaw puzzle artist! She got a free bumpersticker, bookmark and 100 Wiggins bucks for sending in this great drawing. If you want to enter, send your art to the Webmaster@ClubPonyPals.com or mail it to:
Club Pony Pals
16654 Soleadd Canyon Road #382
Canyon Country, CA 91387
Jigsaw Puzzle Contest Entries
by Francisca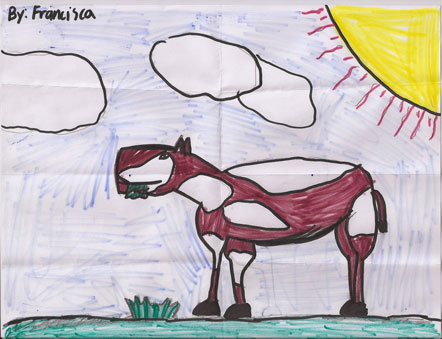 Hi Club Pony Pals!

My name is Jess. :) I LOVE HORSES! and ride every weekend. I like riding, music, dancing and reading. I read anything and I esspecially like Horse Deals. I am in the middle of convicincing my parents to get me a cute buckskin gelding named Holly (she is so cute!) Jess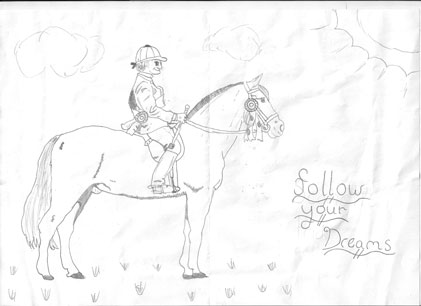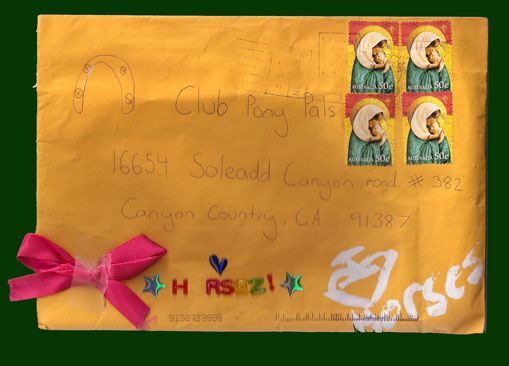 Jess's envelope came all the way from Australia! I think every person in Australia and America thought about Jess and our Club when they saw this envelope! Way to go Pony Pal!
Go Pony Pals "Cool horse" by Lucienda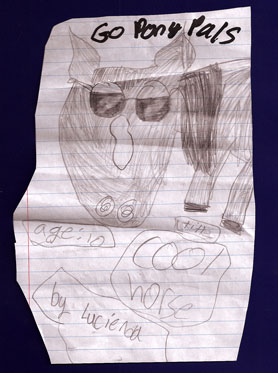 Here is my entry for the Drawing contest. bkerr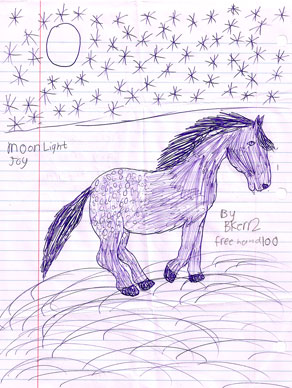 a horse standing and looking at something by Allieboo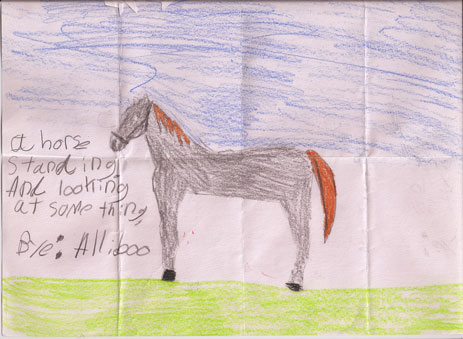 Dear Pony Pals

Send in your stories and drawings for our contests. Every entry gets a sticker and bookmark, the winner gets 100 Wiggins Bucks deposited into the player account of their choice. Please include your user name in your letter, too.

Webmaster
This Week's Photo Gallery
hi i have a pic here it's nada n chilli i hope you like it love~emma
Top High Scores from last week

"Crandal's Cross Country Course going South"

RascalHuggins
Beacan Bob
MBRShorse
lizzard52
djccck
SuperMan
juniorwildcatgirl
Jesusgirl02
Jesusgirl96
kenz7

<![if !supportEmptyParas]> <![endif]>

"Crandal's Cross Country Course going North"

djccck
Beacan Bob
RascalHuggins
que_bella
lizzard52
Nutmag9
cassiebague
Jesusgirl96
K10
littleizzy1

"Add Like Mad"

glorose
Kiranell
ma36658
animegirl
appled7
Willow09
JannelleRea13
Fawn12
Shorthorngirl20
Horse lover101

<![if !supportEmptyParas]> <![endif]>

"Subtraction Action"
if you play this game, there's a good chance your name will be here next week!

chelsea2
babygirl9879
ponylover05
ma36658
thehorsegirl
Drifter
Kristal456
JannelleRea13
chelsea2
DelilahRamos

"Multiplication Station"

kelseamarie
strawbtree
Gramms
Iowafarmgirlz
djccck
giselle12
babygirl9879
Raven1
RCSwirl
CAPEGAL123

"Sheep Herding" our newest game!

Candy1
1horses08
miley650
1horses08
biscuitrox
summer101
GRACIERIA
tallula1
Serion
Dunnahewbreeder

<![if !supportEmptyParas]>
Pony Pal Thoughts for the Day
"In the world of horse training, there are a few tricks we humans can quickly and easily teach our horses: How to bang on the stall door at feeding time; how to run away at the sight of an advancing halter; how to dance when they see a saddle, and so on."
"...one fact is certainly true: The smartest horses in the world all live at riding schools, riding schools who specialize in beginners. If you need proof, try to saddle, pick the hooves of, or blanket a twenty-year veteran of novice riders. ... They know every trick in the book, trust me."
Keith Hosman, Horsemanship 101