Volume 2 Number 41 - April 20-26, 2009
Club Pony Pals News
What a Party!
Dear Pony Pals
Last Friday night's Pony Pal sleepover in Crandals' barn loft was a great time and a big success. Club members from everywhere signed in and exchanged messages with Pam, Anna, Lulu, Mrs. Crandal -- and each other!
So many club members were online during the sleepover that the club's main computer got overloaded. This problem will be fixed by the next Club sleepover on Friday night, May 1, 2009.
Chat topics covered a lot of territory. There were about 300 messages in just the sleepover thread alone.  There was a pony-themed game of 20 questions. Club member Kiera won when she correctly figured out that the hint "Our ponies don't wear them, but JB does; they shine in the sun and make sparks at night" meant "horseshoes." Congratulations, Kiera! You know your ponies and horses.
Pam's sleepover scorecard includes virtual brownies eaten
Pam - 4
Lulu - 5
Anna - 4
Mrs. Crandal - 2 large (she disputes the size)
Club members - several hundred
We look forward to our next May 1, 2009 sleepover, 7 pm to 11 pm Eastern Standard Time, USA. Our sleepover chat thread will again be on the forum page. Look on our main forum page for the special link to its chat thread during the sleepover.
Two new forum features have launched this week. Club members can now ask other members to be their "pals."  One member already has 42 pals. How many do you have?
Members can also send to and receive messages directly from other club members. All messages are reviewed by adults before any are allowed to post. Our forum's rules: no personal information like last names, phone numbers and addresses and nothing mean or creepy.
Coding for downtown Wiggins is scheduled to start this week. Watch the Wiggins Weekly for news about its progress.
Monthly Member Story Writing Contest
There is still time for members to send in their pony stories to our WebMaster. The stories can be 100 to 1000 words in length. All entries must be written by the member who sends them in. All entries become property of Club Pony Pals. Entering the contest means you give ClubPonyPals.com permission to publish them under the byline of your username. First prize winner each month will get 1000 Wiggins bucks, a Club Pony Pals sticker and bookmark! Deadline for this month's entries is April 30.
That's all there is to it. Don't put it off -- start writing today! You can read more about it in our forum.
For letters with photos or art, please still email those to "Webmaster." They will be posted here in the Wiggins Weekly.
Our game changes every week. Don't forget to take care of your pony to keep it healthy and happy.


Jigsaw Puzzle Contest Winners
Hi! This is my entrant for this weeks jigsaw puzzle. I am begging you to pick it because i worked so hard on it. I took a really long time. It doesnt even half to be for this week, but as long as you pick it please! Your ponypal, Malhorse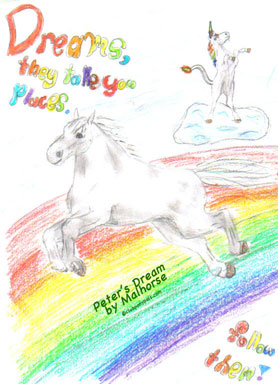 Malhorse this week's jigsaw puzzle artist! She got a free bumpersticker, bookmark and 100 Wiggins bucks for sending in this great drawing. If you want to enter, send your art to the Webmaster@ClubPonyPals.com or mail it to:
Club Pony Pals
16654 Soleadd Canyon Road #382
Canyon Country, CA 91387
Dear Pony Pals

Send in your stories and drawings for our contests. Every entry gets a sticker and bookmark, the winner gets 100 Wiggins Bucks deposited into the player account of their choice.

Webmaster
Top High Scores from last week

"Crandal's Cross Country Course going South"

Caroline_France2
bigemily273
RascalHuggins
horselover219000
midnightcollins
wildfirerox
asdfghjklaz
toshkin
MBRShorse
jumpforjoy

<![if !supportEmptyParas]> <![endif]>

"Crandal's Cross Country Course going North"

bigemily273
Jesusgirl96
cdkerr
horselover21900
RascalHuggins
midnightcollins
allyalli0
NightUnicorn
Graciegirl96
jaspell

"Add Like Mad"

candy0503
Candy1
Sonny88
Mollie933
Yelana the Fair
whiteshadow26
Nyx
Lightning-Pine
sooner100
SNICKSMOM

<![if !supportEmptyParas]> <![endif]>

"Subtraction Action"
if you play this game, there's a good chance your name will be here next week!

Comanche
SiDnEy N.
Pilgrim
emilyspal
Hotgirl
saucy45
gaby704
andreeaalessandrafoarce
Catstem
Pastel

"Multiplication Station"

howrsesRme
Hotgirl
purprise
Candy1
pany
brookeseghers
gaby704
saucy45
biscuitrox
MeganWeber

<![if !supportEmptyParas]>
Pony Pal Thoughts for the Day
"... anticipate and correct every unwanted behavior in your horse, by giving him something to do before hand. A horse cannot be following a series of cues that you have taught him to obey and be misbehaving at the same time. So, give him a series of cues in a row to keep him busy, and to take his mind off whatever is distracting him. Keep your horse busy with responding to these cues as often as you can, until he begins proving to you that he can be obedient all the time. When he behaves obediently, you can let him rest from your series of cues. However, the instant that he begins to drift his attention to something else, or behave badly, begin your series of cues all over. The horse learns from this, that it is very hard work not paying attention to you. You will soon end up with the most obedient, respectful, safe horse you know. "
Cheryl Sutor