Volume 2 Number 39 - April 6-12, 2009
Club Pony Pals News
Trail Open into Wiggins
Sheep meet thousands of visitors!
Dear Pony Pals
The last stretch of Pony Pal Trial opened this week! Riders start on it from Three Birches. It goes through woods, then through a pen full of sheep. Just click on the sheep pasture gate to open it and ride on in. The gate closes by itself behind you. One of those sheep was bottle fed and it can be kind of a pest always asking for carrots.
So now members can ride to Anna Harley's paddock in Wiggins. Ponies can be tied there. Downtown Wiggins is in the works! Watch the Weekly for news about how it develops.
An important note about the Weekly: we now get so many letters from members around the world that is no longer practical to post them all in an emailed Weekly. Many email systems will not accept attachments. So, from now on, letters to Anna, Lulu, Pam and Mrs. Crandal should be written in our new Forum. Look for that "Forum" button on the top right of our home page. There, members can also post messages for each other. No matter where in the world a member is, they can exchange messages with other club members. All messages are reviewed for permitted content. Our rules for messages: no personal information and nothing mean or creepy.
For letters with photos or art, please still email those to "Webmaster." They will be posted here in the Wiggins Weekly.
And.....our programmers are working on making personal pages for members, too. Look for those as soon as we have tested the code to make sure it works.
We are starting a new Monthly Member Story Writing Contest for Club Pony Pals. Club Pony Pals members can send in their pony stories to WebMaster@ClubPonyPals.com.
The stories can be 100 to 1000 words in length. All entries must be written by the member who sends them in. All entries become property of Club Pony Pals. Entering the contest means you give ClubPonyPals.com permission to publish them under the byline of your username.
First prize winner each month will get 1000 Wiggins bucks, a Club Pony Pals sticker and bookmark! Deadline for this month's entries is April 30.
That's all there is to it. Don't put it off -- start writing today! Look below for how to enter.
Our game changes every week. Don't forget to visit your pony to keep it healthy and happy.


Jigsaw Puzzle Contest Winner
Dear Webmaster & Pony Pals
I sent this dreawing of y'all (the Pony Pals) taking off the saddles and letting the ponies rest and have a snack. Where the ponies are is the first clearing. The trail that has a Wiggins sign (the sign closest to the barn) next to it is supposed to be a little longer. Bye for now, wish me luck on winning the contest Pony Pals.
Artemis 322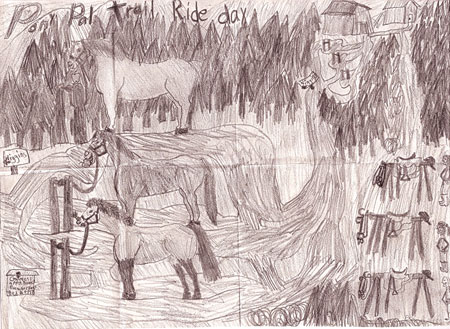 Artemis322 is this week's jigsaw puzzle artist! She got a free bumpersticker, bookmark and 100 Wiggins bucks for sending in this great drawing. If you want to enter, send your art to the Webmaster@ClubPonyPals.com or mail it to:
Club Pony Pals
16654 Soleadd Canyon Road #382
Canyon Country, CA 91387
This Week's Jigsaw Picture Gallery
This is some digital art I drew on GIMP and Paint (horse paint, horse eye GIMP). I am probobly a lot older (12) then most of the kids that submit to the puzzle so if another kid is like 8 and they have a very nice picture of a horse I'd rather see that then my drawing getting chosen for the display. Thanks.
Dear Pony Pals

Send in your stories and drawings for our contests. Every entry gets a sticker and bookmark, the winner gets 100 Wiggins Bucks deposited into the player account of their choice.

Webmaster
This Week's Photo Gallery
I'm chey

Me showing maggie the mini

Me riding delilah the mini mule

Me on Bonnie the POA pony

Tilly and me

Me leading Tilly

Me and tillys new baby Moonshine
Top High Scores from last week

"Crandal's Cross Country Course going South"

que_bella

Lulubel

Dublin32123

Tattletale Tillie

K10

cdattoli

Horsey

Noodel

lilia

mustangers1

horse~freak

WUMBLES

<![if !supportEmptyParas]> <![endif]>

"Crandal's Cross Country Course going North"

Lulubel

Tattletale Tillie

que_bella

brittney123456789

CrazyCami13

horselover21900

K10

sarahlvsbob09

Noricima

pup1foal

PonyPals

crazyhorseyou

"Add Like Mad"

Hazelnut

glorose

carito-15

ilyx

Katelyn Marie

Julia Kathleen

vote4me16

happyfeet

Kalamity

may218

Furia1

Redhorsegirl

<![if !supportEmptyParas]> <![endif]>

"Subtraction Action"
if you play this game, there's a good chance your name will be here next week!

zaj

Katelyn Marie

not-the-judge

Artemis322

AppieGirl9

PonyPalRose

allys

baybayhorse

Samilina

Peppy123

ponygirl7

"Multiplication Station"

buttercup4ever

butterflybeauty4ever

Yasmin

Rebecca Lynn

Katelyn Marie

AppieGirl9

genxhorselvr

greencac00

day

mickyh

09heart4pa

pamula crandale

<![if !supportEmptyParas]>
Pony Pal Thoughts for the Day
"Have you ever tried pretending you were a horse? Have you thought what it would feel like to have a rider on your back telling you what to do? Would it be comfortable and enjoyable? Would it be uncomfortable and awkward?"
From "Centered Riding"
by Sally Swift 1913-2009