Volume 2 Number 32 ----- February 16-22, 2009
Club Pony Pals News
Who Will Be the 10,000th Pony Pal?
DearPony Pals
This week ClubPonyPals will welcome its 10,000th member. Who will it be? From where on Earth will they join? To help celebrate our milestone, we will award a set of Pony Pals paperback books, regular volumes 1-10, and 1000 Wiggins bucks to whoever is #10,000 to register a new verified account. Will it be you? Will it be someone from a country new to the club? Next week's Weekly will announce the winner.
ClubPonyPals now goes to over 70 countries. In this month's first two weeks, our site has already passed last month's number of visits. More and more Pony Pals from around the world are coming to virtual Wiggins.
We now have the very first ClubPonyPals animated short video. It was animated and directed by Pony Pal Summer F.
If other Pony Pals would like to create Quicktime or Flash movies about the Pony Pals, ponies, ClubPonyPals, pony adventures, etc. please send a note to Webmaster@ClubPonyPals.com for guidelines.
In other news, we are pleased to offer a mini-game "Spot the Difference" exclusively to Club Pony Pals members. Give it a try here.
What do you think of our site's new look? Lots more changes are in store for club members. Our "Health, Hunger, Energy" displays are getting a makeover. Because so many new members are from countries where English is not a first language, our "Help" section is going to include short videos that show newcomers how to use our site. These little programs have a cool name: "Machinima." That is a term that comes from Japan.
We have started building new sections of Pony Pal Trails. Our goal is to get members to downtown Wiggins just as soon as we can.
Our "Store" page is where ClubPonyPals credits, stickers and shirts are available to buy. More real and virtual items will be there after our rebuilt barn launches.
All 83 issues of this newsletter are on their own page.
For next week's issue please email us: have you posted a high score for a word game? If you send your tips here for other Pony Pals to see, we will credit 100 Wiggins bucks to your account.
Don't forget to tell us a username (NOT YOUR PASSWORD) where you want credits to go. Email your replies to webmaster@ClubPonyPals.com Please note your state, province or country.
Crandal's barn rebuild is almost done. We are "QA" ing its parts. Those initials stand for "Quality Assurance." That means we do our best to make sure everything works before we invite members to try features. In the rebuilt barn, members will be able to untack their ponies, groom them and feed them a tub of hay in their stall. The whole barn will also load much, much faster. And to earn points, members will be able to groom Daisy and Splash for Mrs. Crandal. Until the new barn is open, it is still not possible to untack your pony at Crandal's barn. But if your pony has gotten sick or if you want to raise its health, log out from the game and log back in, then groom it to bring up its health.
Make sure and buy some treats before you go out on trail. Your pony will get hungry while you are out on trail, so make sure you have a treat to feed it.
Happy Riding!

PS -- You can help ClubPonyPals grow by forwarding this newsletter to others who you think will enjoy our game.
Letters from Club Members
Hi Webmaster

I have a question. I hope you can answer it, so here I go: " Can we buy new tack?"

I ask that question because my saddle bag and saddle look a little worn out. Please write back,

Siobhan ( Pony pal lover!!)
Dear Pony Pal Siobhan
Thanks for writing. To answer your question, "soon." We are in talks with programmers about how soon we can create virtual goods to offer members. Our plan has been to get downtown Wiggins open as soon as we can. Then Klein's Hardware will be open. Just like in the books, Pony Pals will be able to buy new items there. But that will take some special computer coding. It all boils down to math! We hope that lots of members improve their math skills so that there will be new computer code writers. We need them!
WebMaster
Dear Webmaster,

Peace in the world, happy with peace.

Ali
Dear Pony Pal Ali
What a great Pony Pal thought. Let's hope it catches on.
Webmaster
Dear Webmaster

I didn't post a score, but I have a tip. It's best to do the easy words first, or words you know. And you should sell stuffed dolls and animals from the books, and Breyers.

Summer
Dear Pony Pal Summer
Good advice. Our high school journalism teacher gave us some good advice too: write what you know. We know ponies, so here we are. We are in discussions with Breyer and other toy makers about items like plush toys to offer on our website. Thanks for thinking of us.
Webmaster
Dear Webmaster

The site looks better than before

PonysRule
Dear Pony Pal PonysRule
Thanks, we think so too. It should look even better pretty soon. Our animator is working a new running Badd Brook! And a team of artists has made a new top bar where our Health, Energy, Hunger readouts are. A new saddlebag inventory is in the works, too. It all needs to be coded. Our coder goes out and walks her dog when she sits too long. Study that math, Pony Pals! We need the next generation of coders.
Webmaster
Dear Webmaster

Hey thank you so much, your friend.
From

pony pal! :) Augustina
Dear Pony Pal Augustina
Thanks for writing. What is your life like where you live? Are there ponies anywhere nearby? Please write back and let us know. What would you like to see in ClubPonyPals or Wiggins?
Webmaster
Dear Webmaster

COOL

Emma
Dear Pony Pal Emma
Glad you like our site. Lots more great stuff is on the way. What kind of adventures do you have, with our without a pony? Write and let us know. What do you like about our site? What would you do differently?
Webmaster
Dear Webmaster

Thank you for the very heartfelt reply. It really made me think about how lucky I am. I love ponies and I am saving up my money to buy one. Ponies are the thing that keep me going. Whenever I get down I always can count on the barn to cheer me up.

By the way, you asked me about my adventures with my ponies...I could go on for days telling very funny things that happened to me!

One time, we went to a trail/park trail ride, and the pony I rode, Sammy jumped this HUGE fence with the sixteen year olds! My trainer thought I was ready for it, so now I jump, 2'6 and 3'6! It is very fun!
Thanks again,

Siobhan, a loyal pony pal
Dear Pony Pal Siobhan
There are communities in the United States where Amish people live. They do not use motor vehicles. They travel by horse drawn buggies. One of their beliefs is that "...work is the dividend." A dividend is a payment you get from an investment. Maybe that means that each day we are alive, we are enjoying a benefit. If that day includes one or more ponies, then perhaps it is a special gift. That was quite a way to get your trainer's attention. Wow. 3'6" is WAY up there. That's a lot of air between Sammy, you and the ground. It must be very, very exciting.
Saving up for a pony is a very responsible thing to do. There are lots and lots of ponies who can really use a good home with a caring human. Ponies and horses do not withhold anything. They give completely. They don't lie, they respond well to kindness, they trust without reserve and they can get you a lot of air at a very exciting speed. All in all, we think life with ponies is better than without. Please write and tell us more about your adventures.
Webmaster
Dear Webmaster

Why don't you make Pony Pen Pals? We can e-mail or send mail too.

Love,

Amber

Dear Pony Pal Amber,
There are way lots of rules abour how Club Pony Pals members can write to each other. We want to make it so that members can talk to each other on a special part of our website called a "forum". That way Pony Pen Pals can write each other and tell their stories there.
Webmaster
Letter from Jeanne Betancourt
A SUPER WORKSHOP/TEA PARTY AT JEANNE BETANCOURT'S APARTMENT

Pony Pals from PS 150 in New York City came to my apartment for an after school tea party. We sat around my dining room table and I told them all about how I started writing the Pony Pals and asked them about their favorite characters.

I discovered that these girls were big fans of the PONY PALS and had read a lot of the books in the series. I especially liked hearing that they shared their books with one another.

The girls were very interested in seeing examples of my early drafts of the books and learning how a book goes from being an idea in an author's head to a book in a reader's hand.

They liked seeing my own collection of all forty-four books in the series on the bookshelf behind my desk.


I told the girls about ClubPonyPals and we went online to check out the site. They were excited and read some of the letters to Pam, Anna, and Lulu aloud.

The girls and their moms provided the snacks for the tea party. Yummy cupcakes and apple juice.

My Pony Pal guests and I were all sad to say goodbye after having such a pleasant workshop/tea party.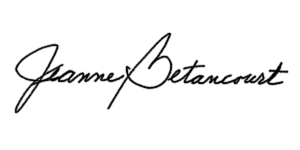 Letter to Jeanne Betancourt
Dear Jeanne

Hello, I am ten years old and a big fan of your books.

Sunny
Dear Pony Pal Sunny
Thank you for writing. How many have you read? Why do you like the Pony Pals books? Do you write stories or make pictures? Please write again and tell us about your adventures, with or without a pony.
Webmaster for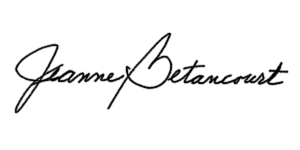 Letters to Pam
Dear Pam

Does Lightning ever act strange?

Jennie

Dear Pony Pal Jennie
I think that depends on what you mean by strange. When Lightning senses something dangerous, she will "alert." That means sometimes her ears will swivel forward as she faces where she thinks a threat might be. Sometimes she will "snort" loudly if she gets a scent that makes her uneasy. Acorn is the same way. In Pony Pals #23,"The Pony and the Bear" Acorn is excited when he smells a bear. Ponies' noses are very long and very sensitive. They may be a million times better than ours. Have you had a pony act strange? What happened? Please write and share your story.

Hi Pam

Dear Pam, You're right. 26 is old. It's hard to know what the right thing to do is. Grandmama thinks that we should put Cimarron down. Aunt Loretta was really upset when Grandmama told her that after she had to borrow some money from her. Mom gave her some advice and she said that Cimarron isn't suffering and that he's just sad because he can't get around as well because of the abscess. Grandmama's trying to be practical and she doesn't want Cimarron to end up like Topper.

Topper was Grandmama's Tennessee Walking Horse. Topper belonged to Granddaddy until he died, and then Topper belonged to Grandmama. Topper was the first horse I ever rode. Way before I took riding lessons every time we'd go to Grandmama's house I'd ask Mom if I could ride Topper, and she'd tell me to wait until Dad came with us. Topper was really sweet and he was the quietest horse I ever sat on. I remember when another horse name Cheyanne was there before Cimarron came along. She was Topper's pasture mate. A little girl boarded Cheyanne at Grandmama's house for free. One day they found Cheyanne dead and Topper was all alone. I sat outside of the pasture to keep Topper company. One day Cimarron was there and Topper wasn't lonley any more. Then they sent Cimarron to the Pool's house for training and I sat outside of Grandmama's pasture to keep Topper company.

When I was 10 Beauty came along and then Aunt Loretta sent Beauty over to the Pool's for training and I sat outside of the pasture to keep Topper and Cimarron company because I thought they looked sad. Topper was quiet even when he was 3. In August 2005 Topper got pneumonia and he couldn't stand up. They had no choice but to put him down. Topper was 35 when he died.

Cimarron's getting shots that will hopefully cure his abscess. We're going to try the shots and wait and see what happens. If Cimarron's not better by next week Dr. Katie will give him the infusion. Will ya'll please pray that the shots will work? Also we're switching farriers. There's nothing wrong with the farrier we use. He's good at his job and he's really sweet, but he trims the horses hoofs too short. We're going to have to wait and see if Cimarron gets better before we have his feet trimmed. The good news is Cimarron's still walking, eating, drinking, hanging out with Annie and Beauty, and he's putting full weight on his leg. The abscess is still draining and Dr. Katie said that means he still has some infection left. The abscess is in Cimarron's toe bone.

Is there a way to remove the infected bone and give him a metal one? My hypothesis is that if humans and other animals like cats can have metal joints or bones then horses and ponies can have metal joints or bones.


A hypothesis is an educated guess. Scientists, Doctors, Nurses, Dentists, Teachers, Vets, Orthopedic Surgeons, and the FAA use hypothesis all the time. The FAA stands for The Federal Aviation Administration. The FAA investigates skydiving accidents, plane crashes and helicopter crashes. Thought your dad would be interested in this.

I figured that giving Cimarron a Prosthesis Hoof could be one of our options. It worked on Riley and Molly The Pony.

To see Molly you can visit http://www.youtube.com/watch?v=DkeLgXocwas&feature=related .

Mom wants to know why horses don't do as well on three legs like dogs. Have a good weekend. Have a good President's Day. Please answer my questions. Please respond PDQ the second after you get this E-Mail. Friends,

Cayce
Dear Pony Pal Cayce
Thanks for writing. Clearly you, your mom, your aunt and your grandma all are very concerned about Cimarron. That is good. When we welcome and horse or pony into our lives, we accept responsibility for their well being. In exchange, they trust us and obey our wishes. It is a deep and serious bond. My dad sometimes says that quality of life means a lot. My friend the Webmaster told me that she was given custody of a very old, very skinny Thoroughbred. He was a companion for her mare when her stablemate died. The old fellow had been a mighty show jumper and 3 day event horse many years ago. When he came to the Webmaster's, a young girl with Cerebral Palsy asked to ride him while he was led. He had a job again! He put on weight, he never shied and he was quite a character for another 3 years. We never know where life may take us. My dad's opinion about horses who need care is that if there are humans who will help them get along, they are loved and they want to live, then he supports that.
Molly is a pretty special case. I think a vet must have donated services to help her get her artificial leg. That could be a lot of surgical and veterinary time to do well.
Maybe you can ask your vets if there is anything you can do for Cimarron, like soaking his hoof in a solution to help the abcess drain. Always ask your vet before you do anything.
When Lulu, Anna and I face a problem, we hold a meeting and come up with ideas. Then we make a Pony Pal Plan. Maybe your mom, aunt, grandma and you can sit around a kitchen table and all share your ideas and feelings. It works for us. My mom asks that everyone in this Club to think kind and healing thoughts for Cimarron.
Your friend,

Hi, Pam!!!

How's everyone this week. I saw the photo of Rocky Gabby sent. I thought he was beautiful! How's Lightning? Is Splash Sill On The Dash? Is Daisy Still Lazy? LOL I hope you have a nice Valentines day!!!

Summer
Dear Pony Pal Summer
Thanks for writing. There is a letter from Gabby in this edition of the Weekly. Lightning and Splash are OK. The Webmaster is QC'ing their art. That means checking that they are drawn the right way. My mom gave my dad a silly coffee mug with romantic sayings on it. My dad laughed when he saw it early this morning. My mom put it next to our coffee maker so that he saw it first thing. He drank from it all morning. It makes me happy when my mom and dad are happy with each other. It's stopped snowing here in Wiggins. But I think winter is still around for quite a while yet.

Hi Pam

I rode Rocky a lot this week. The snow is starting to melt and so there isn't a lot of ice either. Me and Rocky have been riding a lot on the road and it's been fun. The only downside is Rocky broke the cheek strap on his bridle. He was pulling on it and it just snapped. I have been able to temporarily fix it so that it will stay together long enough to ride but I am not racing with that bridle until it is completely fixed. Since my bridle's broken I decided to ride bareback. So all week I haven't used a saddle at all.

I hope you had a happy Valentines day. I haven't really liked it because it's usually an unlucky day for me. Like when I was in 2nd grade I broke my arm on Valentines Day. Well, nothing bad happened to me this time so I guess I'm breaking out of the bad luck. My sister is all into Star Wars now. It's not the actual thing she's into, it's how I tell it. I base it all on Santa. 1 guy is Santa, 9 other guys are reindeer, and all the rest are Elves. She thinks it's funny. Give Lightning a cookie and a hug for me.

Your Number 1 Fan,
Gabby
Dear Pony Pal Gabby
Thanks for writing. Glad to hear you and Rocky are getting out. I love to ride almost in any weather.It has not been snowing as much here either. I don't follow TV shows very much. I am busy with either riding, caring for ponies and horses or studying.
Lightning liked the hug and wanted to know if there was another cookie.

Hi!
I'm 10 years old and I have a Quarter Horse named Boo. She is stubbern. She is a red dun and really looks red! Anyway, I just wanted to say hi. Please say hi to Lightning for me. Oh, and pray for my sister's yorkie dog. she isn't very old. And it is my dog's B-day today. On Valintines Day.
I love your books. I will send a photo of Boo (and we bought her cousin, too!) And Domino. Boo is a red dun & Domino is a buckskin.
Bye-Bye! Say hi to Anna and Lulu for me.
Sarah
Dear Pony Pal Sarah
Thank you for writing. How great that you have Boo. Our Webmaster has a horse named Boo, too. But a gelding, not a mare. I know what you mean by stubborn. Anna's pony Acorn can be stubborn. But sometimes those horses and ponies are loyal and brave, too. Happy b'day to your dog!

Letters to Anna
Dear Anna,

I like your books please send me a picture of lightning on February14th, 2009.

Mairen
Dear Pony Pal Mairen
OK, here is a picture for Valentine's Day, February 14.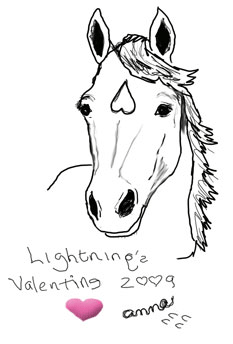 Friends,

Hello Anna

I'm new in Clubponypals I would love to be a part of this.
Thank you, bye.

Chiara
Dear Pony Pal Chiara
Welcome to the barn. I am glad you like our website. I like to draw. I am dyslexic. Sometimes it is hard to read or do math. I have a tutor. What do you like to do? Are there ponies where you live? Your friend,

Dear Anna

Did you get my letter last time? We thought we would have to make up a snow day from school but we don't. My sisters Emily and Carlie's teacher Miss Baliey said that we don't have to make up. Our school had 6 snow days this year. We used them all up. If we miss any more days we will have to make them up. Hopefully we won't have any more big snow storms.

Yesterday we had our Valentine's party at school. We ate treats and played games. We also made some crafts. We had a lot of fun. HAPPY VALENTINE'S DAY!


We have a neighbor who has a horse. The pasture is right across the road from our house so we get to see her. Her name if Libby. She is an older horse. They don't ride her any more. I like to watch her.
Well, gotta go, take care.
Morgan

Dear Pony Pal Morgan
Thank you for writing. And thanks for the Valentine's day wishes. I got up early Saturday. I went down to see Acorn. I gave him a heart shaped apple slice. He ate it. I made some toast in heart shapes. I gave it to my dad. He laughed. He is cutting firewood for a maple sugar maker. Sap is running. The sugar shack uses firewood to boil down sap into maple sugar. The family uses a team of Percheron horses. They pull a sled with taps and buckets. There is still deep snow in the woods. Mrs. Wiggins has sugar maples at her estate. I love to see the big horses. It is nice you get to see Libby. Horses like attention. Do you know her owners? Write and share your adventures.

Dear Anna

I'm Amber. My horse Rosa might have a baby this spring. I hope it's a black and white girl so my mom will keep it. I need some ideas on names. O.K.?

And my favorite book in the PonyPals is Pony Detective. Did it ever really happen?

PS can you be a friend? When my dad is at work a lot I miss him a lot

PPS Sometimes when I try logging on I hear animals like horses chickens and birds

Dear Pony Pal Amber
Wow, a foal. How exciting. What color is the mare? What is her name? Is your mare close to where you are? What kind of horse is the mare? I miss my dad too when he is gone. My friend Lulu really misses her dad a lot. If you send some details about your mare, I can ask Pony Pals all over the world for name ideas. What do you think? Will that work? And welcome to ClubPonyPals. It is good you are here. We welcome friends. I remember the Pony Detective story.It was book #17. The fire was scary. The Webmaster says to get ready for lots of animal sounds along Pony Pal Trail. Squirrels live in our woods. They are noisy.

Letter to Lulu
Dear Lulu

I LOVE your horse Acorn he is COOL! Have you ever thought about ridding Snow White cause she is really COOL 2!

Jinx

Dear Pony Pal
Thanks for writing. Acorn actually is Anna's pony. So I DO ride Snow White! She shares Acorn's paddock. Acorn and Snow White get along most of the time. I like it that Anna lives nearby. That way we can share pony care. We both like to help feed and clean for our ponies. We are lucky that we can keep our ponies next to where we live. What kind of adventures do you have where you are? Are there ponies?

Hey Lulu

Pony pal Ashley here. I can't wait for the new barn to open. I'm soooo excited. I wonder if we will ride Daisy and Splash? Anyway this is my black and white paint, Spirit. I love him.

Send me a picture of you and Snowflake. Is wiggens real?
Your ponypal,


Ashley
Dear Pony Pal Ashley
Spirit is a total cutie. Thanks for the photo. I think I'm real.

My Club Pony Pals
Gabby writes:

Note to Webmaster: I'm sorry I haven't been able to answer a lot of questions lately but my computer has a bad virus so looking up information is very difficult. I can't even ride on Club Pony Pals because the virus exits out of it.
Gabby

Picture It
The Story so far.... The Pony Pals had just completed freeing a herd of wild mustangs. They were cleaning up the twine and string, putting it in their saddle bags when suddenly someone shouted "Stop!" They all turned and saw Lulu's father. Lulu was very angry with her Dad, she jumped on Snow White and galloped away. Summer, Meredith, Sunshine, Lulu's Dad, Pam and Anna gave chase on their ponies and horses.

Lulu was going so fast she and Snow White didn't see a deep ditch until it was too late. They fell into it!

While riding Lulu's father explained to the other girls he was trying to study the mustangs, that was why the horses were tied.

Then they heard Snow White and Lulu crying for help. The group carefully approached the ditch and Mr. Sanders and Eye-High got out a rope with a noose. The Pony Pals tied their horses and held onto Mr. Sanders' feet as the dropped the noose down towards Snow White.
Snow White got out safely, but horse thieves came and tried to steal all the other ponies and horses. Elie and Star stopped them and gave the ropes back to Lulu's dad.
Lulu yelled up that she still needed help. Mr. Sanders laid down on the bank and started to feed a rope down to Lulu when suddenly he started to slide! The girls grabbed his shoes but one came off and .....

The next thing Lulu saw was her dad coming over the bank headfirst! He landed next to her in the water and started laugh, and tell her a story about a time in Brazil when Eye High the pony interrupted. "I know what to do."
Eye-High started down towards Lulu and her dad but Tommy Rand poured some oil on the rocks right in front of Eye-High. Eye-High picked up his pace. Everyone held their breath. Then, Eye-High lifted his front legs and jumped! He sprang so high that everyone was amazed. It was like he was going up and up and up, when Eye-High came back down he was past the oily rocks. He cantered past that oil and tossed his head up. He trotted up to Lulu and her dad and put his nose down to sniff.
But then Eye-High fell into the water! There was huge splash but the brave pony jumped back up on the bank. As Eye-High shook himself like a dog, everyone started to laugh, including Lulu and her dad. The wet mustang looked proud of himself. Lulu stifled her chuckle.
"How are you going to get us out?" she asked.
Eye-High pointed upstream with his nose and began to trot slowly in that direction. Up above, the other Pony Pals and friends got into their saddles. Lulu and her dad could hear pony footfalls as they walked. The streambed got shallower and they rounded a corner to see a bank that they could climb.
Eye-High jumped up and then...
Summer writes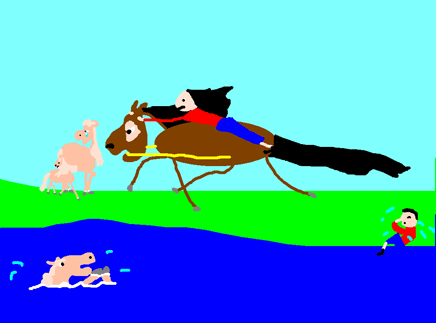 ...he scrambled on the rocks of the nearest bank. He shook dry. Then he suddenly caught a sent of a nearby family of Claybanks with Cornets, a mare named Dusty, and two foals named Sun and Sand.
Eye-High and the Pony Pals saw the foals spishing and a splashily in the sparkly spring water of the river. But then, in a split second, as Sun struggled up the shallow rocks to the grass, Eye-High smelled danger. Sand was splashing, not in play, but with fear. Dusty shied in panic. In that first split second, the water was flowing fast to... Eye-High flicked up his ears, and he heard a distant roar.
"What is it?" asked Lightning.
"Is it a monster?!" wailed Pongo, as he was zipping to Star.
"Is it a mountain lion?" asked Picasso.
"No..." Eye-High stammered, "It sounds more like a..." WATERFALL!
At once, without words, the foal was in great danger!
"Moooooommmmyyyyyyyyyy!" the foal cried. Sun pressed closer on his mother's warm body. Lulu climbed on Eye-High's back to get a better look. The waterfall started where the rocks were outlining the sides.
"Hang on," Eye-High said, as he took the rope. At once he broke to a fast gallop.
The foal saw the pony and cried, "Help! Stranger! I Can't...berbublulub!" the sound on the foal's face underwater made bubble sounds. It was funny, but not for long. The foal was staring at a grizzly bear. The bear was clearly hungry; the snapping of his jaws and the foaming of the mouth.
Then, Eye-High...
What happens next? Let us know. Write to WebMaster@clubponypals.com
Pony Pal Thoughts for the Day
--"Flaming enthusiasm, backed by horse sense and persistence, is the quality that most frequently makes for success."
~ Dale Carnegie
______________
--"Judge your success by what you had to give up in order to get it. "
~ Unknown