Volume 2 Number 26 ----- January 5 - 11, 2009
Club Pony Pals News
Trail Riding is Coming
Dear Pony Pals
Soon. Very soon. And it is awesome.

Letters from Club Members
Jan 1, 2009 12:36:07 PM melissa wrote:
hi its melissa

i just wanted to tell u about your website. I would like to suggest a couple of improvements to your web to make it fun

1. It would be nice to visit another Horses stall not just your own.

2. When cleaning the horses hoof it should stop after its clean and not just keep going, once its clean you should not have to do it again until it gets dirty

3. I would like to tack my horse up like putting the saddle on instead of just the halter.

4. You should make your own person to talk to other pony pals Thanks

ps.could u ask anna to draw me a pic of snowwhite.
Dear Pony Pal Melissa
Thanks for the suggestions.
1. In the works. Soon you will be able to visit Daisy and Splash.
2. We think cleaning a horse's hoof should stop after it's clean too. That is being changed as well.
3. You should be able to put the saddle pad, saddle and bridle on your pony in the current game, if you have cleaned both sides of the pony.
4. We are looking for ways to let Pony Pals talk to you. Stay tuned.
Thanks for writing! We really want to make this game work well.
WebMaster
Dear pony pals,

Hi Pony Pals,

I'm doing great. You know Pam, Anna and Lulu and the word pals? Well my name is Sydney. Put all of the beginning letters P A L S together and what did you spell? You spelled pals.
I'm a big fan of the Pony Pals. I have the whole set. I like the Pony and the bear when Pam said "Tommy you are so dumb". Then Tommy repeated, "Tommy you
Are so…" But he stopped himself before he called himself dumb. That sentence made me laugh so hard I had to show my Mom. She laughed so hard. I was sad when I read "Good bye pony". I liked "The Wild Pony". I liked Beauty's collar. I love black pony's especially one's that have a white star or a heart on its forehead. I want a pony of my own. My grandma owns three horses. Two ponies and one full grown horse named Conager. The two pony's names are Windy and Molly. Her black pony is Windy. Windy has a white diamond on her forehead.
Molly is brown with a white streak on her forehead.
Conager is all white with gray dots, gray mane and tail. I have a dog. Her name is Jewels. She is gray.

See you later, pony pals.

Sincerely,

Sydney
Dear Pony Pal Sydney
Thanks for writing. It sounds like you know your horse markings pretty well. Have you adopted any online ponies at ClubPonyPals? Did your grandmother name her "Conagher" horse after a Louis L'Amour character? That was a famous writer of western novels.Do you get to ride your grandma's ponies Windy or Molly? What kind of dog is Jewels, besides gray? How many of the Pony Pals books do you have? We are working to make them more easily available. Congratulations about figuring out how the Pony Pals got their name. Tommy may not be dumb, just troubled. Mike is sort of the same but does not seem to be so angry.
Webmaster
Webmaster, How do I test new trail rides when they are made? I think the trails are a wonderful idea but they could be a little longer to ride. You should also be able to visit Mrs. Wiggins and groom her horses after you get to her house. Pony Pal Emma
Dear Pony Pal Emma
Good to hear from you. We will put you on our tester list. Our trail riding game is just about ready for testers. Our flash coder says it is the hardest thing she has ever done. Also the best. Pony Pal Trail near Crandal's will be our first open section of trails in and around Wiggins. Wilhelmina Wiggins' home is definitely on our list of trails to build. She has a sleigh in her barn! And she drives carts when there is no snow! She also gives work to Tommy and Mike, so mischief is never too far from the Wiggins Estate. How many ponies have you adopted at ClubPonyPals?
Webmaster
Dear Webmaster, Did you have a good Christmas? We did. On The Pony Pals game could ya'll please add a feature where you can change your Pony's name and your Pony's color? That way the Club Pony Pals members can have more options for their Pony in the game. The Apple Bounce game is a lot of fun. The Apple Bounce game would be even more fun without the sound effects. While I was playing the game my cat Rachel looked at me and the screen on my Lap Top as if to say, "What was that?" Have a Happy New Year. Please respond PDQ the second after you get this E-Mail. Sincerely, Cayce
Dear Pony Pal Cayce
Christmas was fun. Ponies and horses were involved. Apple Bounce is meant to be a silly game with cartoon apple faces. So it has silly sound effects. You can adopt as many ponies as you want at ClubPonyPals. As soon as our new barn is ready, you will be able to untack and feed each pony, log out and then log in to groom and ride a new pony. You can do that as many times as you want. How does ClubPonyPals look on a laptop? We now have signups from over 40 countries worldwide. We think member are using lots of different computers. Glad Rachel likes to watch you use a computer. What New Years resolutions did you make, if any?
Webmaster
Happy new year

I hope 2008 was full of fantastic memories

Happy New Year

From Samantha
Dear Pony Pal Samantha
And Happy New Year to you! 2008 indeed was memorable! We launched our beta version of ClubPonyPals. Pony Pals from over 40 countries worlwide have visited our site. Thousands of Pony Pals now read the Wiggins Weekly. Your letter is going to Lithuania, Hungary, Italy, Ireland, the UK, Australia, Singapore, China, South Korea and many, many other places. How will the New Year be special for you?
Webmaster
Webmaster.

How do you get to the Club Pony pals Art Gallery and the Club Pony Pals contests? I heard of them somewhere and I want to see them.

Emma

Dear Pony Pal Emma
Thanks for asking about ClubPonyPals and art. We and our readers love Pony Pals' art. If you make a picture, please send it to webmaster@clubponypals.com as a gif or jpeg file. If you draw it on paper, mail it to ClubPonyPals and we will scan it for the newsletter. Our mailing address is on the ClubPonyPals site under the Parents' Page Frequently Asked Questions, "What if I have more questions" section. ClubPonyPals runs art contests from time to time. You can read about past contests in past issues of The Wiggins Weekly. Click on that link on the ClubPonyPals home page. Let us know what you find! Do you like to draw? Jeanne Betancourt, Anna Harley, Wilhelmina Wiggins and the Webmaster all like to draw, paint and sketch.
Webmaster
If I knw where in the world Wiggins is, I'd be happy to visit Miss Wiggins, Picasso, Beauty, her foal, the Pony Pals, and their awesome ponies, too!!!
Summer
Dear Pony Pal Summer
The best way to visit Wiggins is at Club Pony Pals. Unlike places that you can drive to, Wiggins is a place that lives on when members come to spend time there. As Club Pony Pals gets bigger, you will be able to visit more places from the books.
Webmaster
Webmaster. How do you get to the Club Pony pals Art Gallery and the Club Pony Pals contests? I heard of them somewhere and I want to see them. Emma
Dear Emma
Lots of Club Pony Pals members like to draw, paint and sketch. Right now their art is available in these Wiggins Weekly issues, along with letters from the artists.
Right now there is one ongoing contest. Each week one piece of art is made into a jigsaw puzzle, this week Summer F's picture of Anna and Acorn won. The winner gets 100 Wiggins bucks credited to their account. Email or send in your entries to Club Pony Pals!
Webmaster
Letter to Jeanne Betancourt
Hi Look I know you probably get a lot of messages and it's ok if you don't reply but I would realy like you to if that's ok. I was just wondering why you would finish the pony pal series. I live in england and haven read them all but I've read a lot. I'm 12 year's old and live in Essex. I love horses and help out at my stables every saturday. I would do it more but it's an hour drive away. I don't realy know what to say. I love your book's, wish they were made in to a T.V show series, now that would be cool. But not cartoon -- real people. Do you know linda chapman? If not you should meet her. She writes book's about horses and stuf like that to. I bet you'd get along great! Are the pony club book's based on real people? If so is it there really names? what gave you the inspraition for writing all your books? from Annabelle
Dear Pony Pal Annabelle
Thank you for your letter. No matter how many I get from my readers, I enjoy each one. It means that my story has found a reader who also thinks that girls can be strong, smart and kind --with or without a pony. Lulu lived in England before she came to Wiggins. Where is Essex? That you and your family are willing to drive an hour so that you can be with horses and ponies shows that you must really love them. And that you don't mind pitching in to help. Both are good qualities for young people to develop. The Webmaster is working on making the books into a TV series or a motion picture. After I spoke with my editor at the Pony Pals publisher, I went for a walk in Sharon, Connecticut. That's when I had the idea for the adventures of Pam, Anna and Lulu. What can you write to tell us about your adventures in England?
Webmaster for

I love our books. I really hope you'll write more.
Summer
I AM YOUR FAN shalin
Dear Pony Pals Summer and Shalin
What beautiful names. In what part of the world are you? Now that ClubPonyPals reaches more than 40 countries, many members with wonderful new kinds of names are visiting virtual Wiggins. What Pony Pals books do you like? Please write and tell us about your adventures where you live, with or without a pony. You can learn moreabout me and my work at my website, www.jeannebetancourt.com
Webmaster for

Letters to Pam
Pam: Hi Pam! How's Lightning? How's Woolie? Is he still "herding" the ducks? How are the school ponies? Is Splash still on the dash? is Daisy still lazy? How's Fat Cat? How is Jezebel and No Tail? How did you do in school? I'm doing well, in math.Have a good school year! Summer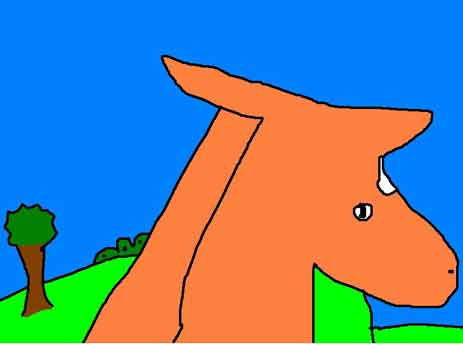 Dear Summer:
Thanks for sending such a great piece of art. You are like Anna who likes to draw a lot. You are right, Woolie herds ducks. Sometimes I think he's got herding on his doggy brain. Fat Cat, Jezebel and No Tail are fine. I hardly ever see any mice anywhere in the barn. My mom says she is working on getting Splash and Daisy's stall ready so other folks can help my mom and I. You will be able to groom them and earn a few Wiggins Bucks while you do it. Cute rhymes for their names. Your add's to "Picture It" are great. You must like to write as well as draw. School was OK last term. It starts up tomorrow morning. What kind of math are you studying this winter? I like math. It reminds me of trotting patterns in my mom's arena. Your friend,

Dear Pam,

I love you and all your pony pals. I wish I had a Connamara pony like you. Where is Wiggins located on the U.S. map? Say hi to Lighting and give her a kiss for me.

Emma
Dear Emma
What do you know about Connemara ponies? Have you looked in your school library to find out about them? Wiggins is in Connecticut. It is cold here now. Tomorrow morning when I go to school, it will be slippery on some parts of my walk. Anna, Lulu and I had fun over Christmas and New Years. On Thursday night, we had a sleepover up in our barn's loft. We had lots of blankets. We could hear our ponies underneath us. That was great. We stayed awake until midnight. We could hear some people blow noisemakers in Wiggins. Then it was really, really quiet. New Years day we went on a trail ride to Mrs. Wiggins' estate. Ms. Wiggins had carrots for our ponies. We had hot cider. I hope we get to have a sleigh ride again while there is enough snow. Mrs. Wiggins says we can stop wearing the sleigh bells she loaned us to wear on trail rides now that deer season is over. We are glad nobody thought we or our ponies were deer. I will give Lightning a kiss on the forehead. Ponies smell so good. Your friend,

dear pam hello,that sounds so cool a new computer.for christmas i got a nintendo and a nintendo horse game its like haveing a real horse you have to clean it and everything its name is prancer ha.And i got heaps of clothes we should be pen pals but on your new computer like on email if you want to..what you up to? from pony pal amy g
Dear Amy G
My mom says that ClubPonyPals is going to have a place where members can write in to Anna, Lulu and me. Then you can see letters online. I like to get letters. People are writing in from all over the world! Is your Nintendo a Wii? My mom says she thinks ClubPonyPals would be a good Wii game. I got some clothes too. I got a ClubPonyPals hoodie. I wear it when I work in the stable.

princess is fine now and ya she cut her leg right to the bone. oh ya I forgot to tell you princess had a foal before school started his name is sparkly hears a pic this is her before we got her ps there aren't vary many pintos or paints in Wiggins are there

Jessica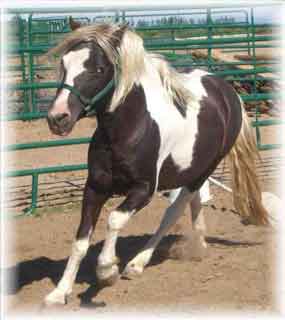 Dear Jessica
When I read your letter I was so glad to hear Princess is getting better. I ran to the Clinic and told my dad, too. He grinned and said to say "hi." Can you ride Princess again yet? What is her foal's name? My mom doesn't have any paint horses, but at Olson's there are two really cute paint ponies for sale. My mom thinks paints are pretty and made sure there was one in the game she built.
Please write back and let me know about Princess.
Friends,

Dear Pam,
Thanks for the link. Is there a Cat Food with broccoli? The black and white kitten sounds like Patches. Over the summer Annie's trainer thought that there was something wrong with her Stiffle so we had the Farrier check and at first he said nothing was wrong. Then when the vet came out we had him check Annie's Stiffle and he said that there's something wrong with it. Annie's an ex-Barrel Racer. The vet said that because of her Stiffle Annie will never Barrel Race again, but that's OK because when we got her she was already retired from Barrel Racing. The vet said that Barrel Racing is what caused Annie to have Stifle issuse. How can Barrel Racing cause a horse to have Stifle issues?
Herman died. There's a lose part on his cage last night and somehow he got out. Mom and I looked for him and she found him dead in the back yard. We bought Herman in 2007 after my 4th Hamster Darcy died. We're not sure what happend to her. Friends,
Cayce
Dear Cayce,
I asked my dad about Annie's stifle. He said that a pony's stifle is like a human knee. When a pony or horse runs around a barrel fast, turning puts a lot of strain on their stifle joint. Ligaments can tear. The slippery stuff inside the joint can leak out or wear off. Then the bones rub against each other and that causes arthritis.
If a horse with stifle problems can still be ridden then it is good to exercise them. Stronger muscles will help to support the joint and make it better. My dad said riding a horse in straight lines and big circles is ok. Turning quickly or spinning the horse is not good for the stifle joint if it is already injured.
Oh I am so sorry to hear about Herman. Maybe Herman got cold from being outside. I remember that you have some other pets, hug them for me.
Your friend,

Dear Pam,
Here's a picture of Echo. Love
Annie
Dear Annie
Echo is beautiful! Thanks for the picture. Write back and tell me what you're doing.

Hi Pam, I am sorry I have not been writing. I have been super busy. Do you mind if you sent me a picture of you and Lighting? What did you get for Christmas. Your Pony pal Ellie
Dear Ellie
It has been fun here over Christmas break. We got to ride a lot and we had a sleepover on New Years.
I got a computer for Christmas. It was my dad's but it is a lot better than my old one.
Here's a picture of me with Lightning. I was a little worried when it got taken. Its all OK now.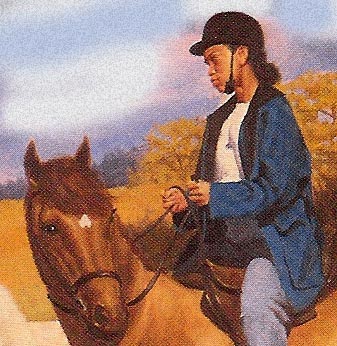 Letters to Anna
Dear Anna,

i think it is too bad that you are dyslexic. i love horses like all the pony pals; i wish I were a pony pal too.

Emma
Dear Emma
Me too. It is hard being dyslexic sometimes. I want to be smart. Sometimes I feel like I am not. My tutor says that is when I should study more. Sometimes I just take a break and go see Acorn. He loves me no matter what. Ponies are good like that.
Mrs. Crandal made online ponies so everyone can be a Pony Pal. Do you have one?

Dear Anna,
Thank-You for the drawing of you, Pam, and Lulu. Did ya'll have a good Christmas? We did. Happy New Year. Have a Happy New Year. Mom said Thank-You for the hug. Please give your parents a hug for me and please give Acorn and Shadow a kiss for me. Friends,
Cayce
Dear Cayce
Christmas was fun. My mom and dad bought me a new saddle blanket and matching halter for Acorn. It is periwinkle blue. I really like it.
My mom was at the diner working when I gave her your hug. She laughed and kept stirring the sauce she was making. I think it was gravy. My dad was sitting watching TV. Acorn liked his hug but wanted to know if there were carrots or cookies. Shadow was just happy to get a hug. Her paws were cold but she purred.

Dear Anna,
Did you have a good Christmas?I went to my grandparents for Christmas.They live near Vancouver. My grandpa built me a barn out of a cardboard box.When I went away,my dog Tiny went to a dog kennel and got some dog treats.I am going to own an animal shelter when I grow up.Please send me a picture of you and Acorn. Love,
Alyssa
Dear Alyssa
My Christmas was ok. I got a saddle blanket and halter for Acorn. I got wool socks too. And a sweater. My mom and dad didn't get too many presents. Pam got a computer. It must not be rainy where your barn is. Cardboard gets smushy when it rains. Is Tiny tiny? What kind of animal shelter do you want to have? St. Francis Animal Shelter is nice. They really care about their animals and try to find them homes. Here is a picture. It came from a book called "A Pony for Keeps."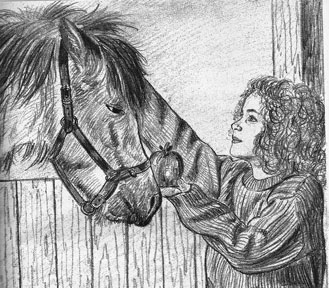 dear anna
your ponies sound great. for christmas i got a nintendo and a horse game its like having a real horse its name is prancer. what did you get for christmas?
what you been up to?
from amy g
Dear Amy
Acorn is good. He is really really fuzzy this winter. He got a big bag of carrots from my mom. I had to promise to only feed them one at a time.
Nintendo sounds cool. Pet Prancer for me. I got a blue saddle pad and halter. And a sweater and socks. My mom and dad didn't get hardly any presents. At the diner not too many people come to eat dinner as much. My dad still is cutting wood, but he hurt his ankle. He has to rest it some days.
We had a sleepover at Crandals barn on New Years. It was fun. We stayed up until midnight and played games up in the game loft.
Have you had any adventures? Is it summer where you are?

hi Anna
its jess the other three are lightning, snow white,and of course acorn:) ya a I meant 15 inches lol hay I was wondering how miracle is and how big he is
jess
Dear Jess
Pam, me, Lulu, Lightning, Acorn and Snow White is a lot to make a picture of. I will draw some on it this week for you.
Fifteen inches of snow can be really fun if it is the fluffy kind. Here we got a lot of snow on top of the ice and it makes walking around slippery sometimes.
Miracle is good. He is bigger than Beauty, almost as tall as Lightning now. Miracle is a bay, but his coat is darker than Acorn's. The half moon on his forehead is really pretty. Ms. Wiggins really loves him.

Hey Anna, How are you? Did you have a nice Christmas? I did:) lol What did you get? I got lots of thing for x-mas G2G (got to gallop)
Sammy the foal!* (Samantha)
Dear Sammy the foal
I am good. How are you doing? My Christmas was really nice, thanks. I didn't get too much stuff. Having my own pony makes every day like Christmas. I like to gallop too!

Anna: Hi Anna! How's Acorn? So, anything new at Wiggins? Did your tutor come back? Are you doing better at math? Is so, answer this math question: what is 5 X 8? I hope you got it! How's Beauty, Picasso, and Beauty's foal? Do you still miss Winston? I do. Well, like they always say, death is part of every adventure. R.I.P Winston.I hope you will have a good day!

PS. Enjoy this drawing that shows how much you love Acorn!

Summer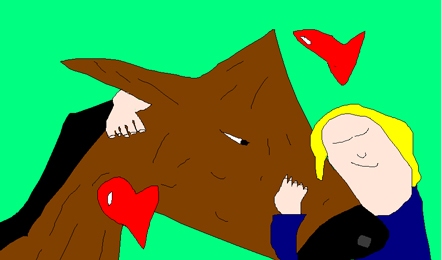 Dear Summer
Thank you for the drawing. It is WONDERFUL. I love it!!!! I sent it to the WebMaster. She made a jigsaw game out of it. She said you would get some game bucks for drawing it.
My tutor came back. She brought a cold back with her. My next lesson is on Tuesday. She said she will be better by then.
My math is getting better. I practice in the game loft. There is a game called multiplication station. When you play it you get to practice times tables. 5x8 = 40.
Picasso and Beauty are good. Miracle is big. Almost as big as Lightning! He is really sweet. You have to watch he doesn't BITE though. Ms. Wiggins said that will go away as he gets older.
How are you doing? What kind of adventures have you had?

Letters to Lulu
Lulu
hey! How's Snow white? What did you and your "Pony Pals" do today? Did you go on a trail ride? Did you go on a camping trip? Did you go to a show? Did Melisa visit you? I hope Rema didn't buy Snow White back! If she did, please, promise her to never say you ruined her! Grrrrrrrrrrrrrrrrrrrrrrrrrrrrrr! I hated it when she said that. In The Girl Who Hated Ponies, I didn't like it when you left the ponies in the blizzard. Even when you said the ponies were tough it didn't calm me down. I hoped though the whole story you would bring them in the building. I wish the building was big enough for the ponies to stay in. When Melisa said "big horse," I thought it was a cold-blooded horse, a Shire. I hope you have a good day!

PS Enjoy this drawing of you jumping Snow White! Summer
Dear Summer
Your letter was great. I really liked the picture, you made Snow White pretty.
When it snows the ponies are ok. They have a lot of fur. Snow White and Acorn live in a paddock that is outside. They just go into their shed when it rains or is windy. Sometimes they stand outside when it snows even when they could be inside. Ponies think different than people.
Even ponies are a lot bigger than people. They like us and will do what we ask, but they are big. Even though I like horses and ponies, when I was first learning to ride there was a warmblood there that was so big I was scared of it. Just a little.

To Lulu,
I just read the book where you had to give back Snow White to Rema. I'm glad you could get her back. Rema was very mean. From Pony Pal,
Poppy
Dear Poppy
Rema didn't think very much about Snow White. You are right. She only thought about what Snow White could bring her and what the money could buy.
It's hard to remember that no matter how valuable a pony is it is also a living, thinking friend who can take you places and love you. Maybe Rema forgot that when she was away. I never forget that. Every day I get to spend with Snow White is special.

Dear Lulu,

I think I am most like you of all the pony pals. I like hiking, i LOVE ponies and horses and I love reading. I think Snow White is beautiful. My pony in the game is white like her.

Emma
Dear Emma
Wow thanks for writing me. It is fun to hear you like hiking and reading and PONIES! What is your online pony's name? Give her a carrot for me.
Friends,

Dear Lulu, Did ya'll have a good Christmas? We did. Glad you got to spend some time with your dad. Happy New Year. Hope you, Pam, Anna, your families, and your pets have a good weekend. Friends, Cayce
Dear Cayce
For me the best present was having my dad home for the holidays. He left on Friday. We went hiking and he showed me how to build an igloo. That was really fun. We built it over on Mt. Morris. Pam and Anna and I all rode over there on Saturday and it was still OK. We tied up our ponies and went inside and it was fun.

Hi Lulu! Can you tell me lots about Snow White? Thanks! -Monika
Dear Monika
I wrote about Snow White "The Story of Our Ponies." She was born in New York. Rema was her first owner. She had Snow White for five years. Then Snow White got hurt and I bought her with all my allowance for a year. Now Snow White lives with Acorn at Harley's house.
You can learn all that from reading my friend Jeanne Betancourt's books.
What's not in the books? Snow White has a small scar on her right flank and a couple of bare spots on her leg where the hair didn't grow in perfect after she was hurt. She really likes to have her ears brushed and her withers scratched. She likes to roll in mud and will find a puddle to roll in if there is one anywhere in the paddock. She smells wonderful when she is all clean and brushed, like a meadow and leather and pony all at once. She likes to be kissed behind her left ear. When we jump it feels like flying.
Your friend,

dear lulu hello,no were i live is not bissy.please say hi to your dad from me thanks.what did you get for chrstmas.what you been up to? from amy g
Dear Amy G
Sometimes it is busy here. Mostly all the grown-ups are busy all the time. Sometimes Pam and Anna and I feel like they make us too busy too. Riding ponies helps with that. Mrs. Crandal calls that "vitamin H."
;-)
My dad brought me some stuff from Africa, and my Grandma gave me a fuzzy sweater and two sparkly hair clips. They are all kinda dressy. She I wore some of them when we ate Christmas dinner. My Grandma made bergoo. My dad went out and brought back two rabbits. Grandma put in a bought chicken. It was good. She made biscuts with it. The gravy was really yummy.
We had a sleepover on New Years and stayed up till midnight playing games in Pam's game loft. I practiced and practiced and practiced. Anna's tutor said if I play those games a lot my math will get better.
What did you do over Christmas?

December 24 2008

Hi Lulu! I love snow white. She looks so beautiful. Merry Christmas! Kirby

PS Dear Web master, can you post my letter to lulu on the blog, please!?
Dear Kirby
Your letter got lost last week. The WebMaster made me promise to say "sorry." So here it is. Sorry.
Snow White does look really beautiful out in her paddock right now. My dad took this picture while he was here.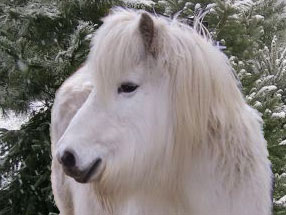 Your pony is sooooooooooo adorable. I wish I had a real pony like you, but I can't get one till I am at least 12. Did you really go to Africa? Can't believe you had to give up Snow White after all those years together. It was and is sad. Did Snow White really get cut in barbed wire? I love your website!!!!! But I wish Pony Pal trail was available would give anything for that. Anyway my online pony's name is Shadow because he is as black as night. It must be solo cool having a dad that travels the world. Did Acorn really eat your grandmother's flowers on the day your dad dropped you off? Love all of the your treasures, books, adventures, detective work, mysteries, and the way you make all of these new friends. My third grade teacher is Mrs. S of B Elementary School. My classmates names are Richard, Brian, Elisa, Gabby, Mackenzie, Jennifer, Madison, Morgan, Dylan, Brittany, Matt, Lane, Josie, Zachary, Rose, Destiny, Mrs. B J, and me Madeira.
Sincerely Your Pony Pal,
Madeira
Dear Madeira (and all your friends)
Mrs. Crandal says you will be able to ride on Pony Pal trail with your online pony very soon. I rode on it this week. It is almost as good as riding my real pony. And a lot warmer when it is cold out!
Acorn loves geraniums. He did eat them out of grandma's pots and will eat them again any chance he gets. They must taste really good.
Thanks for writing and say hi to Mrs. S, Richard, Brian, Elisa, Gabby, Mackenzie, Jennifer, Madison, Morgan, Dylan, Brittany, Matt, Lane, Josie, Zachary, Rose, Destiny, Mrs. B J.
Your friend,

Picture It
The Story so far.... The Pony Pals had just completed freeing a herd of wild mustangs. They were cleaning up the twine and string, putting it in their saddle bags when suddenly someone shouted "Stop!" They all turned and saw Lulu's father. Lulu was very angry with her Dad, she jumped on Snow White and galloped away. Summer, Meredith, Sunshine, Lulu's Dad, Pam and Anna gave chase on their ponies and horses.

Lulu was going so fast she and Snow White didn't see a deep ditch until it was too late. They fell into it!

While riding Lulu's father explained to the other girls he was trying to study the mustangs, that was why the horses were tied.

Then they heard Snow White and Lulu crying for help. The group carefully approached the ditch and Mr. Sanders and Eye-High got out a rope with a noose. The Pony Pals tied their horses and held onto Mr. Sanders' feet as the dropped the noose down towards Snow White.
Snow White got out safely, but horse thieves came and tried to steal all the other ponies and horses. Elie and Star stopped them and gave the ropes back to Lulu's dad.
Lulu yelled up that she still needed help. Mr. Sanders laid down on the bank and started to feed a rope down to Lulu when suddenly he started to slide! The girls grabbed his shoes but one came off and .....


Pam C. writes:

The next thing Lulu saw was her dad coming over the bank headfirst!
Lulu backed up but there wasn't much room as her dad slipped down the bank and splashed into the stream at the bottom.
"Dad!" she yelled. "Are you OK?"
Her father shook his head and sat up. Then he started laughing!
"This reminds me of the time in Brazil when..."
What happens next? Let us know. Write to WebMaster@clubponypals.com
Pony Pal Thoughts for the Day
Until one has loved an animal, a part of one's soul remains 
unawakened.
- Anatole France
No matter how badly behaved you are,
your pony always gives you a second chance.
A more expensive pony doesn't make a better one.