More Letters
NB Elementary letter continued from page 2
We have a very short class time in Reading and Thinking Lab but we filled it today with reading this week's WW issue, creating the graph, studying geography based on Pony Pal letters (New Zealand, Seattle, North Carolina, and Australia) and starting to vote on this week's topic.
This whole connection has us totally wired and inspired! No doubt that our reading, writing, and thinking skills will be sharpened as a result of our communication with the Club Pony Pals.
Mrs. S.
N. B. Elementary
<![if !supportEmptyParas]> <![endif]>
Dear Pony Pals Mrs. S and NB Elementary students,
Thanks for your letters and the amazing graph. You are really something! I think your use of the Weekly as part of classroom work is great. We look forward to more from NB Elementary
Maybe other Pony Pals would want to have their teachers use this newsletter in their schools. Please ask your teachers and have them write to us, we'd be glad to help.
Editor, Wiggins Weekly
___________________________________
Hi my name is Mary, Thank you for making the books they are so cool. I love horses and ponies. Jojo is our horse and he is a really good horse. I take lessons at the S. stables in Minnesota.
<![if !vml]>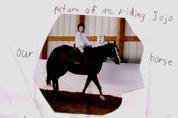 <![endif]>
<![if !supportEmptyParas]> <![endif]>
Pony Pal Letters to Anna
Anna
Acorn, I think is the cutest of the ponies. He was a real jewel, even when you almost lost him in Pony for Keeps. I think you should have told your parents why you were getting Fs, otherwise you would have lost him more quickly.
You, Acorn, and the rest of your friends were brave to save Rosalie Lacey in the forest during your camping trip on some new trails in Pony to the Rescue. I'm sure you felt bad for her, because she is the little sister of Mike Lacey. When Lulu said; "Pied Piper of ponies," That just cracked me up!
In Good-Bye Pony, it broke all your hearts of thinking of Winston dying. I know my heart did. He was one of those cute ponies.
Anyway, you guys are cool. I hope Jeanne Betancourt makes more Pony Pals books. I love the Pony Pals. When I read the books, It makes me feel, I'm in the stories.
How's Acorn? When kind of tricks can you do? I know you can jump. In Pony for Keeps, when you were riding Snow White, it seems like you have a talent for jumping. Thank you. Tell him and Ms. Wiggins I said hi. Summer

Dear Pony Pal Summer,
Wow, you read a lot of books about us! When I almost lost Acorn in Pony for Keeps, I did not know about my dyslexia. Now I know that when I am tired or if I don't try really hard I can mix up letters and numbers. Before I thought I was just stupid. To me these letters and numbers
<![if !vml]>

<![endif]>
all look kind of the same. So when I write sometimes I mix them up like this
<![if !vml]>

<![endif]>
When I look at that those words I can tell they are not right but don't always know which way the letters should be. That is why computers are so great because when I get a letter wrong sometimes the computer fixes it for me.
Anna's letters are continued on page 4