Sugaring Season Winds Down
Continued from page 1
<![if !vml]>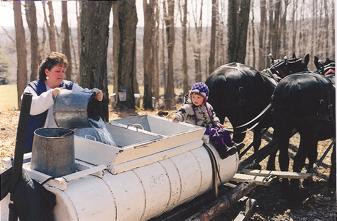 <![endif]> Cathy Morse being watched by Samantha as she pours sugar maple sap into a collection tank
<![if !vml]>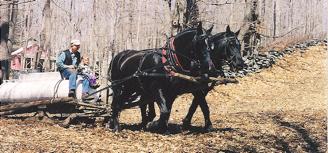 <![endif]>
Steve Morse and Samantha riding a sugar maple sap tank from the woods to the sugar shack .
Pulling are Gesse' and her daughter Mandy
<![if !supportEmptyParas]> <![endif]>
"We also raise, train and sell Morgan-Percheron crosses as saddle or carriage horses, " Terry continued. "We use the horses to pull our sap collection tank."
"We make a new hole in the maple trees each year, in healthy wood," Terry explained. "Each time you tap, it kills a small spot in the tree, so you don't want to take too much from any one tree. We stopped collecting sap on Wednesday."
People can mail order maple syrup from the Morse family. (Parents, this is a real place). Their syrup is $40 a gallon, $23 a half gallon plus $10 in shipping. Send orders to: Terry Morse, Maple Hill Farm, 40 Maple Hill Lane, Whitingham, VT 05361. For more information call (802) 368-7763.
Readers want to know:
<![if !supportLists]>á <![endif]>Where is Wiggins located? Garland
<![if !supportLists]>á <![endif]>One more thing - is Wiggins a real place? Where is it located? Meredith
<![if !supportLists]>á <![endif]>I was wondering where Wiggins is? My uncle is in Seattle so we might be visiting him. Is Seattle near Wiggins? If it is close to Seattle we would like to come and visit. pony pal, Kayla from New Zealand
Dear Garland, Meredith and Kayla,
Seattle is on the West Coast of America, across the Pacific Ocean from New Zealand. Wiggins is in New England, which is about 3000 miles across the United States from Seattle. Stories in this e-newsletter are based on Jeanne Betancourt's books, so É
Jeanne Betancourt writes:
As a kid I spent a lot of time on my neighbor's farm. I loved the big animals and wished I could ride the horses.
ÉWhen my editor at Scholastic asked me if I would like to write a series of six books about girls and their ponies. I immediately said, "Yes!" Three girls on three ponies, I thought, can have loads of adventures. I also liked the idea of writing books about the same characters.
I remember the day I made up the main characters for the series. I was walking on a country road in New England. First, I decided that the Pony Pals would be strong, smart, independent, kind, and fun-loving. Then I gave them their names: Pam, Anna, and Lulu. I wanted the first letters of their first names to spell PAL and they do.
I also decided that the Pony Pals should live in a small town like the one I grew up in. It would be a place that had a lot of good riding trails. Another idea I had that day was that the girls should be able to ride to one another's houses.
When I came home from my walk I drew a map of Wiggins and decided where each girl and pony would live.