LEARN TO SPEAK PONY
Personal Pony Story
Dear Pony Pals
Thursday was the first really warm day here. I'm out of the cast from carpal tunnel surgery, I went to physical therapy yesterday and had a great time, my hand is quickly regaining strength. I groomed the herd (both of them) and decided Thursday was the day for my little pony.

He'd been saddled and bridled and worked before and I'd sat up on him when a couple times. So I was not too concerned about him bucking. I longed him in the round pen, then hand walked him a bit while my husband rode in the pen. Then when the round pen was available again, I longed Aslan again, bridled him and took a deep breath.

The first time I started to mount up Aslan staggered a bit. He was definitely not ready for me to get up.
<![if !supportEmptyParas]> <![endif]>
I stepped back down, took a second deep breath and stepped back up. He stood, I forked my leg over and I was aboard. Aslan looked annoyed and began to try and eat my stirrup. I pulled his mouth away (sweet iron smooth snaffle, nothing severe) and released as soon as he stopped. Then he stood there.
<![if !supportEmptyParas]> <![endif]>
I clucked. He stood there. I clucked and shifted my weight back and forth and clucked and moved my legs (no spur just thigh and calf). He stood there. Perplexed, I think. I could see the thought balloon "What does she want now?"
<![if !supportEmptyParas]> <![endif]>
I wanted this to be no stress, so I asked Bob (my husband) in to the pen and he called the colt. Aslan started to move. He tottered a bit but walked around the ring once, clockwise, following my husband. At the end of one revolution, I petted him and told him he was a good boy and got off. A good first ride.
<![if !supportEmptyParas]> <![endif]>
<![if !supportEmptyParas]> <![endif]>
<![if !vml]>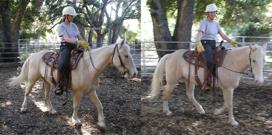 <![endif]>
Riding a pony for the first time!
Then I spent Thursday evening reading about why Aslan wants to stand, not move. He's confused. So it was back to basic training again on Friday.
<![if !supportEmptyParas]> <![endif]>
First saddled, no problem. Then free longed with the saddle on. Admirable. Then bridled, longed some more. Lots of mouthing his bit, still willing not angry just same old same old.

Then I got into the saddle. Aslan would walk around and follow Bob, who took pictures, but Aslan would not walk forward on his own.

Back to ground work. Longing, then working with long lines on the bridle, ground driving him, walking and stopping. Cluck cluck means go. Whoa means stop. Repeat.
<![if !supportEmptyParas]> <![endif]>
After about 10 minutes, took the long lines off, put the reins back onto his bridle. Walking next to him in the leading position, cluck cluck, whoa. Over
and over. No stress, he got the idea with a little encouragement.

Then back to mounting. This time was much better, Aslan was still a little confused about steering but he also minded and would walk forward and stop with the appropriate voice command. Around the ring about six times. Walking slowly, then dismount and quit on a win. I now have a pony to ride!
It was wonderful. 8-) Editor