LEARN TO SPEAK PONY
YOUR QUESTIONS ANSWERED
<![if !supportEmptyParas]> <![endif]>
Q. How do you teach an animal to jump?
A. Learning to go over a jump smoothly and gracefully for any pony (or dog) is partly a matter of breeding, plus training. Almost any animal can learn to jump with patience and time.
Starting to train for jumping is the same for ponies and puppies! Put a stick or pole on the ground. Position the pony or puppy on one side, you on the other. Then call the puppy or pull gently on the pony's lead rope. No hurry – let them sniff the pole and take their time, then when they cross over it praise them a lot. Repeat until they want to cross the barrier to come to you because they know they will be praised.
Then you can start raising the pole. Just an inch or two first. Have them cross over the barrier and praise them again. A lot. Repeat.
For ponies, you will change to "longing" on a rope in a circle over jumps at this point, so they can learn to go higher and higher.
For puppies and dogs, switch to a broomstick that you can hold in one hand. Start again with your hand on the stick while it's on the ground, and then raise it slightly each time, so eventually the dog has to work to jump over it.
In general, this is how you teach any new trick to an animal. They love to learn. Your praise for the slightest try will encourage them to try harder. <![if !vml]>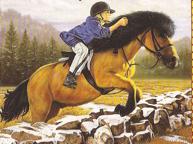 <![endif]>
For ponies, it is best to learn to jump mounted with a trainer so you can put your body in the best position to help your pony go over a jump and to avoid falling off, which can hurt!
Pony Pals Letters
hi, my name is Kayla
can I join the club if i'm from New Zealand?
I'm 8 years old and love ponies. Every week I go to lessons and I'm a really good rider.
<![if !vml]>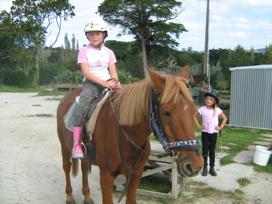 <![endif]>
This is a photo of me on Sparkle and my friend Billie.
For lessons, we go on a one-hour trail ride. Before we go back to the stables, we go to a big grass area and go around in a circle doing trots and cantering. Sometimes we go over little jumps, but not usually.
When we go back, we put them in their stables, take their saddles and bridles off and brush them down. Next week i'm going to ride Goldie or Black Beauty. I look forward to hearing more.
your sincerely
Kayla
<![if !supportEmptyParas]> <![endif]>
Dear Pony Pal Kayla
New Zealand! Wow, how cool!!!! You are the first Pony Pal in our club from your country!
Thanks so much for your photo and note about being our first New Zealand member. Write again, our readers would like to learn about your adventures.
It is spring here, things are just starting to turn green. What season is it where you are? Editor
<![if !supportEmptyParas]> <![endif]>
Pony Pals Letters
Continued on page 3