Virtual Conference
Continued from page1
<![if !vml]>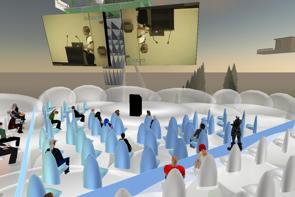 <![endif]>
Looking at the stage during Metaverse U
Crandal met many others who were with her in virtual form. Those people were at their computers in Europe, Asia, Canada, Britain and all parts of America.
"It was exciting to learn just how fast virtual worlds are making contact easier between people who like the same things," said Crandal. "More than ever, I think that it's very important that my Wiggins virtual world be an online place that is safe for kids and their parents."
Crandal did have a chance to try a horseback-riding trip in a virtual world. "I enjoyed it. But the ways to control the pony were hard. I want kids who ride their own virtual pony in Club Pony Pals to have more fun than the riding I did."
Dr. Robert Crandal, a local veterinarian, ran Crandal Stables while Jane watched her computer. "Pam helped me with Jack, Jill and Wooly while we fed and cleaned for the ponies and horses," Dr. Crandal noted. "I am so glad Jane could take part in this meeting. She's going to use what she has learned."
Pam Crandal told her parents that Stanford University has a barn full of horses for students. The man who started the college over a hundred years ago valued horses very highly. His name was Leland Stanford. Pam knows about this university because she hopes to get a riding scholarship at a college.
Pony Pals Letters
<![if !supportEmptyParas]> <![endif]>
Hi Lulu
We had a pony pal adventure today.
We were babysitting a lost dog. My mom was trying to find its owner. Then we found them! As we drove I sang Jingle Bells. He loved it just like Snow White! His real name was Brownie. His owner was nice -- not like Rema. Please pass this on. Your pony pal, Isabelle
<![if !supportEmptyParas]> <![endif]>
<![if !supportEmptyParas]> <![endif]>
Dear Pony Pal Isabelle
What a great story! Just like Pam wrote last week, it just takes thinking about adventures to have one! I'm so glad you found Brownie's owners. He's a cute dog!
Singing to animals almost always works to calm them down. Jingle Bells is good for winter. In summertime I sometimes sing "Old MacDonald Had a Farm" because it makes me laugh. ;-)
To continue last weekend's Pony Pal adventure, we all went for a ride on the east side of Mt. Morris last Saturday. There we saw some old machines that were all rusted. The were East of the Ranger Station at the very top of Mt. Morris. Pam, Anna and I all got off our ponies to investigate.
Anna thought there might be an abandoned mine. I remembered falling in a snowy hole once when Snow White ran away, so I was afraid there might be a hidden hole from a mineshaft there. I didn't want to fall in again.
We all looked everywhere but we didn't see any holes. It just looked like someone built this big metal wheel on the mountain and then left it there.
That night when we got back we had a sleepover at Crandal's. We needed to have a Pony Pal meeting to decide what to do.
Pony Pals Letters continued on page 3