<![if !vml]>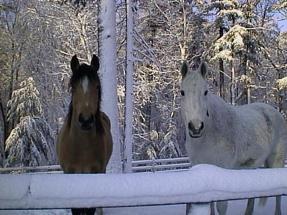 <![endif]>
Lucy and Henny in snowy Boxford, MA
Photo courtesy of Pony Pal Nancy de Marco
++++++++++++++++++++++++++++++++++
ClubPonyPals.com Website Redesigned
This past week the Club Pony Pals website was completely redesigned. Jane Crandal, local horse trainer, talked about her goals for the site.
"Anyone who comes to Club Pony Pals can find out about the books by Jeanne Betancourt, " Jane Crandal said. "They can learn more about what's going on if they subscribe to the Wiggins Weekly. Last but not least, thatŐs the place to sign up for our planned virtual riding lessons."
The new logo is based on the way Pony Pals books look in the United Kingdom.
<![if !vml]>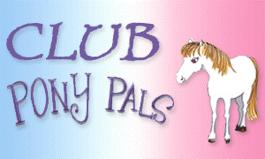 <![endif]>
Town Council Hears Coyote Committee Report
Traps Already Set
Saturday evening the Town Council met to hear the Wiggins Coyote Committee's plans about the best way to handle the town's newest arrivals.
Tom Sanders spoke first. He told Council members and residents that coyote relocation has already started.
"In the past week we have placed four traps," said Sanders, a wildlife expert. "We put out bait. The coyotes are getting used to them."
Large wire live traps were set in the woods north of town. Wilhelmina Wiggins was glad to let these cage traps onto her land.
"Coyotes are very hard to catch," said Wiggins, a local artist. "It takes a while before a coyote will even come close to trap. Unlike regular leg traps or snares, live traps do not hurt an animal."
Park Ranger Jack Stranton told reporters he got these traps from Connecticut Department of Natural Resources.
"Live traps take more time but the animal is not hurt by being caught," Stranton said. "Coyotes get very worried when they are trapped, so we will check these traps twice a day once they are set."
"When we trap these coyotes, our plans are to take them upstate," Stranton continued. "We will move them to the Green River Reservoir wildlife area. If we just took them a five or ten miles away, they would come back in a few days."
Dr. Bob Crandall, a local veterinarian, offered his services to the Committee.
"I'll take a look at each coyote and make sure they're healthy," Crandall said." We want them to have the best chance to do well in their new home."
One of the local coyotes was struck and killed by a truck on Crosshill Road a week ago Wednesday. Stranton has a local taxidermist preparing the animal for exhibit at the Mt. Morris Ranger Station.