LEARN TO SPEAK HORSE
YOUR QUESTIONS ANSWERED
Q. My friend and I love to visit the stable where she takes riding lessons. One of the ponies there is really sweet but her owner does something weird when he does take her out. Before he rides he makes the pony take cookies from his hand in different places like between her front legs and way back on her side. Why is that?
<![if !supportEmptyParas]> <![endif]>
A. That pony is stretching. Just like a runner, he is helping his pony to stretch out so she can move better once he gets on. Every time she reaches for the treat it helps to become more flexible. As long as that horse isn't nippy, this is a good way to help her get ready for riding.
<![if !supportEmptyParas]> <![endif]>
<![if !vml]>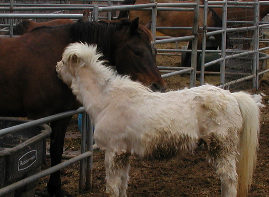 <![endif]>
<![if !supportEmptyParas]> <![endif]>
Q. There is a pasture near me where two ponies live. They are always standing head to tail side by side, biting each other. What does that mean? If they are friends, why would they bite each other?
<![if !supportEmptyParas]> <![endif]>
A. Like the photo above, the ponies are grooming each other, picking off hair. When horses shed their winter coats, it gets itchy. They bite gently at each other, removing that old hair.
Friendly ponies do this all the time. When one has an itchy back, it will nip gently at the other's withers, then begin to scratch, saying "I'll scratch your back if you scratch mine!"
Pony Pals Letters
Dear Wiggins Weekly Readers,
Thanks for all your letters and notes! Lulu, Anna and I like hearing what you think about our adventures. This week we're still riding out on Pony Pal patrol, looking for coyotes. We also always stop to visit with all our friends in Wiggins.
With all the snow here, it's hard to get time to ride and care for our ponies. We still have to do all our homework, too!
Like you, we are off from school on Monday. That day is a holiday to celebrate Martin Luther King day. My teacher suggested I write a letter to Club Pony Pals about why Dr. King's birthday is a holiday.
In the 1960's Dr. King held sit-ins and protest marches. Newspapers wrote about what he did. Everyone in America got mad with the way southern black people were being treated.
As a result of his work, Congress passed laws. Segregation became illegal. Everyone got the right to vote. For this work he won many awards and even a Nobel Peace Prize.
In his famous I Have a Dream speech Dr. King said, "I have a dream that my four little children will one day live in a nation where they will not be judged by the color of their skin but by the content of their character."
In the time since Dr. King was killed, that has come true for many of us. My dad is a veterinarian here and my mom teaches riding in Wiggins. Because of what Dr. King did, we can go anywhere and do anything that anyone else in America can.
For that I am truly grateful. Thank you Dr. King!
Pony Pals, Pam Crandal
<![if !vml]>

<![endif]>