<![if !supportEmptyParas]> <![endif]>
New Pony Pal Pony!
<![if !supportEmptyParas]> <![endif]>
<![if !vml]>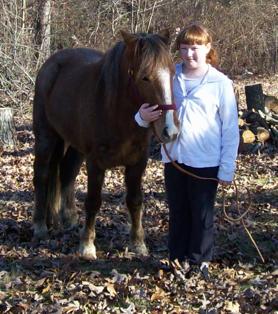 <![endif]>
<![if !supportEmptyParas]> <![endif]>
Pony Pal Sarah B. with Samson.
Learn more in Pony Pals Letters on page 2.
____________________
<![if !supportEmptyParas]> <![endif]>
Local Dog Rescued by Pony Pals
<![if !supportEmptyParas]> <![endif]>
<![if !vml]>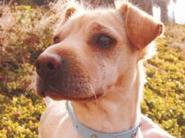 <![endif]>
Ella Clark's dog Casey, in a photo from last fall.
Pony Pals Patrol for Coyotes
Since early January, three young residents have decided to keep an eye out for four coyotes whose tracks were spotted by Anna Harley on New Years Day.
"We watch for the coyotes every day when we ride," said Lulu Sanders. "Most days we see new tracks. Some of them are right here in town! We tell everyone to be on the lookout."
Lulu's father, wildlife expert Tom Sanders agreed that's a good idea. "Pam, Anna and Lulu know that some coyotes can climb fences," Sanders said. "It's a good idea to bring small pets inside after dark if there are coyotes around."
The Pony Pals may have saved a small dog from becoming a coyote's dinner.
"Last week we were riding home from Pam's house along Riddle Road," Lulu said. "When we were riding by Ms. Clark's house we thought we saw a dog climb out of her yard carrying something!"
Anna Harley interrupted. "It was a big coyote, carrying Ms. Clark's dog! We started to lope towards the coyote yelling at him. When he saw us, he dropped her dog and took off!"
"Those girls saved my little Casey," said Ella Clark. "She was really scared but not hurt."
"I'd just let her out for a few minutes at about four o'clock. I plugged in my holiday lights, then I got a phone call about a tough case," Clark, who works for Wiggins Social Services, said. "The yard gates were shut tight. When I heard the girls I ran out to call Casey. The girls rode up with her after they scared off the coyote."
Fred Jones of the St. Francis Animal Center reported that there have been several reports of missing small pets.
"Just last week we got a call from Roger Edwards at the Volunteer Fire Department that their firehouse cat was missing when they returned from a call," Jones reported. "Despite a search that night and the next day, that cat has not been found."