LEARN TO SPEAK HORSE
YOUR QUESTIONS ANSWERED
<![if !supportEmptyParas]> <![endif]>
Q. This week my friends and I wanted to go out caroling and my Aunt thought it would be a good training experience for her horse. But he started to act up really badly. We had to leave him behind but when we came back and she led him to the trailer you would have never known. What was that horse trying to say? Fred S.
<![if !supportEmptyParas]> <![endif]>
A. Any time that a trained horse begins to misbehave, it's sure that animal is worried about something. Whether it was a lot of other unfamiliar horses or being away from the barn with too much that was new to think about, it shows a lack of horse confidence in that equine's human.
<![if !supportEmptyParas]> <![endif]>
Just like we think that we "have" horses, they think that they "have" us as part of their herd. Ideally they think of you as their leader. If so, they will try to walk through what appears to be a solid wall if you ask them to. In this instance your Aunt was asking her horse to do something that horse did not trust her to lead him into.
<![if !supportEmptyParas]> <![endif]>
The horse was saying, "You are crazy to think this is safe and I don't trust you to lead me into this danger. Let me out of here!"
<![if !supportEmptyParas]> <![endif]>
To overcome this takes lots of time, patience and love. Every time your pony gets scared, you have to be there to help. You always say the same thing over and over, "Look at that. It's not dangerous because I am here with you." Your horse behaves well when it comes to believe that, not before.
<![if !supportEmptyParas]> <![endif]>
Good horse training is not fast. But it is forever. Once a pony learns to trust you they will do it for the rest of their lives. That is why a well-trained older pony is the very best for a new rider. That pony has already learned to trust and will help its new rider learn to become confident.
Pony Pals Letters & Photos
Dear Webmaster,
I wrote this poem, I hope you like itÉ I did think of the words myself. PoniGirl
Their minds tell us their intelligence,
Through their veins flows the blood and pride of the champions,
HorsesÉ..
In their hearts lies loyalty & honesty,
Through their hooves flows the silent song of running free,
HorsesÉ..
In their flesh lies the beauty and history of the stars,
Through their bones runs power and strength,
Roaming the Earth for longer than we have,
More intelligent than any humanÉ..
Which one of us is worthy
Enough to stand beside
Such a creature?
HorsesÉ..
<![if !supportEmptyParas]> <![endif]>
<![if !vml]>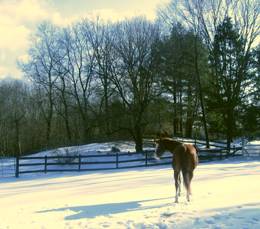 <![endif]>
Silk in pasture. Photo by Lee Cummings