LEARN TO SPEAK HORSE
YOUR QUESTIONS ANSWERED
<![if !supportEmptyParas]> <![endif]>
Q. Hello, I appreciate you letting me know what Keith Hosman had to say. I love to hear what you have to say about pony problems. Could you tell me facts about miniature horses? I love them, and I may get one. Thank you, Ponigirl
Dear PoniGirl,
First, you may want to read 'Learn to Speak Horse' from the Wiggins Weekly 1-17 November 12-18, 2007. Very tiny ponies were bred as pets for European kings and queens in the 1600's. By the 1800's some of these small horses were working as pit ponies in coal mines. That ended in the 1950's but these tiny ponies now have new jobs. Some people use them as riding horses for small kids, for logging in small woodlots or pulling carts.
<![if !vml]>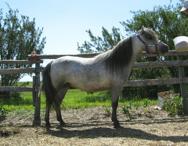 <![endif]>
Photo courtesy of www.cedarplains.ca
There are two American registries for minis. The American Miniature Horse Registry is part of the American Shetland Pony Club. This group has two miniature sizes. Division A minis can be up to 34 inches tall and Division B are 34 to 38 inches.
The American Miniature Horse Association promotes a written standard of equine excellence. Horses registered with AMHA are bred to look like this description and cannot exceed 34 inches in height measured from the last hairs of the mane.
When you are looking at these tiny ponies, there are two basic types. The "draft" type looks like a tiny Shetland pony and a fine-boned "refined" type that looks more like a Dartmoor, Welsh pony or Arab.
Miniature horses can be great fun. They are living proof that pony power comes in miniature!
Vermont Service Pony Problem
(continued from page 1)


 Patty's landlord told her to take out the 4-by-6 stall she designed in her living room. Earl is now staying at a farm, where she visits and trains him.
<![if !supportEmptyParas]> <![endif]>
Janet Burleson, head trainer with the Guide Horse Foundation, said mini horses are "Just like using a guide dog."
<![if !supportEmptyParas]> <![endif]>
"The horse serves the same function--guides the person around obstacles, alerts the person to changes in elevation and oncoming traffic. Horses can be trained to do all that," Burleson said.
<![if !supportEmptyParas]> <![endif]>
In her blog, Patty Cooper says "If you want to help in this matter I encourage you to send a post card to: Preston Jump, Central Vermont Community Land Trust, 107 North Main Street, Barre, VT 05641. Here is a sample of what it could say, but you can write your own if you want to. Let Patty Cooper have her service animal. Let Earl COME HOME!"
<![if !supportEmptyParas]> <![endif]>
Read more in Patty's blog at:
http://journals.aol.com/midhbarcooper/my-new-service-animal/#Entry355
________________________
Pony Pals Letters
i have read the Wiggins Weekly newsletter and thought it very good. I found your information on how to speak horse was interesting and useful. I have some horsy news, last week i galloped for the first time. I think you should make the newsletter a bit longer. fern
(Fern – Congrats on your first gallop and thanks for your support! I'll get my reporters to work. Anything special you want to read about? Ed.)
<![if !supportEmptyParas]> <![endif]>
It was great talking to you today. I'm so impressed that you come out with the Weekly so regularly ... I will have my website refer readers to your site before we move into 2008. Cheers,
Jeanne Betancourt